It began with ancient Roman emperors, who decorated their objects and furniture with stones. Later on, the ascendency of the Medicis in Florence led to the refinement of this craft; stones cut into tiny pieces and reproduced as flora and fauna motif to adorn cabinets, chest covers and doors.
This year, that age-old craft is introduced into Piaget's Art & Excellence collection. A single Yves Piaget rose – the Maison's strongest emblem – is created from a delicate mosaic of Imperial Mexican jasper. The exponent of this craft is Herve Obligi, an artist who has dedicated himself to perfecting this painstaking craft over 30 years, to the extent that his workshop was honoured with a 'Living Heritage Company' laurel.
Obligi remembers how, in the early 80s, he found himself in Florence learning the intricacies of lapis lazuli, malachite, jade and turquoise, among many other stones. For him, stone marquetry became the method to express his aesthetic inclinations; with multi-faceted colours of stones used to create the exceptional. He reveals that this aesthetic is more akin to the Art Deco style, veering away from classical baroque executions of stone marquetry, into something purer.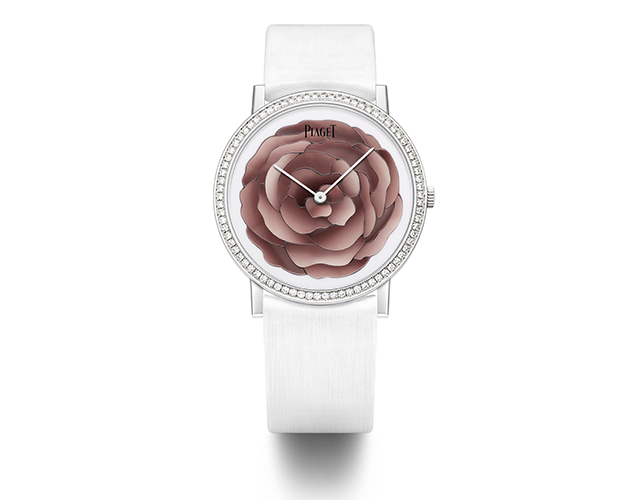 This leads to the refined dial of this particular Piaget timepiece, a single Yves Piaget rose surrounded by a diamond-set bezel. Obligi's efforts begin with a diamond blade to break the jasper cleanly. To trace the shape of the petals, he then employs a hazelnut wood bow strung with a steel wire. Assembly ensues using heated resin as a sealant. Then, with the rose finally formed, a layer of polishing is applied for extra lustre.
As for Obligi, he found that his handiwork, when encased in the 38mm Altiplano's white gold case, was visibly enhanced. "That was the exact moment when I felt I had really contributed in something stunning."