Watches
Richard Mille's RM 71-02 Automatic Tourbillon Talisman is a charming ode to the glamorous '70s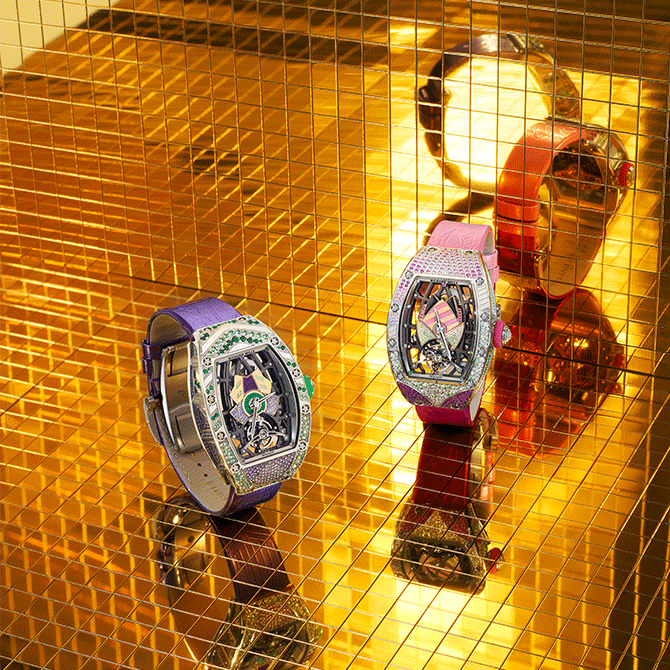 Richard Mille has unveiled the most colourful, exuberant collection to date—the RM 71-02 Automatic Tourbillon Talisman, a lineup of 10 models (each limited to seven pieces) inspired by the disco era and its unadulterated glamour and histrionics.
Trust when we say that this is the most extravagant work of craftsmanship from the Swiss watchmaking brand you may be feasting your eyes upon—the RM 71-02 Automatic Tourbillon Talisman features a combination of stones in myriads of colours to best represent the theatrical culture of the '70s. We're talking tsavorites, spessartites, diamonds, rubies, sapphires, and more; while the ornamented dials are decked with talismanic precious stones including hematite (strength), lapis lazuli (vision), pink opal (healing), malachite (inner balance) and more.
"I immediately drawn to a very specific cultural era for inspiration very early on in the process; I was in a Studio 54 state of mind—listening to disco, funk and R&B," said Cécile Guenat, Creative and Development Director at Richard Mille. "This collection is so different from anything we'd done before, even if we had used some coloured stones in previous watches. The Bonbon collection helped us introduce this colourful and fun aesthetic to our audiences, and we decided to continue in that way."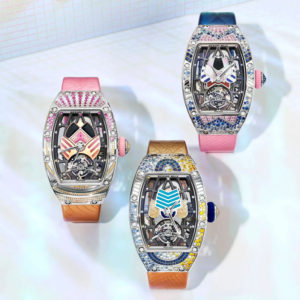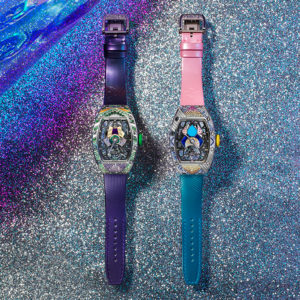 Fun fact: The stones' positioning needed more than six months to be validated to ensure that it exuded the precise effect that Guenat wanted.
"The intense glamour of the disco era resided in a multiplication of colours and textures," Guenat said. "I had to find a way to make this idea tangible. Working with the stones themselves proved to be a considerable challenge. Because stones of very similar hues can end up looking completely different depending on their size and the type of setting."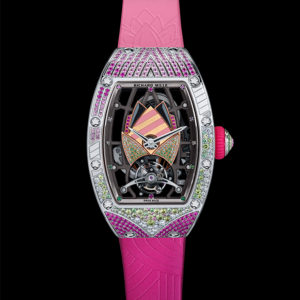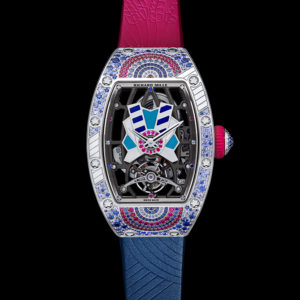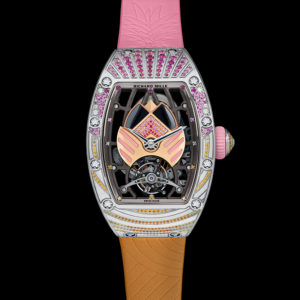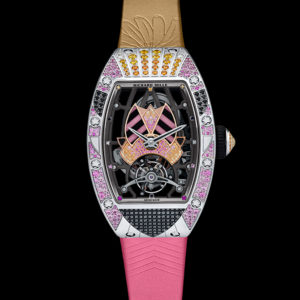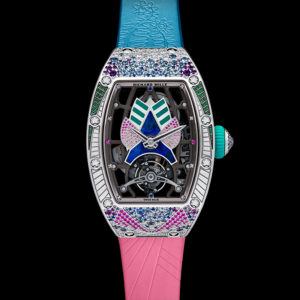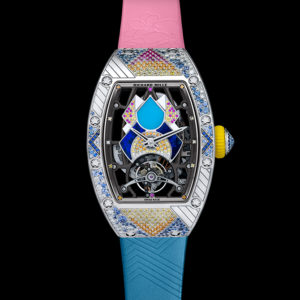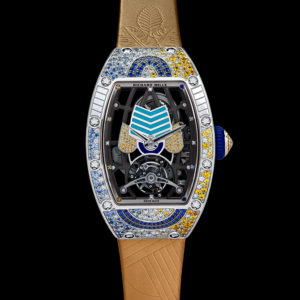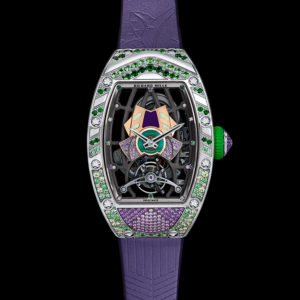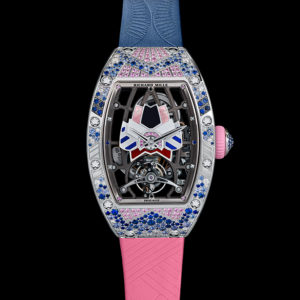 Besides the captivating colour palette and symbolic use of stones, the names of each RM 71-02 Automatic Tourbillon Talisman timepiece carries significance as well. All the watches bear women's names, as Guenat wanted to conjure a group of empowered women with different set of strengths.
The RM 71-02 Automatic Tourbillon Talisman has the same CRMT1 calibre that was first presented in the RM 71-01 Automatic Tourbillon Talisman two years ago. The first automatic tourbillon calibre by Richard Mille, it is also the eighth in-house movement and an impressive technical innovation that required more than 1,000 hours of development. The calibre measures only 6.2mm, with a featherlight weight of only eight grams.
All 10 models boast different setting patterns, stone arrangements, engraving and even the central decoration of the 0.9-mm-thick dial. Another beguiling element of the collection is the series of bracelets that have been specially designed for each model. Subtle vegetal motifs have been embossed on the bracelets, each featuring two shades and given a metallic treatment. Guaranteed to turn heads, the RM 71-02 Automatic Tourbillon Talisman is truly a lesson in artistic expression, steeped with the ageless freedom and indomitable allure of the '70s.
For the latest in watches & jewellery, click here.
| | |
| --- | --- |
| SHARE THE STORY | |
| Explore More | |