Zenith shines the spotlight on the intricacy of its watch dial in the limited-edition Pilot Type 20 Blueprint
Zenith has taken the barebones of engineering quite literally as inspiration for its Pilot Type 20. A glimpse of a blueprint of the brand's historical building brought to mind the blueprints of the Aeronefs, the earliest aircrafts created by the pioneers of flight; and so the Zenith Manufacture team sought to cast the spotlight on the most meticulous and well-thought out detail of Zenith's timepieces: the watch's dial.
While the shape of hands and markers, along with colours and finish of dials tend to be the first few details that catch your eye, a watch's dial doesn't garner quite the same attention; but precise calculations and design specifications are required to create a dial. With the Pilot Type 20 Blueprint, Zenith intended to zero in on the dial by literally incorporating a blueprint onto it.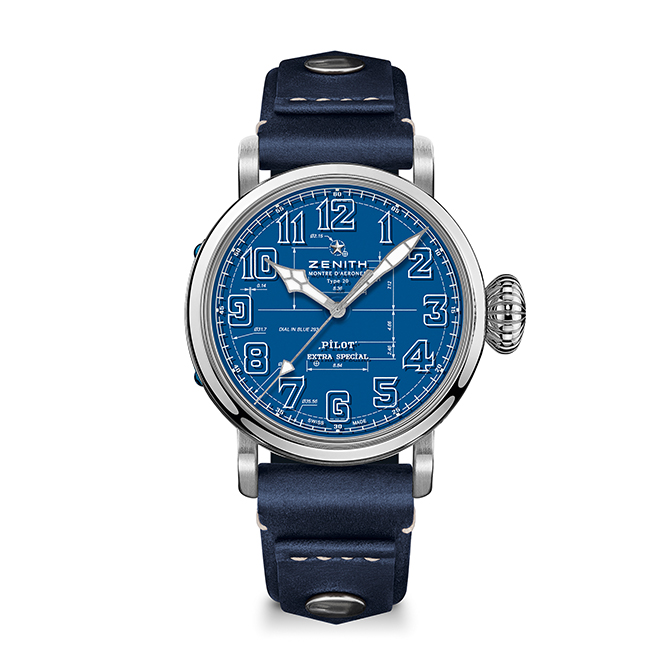 The dials on Zenith Pilot Type 20 Blueprint is devised in two parts to create a captivating visual effect. The first—a matte blue base with all technical plans and notes used by the dial-maker, and secondly—a sapphire crystal and sapphire crystal layer with the usual markers and logo. The result is a unique discernible composition where the various markings cast a subtle shadow on the blue base, as though is hovering above the blueprint dial.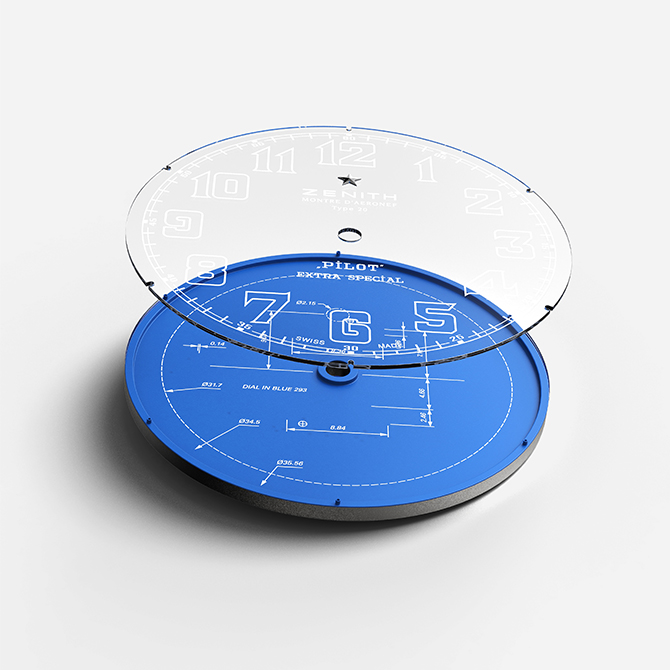 The Zenith Pilot Type 20 Blueprint pays tribute to the brand's iconic Pilot watch, with an oversized steel case (finished with a mix of polished and satin-brushed surfaces) and its signature sizeable "onion" shaped crown—perfectly adjustable even while the wearer is donning flight gloves. An Elite manufacture automatic movement powers this timepiece with a minimum autonomy of 50 hours; spot a screwed plaque by the side of the case that bears the unique limited edition number of the watch. 
Another astute element of the Pilot Type 20 Blueprint's lies in the design. Drawing references from the early years of aviation, the blue calfskin leather strap is a nod to the classic shearling leather flight jacket spotted on pilots back then, while the rivets and titanium pin buckle are details you may identify on a vintage pilot's helmet.
The Zenith Pilot Type 20 Blueprint is limited to only 250 pieces.