These enigmatic high jewellery pieces allow you to tell the time as well, thanks to clever concealing mechanisms
A stellar timepiece does more than merely indicating the time of day—a sleek tourbillon watch serves as an horological masterpiece, while an evening watch could very well be the perfect finishing touches to an ensemble. But how often do you come across a timepiece disguised as statement-making couture jewellery?
French luxury jewellery company Van Cleef & Arpels is bridging the gap between high jewellery and watchmaking once more—not the brand's first foray, given its extraordinary archival pieces from the '30s that were well ahead of its time. The Ludo bracelet has now been reinterpreted in two different styles, taking the term 'secret watches' to a whole new level.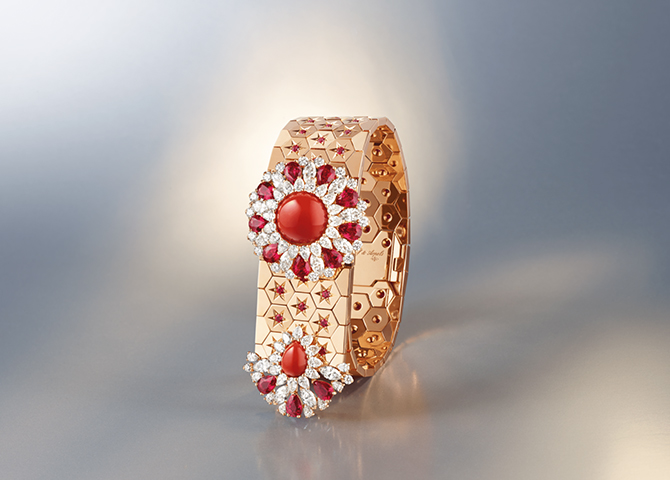 The Ludo Secret watches resemble its original predecessor in many ways, with belt-like mesh bracelets and jewel-encrusted motifs in place of a buckle. The bracelet is made with hexagonal links in different materials and hues, all decked with precious stones in a star setting in the middle. This time around, the new pieces include a dial in white mother-of-pearl, surrounded by diamonds. A cabochon in precious stones rotate to reveal the stunning iridescence of the dial.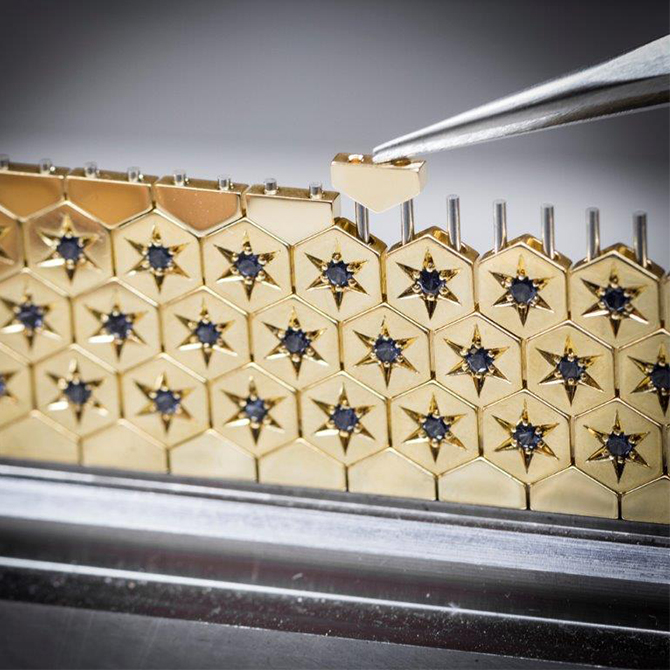 The Ludo Secret watches come in three variations: rose gold with rubies and coral, yellow gold with chrysoprase, emeralds and sapphires, and yellow gold with lapis lazuli, blue and pink sapphires—spot the symmetrical rose motif on each model, with 'petals' made of gems of different sizes. In line with Van Cleef & Arpels' repertoire of transformable pieces, the Ludo creations can be reconstructed in a multitude of ways—whether a clip, pendant, or even threaded onto a long chain.
If you can't get enough of the idea of wearable time-telling jewellery pieces, feast your eyes on Van Cleef & Arpels' new Pompon secret long necklaces, inspired by sautoir necklaces in the archives (circa the late '60s/early '70s).
Eight breathtaking pieces are made with white cultured pearls and precious materials, from Sri Lankan sapphire and green tourmalines to a variety of hard stones such as onyx, lapis lazuli and malachite. Each necklace bears a tassel that conceals a delicate, mother-of-pearl dial—all ensconced  differently according to the model, thanks to an innovative secret mechanism. Similar to the Ludo Secret watches, the Pompon necklaces can also be transformed to be worn in various ways.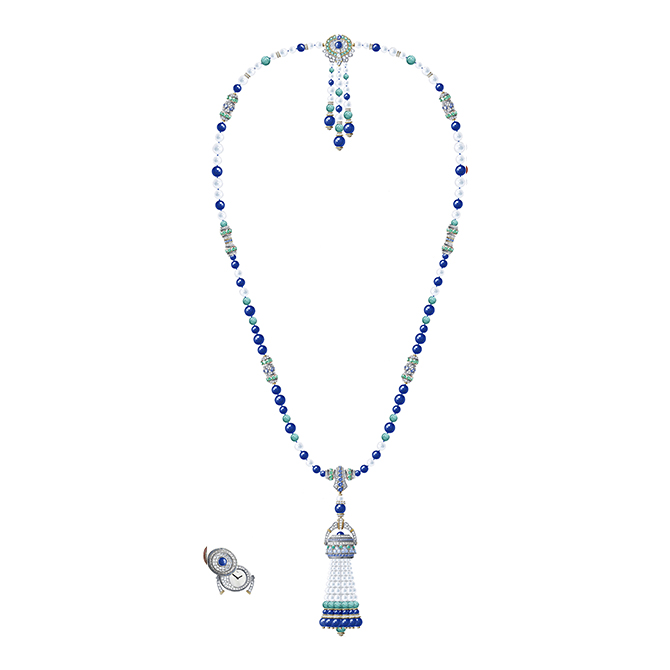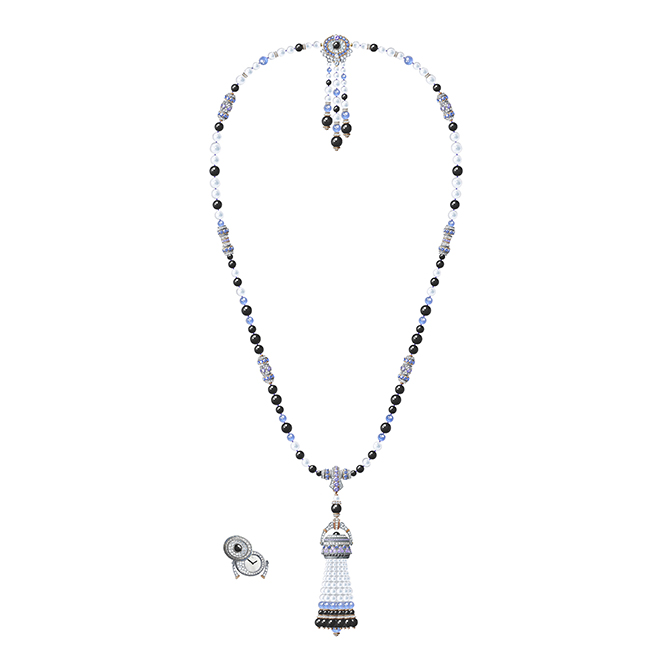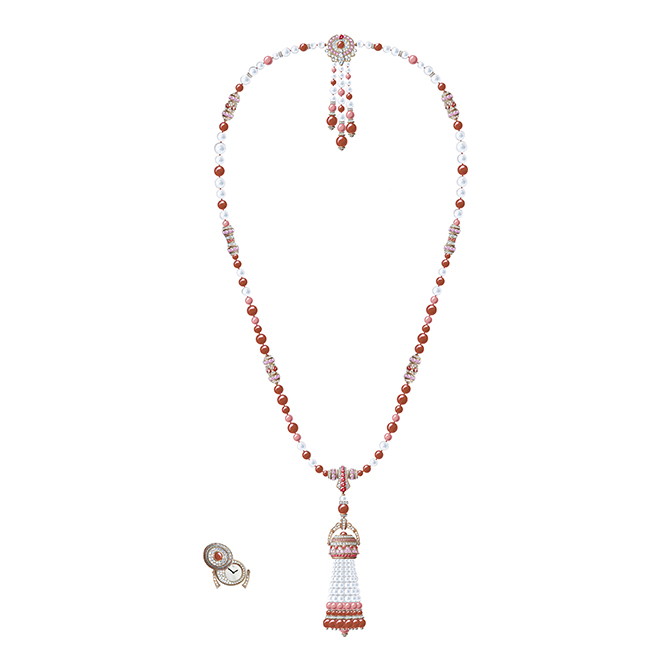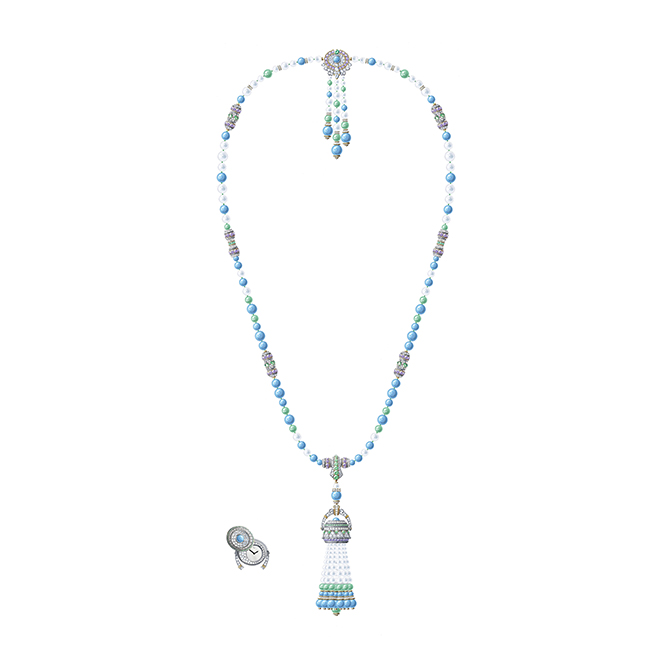 One of the stunners is the Pompon Margaret long necklace watch that's fitted with cultured pearls and a fluid tassel—a 6.19-carat Sri Lankan sapphire takes centre stage here, its vivid blue juxtaposing brilliantly with the pearls and lapis lazuli beads. To dial its wow factor down a notch, remove the secret watch and tassel, then transform the long pearl necklace into two bracelets.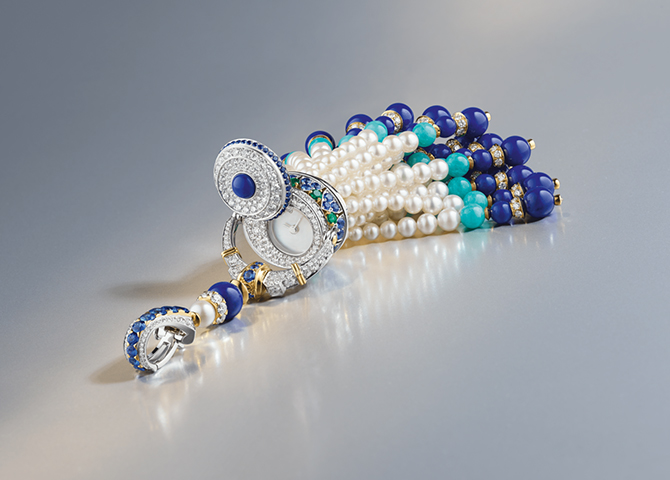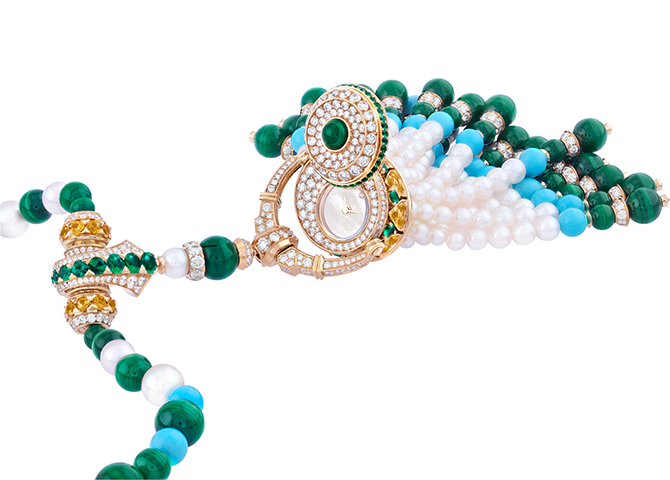 For the latest in watches & jewellery, click here.