Light against dark – Corum's latest timepiece stands out with its striking contrast
Since 1980, the Golden Bridge has been commanding our attention with its distinguished narrow design. Back when it was all about flat watches, Corum went against the norm and break watchmaking codes to introduce the baguette movement alongside a geometric element. The overlapping bridges evoke grand architecture, most notably the suspension bridges such as the Golden Gate and the Brooklyn Bridge. 
Then in 2016, the watch got updated with the round Golden Bridge, departing from the traditional rectangular look. This year, the Golden Bridge is reinvented with six new modern architectural versions where the latest Titane DLC collection is decorated entirely in black, revealing a modern new look. Two of the latest iterations were unveiled recently.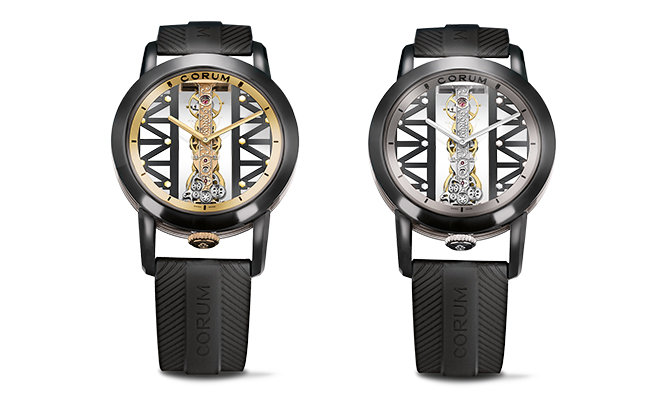 The Corum Golden Bridge Titane DLC now comes in a 43mm titanium case coated in black diamond-like carbon (DLC), where the decorative trusses on either side of the movement are also covered in similar black DLC. The black DLC treatment is meant to make the baguette movement stands out. The two new models carry the use of white gold and pink gold for the movement, hands, flange, crown and screws that really allows for a stunning contrast against the black DLC.
This is the first time that Corum is introducing a matching black rubber bracelet, veined and engraved with the brand's name. Thus, giving it a sportier look. The Corum Golden Bridge Titane DLC is powered by the manually-wound Calibre CO 113 and offers a 40-hour power reserve. The new Golden Bridge Titane DLC model will be complemented in the upcoming months by two other models—each to be in the same shades of gold.