The latest Patek Philippe Ref. 6301P Grande Sonnerie may only have six complications, but its new 703-part movement is an extraordinary mechanism that watch purists will enjoy
Patek Philippe's legacy in watchmaking artistry knows no boundaries—from the most complicated wristwatch in its collection, the Ref. 5175 Grandmaster Chime—replete with 20 complications and a grand sonnerie, to the Ref. 5275 Chiming Jump Hour that has jumping displays and an automatic strike at the top of every hour.
This year, the Genevan manufacture is keeping watch aficionados on the edge of their seats with its latest wristwatch: the Ref. 6301P Grande Sonnerie. This 44.8mm masterpiece represents many firsts for the brand. For one, it's the first wristwatch that comes with a grand sonnerie, an elaborate sound function that automatically strikes the full hours and the quarter hours. An extraordinary feature in a wristwatch, it also comes with a petite sonnerie, a minute repeater and a patented jumping subsidiary seconds.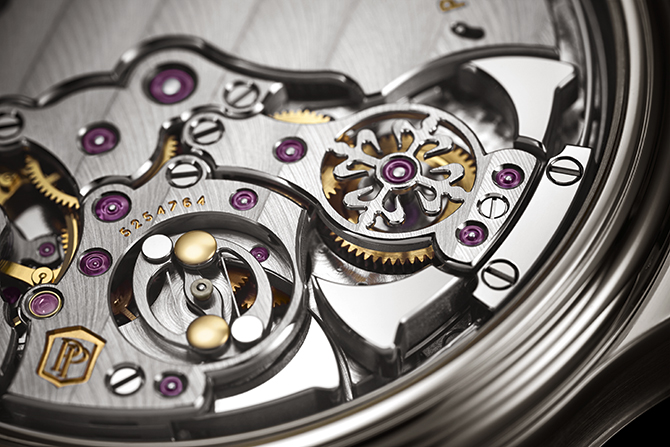 But that isn't all. The Ref. 6301P Grand Sonnerie is equipped with a new 703-part movement (a spin-off of the caliber 300 of the aforementioned Grandmaster Chime) that's encased in platinum, and a black dial in grand feu enamel. What's impressive about this caliber GS 36-750 PS IRM is the addition of two tandem-connected twin mainspring barrels—one for the going train, and the second for the chiming mechanism. This fuels the movement with a power reserve of 72 hours and 24 hours for the strikework. Another first is the caliber's visibility through the sapphire-crystal case open back—perfect to be admired in all its glory.
Naturally, you can anticipate the iconic Patek Philippe chime with the Ref. 6301P Grande Sonnerie—specifically, a strikework with three classic gongs (in low, medium and high). The hours strike on a low-pitched gong, while the quarter hours come in a three-strike high-low medium sequence. A special patented feature is the single slide switch to select and activate the strike mode—previously done with two switches; and another patent (silence mode) that disengages the grande sonnerie's power flow to eliminate energy consumption.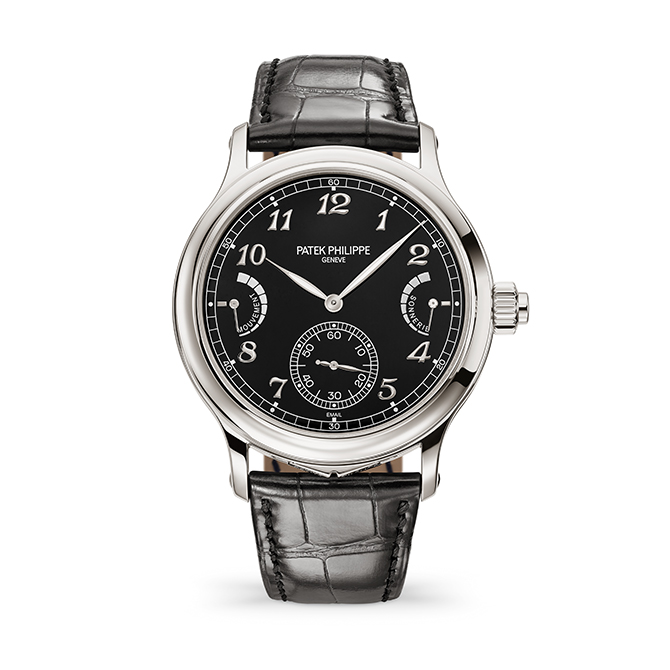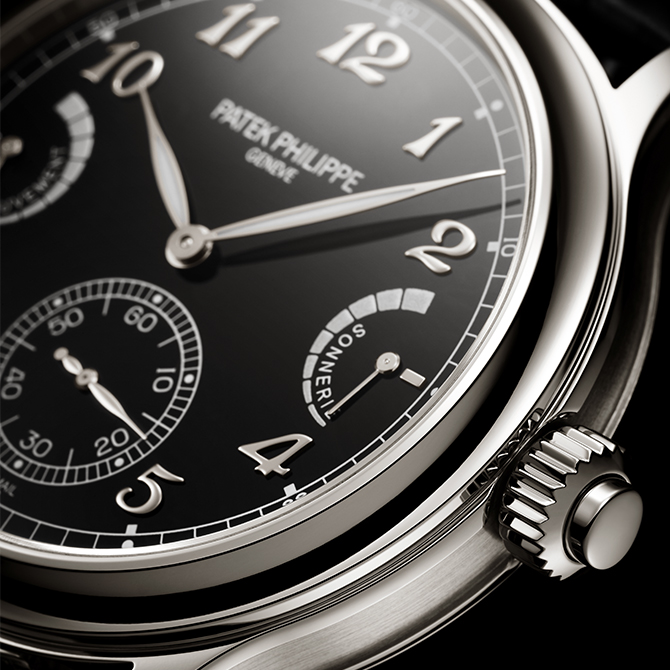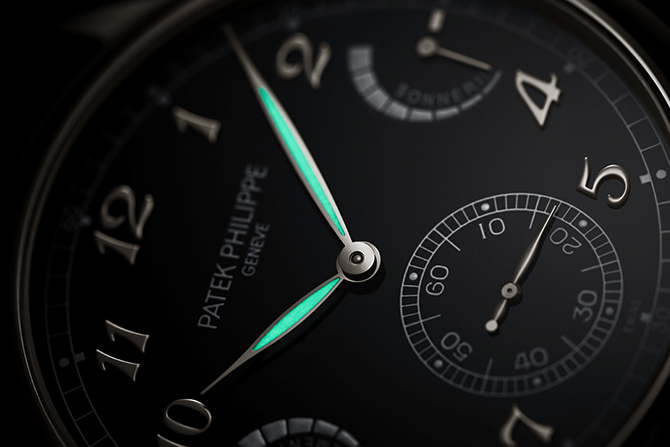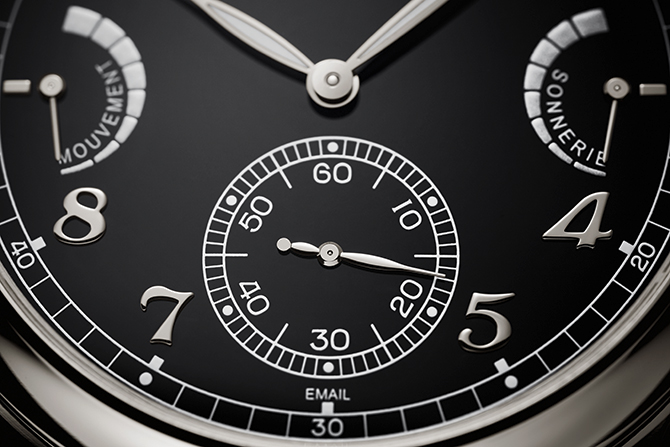 You may have noticed the small jumping seconds display on the new Ref. 6301P—a noteworthy feat as this was never done with a grande sonnerie. Inspired by the Ref. 5275 Chiming Jump Hour's four patents, this inventive jumping seconds mechanism doesn't rely on jumper springs, but with its wheels and a release lever that unblocks the wheel train every second—a useful mechanism that makes for easy regulation and control of energy consumption.
The Ref. 6401P Grand Sonnerie is easy on the eyes, in true Patek Philippe fashion. Finer details showcase the manufacture's artisanship such as black grand feu enamel dial with glacé finish, applied Breguet numerals and leaf-shaped hands in luminescent white gold. Rounded contours, a concave bezel and countersunk satin-finished case flanks make for a contemporary timepiece that can be worn for every occasion, replete with finesse and subtlety.
For more news on the latest watches, click here.