Feast your eyes on Bvlgari's Barocko high jewellery collection—a fine tribute to the spirit and rock attitude of the Baroque era
In the time of what seems to be doom and gloom (2020 has not been the most positively eventful), Bvlgari's much-welcomed message of hope and light is personified with the latest Barocko high jewellery collection. A kaleidoscope of colours? Check. The most extravagant shapes teemed with meticulous details? Check and check. There is nothing that the Bvlgari Barocko collection didn't cover; and its inspiration is none other than its native city, Rome, given the brand's deep-rooted heritage. 
Baroque indulgence is key here, with prominent architectural landmarks influencing the high jewellery creations' shapes, lines and complexity, including the iconic Fountain of the Four Rivers, Sant'Agnese in Agone, Archangel Michael and more. Spearheaded by Bvlgari's jewellery creative director Lucia Silvestri, the Barocko collection straddles the line between maximalism and effortless elegance.
Ahead, some of the most exquisite pieces from the Bvlgari Barocko collection:
Lady Rubellite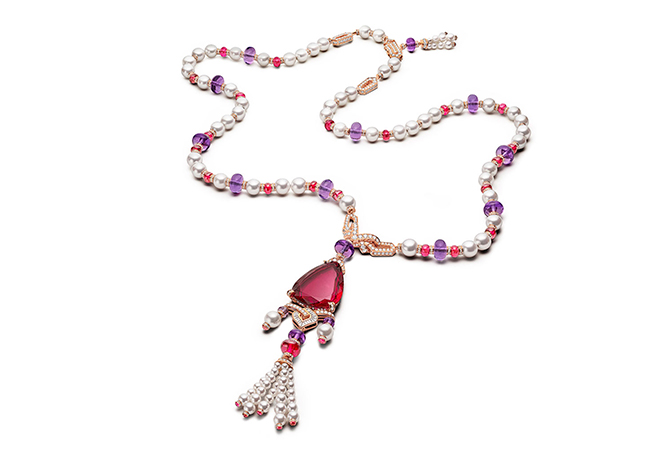 A 70-carat flat drop-shaped rubellite in vivid pink takes centre stage in this sautoir, copuled with diamonds, amethysts and rubellites in pavé setting. Pearls add a sophisticated element to the necklace—an apt choice that reflects its popularity back in the Baroque period.
Cabochon Exuberance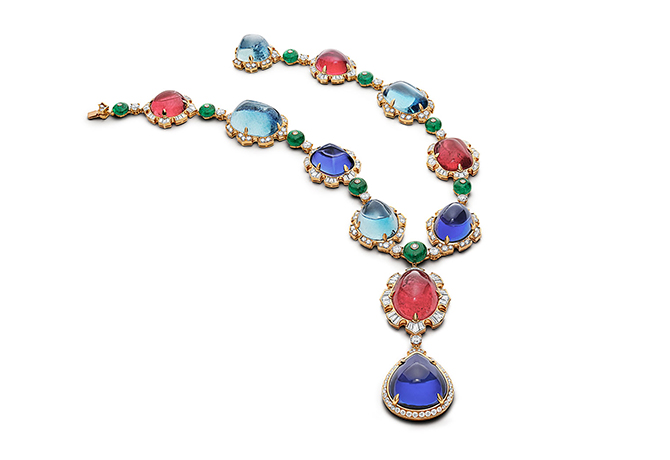 Inspired by the Eternal City's Horti Farnesiani complex's graphic facade, the Cabochon Exuberance is a stunning display of three tanzanites (sourced in New York), rubellites and emeralds from Jaipur and aquamarines from Hong Kong—all cut in various shapes and combined for a uniquely chromatic expression.
Rosso Caravaggio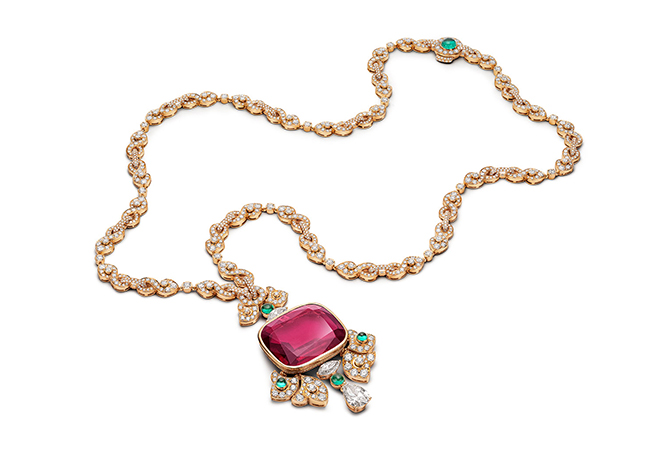 An outstanding piece from the Barocko collection, the Rosso Caravaggio took 1,500 hours to complete. It has a rare 10-carat cushion ruby (sourced in Mozambique) and a slew of sparkling diamonds—a fascinating contrast inspired by influential Italian painter Caravaggio's artistic style. Fun fact: this piece has a mechanism that allows it to be detached to two separate necklaces for various styling options.
Raggio di Luce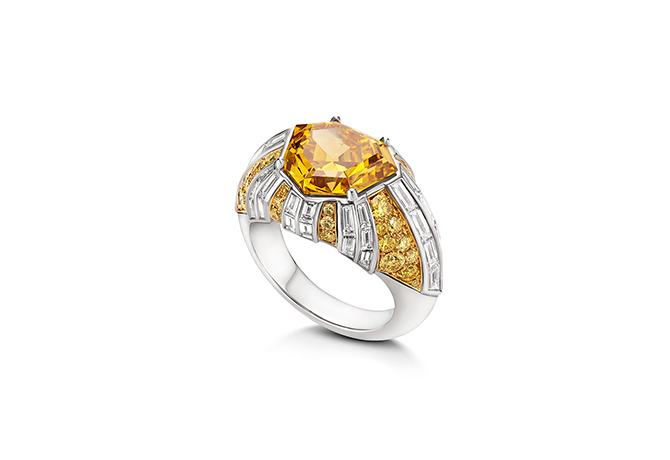 The Raggio di Luce stands out for a few reasons: 1) the rare, kite-shaped yellow diamond sourced in Hong Kong; and 2) the artful placement of yellow and white diamonds that bring to mind the light effects of Gian Lorenzo Bernini's Ecstasy of Saint Teresa sculpture. 
Peacock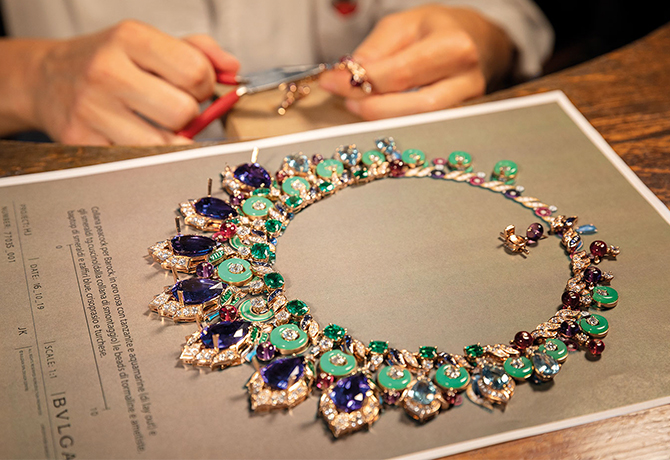 It's no wonder how this bold piece acquired its name. The Peacock necklace highlights the extravagance of the Baroque movement while referencing the flair of peacock feathers. A variety of precious stones make this creation, from tanzanites and aquamarines to chrysoprases and emeralds.
Lady Arabesque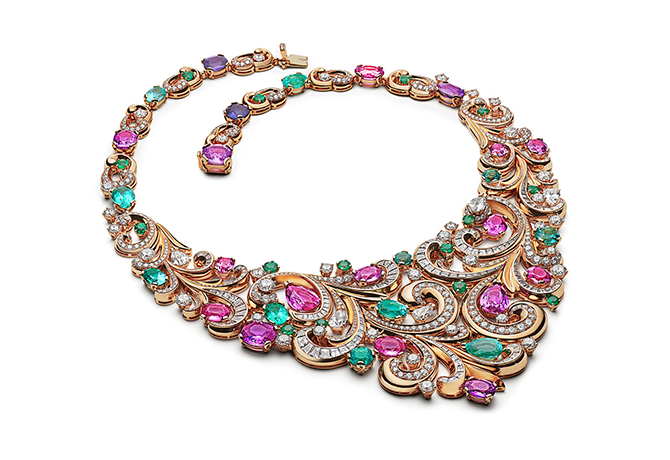 You can probably glean the Baroque influences on this Lady Arabesque necklace. Pink and violet sapphires are brought to life, with small Paraiba tourmalines, emeralds and round and drop diamonds—all set in Baroque-style curls for a decadent twist.
Wings of Rome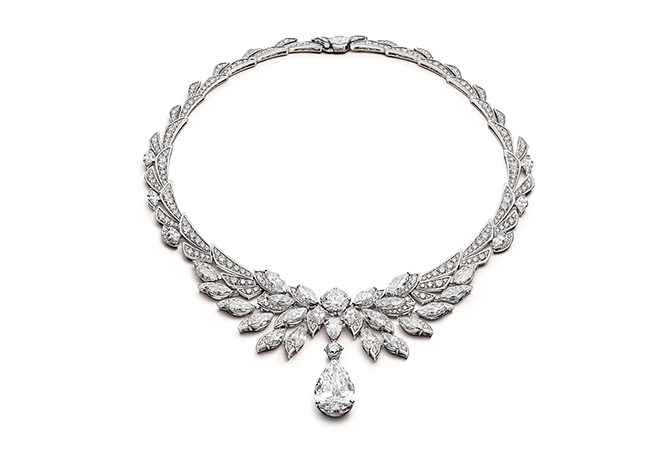 The bronze statue of Archangel Michael in Rome was the key reference while creating the Wings of Rome platinum necklace. A stunner in its own right, the necklace features diamonds in marquise, round and drop cuts—all set in three different layers for a three-dimensional effect.
Ruby Drapery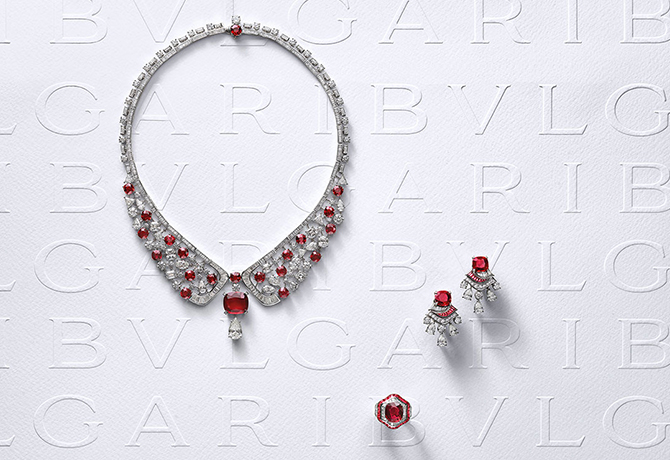 Inspired by Baroque artist Gian Lorenzo Bernini's dynamic sculptures, the Ruby Drapery earrings and rings in white gold, diamonds and rubies are melded into curved, sinuous lines—spot the pieces' allusion to marble drapery.
For the latest in watches & jewellery, click here.