Co-created by MB&F and L'Epée 1839, Melchior is an impeccably constructed robot clothed in palladium-plated brass and steel. Alongside its red anodised aluminum shoulder pads, Melchior comprises of strong metallic arms and legs, an animated brain and blinking eyes.
Not only a kinetic robot sculpture but also a 480-component high-end table clock, Melchior features 'slow' jumping hours and sweeping minutes, which are displayed on twin discs that form part of Melchior's chest, and five mainspring barrels that supply an exceptional 40-day power reserve, indicated by a stainless steel frame at the abdomen.
Melchior's eyes blink through a combination of fixed vents and revolving discs, and alongside this, under the polished glass dome on his head pulses Melchior's brain, which is actually the movement's precision regulator, providing further human-like characteristics to bring this invention to life.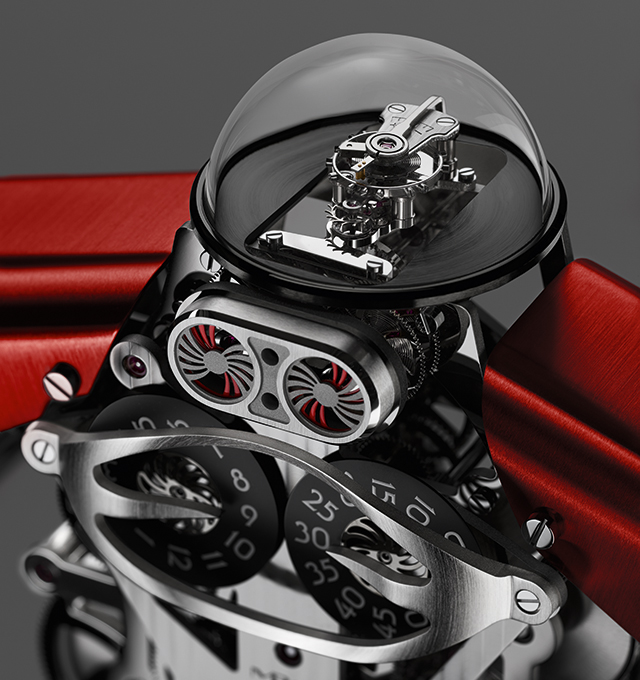 To commemorate MB&F's 10th anniversary, Melchior will be auctioned off for a wonderful cause. Under the High Patronage of HSH Prince Albert II of Monaco, Only Watch is a biennial charity auction that auctions off unique timepieces in hopes of raising money to fund research for Duchenne Muscular Dystrophy (DMD), a genetic disorder that affects young children, primarily boys.
With 99 pieces of the limited edition snatched up by retail partners, the Melchior series' 100th and final piece marks a truly remarkable piece. Distinguished by his striking red shoulder pads, the Melchior Only Watch will be on auction on 7 November 2015 in Geneva.
Watch the video below:
Discover more about the Melchior Only Watch on the website.
| | |
| --- | --- |
| SHARE THE STORY | |
| Explore More | |