Watches
Exclusive: Managing Director Stéphane Waser on how Maurice Lacroix turned to Gen Z for Aikon #Tide
Stylish & sustainable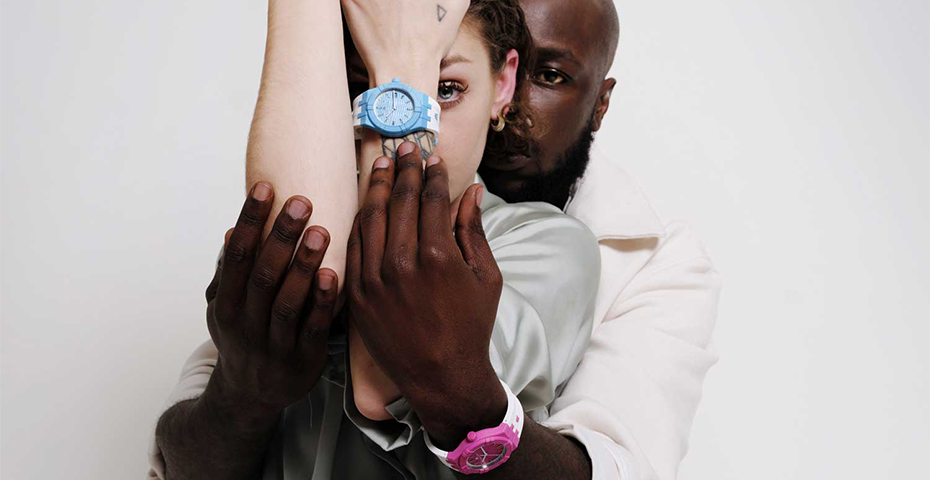 Swiss watchmaker Maurice Lacroix is serious about making the oceans a little cleaner. To demonstrate, it has collaborated with #Tide Ocean—a Switzerland-based upcycling company that turns 100 per cent ocean-bound public into premium raw materials—for its flagship Aikon collection. Boasting bright, funky colours and interchangeable straps, the Aikon #Tide is made of plastics recovered from the sea—sorted, shredded, treated and compounded into smaller granules combined with glass fibre to create upcycled plastic. The material is five times more resistant than standard plastic and has a significantly less carbon footprint than the production of virgin polyethylene terephthalate (PET). Fun fact: it takes approximately 17 bottles to create one watch alongside its packaging.
CEO of #Tide Ocean, Thomas Schori, shares, "Today, we're living on credit for the planet. We're consuming and taking so much away from Earth. Somehow, Gen Z has understood that this isn't feasible in the long term. So they're ready to buy circular products. As a response, Maurice Lacroix approached me with this collaboration. They told me that we may not be able to save the planet, but at least it's a drop in sustainability."
In the label's efforts to heighten environmental awareness, Maurice Lacroix travelled to Thailand last month to speak to its Asian partners as well as regional media about the brand's latest activities, which include providing employment, warehousing and equipment, as well as an educational program for the locals in order to further gather plastic waste and educate them about marine pollution. We spend 10 minutes with Managing Director Stéphane Waser discussing the Aikon #Tide and the label's sustainability endeavour.
You chose the Aikon as your first sustainability watch project. Why specifically this model?
"It was for a very simple reason: Aikon is our biggest collection and the base of the brand today. Seventy per cent of our sales are from Aikon. What's also interesting is that the Aikon #Tide has all the qualities of an Aikon Quartz— it's got the sapphire crystal, the screw crown, the screw case back, and a 100-metre water-resistant—making it far from a plastic watch. Usually, with sustainability or eco-responsible products, customers are used to paying a premium. That's not the case here because what we also believe is that you don't have too many more compromises if you want to wear something eco-responsible. With this, you have a true Aikon and that was important to us. We said we would only make this project if we can make it look good and affordable."
Did the idea of working with #Tide come first or was the thought of creating a youthful and vibrant collection the catalyst?
"When we started this project, we looked at Gen Z—they're a generation that's completely connected to mobile phones but are also a generation that's very authentic. They truly care about sustainability. What happened in the last two to three years is that we've been getting many emails asking how our watches are packaged or if our watches are vegan. We found it really interesting and realised that something was missing there in terms of sustainability. First, we looked at packaging because the worst thing you can have is big, expensive wooden boxes that would be thrown away at the end. This kind of gave us the idea that okay, we have to do a project. But again, we said that if we were to do it, it has to be done right, look good, and above all, be of the highest quality. That's how we met Thomas (Schori) and have #Tide come in with the raw materials."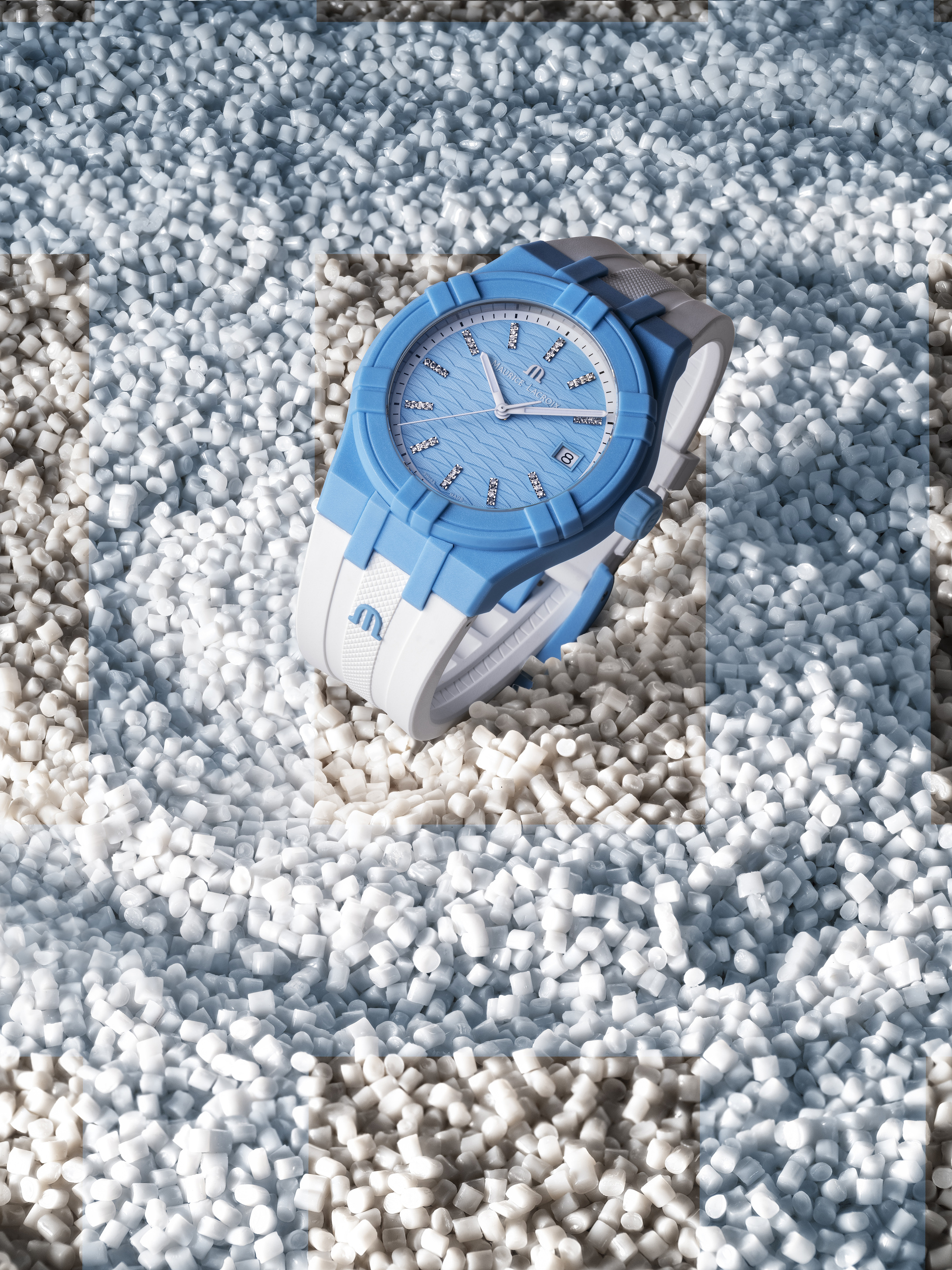 How would you say you connect with this generation?
"Thanks to social media and the internet, this generation has access to a lot of information very quickly. They understand that they have to do something, and as a company, we have to take action. Because honestly, they will be the business leaders in 10-15 years, making the important decisions, not us, who will all be old, right? So we have to support them now."
Despite the collection being made of recycled plastic, it is still battery-powered. Why not go fully sustainable?
"The whole project is not about pretending to be 100 per cent carbon-neutral or greenwashing. It's about bringing, contributing, and working together with #Tide. Here, the price point was important. If we were to make a watch out of a fully automatic movement, it would cost around 2000 Swiss Francs and for somebody between 16 and 25, it's a huge amount to spend. Another intention we had was to get fans of fashion or smartwatches into Maurice Lacroix. Once they get to know the brand, they can better understand what we offer. However, we are not saying we will never do an automatic watch in time."
What inspired the whole concept of the packaging?
"The whole concept is about giving a second life to the material. We said, 'Okay, listen. We have to make a packaging that even if people don't like it, at least they'll be able to use it multiple ways.' It's a coffee mug, which you can use to drink out of, put your pencils in, or plant a tree with. You don't have to see it just as a watch container. In the worst case, even if you don't want to use it, you can just throw it in the right bin and it can be recycled."
Can you tell us a bit more about the educational programme that Maurice Lacroix supports and where in the world the programme exists?
"The whole project is called the Road to 10 Million Bottles and is a commitment to saving the oceans. Thailand consists of many small islands. When you have people living on the small islands, they have to travel to school in one central location. So first of all, transport needs to be guaranteed so that kids can go to school. What Maurice Lacroix is doing is supporting with longtail boats to not only bring people from A to B but can be used to transport plastic.
Coming back to education, Maurice Lacroix is also involved in providing significant financial support to fund warehouses, educational programs and various equipment. Then, there's also basic school education support such as books and recruiting good teachers. For now, this project is just in Thailand."
The Maurice Lacroix Aikon #Tide retails from RM3,300-RM4,000
For more on Maurice Lacroix's Aikon #Tide, click here.
For more watch-related articles, click here.
| | |
| --- | --- |
| SHARE THE STORY | |
| Explore More | |