Patek Philippe Grandmaster Chime 
At the last independent, family-owned Genevan watchmaking company, Patek Philippe's savoir-faire is best manifested in its sensational 175th-anniversary opus. Ref 5175 displays Genevan artistry of yore; refined aesthetics, fluent legibility and superlative mechanics. These qualities are then supercharged on both the innovative swivel-and-locking rose gold case - which is constructed from 214 components, versus 12 parts on a conventional case - as well as a score of complications residing within.
Its 20 complications, which necessitate the two dials to transmit the entirety of information, include a grande sonnerie - with three gongs offering a crystalline and melodious chime of quarters and hours, and a petite sonnerie, which silences the chime. This empress of complications exists in concert with a minute repeater, alarm function with time strike, strikework power-reserve indicator and a host of calendar functions including instantaneous perpetual calendar.
A creation of horology which took seven years, Ref 5175 ups the stakes in the world of horology with six patents awarded on innovations. Its ease of use is ably guaranteed by isolation mechanics to prevent disruption, quite necessary in view of the 1,366-part Caliber 300. This piece is limited to only seven with six sold to long-standing collectors and the seventh installed at the Patek Philippe Museum Collection.
Audemars Piguet Royal Oak Concept RD#1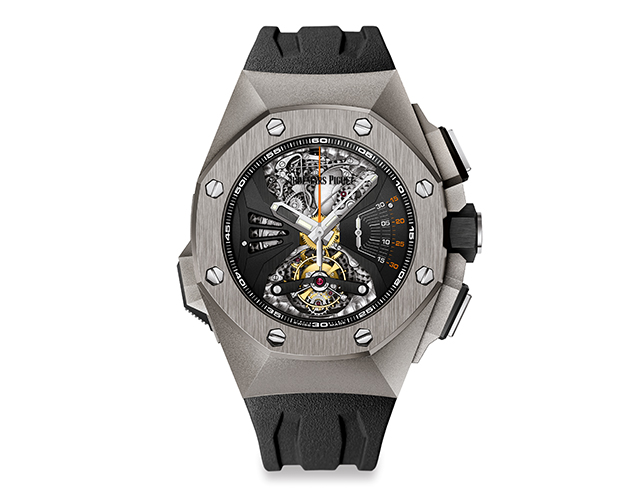 In unveiling this timepiece, Audemars Piguet marks a new chapter in acoustic technology. Inspired by a 1924 minute-repeater found in the watchmaker's archives, the company undertook deep research - to the extent of consulting with instrument makers, sound engineers and specialists from the Ecole Plytechnique Federale de Lausanne in Switzerland - some eight years ago.
This year, backed by three pending patents, the RD#1 makes a rather loud contribution to minute repeater mechanisms as we know it. The secret is both traditional and innovative; a super strength long steel strip (similar to the steel gongs of minute repeaters from the late 19th century) is worked around the movement achieving optimal 'sonic target' with nearly zero reverberation. All of this results in a more sustained, richer and organisation a quality of sound superior to anything in existence; 10 decibels louder on the register and audible at a distance of 15 metres. All of this is fitted into a 44mm titanium Royal Oak case - which is even constructed to be water resistant to 20 metres - sharing the space with tourbillon and chronograph complications.
Richard Mille RM1902 Tourbillon Fleur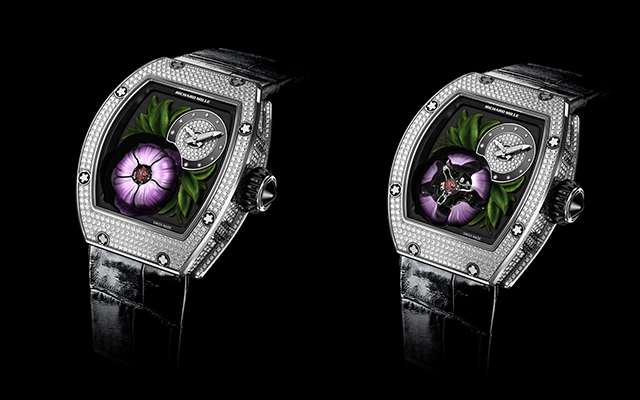 Elevating the art of automata this year is Richard Mille. In this year's delightful exercise in mimetic mechanics, the maverick watchmaker replicates the blossoming of the delicate magnolia. A flying tourbillon escapement comprising five hand-created and coloured 18k gold petals offer a balletic composition when activated - the petals open outwards while the tourbillon's stone-set 'stamen' protrudes in the process - mirroring the flower's natural pollination cues.
In choosing the ancient magnolia - which predates both trees and even the emergence of bees - Mille intends for the timepiece to symbolise beauty and resilience in harsh environments; much like the hardy Richard Mille tourbillon timepieces - constructed to withstand everything from thunderous golf swings to Formula One car crashes. Its fully curved tripartite tonneau-shaped case then takes on a 47-step stamping operation, with 250 million operations to obtain the desired shape, followed by a full day of grinding, glazing and polishing. This limited edition of 30 is built on a baseplate and bridges of grade 5 titanium and is water resistant to 50 metres.