A closer look at Hermès' art of leather marquetry
It's all in the details
The meticulous making of Hermès Arceau Cavales and Slim d'Hermès Les Zèbres de Tanzanie
A trusted purveyor of leatherworking, fine craftsmanship and watchmaking, Hermès' multi-disciplinary expertise takes the spotlight in two recent creations from the Maison's watch arsenal: the Arceau Cavales and Slim d'Hermès Les Zèbres de Tanzanie. Both models feature the art of leather marquetry, a delicate form of craftsmanship which requires a meticulous approach akin to that of assembling a watch movement.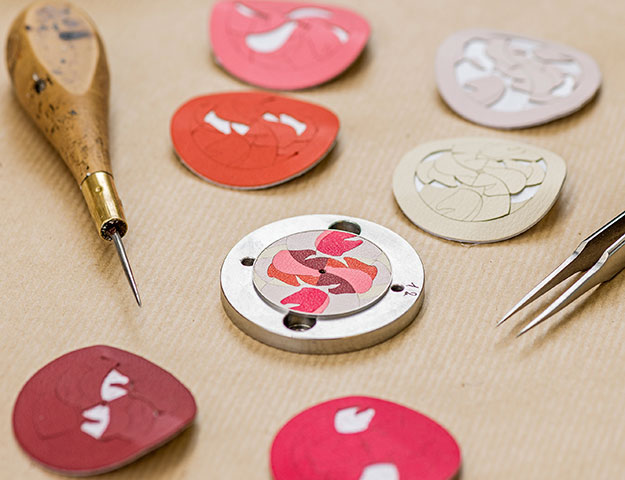 On the dials, Hermès beloved animal motifs are reimagined in colourful patchwork patterns through leather marquetry. The vivid profiles of horses and zebras are carefully assembled within the confines of the 41mm dials, composed of articulately-cut calfskin fragments that are not only really tiny, but also ultra-thin at around 0.55mm in thickness. 
The Arceau Cavales takes two of the Maison's signature colours — Hermès Red and Indigo Blue — and their chromatic hues to form a patchwork motif with bold, elegant lines inspired by the 'Samarcande' chess set. On the Slim d'Hermès Les Zèbres de Tanzanie, the art of champlevé, enamelling and leather marquetry go hand-in-hand on the captivating dial. The miniature-painted zebra is flanked by fine stripes of leather in different shades and textures, making it a stunner to be admired up-close.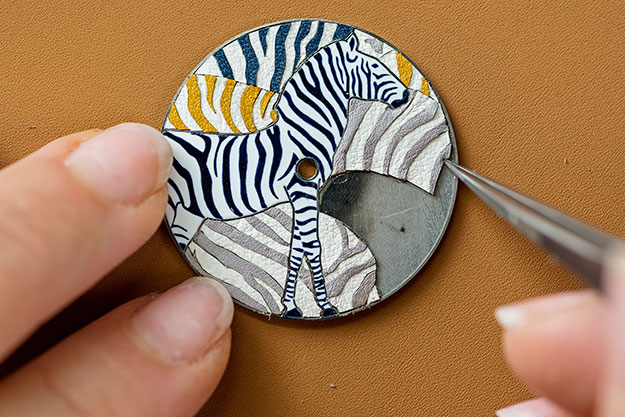 Both white gold models are produced in very limited series. Only six pieces of the Arceau Cavales will be available in each colourway, while the Slim d'Hermès Les Zèbres de Tanzanie is issued in limited edition of 12 pieces. 
Related articles
Buro 24/7 Selection
Editor's Choice
Buro 24/7 Selection
More