A 20-degree axis added to the movement allows Jaeger-LeCoultre's Duometre Spherotourbillon Moon watch to be accurate in predicting the moon phase for an astounding 3,887 years
In Jaeger-LeCoultre's Duometre Spherotourbillon Moon, the dance of celestial bodies is reimagined for the wrist. A rather clever addition of the 20-degree axis to the movement - to mirror the earth's natural tilt - enables a hitherto unheard of precision in the moon phase. Once properly adjusted, this timepiece remains accurate in predicting the moon phase for 3,887 years.
"We have come the long and hard way on this," says Daniel Riedo, CEO of Jaeger-LeCoultre.  He alludes to over 180 years of heritage, savoir faire, as well as a self-contained manufacture staffed by 1,200 watchmaking experts. Of this number, ten percent of personnel are tasked to the creation of new novelties alone.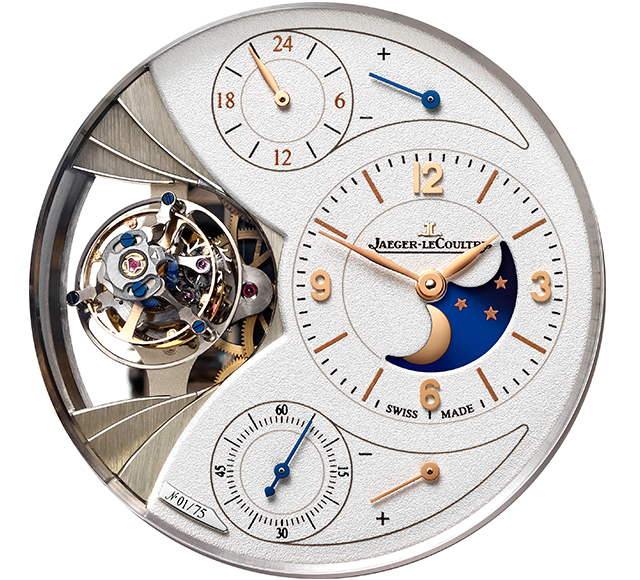 "To have this kind of precision on the moon phase with only four wheels, we had to put more intelligence in the movement than any other have before," Riedo states. Fortunately, Jaeger-LeCoultre's lessons from the past served in ensuring calculations, wheel engineering and tooth profile was precise. A new-generation laser cutting tool also enabled the manufacture to marry the highest technology with its hand craftsmanship of the final product. "This is the limit in terms of precision that we can do for now," Riedo says.
In this year's 42mm platinum reference of the spherotourbillon, the 476-part Calibre 389 runs on two barrels with 45 hours of power reserve. A grade 5 titanium tourbillon carriage takes only 30 seconds for a complete turn, twice as quick as run-of-the-mill tourbillons. Riedo views all of this as Jaeger-LeCoultre's logical progression into translating time and celestial movement. "We do not develop tech for the sake of it. We approach with full view of history and heritage of the past," he says. "We are authentic."