Just as a cinematic masterpiece is testament to the exemplary craft of its actors and filmmakers, its is out of the craftsmanship of the Manufacture's artisans that unforgettable, stirring beauty is birthed.
Master jewellers hone their craft with painstaking passion to create pieces worthy to stand amidst Jaeger-LeCoultre's Métiers Rares (Rare Handcrafts). Each precious stone is carefully selected before it is meticulously set onto the dial of a watch to achieve the precious sparkle befitting of high jewellery. Peruse the new creations of the Maison below for a glimpse of the ingenuity and technical virtuosity that pays homage to the brilliance of women.
RENDEZ-VOUS CELESTIAL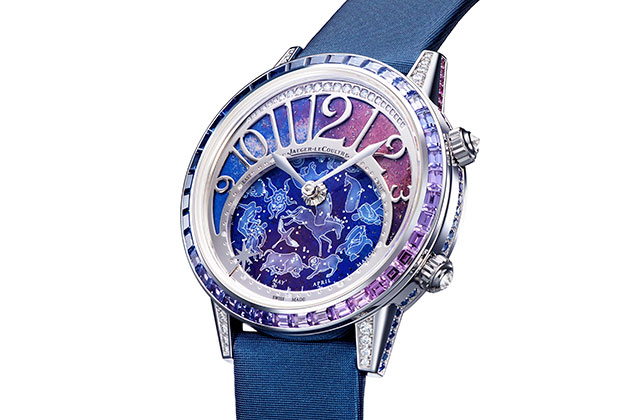 Rarely can manmade articles encompass the wonder of nature's splendour. But in the enamel dial, hand-painted disc of sky made of lapis lazuli, a glimmering bezel of gradated sapphires, and diamond accents, the magnificence of the Northern Lights are captured within the Rendez-Vous Celestial.
Deep blues and intense violets play a supporting role to the gentle ticking of its hands and showcase of the spell-bounding movement of constellations—accurate as when viewed from the northern hemisphere. With a diameter of 37.5 mm, its celestial beauty is displayed in grandeur.
REVERSO ONE DUETTO JEWELRY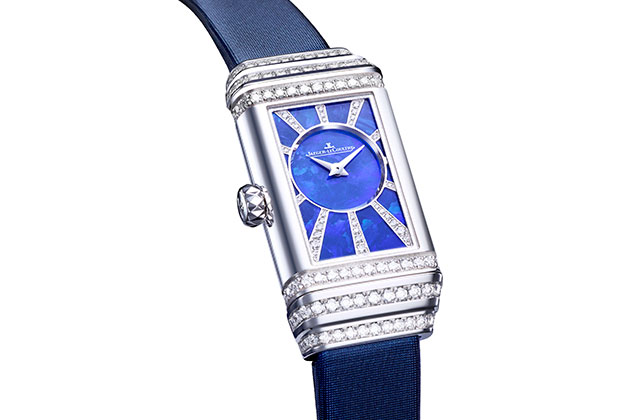 Art Deco takes centre stage with the Reverso One Duetto Jewelry. Geometric borders flank the dial with rows of brilliant-cut diamonds, ascending into the luminous Balinese mother-of-pearl decorated with Arabic numerals.
Set like a diamond and captivating in its ever-changing disposition, an enigmatic black opal adorns the reverse. A strap of midnight blue satin wraps around the wrist—elegantly adhering a the stunner to the wrist of its wearer.
RENDEZ-VOUS SECRET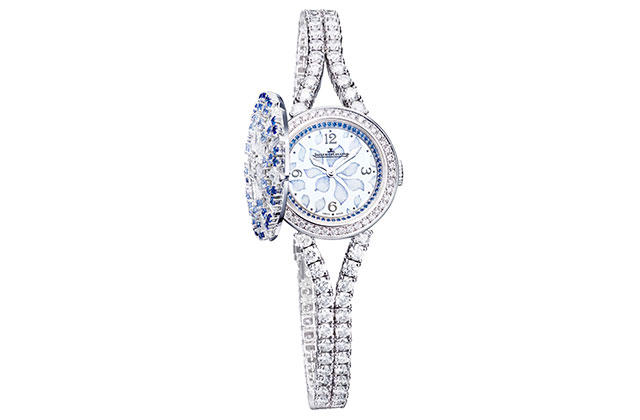 A glowing avowal of the Grande Maison's miniaturisation skills and the artistry of its gem-setter, this delicate timepiece revives the aesthetics of a 1960s Jaeger-LeCoultre heritage watch. Like a private whisper, the lid of the watch opens partially to reveal the hours.
To echo the entwined engraving of ivy leaves painted on the mother-of-pearl dial and pure blue sapphires surrounding the face, the slightly domed lid features brilliant, baguette and marquise-cut diamonds in a setting with four different hues of brilliant-cut sapphires that depict a flower frozen in perpetual beauty.
RENDEZ-VOUS MOON MEDIUM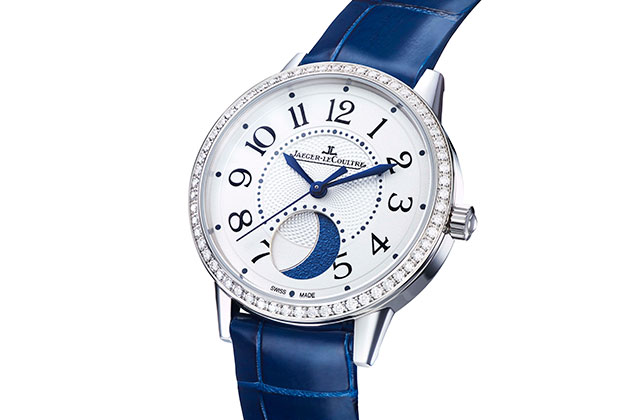 The Rendez-Vous Moon Medium embodies a jewelled interpretation of the function so well-loved by the dreamers amongst us. The moon phase is given the spotlight with an elongated dial and textured finish. The celestial body's many facets is reproduced with surprising depth and relief—a result of the sand-blasted finish.
Demonstrating remarkable accuracy, the emblematic function only requires correction once every 972 years. At the same time, unparalleled expertise is flaunted in a new addition of the second hand. The lack of gems would certainly be amiss on a high jewellery masterpiece – brilliant-cut diamonds accentuate the face and femininity of the watch.
Related stories:
Jaeger-LeCoultre introduces three new classics to the Master Control collection
Jaeger-LeCoultre unveils first Japanese flagship in Tokyo
Jaeger Le-Coultre Master Memovox turns 60 with a modern-retro facelift
| | |
| --- | --- |
| SHARE THE STORY | |
| Explore More | |