Remember when Aaron Kwok ruled the Cantopop scene in the 1990s as one of the Four Heavenly Kings? Two decades on from that era, and the multi-talented artiste remains a monumental figure in the industry. Looking as dapper and youthful as ever at the age of 54, he exudes calm and confidence as he sits before us during a recent trip to Penang for the grand opening of Longines' first boutique on the island — an aura that most certainly befits someone who has been the Ambassador of Elegance of the brand for the past 14 years.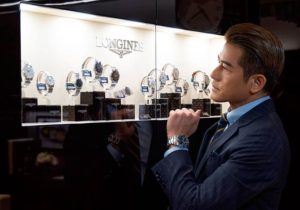 Aaron Kwok in the new Longines boutique in Gurney Plaza, Penang
What is it about the Longines brand that attracts you?
"Its philosophy that elegance is an attitude. Even though Longines was founded in 1832 — that's more than a century ago — the brand DNA remains rooted in elegance. Timeless elegance. Having been a Longines ambassador for so many years, I got to witness how its faith and values have remained the same."
An elegant attitude can mean a lot of things. What's the most important definition of an elegant attitude to you?
"How one catches time. Time flies by so fast that we have to be able to live in the moment all the time. Have no regrets — this is very important. That's why you should always go for what you want to do."
It is said that what a person wears represents his/her style and personality. What does your timepiece say about you?
"I would say that my style is quite sporty, that's why I love the HydroConquest. The first time I was presented with a Longines watch, it was a HydroConquest. After almost 15 years, now we witness the launch of the latest, brand new HydroConquest in ceramic. There has been updates in terms of materials and such to the model, but it retains the same elegant style and top notch technology. I like how it's sporty yet elegant, so it matches most of my outfits. I can wear it to work or special occasions.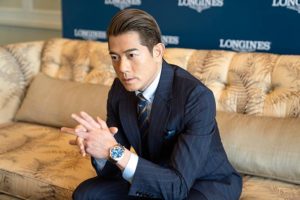 On Aaron's wrist: the HydroConquest Ceramic in blue
"In a way it's also a reflection of my journey so far — my work and achievements from beginning to now and the effort that I've poured in — just like how the HydroConquest has evolved over the years. It's about always achieving something new and current, while retaining our core values. In Longines' case, it's retaining elegance while being equipped with the latest technology; for me, I've gained a lot of experience and achievements through work, but I still try to remain true to myself."
Now that you're a father, how do you juggle your busy schedule between work and family?
"I've been a dad for almost two years now, but I'm still learning the ropes. I think it'll always be an ongoing process, as I strive to be not just a good father, but also a good husband. When I was 50 years old, I had this mindset that I wanted to have a family. I'm very happy that the dream came true. Now I'm trying to support my family as much as I can, and I'm fortunate enough to still be able to take on acting projects and concert tours. I daresay I'm really enjoying life right now. Balance is key, and I try to take on everything that comes my way to the best of my ability."
What are your resolutions for the New Year ahead?
"2020. Double 20s. It's a lucky number. I always dream of doing things I've never done before, so I'll always be pushing forward. I can't, and I won't, be stopping anytime soon. At the same time, I hope that everyone has good luck, good health, good work, peace, and have their dreams come true in 2020."
Aaron is a man of his words. Our conversation took place fresh off his arrival in Penang, but he won't have time to explore the island this time round. The family man was slated to fly back to Hong Kong that night itself (after a quick appearance at Gurney Plaza for the Longines boutique's grand opening) for his mother's 86th birthday celebration, fulfilling both his duties as a brand ambassador and a filial son — now that's a lesson in elegant balance we can all learn from.
The Longines boutique is located at Lot 170-G-07, Ground Floor, Gurney Plaza. Explore the new Longines HydroConquest collection here.
| | |
| --- | --- |
| SHARE THE STORY | |
| Explore More | |