I took a trip for the opening of W Macau—Studio City ahead, find the full account of my experience during my stay.
Just last weekend, the W Hotels brand opened the doors to its highly-anticipated and brand-new Macau location, marking the chain's debut in the region. The impressive building was designed by world-renowned Zaha Hadid Architects, and is a stunning feat of architecture drawing inspiration from Old Hollywood glamour—an opulent structure clad in geometric detailing that sits in the heart of Macau's infamous Studio City.
We spent a weekend in the hotel for the grand opening—here's what the experience looked like.
The Room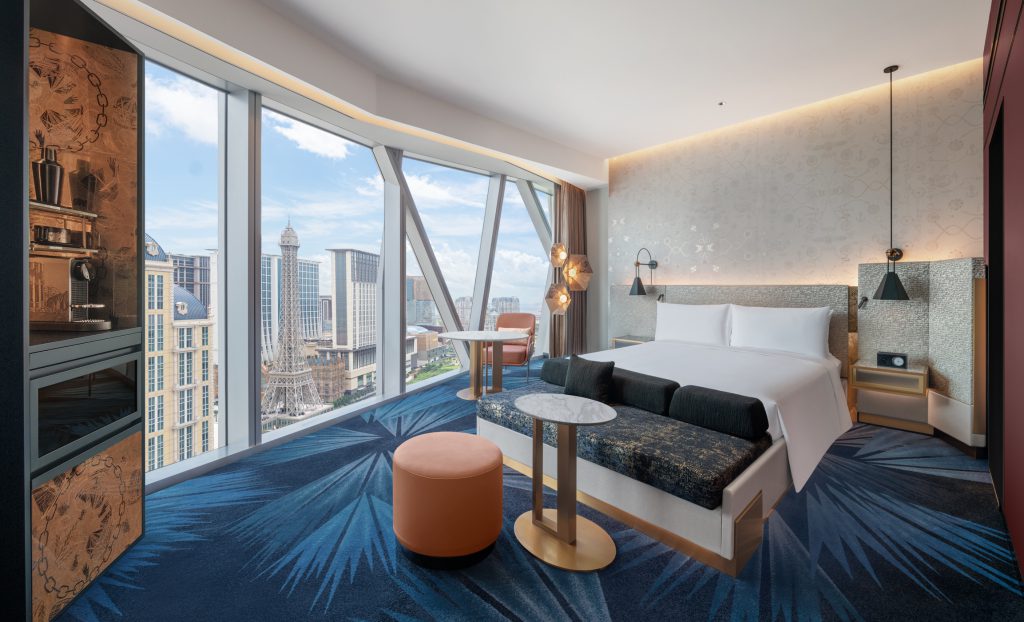 During my two days abroad, I stayed in the W Macau—Studio City's Spectacular King Room. My room had a city view, complete with a full lookout onto Studio City's main building. Alas, a typhoon was raging outside throughout the entire duration of my stay, so I didn't get to experience the view in all its glory.
As far as first impressions go, the room is really nice. The layout is spacious, offering an extra-large double bed and a private washroom with a bath and shower. In addition, it had a flat-screen TV, an alarm clock, a complimentary coffee and tea bar, a stocked minibar and pantry (not complimentary), and some lovely toiletries. As a beauty girl myself, I was excited to find a Dyson Supersonic hairdryer and Davines hair and body products stocking my bathroom—after all, they're not BURO Beauty Empties winners for nothing! I also have to mention—this is the first hotel I've been to that supplied a face cleanser with its toiletries, which I was both surprised and impressed by.
Overall, I really enjoyed the hotel room, and you can trust that I made full use of it. Whether it was testing the limits of the soundproof walls (sorry to my neighbours—my playlist sounded really good at full blast) or fully dissociating in the shower and the bathtub, I made sure to really maximise my time in the room.
The Amenities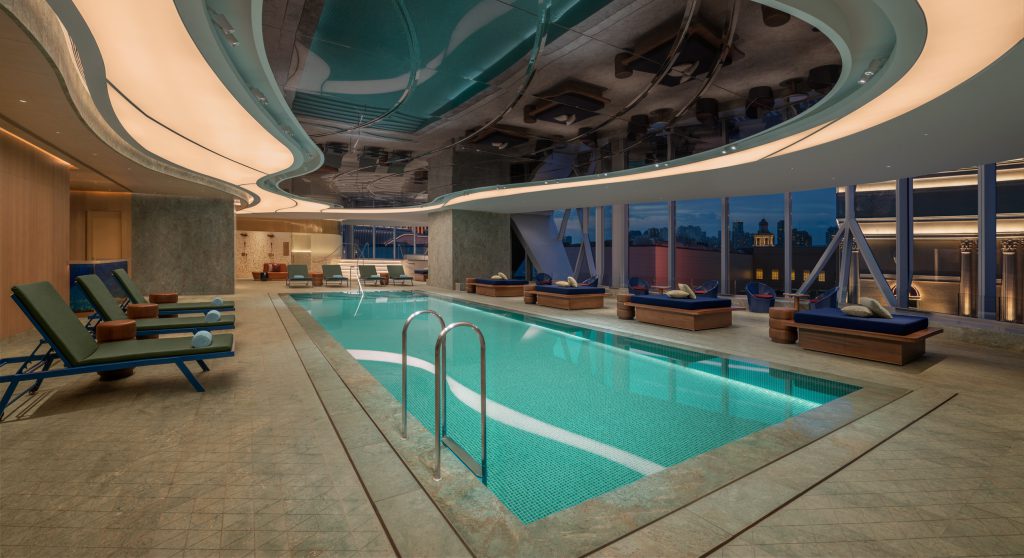 The entire third floor is my favourite place in the hotel. The interiors are stunning, like a little calming oasis tucked away from the busyness of the hotel, and it was a great place for me to unwind after a long day of press conferences and indoor tours. To start, I headed down to the pool at around nine in the evening, after the day's events had wrapped, and swam a few laps before hopping in the hot tub.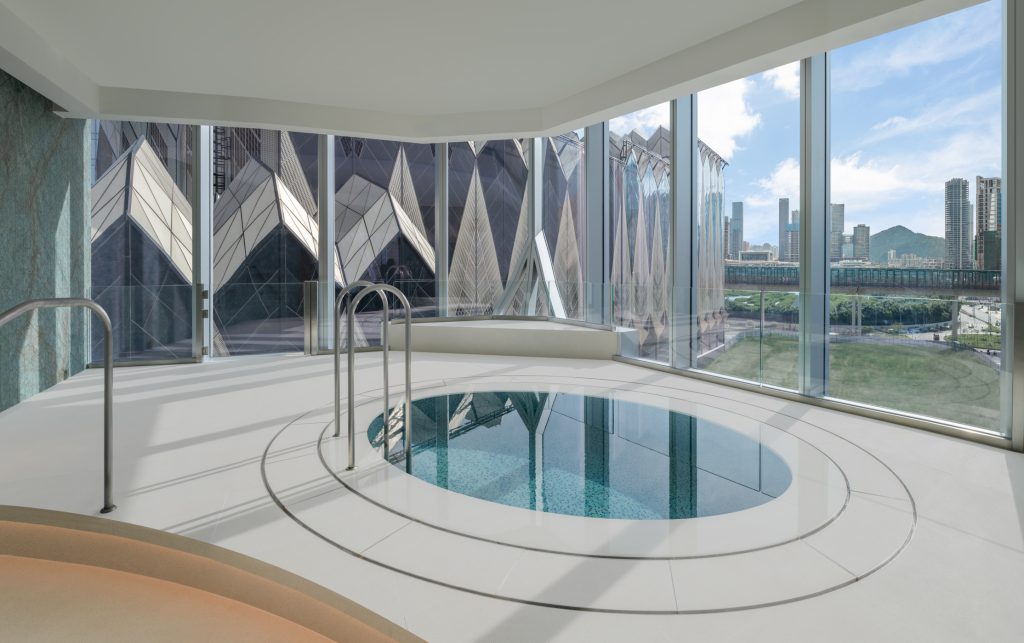 I would have liked to try out the sauna and steam room (also located in the pool area), but sadly, the pool closed at 10pm, so I really had to prioritise my activities. That said, there is one more pool I could have tried out, but cold plunges aren't really my thing. Plus, coming straight from the hot tub meant that my body was warmed up and ready for a run.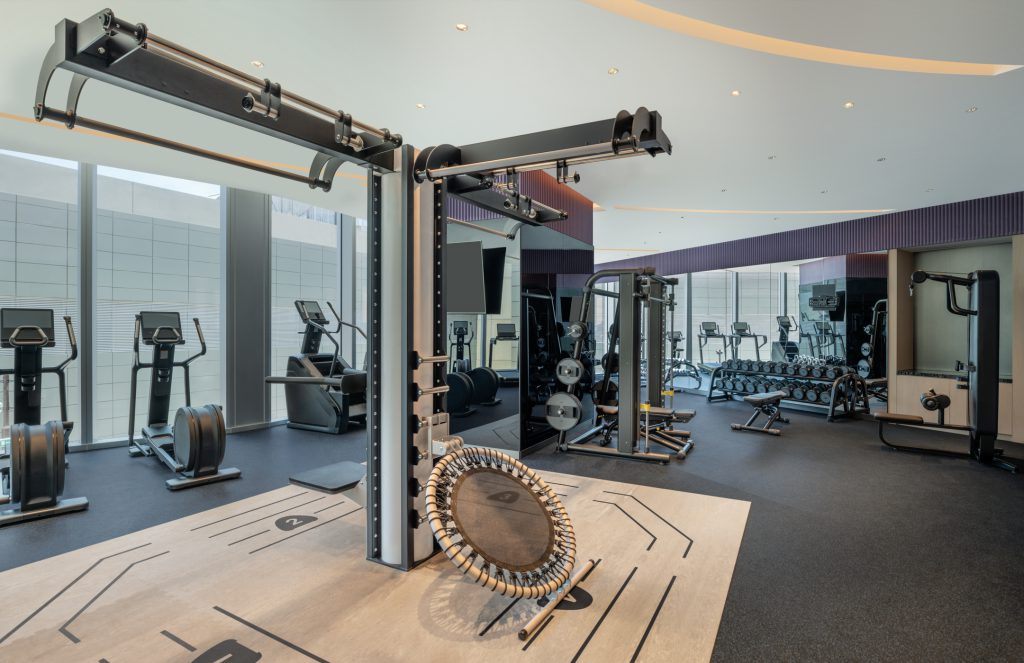 Indeed, after my swim, I headed to Fit, the W's gym. I know—I did this all in entirely the wrong order, but in my defence, the pool was closing soon and the gym is open 24/7! I was immediately greeted by friendly staff who showed me where the water, earphones, snacks, and gym towels were for my use. The space is comprehensive, with treadmills, stair machines, weights, and lots of other equipment I cannot name laid out neatly. That said, while I only had the chance to use the treadmill, there are personal trainer sessions available for any gym rats out there looking to perfect your form.
As a whole, there were a lot of nice little details in the amenities. Firstly, the pool's pH and temperature were listed for easy reference, and the room was nice and warm. Secondly, the changing rooms were stocked with Davines toiletries, Dyson hairdryers, hairspray, gel and deodorant, as well as a clothes spinner to help you dry off your swimsuit. Finally, there were attendants at the pool and gym who were ready to hand me towels, water, or slippers at my request—every girl's dream!
Sadly, I didn't have the chance to visit the Away spa, but it does offer both comprehensive and express treatments for guests.
The Food
Another highlight of my trip was the food I ate. Unfortunately, my experience with the cuisine in Macau is limited to just three restaurants. However, the food I did have was fantastic.
Our first lunch was at the Pearl Dragon—a restaurant in the Star Building of Studio City with one Michelin Star to its name. A short (indoor) walk from the hotel, it's a must-visit for foodies. I had a pork-free tasting menu that was filled with varied Cantonese delights. From snow goose soup made with double-boiled Evian water to deep-fried oysters seasoned with umami-rich seaweed, the eight-course menu was an absolute delight visually and gastronomically.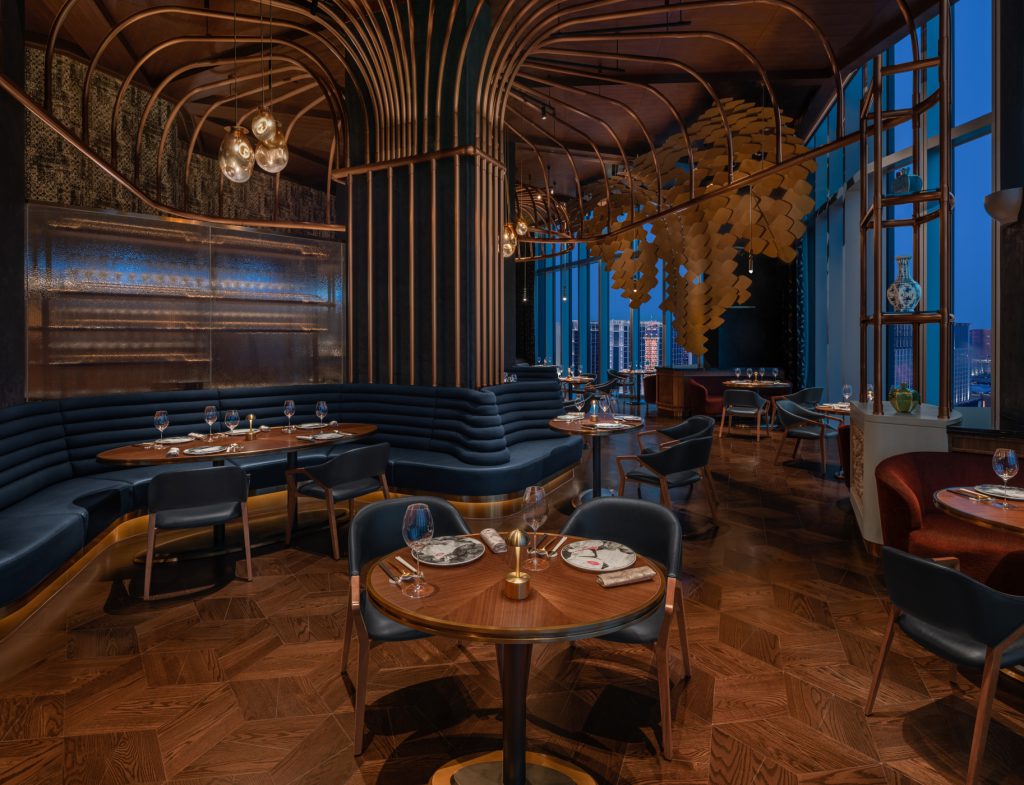 The second lunch was had at the hotel's Diva restaurant—another tasting menu packed with local flavours that were given a fine dining twist. While not every dish hit the mark, I very much enjoyed the exploration of flavours and textures on the menu. Plus, the panoramic view of the raging typhoon outside made the two soup courses feel that much more cosy!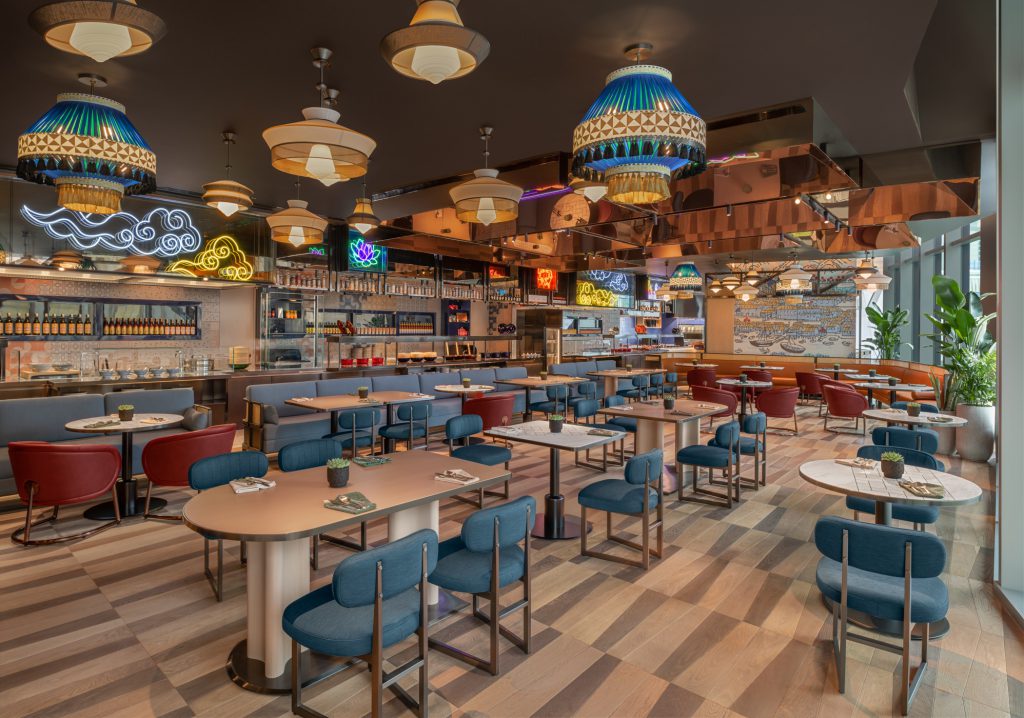 The hotel's Hawker Hawker restaurant is one eatery I'd like to mention. As you can probably guess, it's inspired by the hawker halls in Macau and is where breakfast is served every morning from 6:30am to 10:30am. As someone who is pork-free, I did find it a little difficult to find dishes to eat here—most of the breakfast spread was pork and the non-pork options were not very clearly labelled nor well-contained. As such, I can't really review it fairly, but I will say that of what I tried, the fruits were fresh and sweet, the pastries were pretty decent, and there was a lot of variety for those without dietary restrictions. One thing I would not recommend, however, is the latte as it was very watered down (but at least they had oat milk!).
The Attractions
Studio City is pretty family-friendly as a whole (casino and 18+ karaoke club exempted). While a lot of the mall isn't open yet, there is a huge water park (with both indoor and outdoor sections), a Ferris wheel, a sports arena and a VR park. Unfortunately, I did not get the opportunity to explore these attractions, but if it sounds like your cup of tea, just know that the option is there for you during your visit!
Just down the strip is a string of other malls themed around Europe—you'll find Macau's take on the Eiffel Tower, Big Ben, The British Houses of Parliament, the Venetian Grand Canal and more. After a two-minute walk from the hotel, you can enter through the Parisian and, from there, you'll be connected to all the other buildings. It's a fun photo op and a nice little stroll you can do rain or shine.
I do wish I had been able to explore Macau more with regard to the food and especially the culture. Really, it's a shame that the weather was so heinous as I would have loved to have walked around the city's Historic Centre. Casinos and water parks aren't quite my speed, and I was admittedly more interested in learning about the heritage of the country than anything else. Unfortunately, the hotel is a lengthy drive from the city centre, so it wasn't realistic to make the trek in the weather, even by cab.
Alas, the culture will simply have to wait until my next visit—hopefully, there won't be a natural disaster in the way then.
The Drawbacks
One thing I noticed is that it is very difficult to get around if you don't speak either Mandarin or Cantonese (or Portuguese). I did struggle to communicate with some of the hotel's staff at points and definitely had trouble when trying to get around the city.
As I also mentioned previously, it's not super friendly for Muslims either—Macau's cuisine is heavily pork-based, so if you don't speak the language or travel with someone who does, you'll struggle to check ingredients or ask for pork-free options.
Further, I had a lot of trouble trying to pay for things in Studio City. Heads up, if you're planning on heading to Macau, make sure you've got WeChat Pay or Alipay downloaded as a lot of the eateries in Studio City only take these e-wallets for payment. It's also a good idea to carry cash around you, whether it's Hong Kong Dollars or Macanese Pataca as shops and taxis generally do not take international cards.
The Verdict
Overall, my stay at W Macau—Studio City was enjoyable despite the missed opportunities. Even though the sightseeing was limited, the excellent food, top-tier amenities and homely room more than made up for it. If you're looking for a vacation of indulgence, you can rest assured that W Macau—Studio City is a great place to rest your bones.
For more travel reviews like this, click here.
| | |
| --- | --- |
| SHARE THE STORY | |
| Explore More | |