If Kyoto's gorgeous Sagano Bamboo Forest is one of your stops, so should Suiran, a Luxury Collection Hotel
A Japanese old lady I met on one of my first trips to Japan once told me that Japan is beautiful all-year around. Despite many visiting for the sakura trees or the autumn foliage, every season presents a different breathtaking scenery, be it in the bustling city or out in the quieter towns. Kyoto itself is a testament of that and Arashiyama, with its beautiful Sagano Bamboo Forest, is a must-visit on any itinerary. It's worth staying overnight since the bamboo forest is best appreciated in the early, breezy morning or during the cool, evening skies (the non-peak visiting hours). One of the best places to stay at is Suiran, a Luxury Collection Hotel.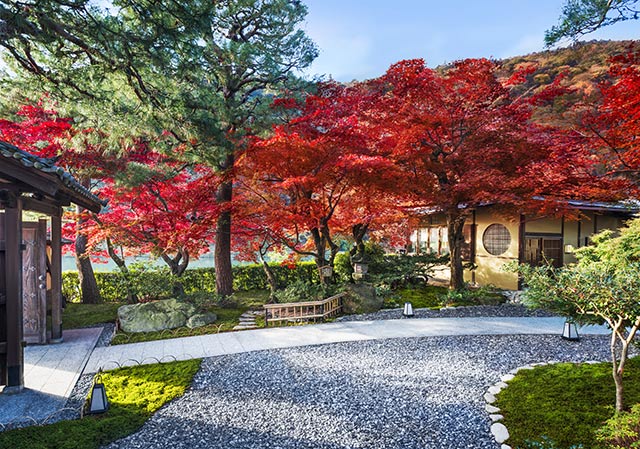 If Arashiyama was a painting, Suiran would seamlessly be painted into it. Tucked away from the busy main street and set in the grounds of Tenryuji Temple, the front faces the tranquil Hozu River and its sweeping background of the Arashiyama hills. Head inside past its main arch and you'll feel instantly transported to old Kyoto but decorated with modern-day comforts. Privacy and peace are assured here, and with a setting like that - the soft rustling of leaves from the trees overhead, the slight crunch of the pebbled path beneath your feet, the trickle of the small fountain inside, and the warmth emanating from the wooden architecture—it's not hard to ease into a state of Zen. 
The 3-story Japanese-style building that is Suiran houses 39 guest rooms with eight distinct style of room types. 17 of the 39 rooms offer a private open-air bath with natural Arashiyama spa water and I checked in to one of them: The Yuzunoha Deluxe Room. Golden-coloured and decked in a traditional Japanese design, the room features a section of Tatami mat flooring with a low chair set facing the balcony where there was a small, minimal garden of maple trees. This same view is visible from the open-air bath as you rest your head on the edge of the bath, breathe in the crisp air and enjoy a long soak. I know I did and it was well-warranted after a long flight from KL. 
While Arashiyama has a fair share of restaurants, Suiran adds two dining options to the pool: their Kyo-Suiran restaurant and the Cafe Hassui. On my first night, I decided to try the former and their much-recommended 13-course seasonal dinner, Kinshu. Fun fact: The head chef spent a considerable amount of time at an olive oil farm in Europe and has since been so inspired, he incorporates it often in his cuisine.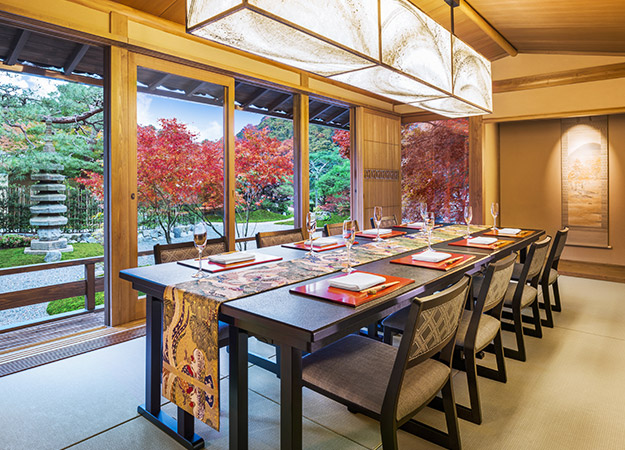 The meal was, by far, one of the best I've ever had in all my trips to Japan. Till today, I still dream of the first course—the Omi Wagyu beef thinly sliced and the prettiest pink, set atop a wedge broccoli rice to give it the shape of sushi. The meat was so tender, so velvety, so divine in flavour. Did you know Omi beef is regarded as one of "Japan's Top Three Wagyu", next to Matsuzaka and Kobe beef, and has the longest history of the three? The rest of the evening continued to awaken my gastronomical senses with a whole platter of fresh sashimi (served with a bamboo cup of dry ice for dramatic flair), abalone yakimono, duck cooked in 180 degrees Celsius with seaweed and sauce, and more. 
In the morning, it is this same restaurant that serves breakfast with two options: Traditional Japanese or Western-style. Both mornings I opted for the Japanese one. It was simple—porridge, cut rooted vegetables, pickles, soup, tofu, half boiled egg and grilled fish—yet satisfying (as determined by the health-conscious part of my brain).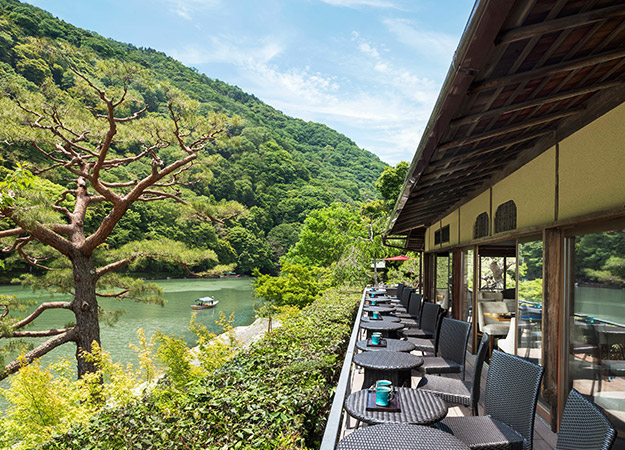 Closer to the entrance of Suiran sits Cafe Hassui, a terrace cafe housed in a 100-year-old building that was erected for poets in the 19th century. Inside, you'll find much of the original artwork along with a collection of calligraphic poems on the wall. Outside, it faces the Hozu River and its ever-changing seasonal landscape. It was a great spot to do a bit of reading, a bit of writing, and a lot of indulging on their handmade sodas, snacks and sweets. Do try their Japanese-style Afternoon Tea and the signature hisui-mochi, a matcha-filled confectionary inspired by the greenery of Arashiyama.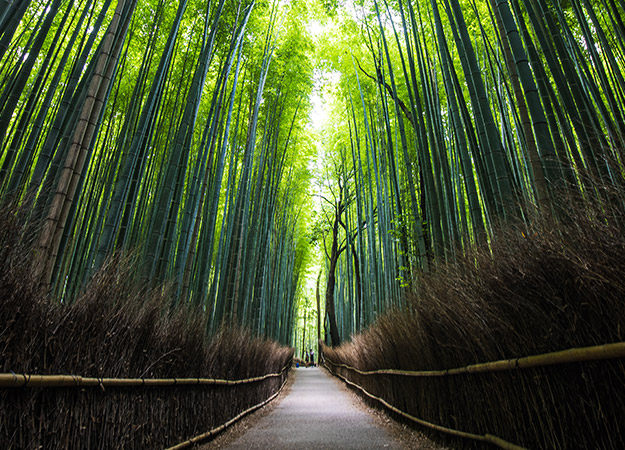 Speaking of the surroundings, there's more to do than just forest bathe in Sagano Bamboo Forest's glory or admire the history (and landscaping) of Tenryu-ji Temple. The streets of shops and cafes itself could easily take you more than half a day, and not forgetting, crossing the 155-meter Togetsu-kyo Bridge that's often used in historical films. Then, there's the Sagano Romantic Train which brings you on a scenic tour through nature, especially in spring or autumn.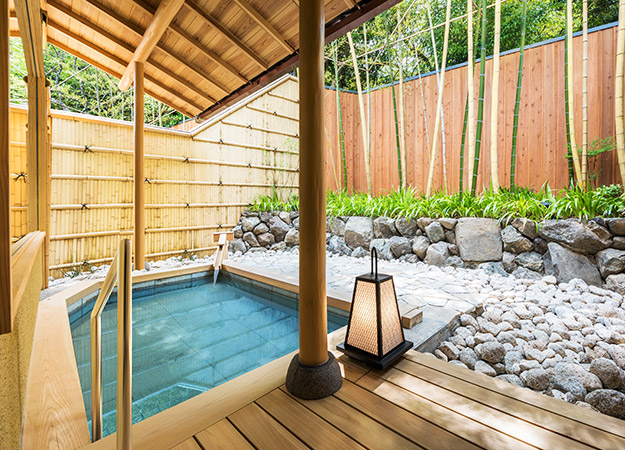 Once you're done exploring and in need of some rejuvenation, Suiran offers a couple of spa treatments for your consideration. Alternatively, there are two private spa rooms surrounded by a secluded Japanese garden and a choice between a cypress bathtub or a natural stone bathtub to be filled with mineral-rich water cultivated from the Arashiyama onsen. Now that's what I call a real getaway. 
Suiran, a Luxury Collection Hotel, Kyoto is located 35 minutes by taxi from JR Kyoto Station or 110 minutes by taxi from Kansai International Airport. 
12 Susukinobaba-cho, Saga-Tenryuji Ukyo-ku, Kyoto 616-8385