Tucked neatly away in an alpine forest, beneath the Bavarian Alps, is a slice of paradise known as Schloss Elmau. A castle built by the philosopher, theologian and writer, Dr. Johannes Müller, Schloss Elmau was used as a retreat for writers, artists and like-minded intellectuals. Spread across acres of pristine greenery, with sweeping views of the Alps, it is a hideaway straight out of a storybook, bubbling creek included.
Located about 100km south of Munich, Elmau is easily accessible either by train or car – it took us under two hours to drive to from Munich, an easy drive, enhanced by the beauty of the region.
Elmau of all places in Germany you ask? Its remote location and proximity to nature makes perfect sense. It's the ideal place for a retreat – stuck for ideas? Go for a hike. When your brain is fried from too much thinking, rejuvenate with a swim in one of the heated outdoor pools or opt for a scrub down at the Oriental hammam, the largest of its kind west of Istanbul. Relaxation is the keyword here at Schloss Elmau, which offers four spas, reading and relaxation rooms with views of the Alps and oversized armchairs for you to doze off in.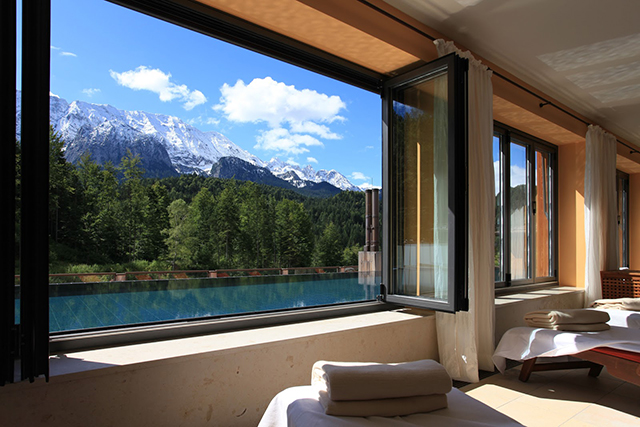 Built in 1916, Schloss Elmau celebrates its centenary this year. This grand dame, destination of choice for locals looking for a spot for some honeymoon romance or a weekend getaway with the kids, skyrocketed in popularity last year when it was chosen as the location for 41st G7 summit, where the likes of Barack Obama and Angela Merkel congregated for a few days to brainstorm.
Schloss Elmau consists of two wings – the original, main Schloss wing and the Retreat wing, which was built to house the members of the G7 summit. Essentially both wings are similar in that they both have access to a spa, pool and restaurants, with the Retreat seemingly more luxurious, possibly by virtue of it being newer.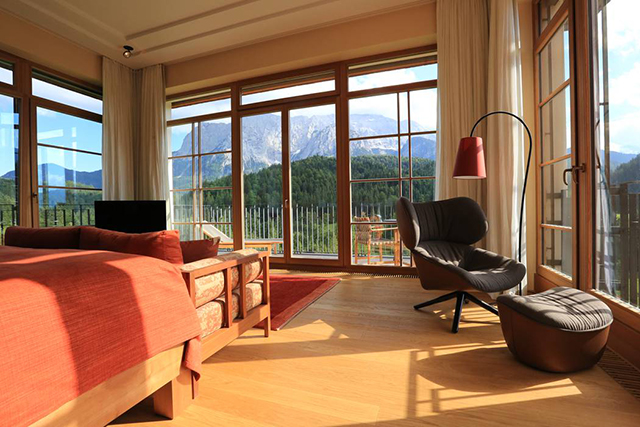 The Schloss wing boasts a few libraries, a bookshop, lifestyle shop and numerous restaurants, including Luce d'Oro, the hotel's 1 Michelin-starred restaurant and a fondue restaurant, which I saved till my last night there but didn't realise I had to book a day in advance. Guests have full access to the entire property though, so I made my way across the lawn in a cold, wintry night to Summit, the Thai restaurant at the Retreat wing, where a steaming hot bowl of Tom Yum soup was just what I needed.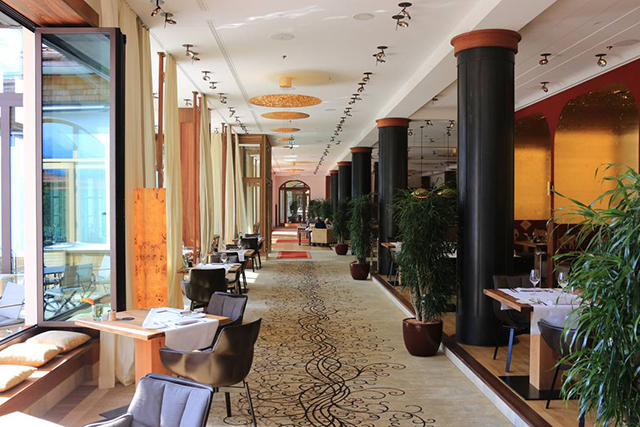 Not the entire Schloss wing is 'original' though, considering that almost two-thirds of it had to be rebuilt as a result of a fire that happened in 2005. It was during this time that the owners of the hotel decided to take the opportunity redecorate and introduce a more contemporary and upscale look, while keeping the hotel's original features.
My room was located in what must have been the bell tower of the castle. Although not entirely accessible by elevator – I had to climb a few flights to stairs to get to my room – I was rewarded with a front row view of the Alps, a breathtaking sight that I could watch the whole day (which I'm sure must be some form of meditation).
My room also overlooked the main four-storey spa building, a destination in itself with two heated outdoor pools (heated to 32-35 degree Celsius), steam and sauna rooms including women-only rooms and rooms for families, Oriental hammam, yoga studio, spa treatment rooms and multiple relaxation rooms that are so quiet and comfortable that I snoozed in a cushioned deck chair for an hour, roused from my slumber by the crackling of wood burning in the fireplace.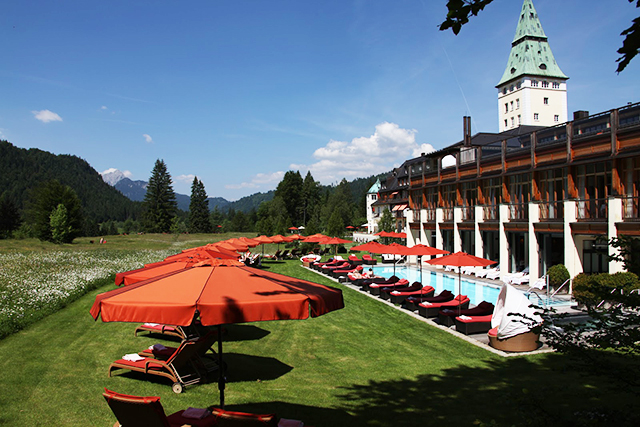 The gym offers weekly fitness programmes that include yoga, pilates, and tai qi and qi gong workshops. The yoga classes I attended were conducted in German but it wasn't difficult to follow the movements and I left class not only with a renewed sense of focus, but also with some basic German phrases – einatmen, ausatmen (breathe in, breathe out) – you'd want to einatmen that crisp Alpine air anyway. Schloss Elmau also plays host to renowned yoga instructors who travel from around the world to conduct regular yoga retreats.
Health retreat aside, Schloss Elmau is also a cultural destination – the hotel has a large, well-curated bookstore that hosts book presentations, talks and literary festivals, numerous libraries and its own concert hall that features musical artists every week, open to hotel guests at no extra charge. For its centenary, the concert programme will be dedicated to artists who have contributed to Schloss Elmau's classical, jazz and literature programme in recent years.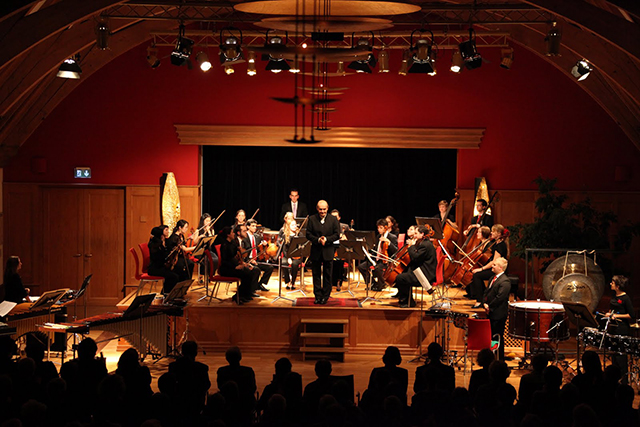 Coming in, I had no idea what to expect of Schloss Elmau and even if I did have any expectations, the hotel easily managed to surpass them all. It's a special place, Schloss Elmau, one that truly must be experienced – and on my next visit there, I'll be staying a while.
Related stories:
5 Things that will make you want to visit Melbourne right now
Travel bucket list: 8 Coolest places to visit in 2016
A treat for your senses: Top 5 spa retreats in Asia
| | |
| --- | --- |
| SHARE THE STORY | |
| Explore More | |