The saying, "It's not about the destination, but about the journey," holds true to us. Unfortunately, flights are never the favourite part of any trip and to make matters worse, there are often inconsiderate people and their inconsiderate behaviour on most planes. Here are some of the most annoying things people do on flights:
1. Assuming dominance over a shared armrest
The battle of the elbows is a persistent one and one that could get ugly or frustrating, especially if you're in the middle seat. Each passenger is entitled to at least one armrest, with perhaps a bit more consideration for the poor guy stuck in the middle seat, especially on a long haul flight.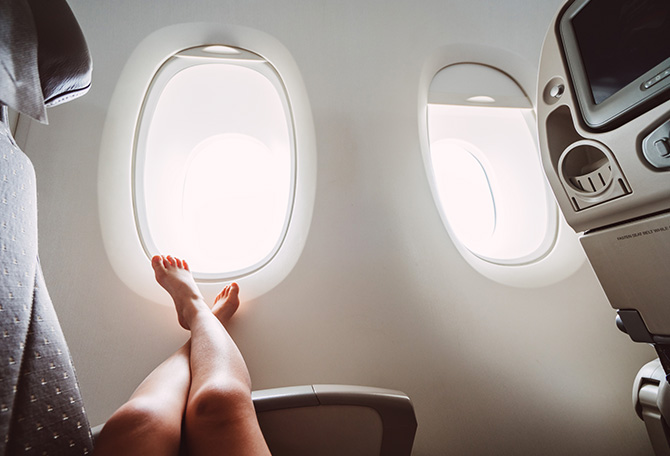 2. Placing their feet on the cabin wall
You get a window seat and after takeoff, you look out to admire the never-ending scenery of fluffy clouds. Then, from the corner of your eye, you see a pair of shoes, or worse still, bare feet, kicking themselves up against the cabin wall. For dramatic effect, it's happening in slow-motion and stench of foot odour hits you. The horror is real.
3. Kicking or bumping your seat
Other frustrating things that some people do with their feet on a plane: kicking the seat in front of them, or a child who does it and is with a parent who doesn't feel the need to correct their behaviour. Also, jamming the touchscreen too hard, which makes your headrest shake with each poke.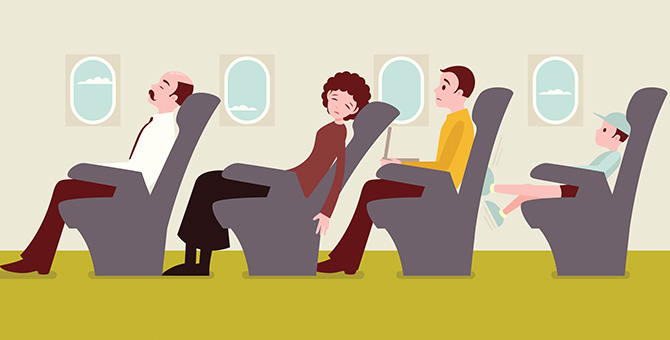 4. Reclining the seat
It's fine until they don't consider putting their seats back up when the meals arrive.
5. Children running up and down the aisle
Includes hysterical giggling and shrills of excitement. Not included: A parent reprimanding them to stop disturbing the other passengers.
6. Talking loudly
It's always nice to travel with loved ones, whether in a small or large group. It's also always nice to be courteous and aware that you're not actually in the comforts of your own home, so please do keep your conversation volume down.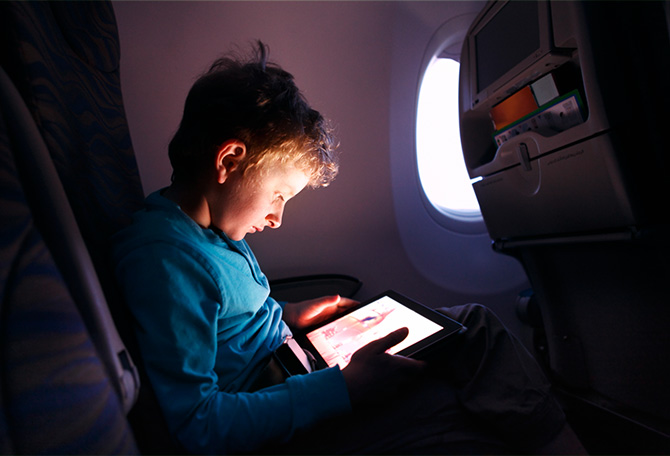 7. Not plugging into their gadgets
Children love to play games or watch shows on their tablets. It's a given. Just make sure they use earphones and not blast up the volume. We don't all need to hear those angry birds.
Even if you're the most zenned out person, your patience will be put to the test especially on a long-haul flight. Fortunately, there is a way around it — a good pair of noise-cancelling headphones. If you've never considered a pair before, you'll be surprised at how much of a travel essential they are. Our pick: Sony's latest noise-cancelling headphones, the WH-1000XM3. Packed with a ton of features for every user in mind, they're really the only pair of headphones you'll ever need. Case in point:
 Long battery life: They offer up to 30 hours of battery life and include an upgraded Quick Charging function where a mere 10-minute charge via a USB type-C port could bump up five hours of wireless playback.
 Efficiently blocks more ambient sound: The headband-style model is equipped with a newly-developed HD Noise Cancelling Processor QN1, outputting a performance four times greater than its predecessor. Thus, it can negate transport noise as well as daily background sounds such as street noise and human voices (baby cries included) while producing stunning, high-resolution sound quality.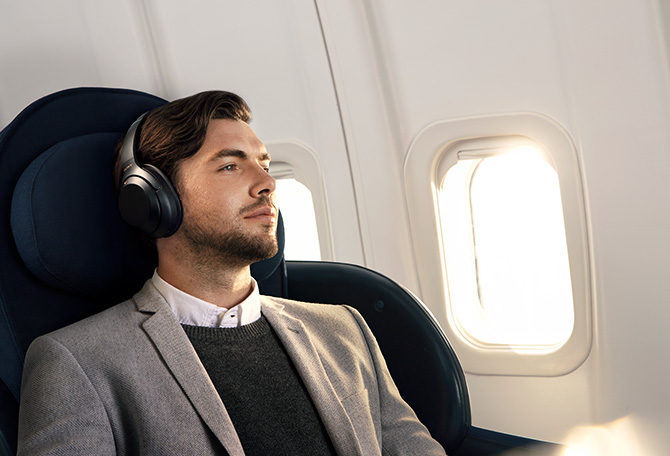 Easy controls: You can easily adjust the sound on the Sony WH-1000XM3 headphones by swiping the touchpad on the right earcup. Swipe left or right to switch tracks. Swipe up or down to change the volume.
Quick Attention Mode: Instantly hear what is going on around you without taking your headphones off by placing the right hand over the earcup. Useful for when the flight attendant asks what drink you would like.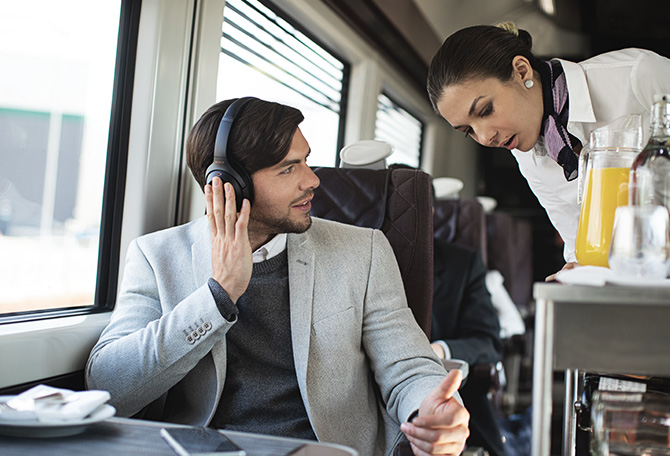 Customisable Automatic Power Off: Preferences can be customised with the "Sony | Headphones Connect" app, including the Customisable Automatic Power Off which can enable the headphones to stay on and in noise cancellation mode without being connected to a device. Ideal for long-haul flights when you want to rest peacefully.
Adaptive Sound Control: It's easy to get lost in your music or show with noise cancelling headphones but Sony's latest model takes it a step smarter with this activity recognition feature. It'll detect the situation you're in such as catching announcements while waiting in transit and automatically adjust so you can hear both ambient sounds and music, and not miss out on anything important.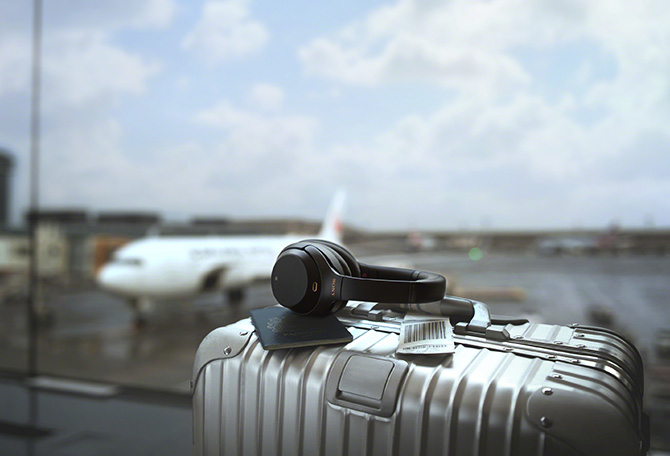 Slim, practical and comfortable: The Sony WH-1000XM3 headphones have a slimmer silhouette and weigh less than their predecessor. The deeper earcup and thicker headband cushion also mean it's more comfortable, even when you wear it for long hours at a time.
What more do you need? The Sony WH-1000XM3 headphones retail for RM1,599 and will be available at Sony Stores and authorised retailers from 15 October 2018. For more info, visit Sony Malaysia's website. 
| | |
| --- | --- |
| SHARE THE STORY | |
| Explore More | |