Laucala Island is an exclusive resort in the Fiji archipelago in the South Pacific. With only 25 luxurious villas, this private island is accessible by its own airport. Having limited access to ingredients, chefs on this island create their menus from seasonal crops that are gathered using traditional methods, livestock that are reared in free range pastures and barns, and seafood caught fresh locally. The scenic views and beautiful settings of each restaurant makes the dining experience even better. Here are the 5 restaurants that might convince you to visit this paradise on a rock.
1. Plantation House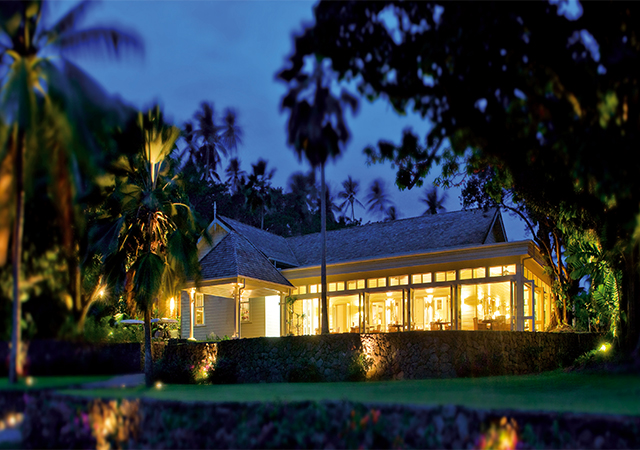 Headed by Executive Chef Anthony Healy, his elegant replica of a classic colonial mansion is open for breakfast and dinner where the kitchen serves classic breakfast offerings alongside freshly baked breads while dinner is prepared exclusively using fresh vegetables from the island and seafood caught locally caught on the same day. Wine lovers will also be able to enjoy premium old and new world wines as well as cigars in the adjoining Plantation House Bar.
2. Rock Lounge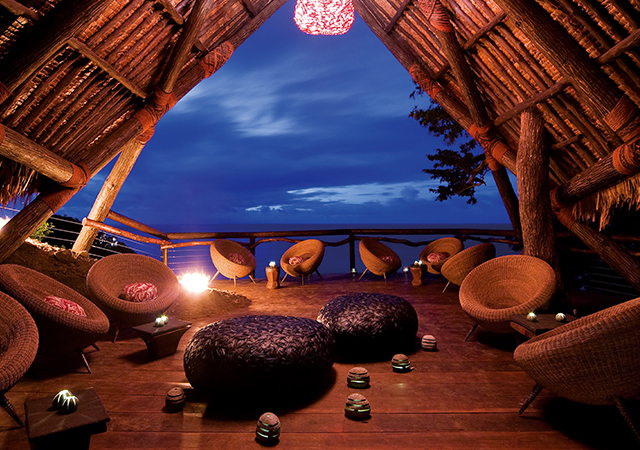 Overlooking Seagrass Bay, the scenic Rock Lounge welcomes guests to an ethereal view of the sunset accompanied by refreshing tropical cocktails. Guests can sit back and relax in their rock-shaped lounge chairs while they snack on delicious small bites as they enjoy the view of flying foxes that come up to play from high up on the mountain.
3. The Seagrass Lounge & Restaurant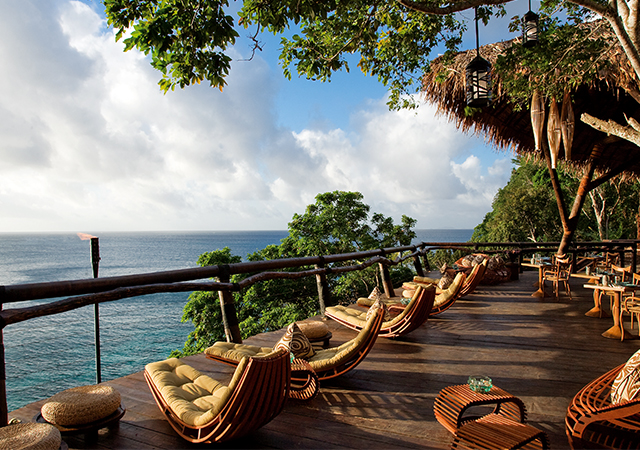 For those who cannot can get enough of the clear blue Pacific Ocean, The Seagrass Lounge & Restaurant offers local and Asian flavours from a hilltop that provide access to the blue lagoon located right below it, allowing you to continue snorkelling and swimming before your meal. The menu here changes frequently to take advantage of seasonal produce. Also available at The Seagrass Lounge & Restaurant is a private dining deck devoted to teppanyaki specialties.
4. Pool Bar
Located in a dramatic wooden structure constructed using classic Fijian methods, the Pool Bar looks like an extravagant shell. This stylish restaurant features modern Mediterranean cuisine with shared tasting dishes prepared in amuse bouche style. The Pool Bar is a wonderful place to cool yourself down during the day as they offer fresh fruit juices, coconut milk and coconut water that are produced daily on the island.
5. Beach Bar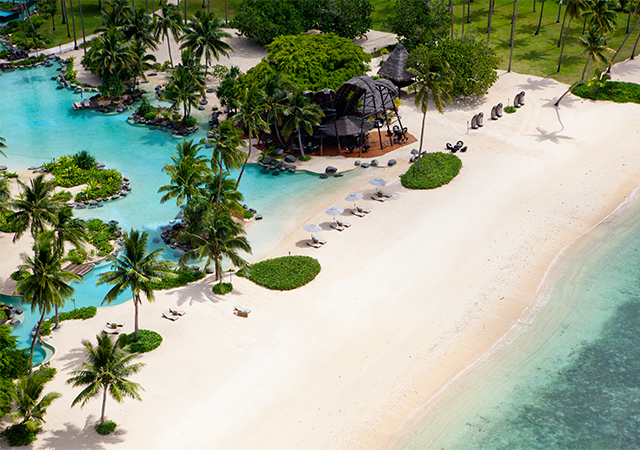 Enjoy fresh BBQs in your bikinis and swimming trunks at the Beach Bar as your feet sink into the clean white sand day and night. The delicious grilled offerings here include fresh seafood and meats and Fijian specialties such as Kokoda, a traditional raw fish salad marinated with lemon, chilli and coconut.
To find out how you can experience this piece of paradise, visit www.laucala.com.
| | |
| --- | --- |
| SHARE THE STORY | |
| Explore More | |