Travel
Travel Diaries: I spent three days in Istanbul—here's where to eat, shop, and sightsee
Food, fashion, and other attractions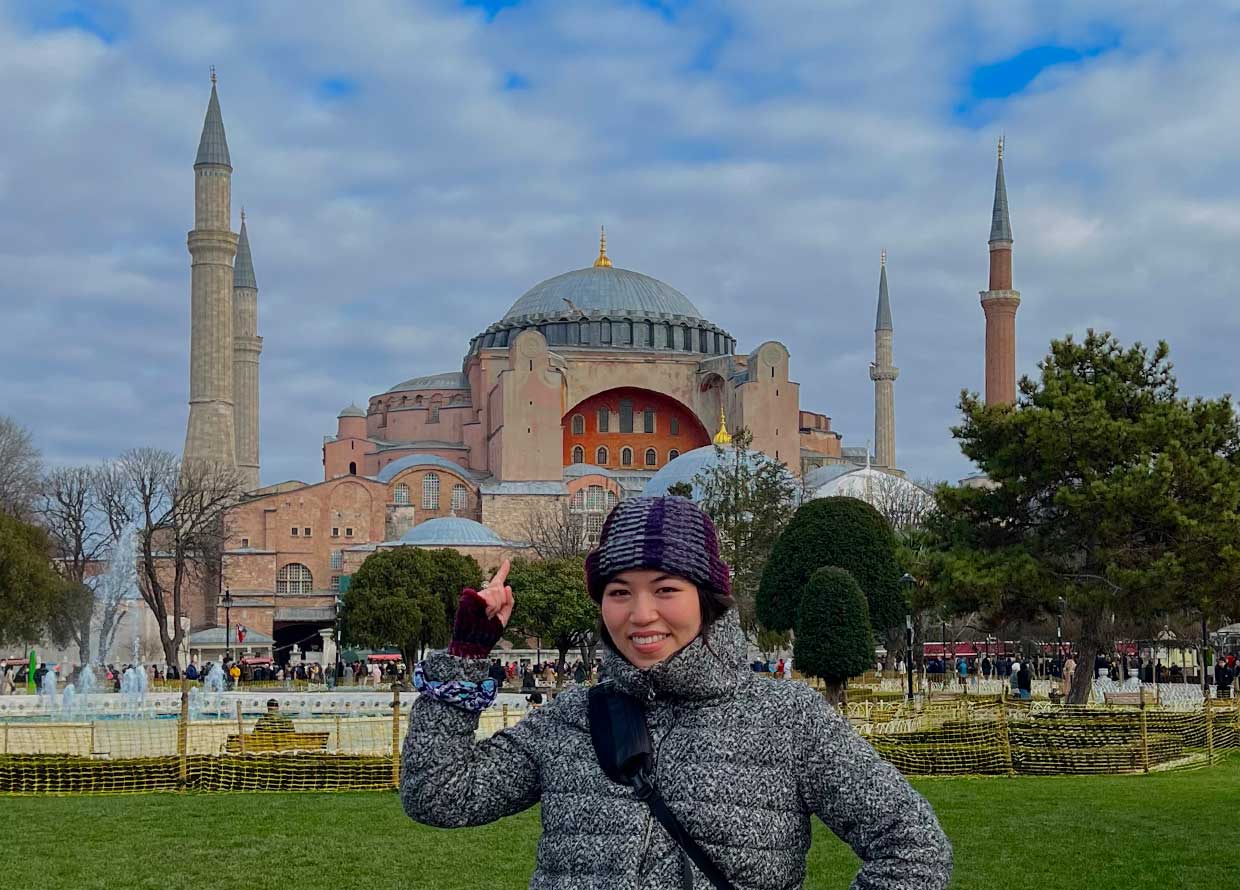 Just two months ago, I was taken on an incredible whirlwind trip to Istanbul by the Turkish Tourism board. It was three euphoric days filled with culture, fashion, and food—an experience I'll never forget. 
Of course, since then, southern Turkey has been hit with two devastating earthquakes, both of which have left the area devastated and thousands lost. It hasn't felt like the right time to post this travel diary for obvious reasons, but I felt that this would be a good opportunity to shed some light on the situation. So before you read on, do consider donating to the relief funds below.
DONATE HERE: Earthquakes in Turkey and Syria: What happened and how to help
I was incredibly lucky to be guided by two wonderfully friendly and knowledgeable women—Aysem Erginoglu and Ebru Oztinaz—who were the best tour guides a girl on holiday in Istanbul could ask for. However, even with Aysem and Ebru to guide me, three days was nowhere near long enough. 
Don't get me wrong—we covered an impressive amount of ground on our little tour, but I feel like there is so much left for me to explore. Since my visit in January, I've been itching to return. As such, I've already put together a list of all the places I'd like to visit once I'm back, and I'm here to share it with you. So, without further ado, find my to-do (and have done) list for Istanbul below, from cultural hotspots to shopping destinations and foodie stops.
For the keen sightseer…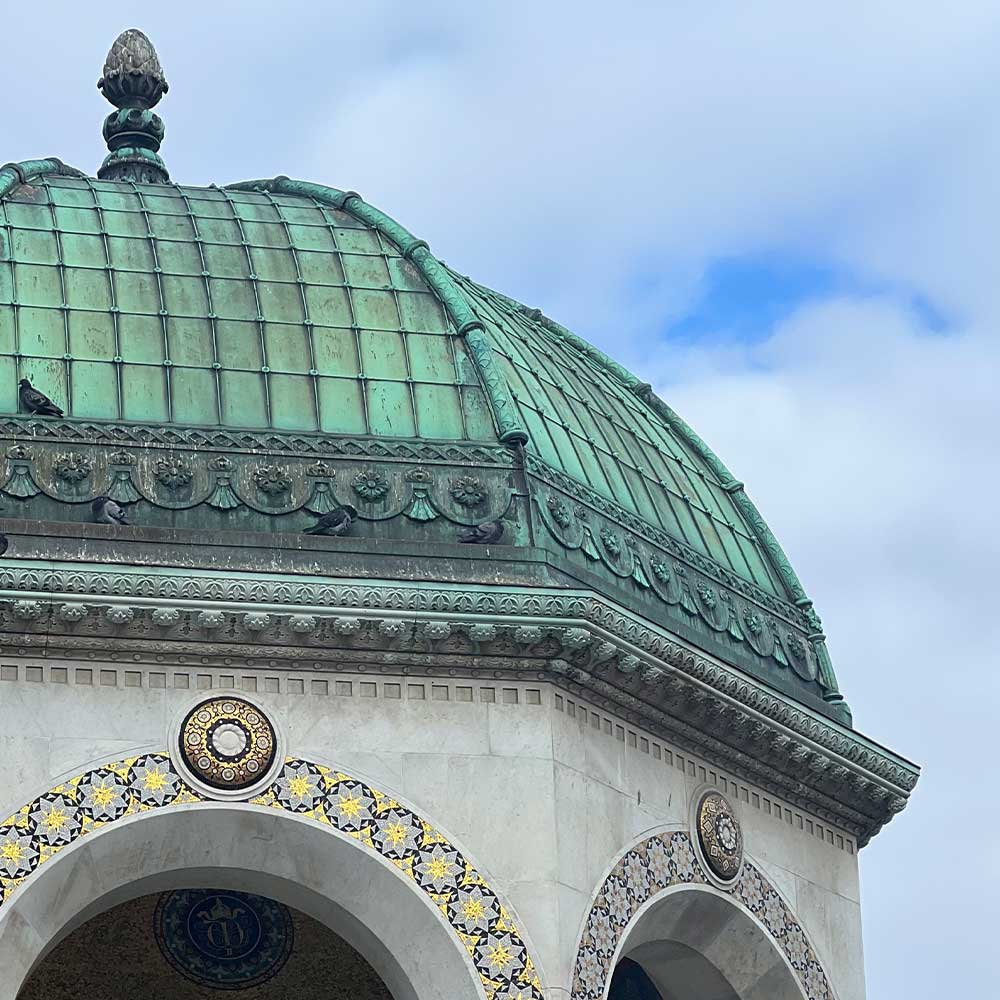 The mosques
According to my tour guide, Turkey is a predominantly Muslim country and so Istanbul alone has upwards of 3,000 mosques. If we're accounting for the number of mosques across the whole country, the total is a little closer to 8,000 mosques. Needless to say, if you're looking for sights to see when you're visiting, you may want to consider popping into the nearest mosque—there's probably one just around the corner!
PSA: For those planning on visiting any mosques, do keep in mind that you should be dressed modestly, covering your hair and body before entering the premises. My best advice would be to pack a headscarf and wear shoes that are easy to slip on and off as they'll have to come off too!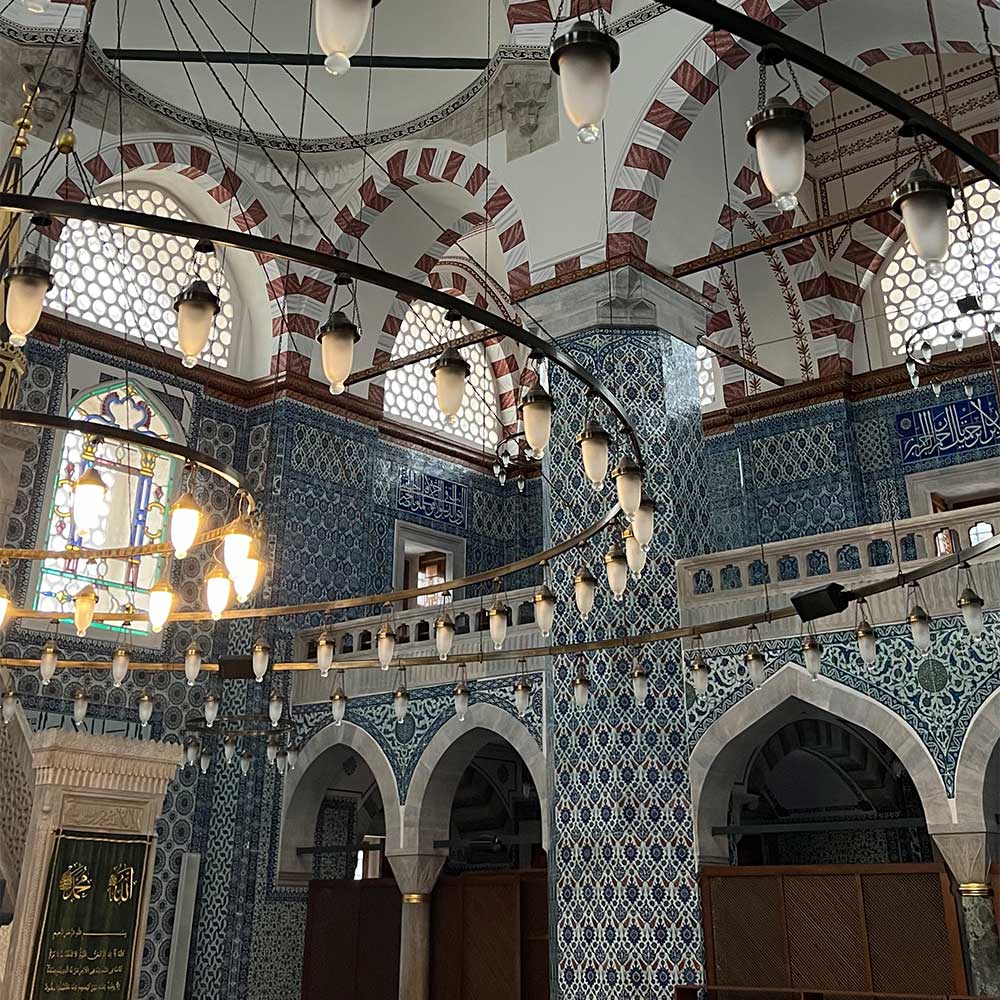 During my trip in January, I visited two mosques. The first was the Rustem Pasha Mosque, a beautifully ornate building and architectural marvel all in one. The mosque is visually breathtaking, with countless slabs of intricate and handmade İznik tiles decorating its interior from floor to ceiling. Now, Malaysia has some beautiful mosques but I have to say that the Rustem Pasha was by far the most stunning one I've ever seen.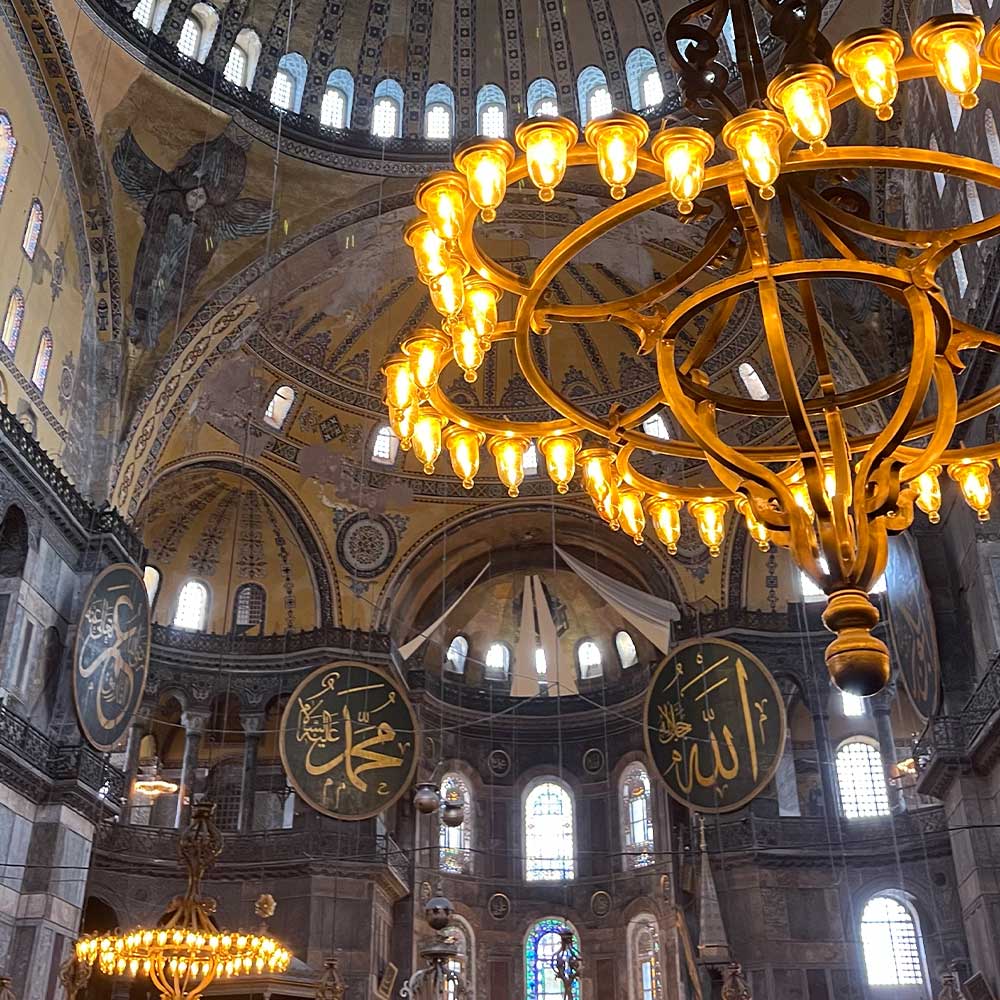 The second was, of course, the Hagia Sophia. Amongst the most popular holy sites in the world, this building is absolutely magnificent. Built in the 6th century, the Hagia Sophia has served many purposes—first as an Eastern Orthodox church, then as a mosque during Ottoman rule, then as a museum in 1935, and finally, as of 2020, a mosque once more. Its rich history is etched into its walls in the form of gold-laced iconography (a very controversial choice for a mosque), ornate, low-hanging lamps, and an offset mihrab (read: qibla wall). The only regret I have is that I was unable to see the second floor of the Hagia Sophia. Unfortunately, since the building was converted into a mosque, the high foot traffic has made it impossible to keep the balconette of the mosque open for viewing. Apparently, there is much more to see in the Hagia Sophia, so should they ever reopen it fully, I shall definitely be back!
NOTE: If you're hoping to pay the Hagia Sophia a visit, prepare to wait in line for a while. When I went, the line wrapped around the building, with no clear end in sight!
The palaces
The biggest regret I have from my blink-and-you'll-miss-it excursion around Istanbul is the fact that I missed out on seeing any palaces, bar a quick drive (or boat) by. Istanbul's many palaces and pavilions (read: mini-palaces) were built by the Ottoman Sultans of the 15th to 19th century, most of which are now recognised as UNESCO World Heritage Sites. Topkapı Palace, in particular, is one that is on my bucket list, along with Yıldız Palace and Beylerbeyi Palace. Really, I could easily use up an entire week exploring the vast number of grand royal houses in the city.
The Istanbul State Opera and Ballet
I'm not much of a ballet expert, but the Istanbul ballet was one of the biggest highlights of the trip for me! We attended La Bayedére at the Istanbul State Opera and Ballet, which was a lively performance with a definitively Turkish twist that had me hooked. Unfortunately, we had to leave before the final act to catch our flight home, so I am still in the dark with regard to how it ended! Based on what I did see, however, I'm definitely coming back for another show.
Kadıköy-Moda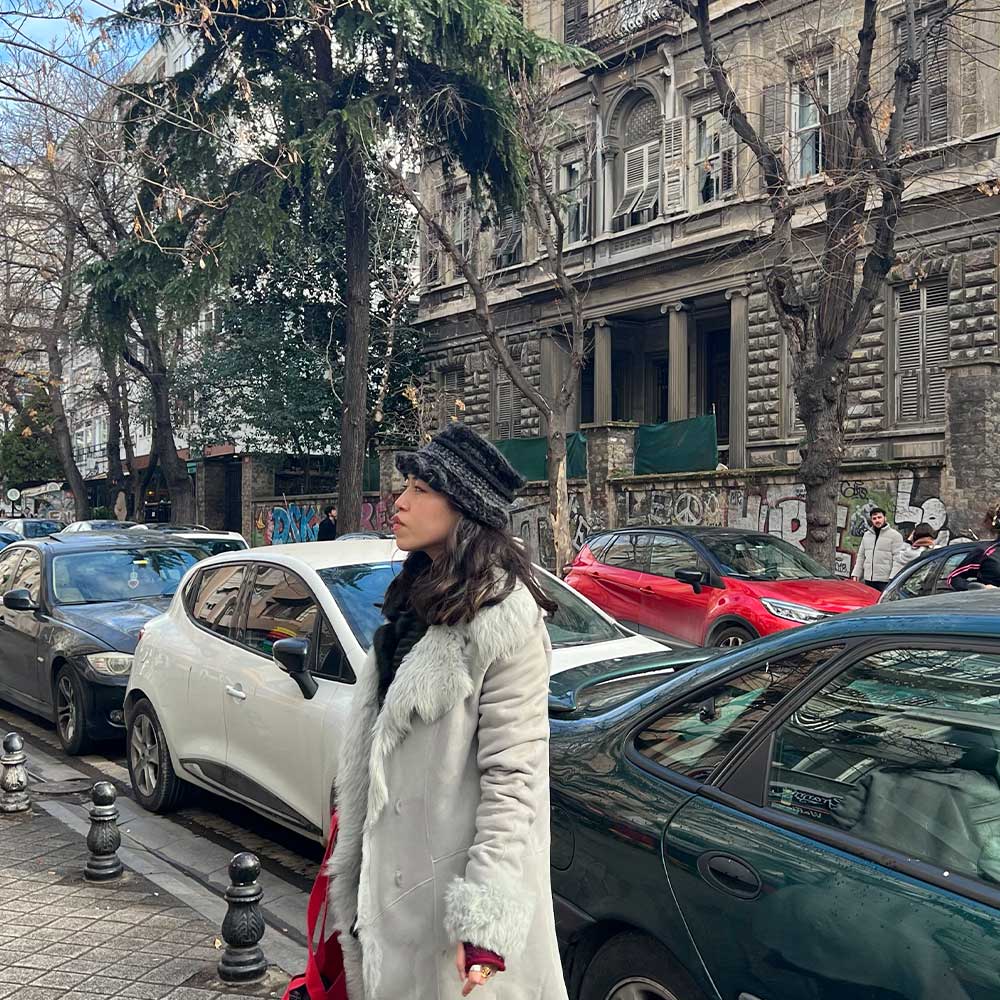 If you're hoping to get away from the touristy side of Istanbul, take a ferry across to the Asian side and pay a visit to one of the world's 50 coolest neighbourhoods (according to Time Out, at least). This coastal neighbourhood is packed with bars, cafés, restaurants and bookshops, all of which have made it a sort of cultural hotspot for Istanbulites. Looking around the area, you'll be met with plenty of things to do—unfortunately, I did not have enough time to explore the area, so I'll just have to wait til my next trip over!
For the foodie…
If you're looking for a good, hearty meal wherever you go, Istanbul is a dream. As someone who adores Middle Eastern cuisine, I had a field day on this trip. Ahead, here are the foods and culinary haunts I loved the most from my trip:
Matbah Restaurant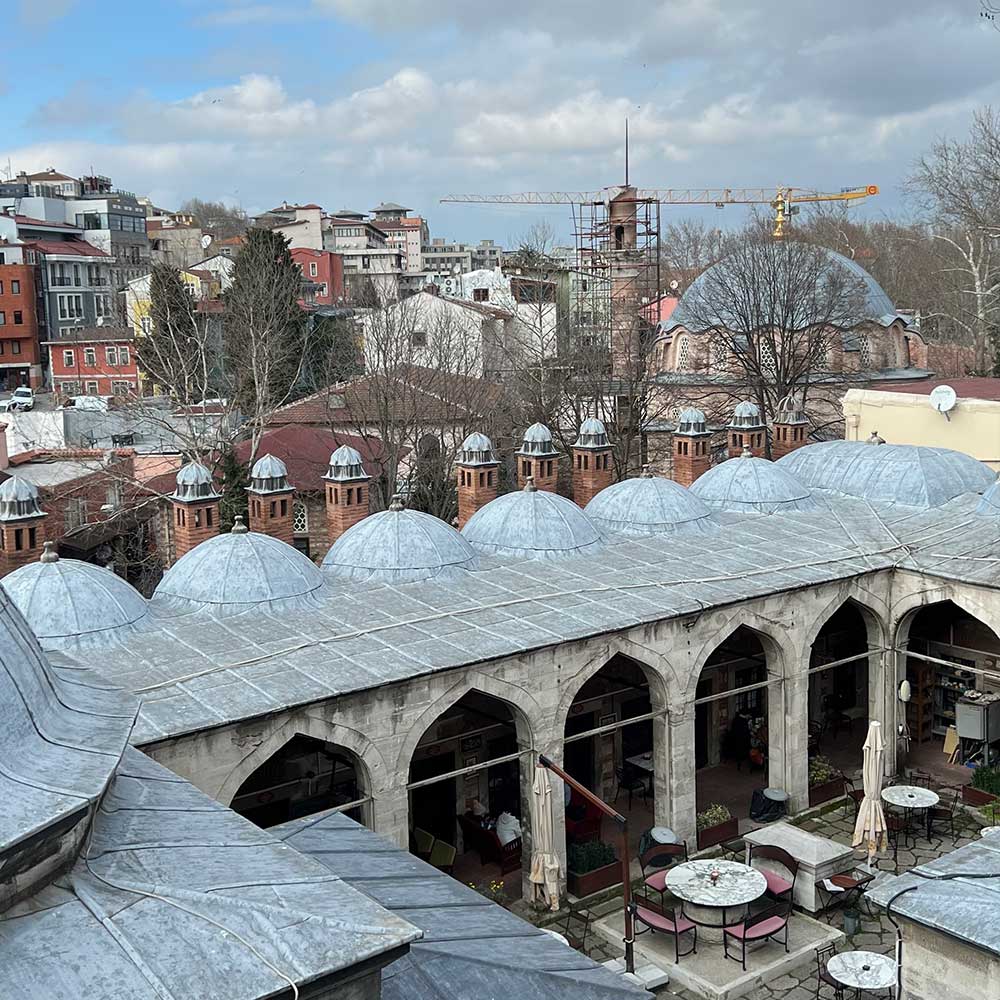 Personally, I thought that this restaurant was by far the food highlight of the trip. Definitely a must for those who like to dine finely, Matbah is just across the street from the Hagia Sophia and has the most incredible views. The restaurant's menu is comprised of exquisite dishes that were served to the Ottoman sultans once upon a time, and the food certainly left an impression on me. It's on the Michelin Guide for a reason, after all!
View this post on Instagram
Ciya Sofrasi Restaurant
View this post on Instagram
Another restaurant that I would return to in a heartbeat is Ciya Sofrasi. Located on the Asian side of Istanbul in the middle of the bustling Kadikoy marketplace, this particular joint has a claim to fame through Netflix's Chef's Table. To this day, I still think of the mezze spread I ate there. It's a little hard to find a table, but if you're lucky enough to land one, it'll be worth the wait.
Spice Market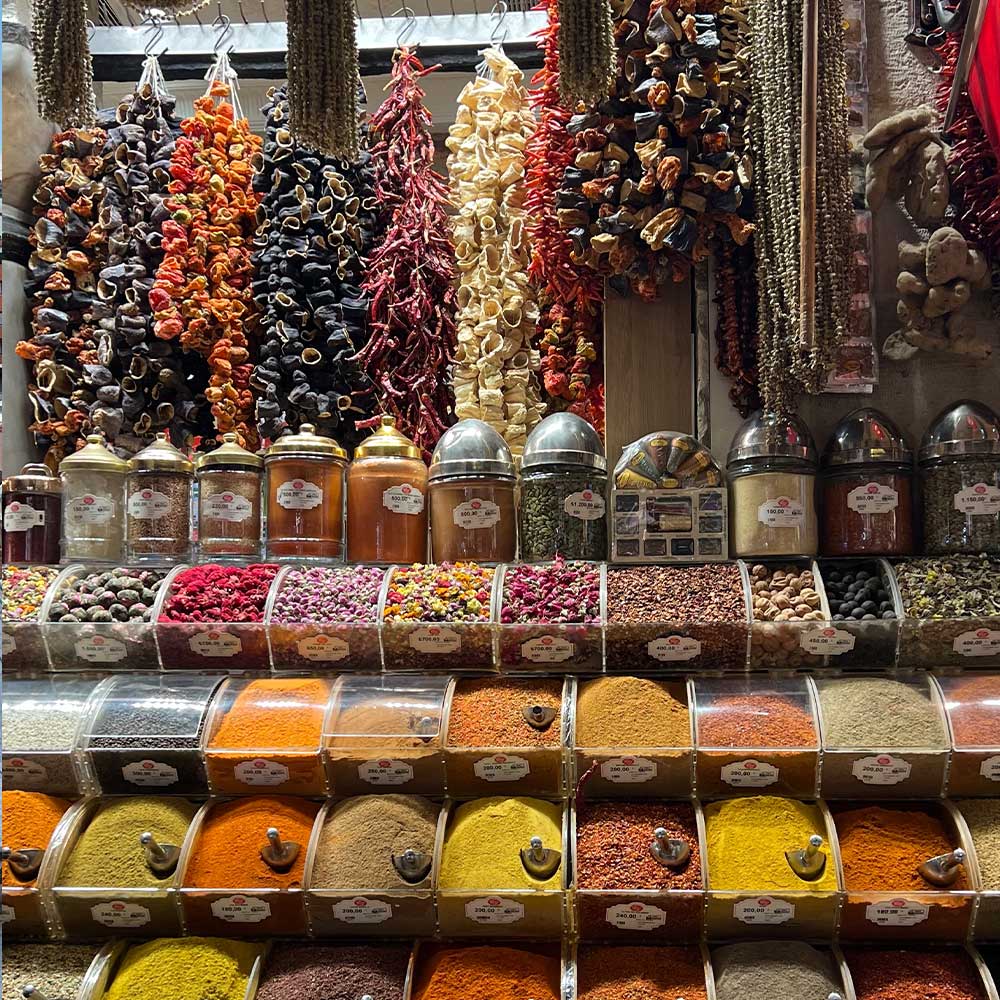 A staple of the city, the Spice Market is the place to indulge your taste buds in all things decadent. There's only one way to describe the market: Overwhelming. At every corner, there's a plate of samples waiting for you. It's also unbelievably busy—when we went, it was 11 am on a Tuesday and the whole market was jam-packed with locals and tourists alike! As you'd expect, it's easy to get intimidated in there. I was very lucky to have my tour guides Aysem and Ebru by my side, as they led me directly to a stall run by an old friend of theirs. Upon walking in, I was greeted by shelves stocked with rows and rows of mouthwatering treats, as well as plenty of samples to try. Spoiler alert: The delights (specifically of the Turkish kind) did not disappoint. Needless to say, I walked out with around 10 kilograms of Turkish tea blends, Turkish delights, and pistachio mixes—no regrets, except for the fact that I pretty much inhaled everything immediately.
My new favourite drink
View this post on Instagram
The one thing I yearn for the most from my trip in January is a Turkish winter drink called Sahlep. Made from the bulbs of tulip seeds, milk, and sugar, it's a creamy, viscous delight that I literally haven't stopped craving since I left Istanbul. 
For the fashionista (and beauty buff)…
Grand Bazaar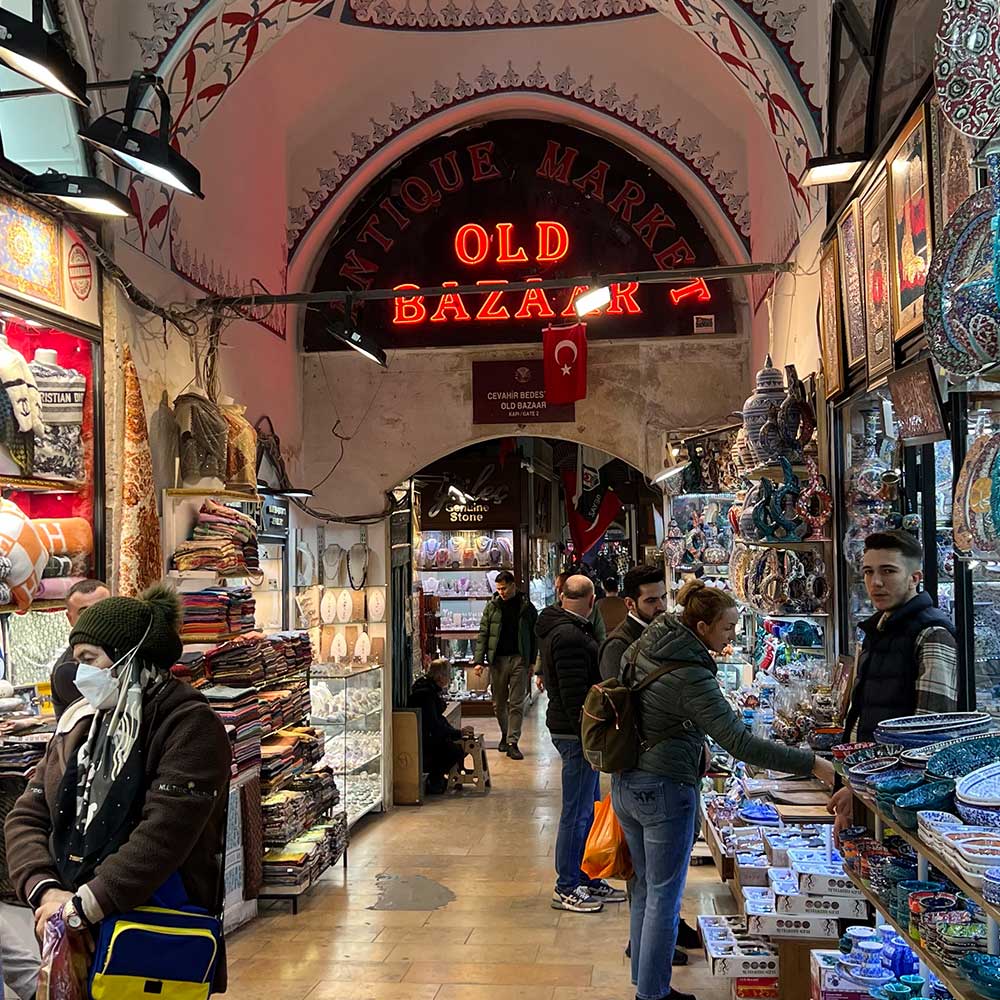 I'll be honest: I wasn't the biggest fan of the Grand Bazaar, but I do think everyone should go there at least once. Preferably, with someone who is very, very good at bargaining. Why? Bargaining in the Grand Bazaar is a cultural custom, and everyone who comes through must put up a good fight with the sellers. It is a good test of your audacity, your sense of direction, and how well you can function under pressure. As it turns out, I score terribly at all of those things, and I walked away from the whole experience feeling totally nauseous. That said, at least I got two fabulous pairs of earrings out of it!
Galataport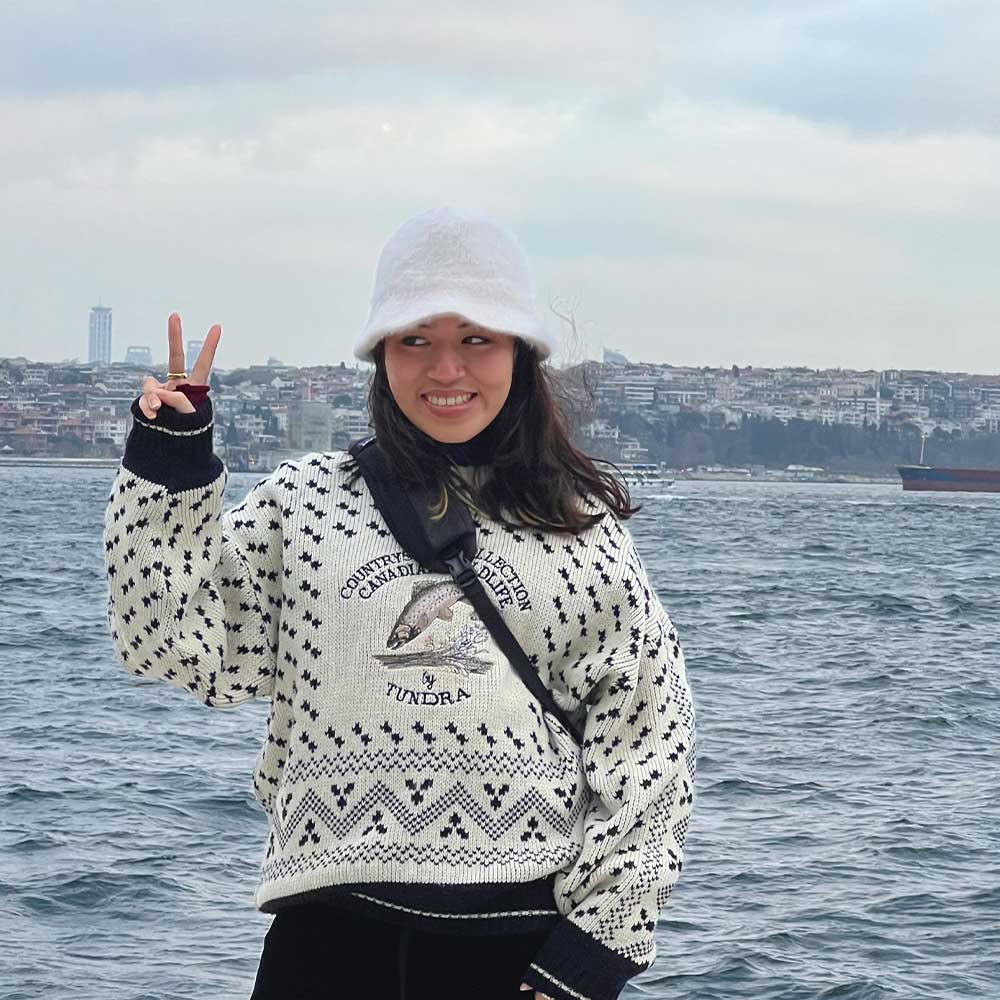 My wallet suffered the most at Galataport, a shopping area on a pier that overlooked both the Western and Asian sides of Istanbul. Aside from the killer view you'll get here, the development is full of wonderful little shops to peruse. Our first stop was at the Atelier Rebul Apothecary—one of the oldest of its kind in Istanbul. As a beauty enthusiast myself, I was drawn to the countless fragrances and body care products that lined the shelves. However, what kept me there was the apothecary's bespoke service. For those looking for a great keepsake or gift, a chemist at Atelier Rebul actually handmakes a selection of body care essentials on the spot, from deodorants to room sprays and more! I myself walked out with plenty of colognes for my family and friends (a cultural must-have in Turkey that acts as almost a stand-in for hand sanitiser) and a new signature scent for me in the form of the brand's 1875 Eau De Parfum.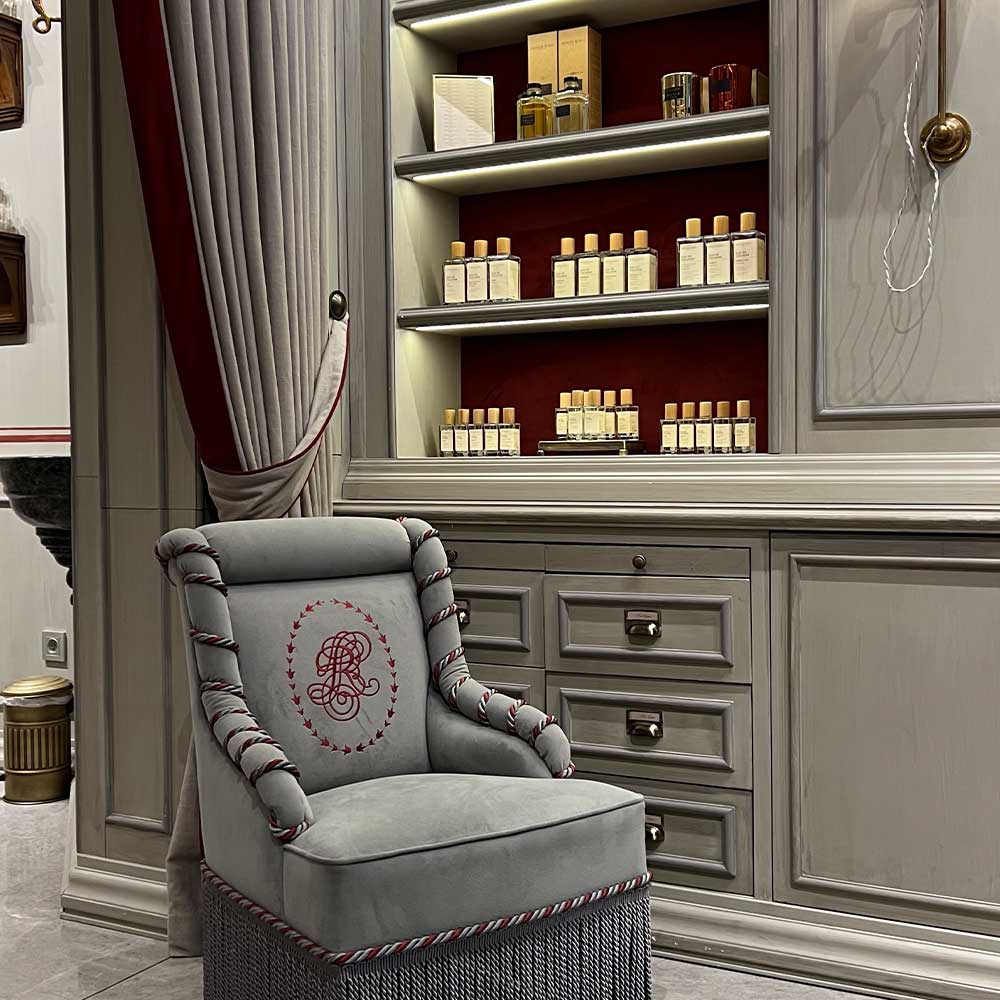 Then, we moved on to a local brand's boutique, Umit Unal, which is where I bought my new favourite hat. Enough said.
Dilek Hanif's atelier
View this post on Instagram
We spent the first afternoon of our trip getting an in-depth look at Dilek Hanif's brand. Currently in her 33rd year as an independent designer, Hanif is impressive, to say the least. She made history as the very first Turkish designer to show at Paris Couture Week in 2010, with her intricate works having captured the eyes of the world's most celebrated names in fashion. Since then, her designs have gone fully global, with celebrities like Jane Fonda sporting her brand on Hollywood's decorated red carpets.
The Turkish couturier has one mission in her work—to incorporate cultural techniques into her designs, whether that be in the patterns or the embroidery. Drawing inspiration from the Ottoman era, Hanif's timeless, feminine designs always incorporate traditional beading and techniques, most of which are carried out by women from neighbouring villages who are skilled in the heritage craft. In short, her work is a celebration of Turkish culture, and those looking to get one-of-a-kind bespoke pieces (or RTW options!) made should definitely give the atelier a visit.
Sevan Bıçakçı's showroom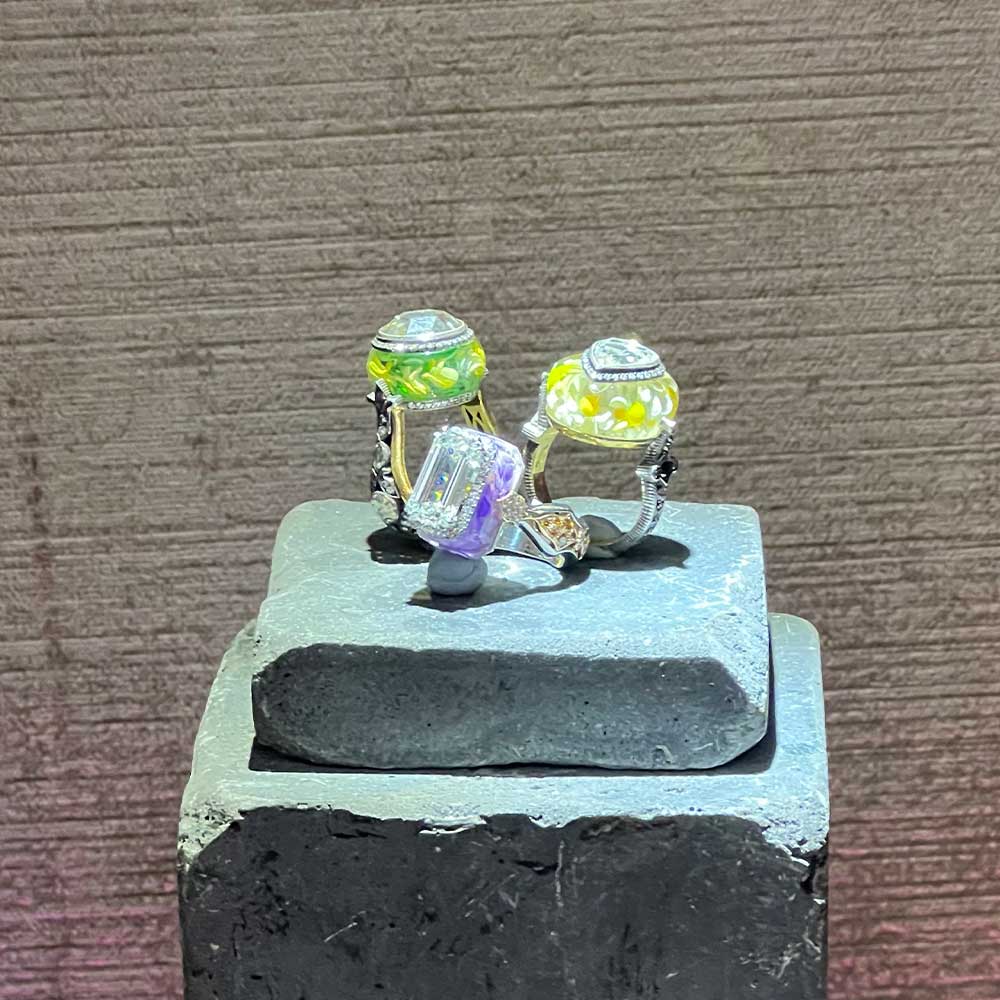 To lovers of all things kitsch and unique: A trip to Sevan Bıçakçı's boutiques is a must. Even better, should you have the pleasure of visiting his studio, you're in for a treat. Bıçakçı is a jewellery designer that specialises in intricately carved precious stones. Inspired by the rich history and culture of the Eastern Roman and Ottoman Empires, his work really does speak for itself. Each piece is painstakingly handmade and one-of-a-kind. So, if you're looking to score a wearable piece of art that no one else will ever have, or you're looking to immerse yourself in some of the best craftsmanship Turkey has to offer, you know where to head.
Honourable mention: The cats
If you love cats, you'll love Istanbul—the city's streets are full of them, and they're all adorable. I pet so many cats on this trip that my hands went numb (unrelated). Here are a few pictures of my furry friends for your reference: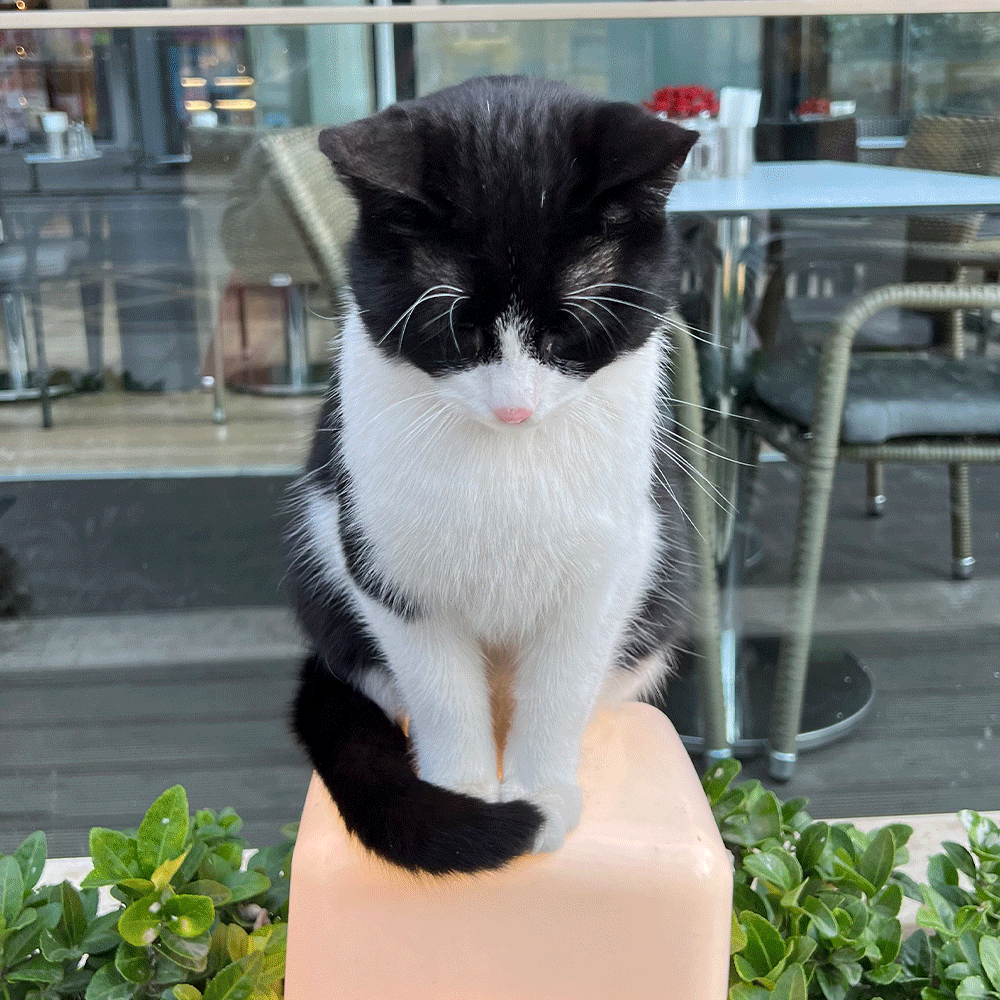 The takeaway:
The three days I spent in Istanbul were an absolute dream. It's one of the most interesting cities I've ever been to—I love the contrast between the very historically-rich and well-preserved Western side and the more modern, Eastern side, and I was genuinely blown away by my visit there. Honestly, there's so much more I'd like to see in the city that just won't fit in this article, but hopefully, I've given you a good starting point to plan your trip. All in all, I'll definitely be making a trip back one day (one that's hopefully a little longer).
Until then, I'll leave you with another reminder to help Turkey (and Syria) however you can—for your convenience, we've compiled a list of ways to donate to the relief funds here.
Find more travel stories like this here.
| | |
| --- | --- |
| SHARE THE STORY | |
| Explore More | |