Nestled in the heart of Kota Kinabalu, Sabah, amidst a slew of hidden gems and exciting experiences to discover, Southeast Asia's first Hyatt Centric Kota Kinabalu hotel has finally opened its doors, offering a convenient and commodious home base surrounded by breathtaking views of the vibrant city for adventurous explorers coming from all around the globe. Overlooking lush hills and the glistening sea with magnificent scenes of one of the world's best sunsets, a stay at the newly opened hotel is a stay to remember for a lifetime.
Earlier this month, I had the chance to explore the hotel, as well as the radiant city and neighbouring islands that are packed with heaps of wonders to uncover. With only three days and two nights to spend at the coastal capital, every minute was spent to its fullest with thrilling adventures alongside a group of personalities who made the trip even more memorable. Read ahead to get in on all the details of my trip, along with my review of the hotel!
Day one
The trip began at 6am on a Wednesday. With only two hours of sleep, I dragged myself to the airport and the relaxing stay I was expecting couldn't be more enticing. After two and a half hours plane ride, I had safely landed in Kota Kinabalu along with a group of media guests whilst I was half asleep and in dire need to knock out for a couple of hours.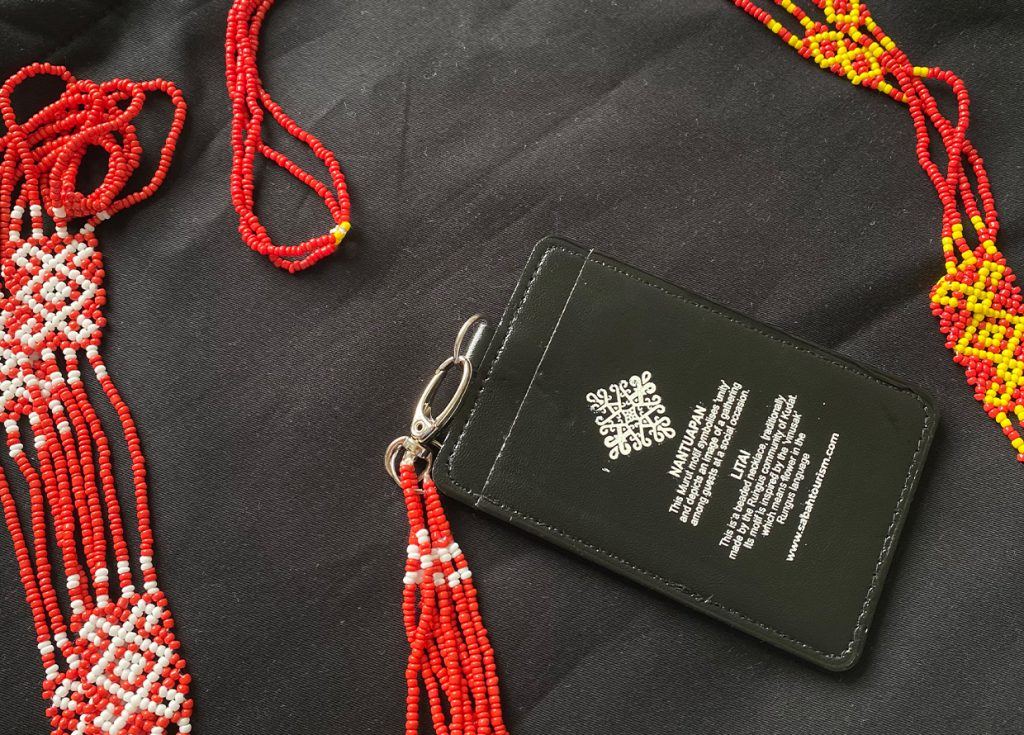 We were given a warm welcome by two lovely ladies at the airport, dressed in Sabahan traditional wear with colourful litai necklaces on hand, and each of us were given one that matched the colour palette of our outfits (how sweet!). We arrived at the hotel after a short bus ride, and once again, we were greeted with a spirited welcome by the team, who couldn't wait to get the fun started.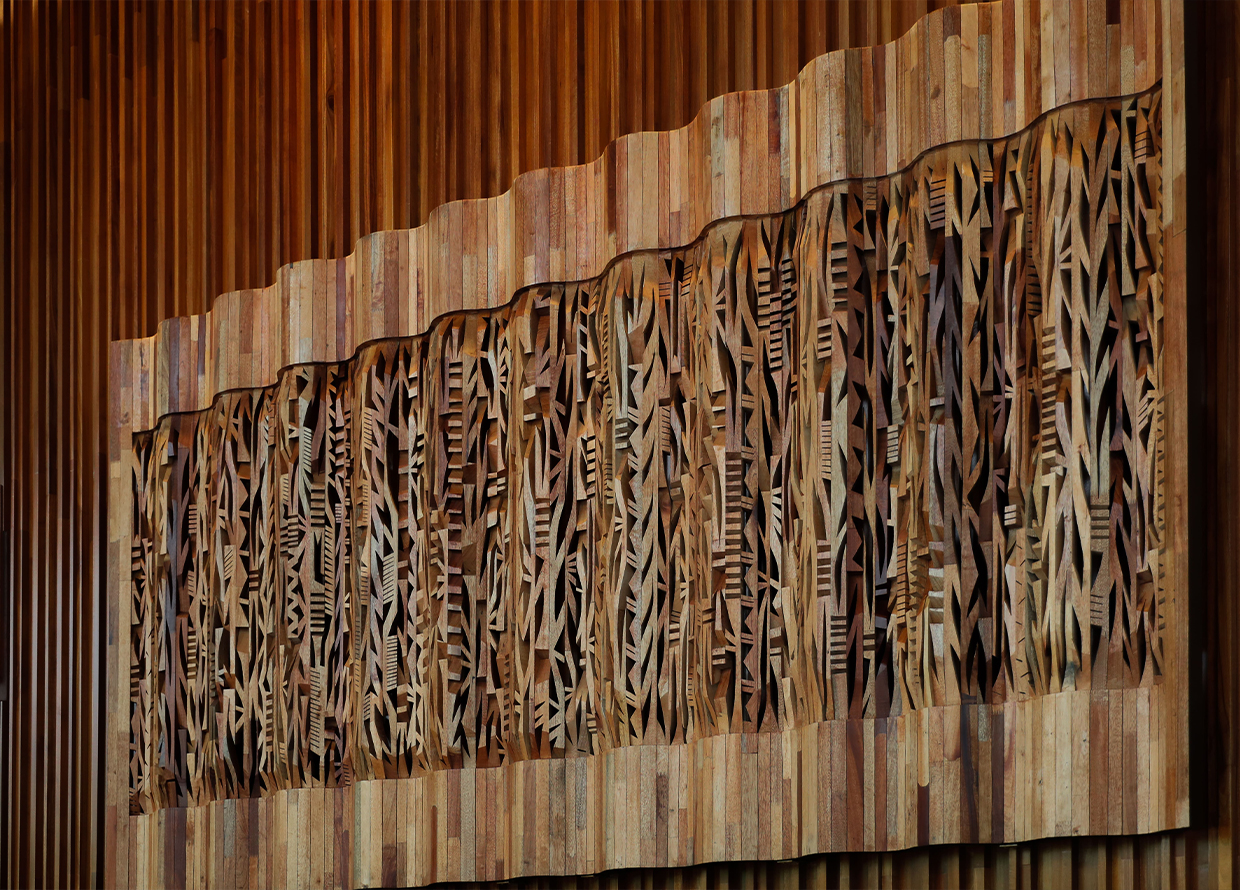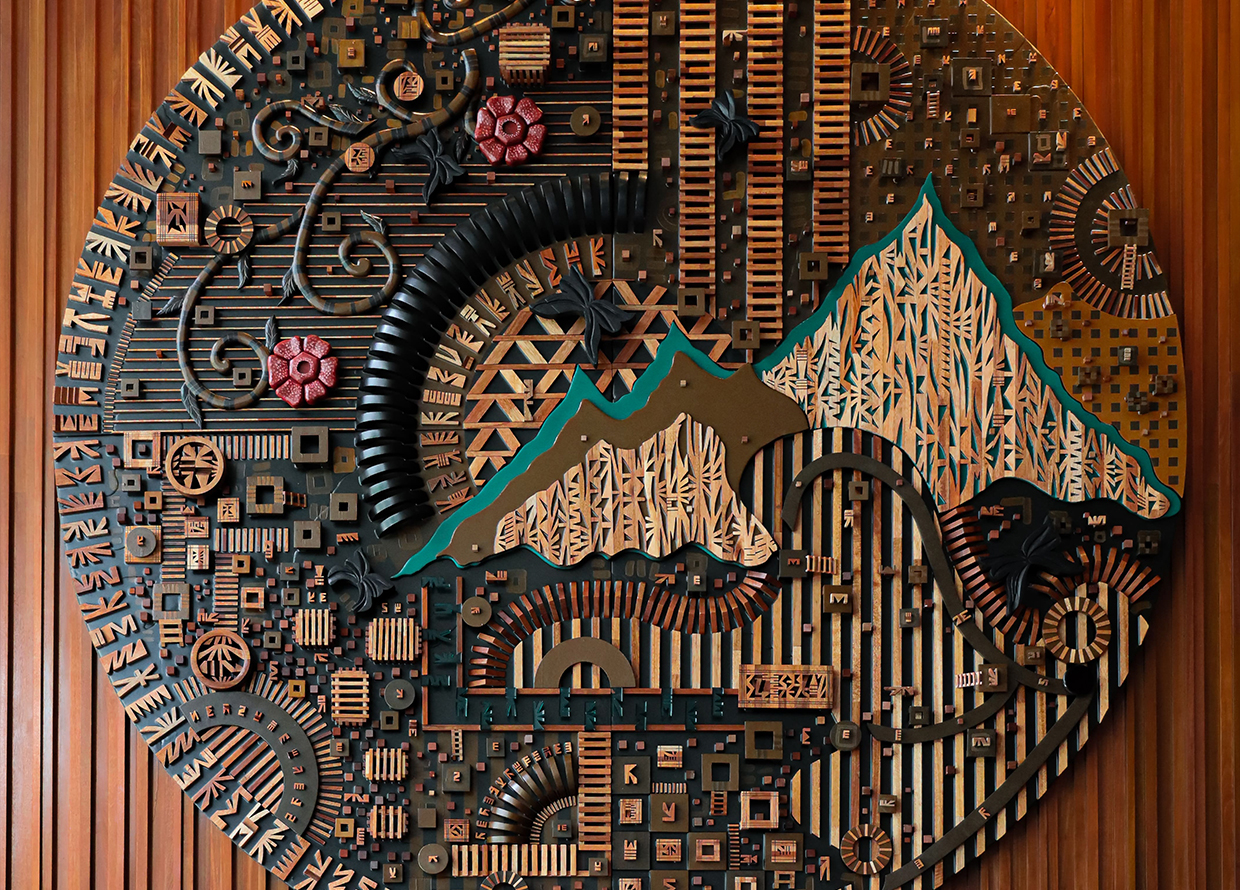 Upon stepping into the hotel, interior-wise, I was already in awe. Wooden walls, intricate art pieces and lush greeneries surrounded me, adding a sense of ease and tranquillity to the busy city street that we came from. The Hyatt Centric team described the lobby as being "in the underwoods of the forest," given the botanic details and wooden interiors, as well as the calming streams of water and bamboo trees along the entrance.
Wasting no time, I dropped my bags in my room after checking in and made my way to ON22 for lunch with the rest of the guests and the hotel team.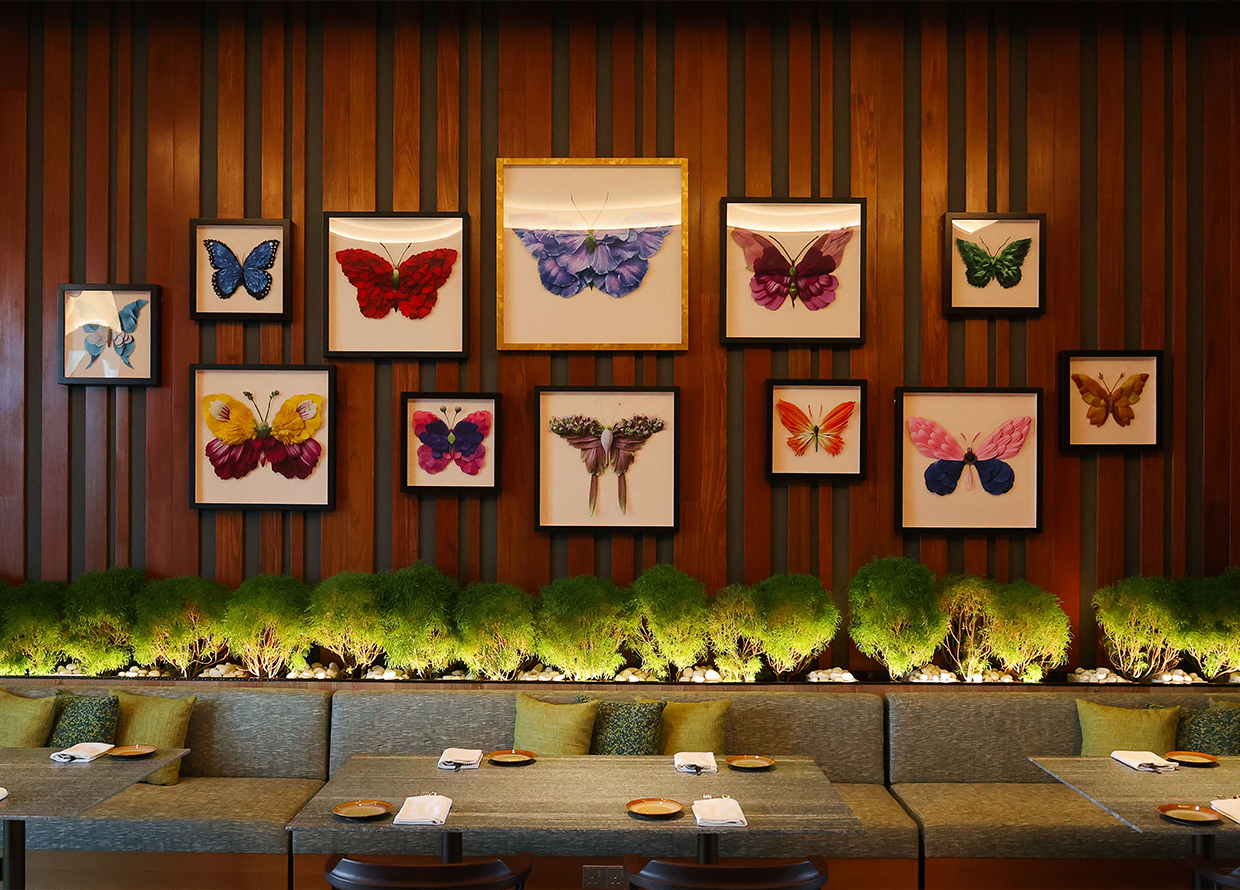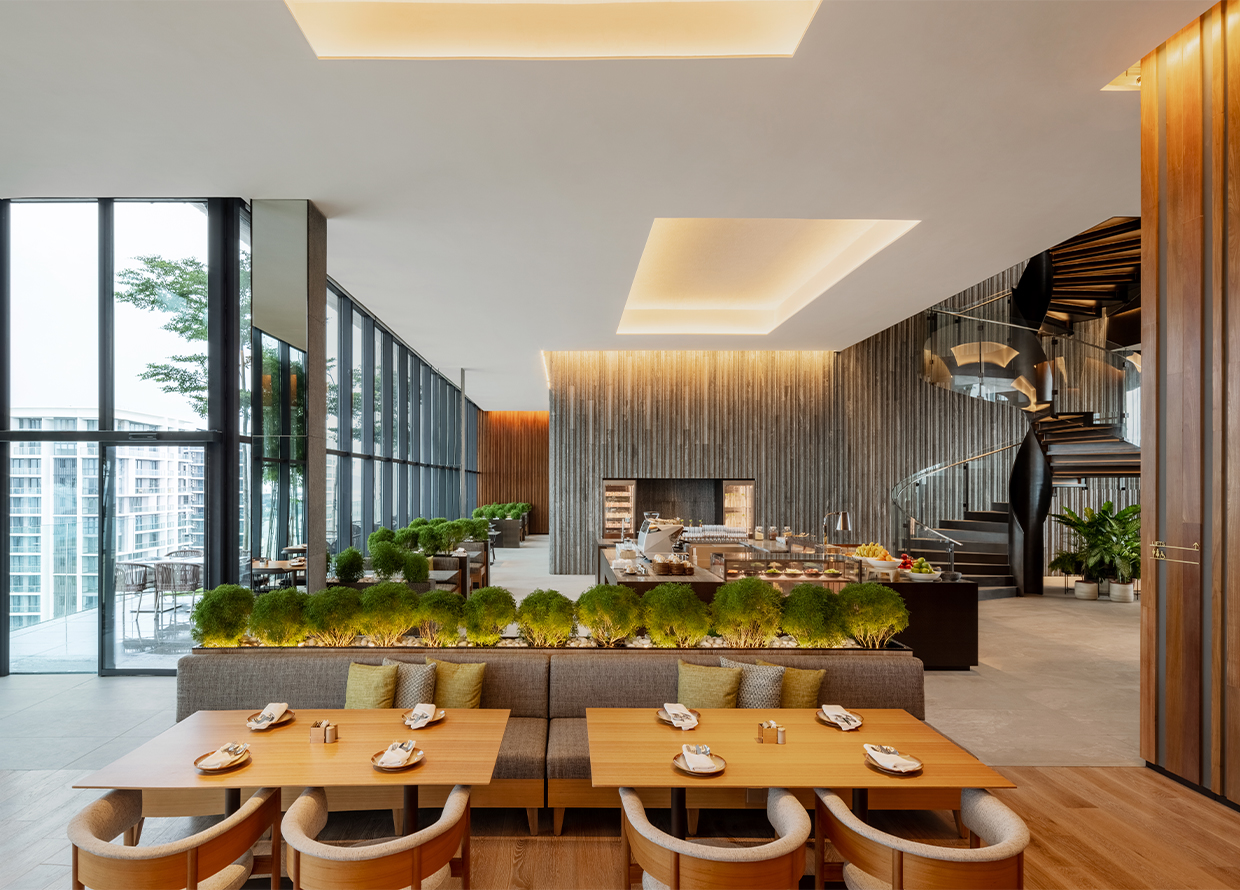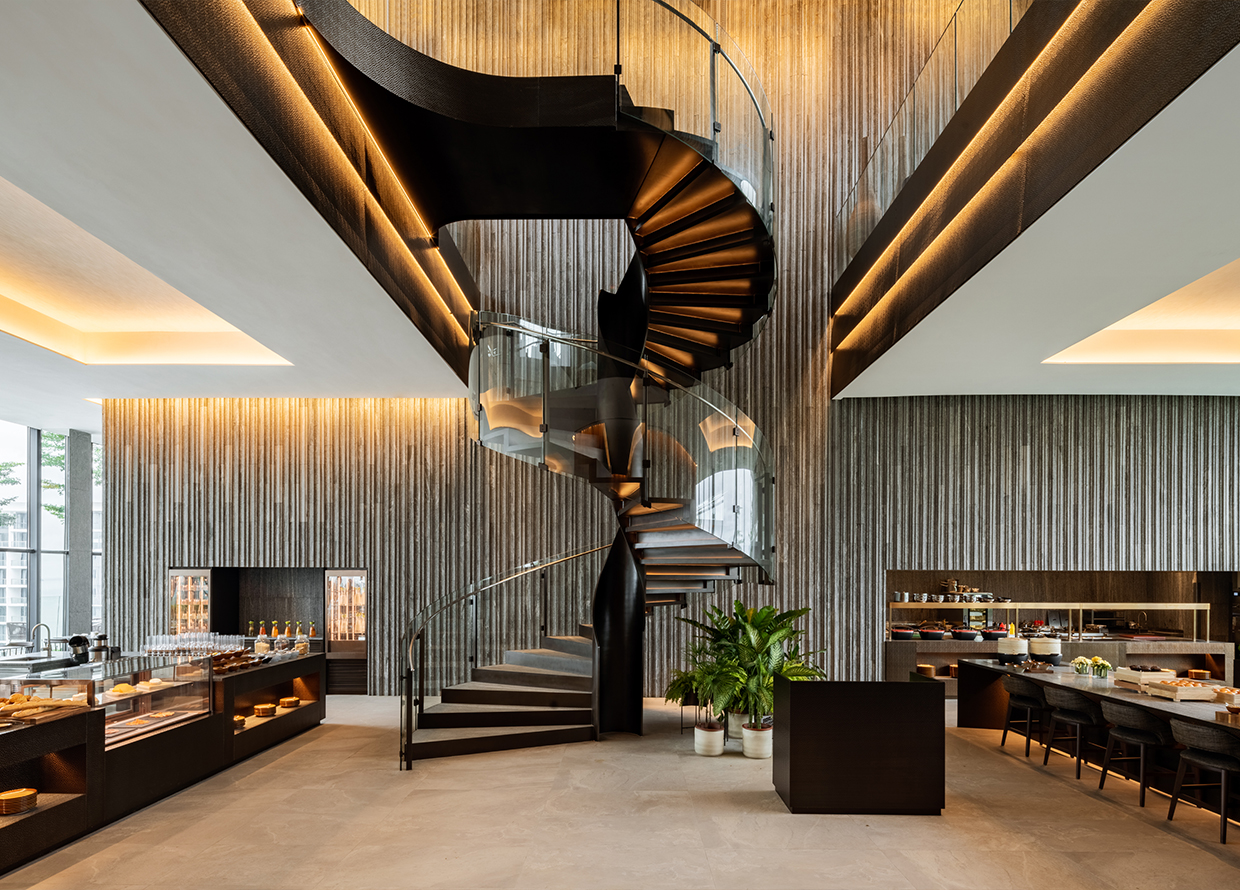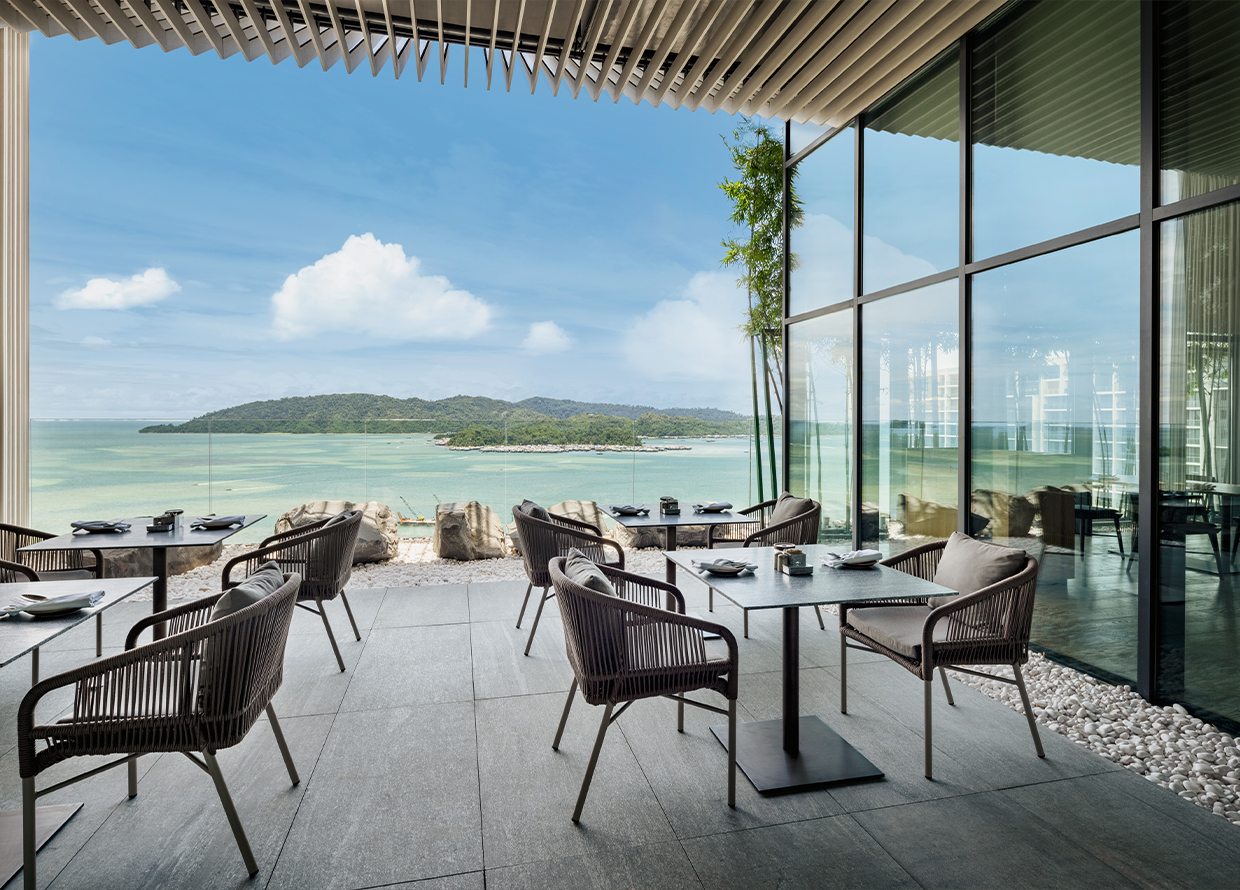 We were seated in a quiet corner within the capacious Dining in the Gardens-themed restaurant, where we were once again surrounded by lush greeneries, wooden interiors, as well as floor-to-ceiling windows with breathtaking views of the ocean and sprawling landscape. As soon as the first dish was served, I felt instantly refreshed from the excitement to feast.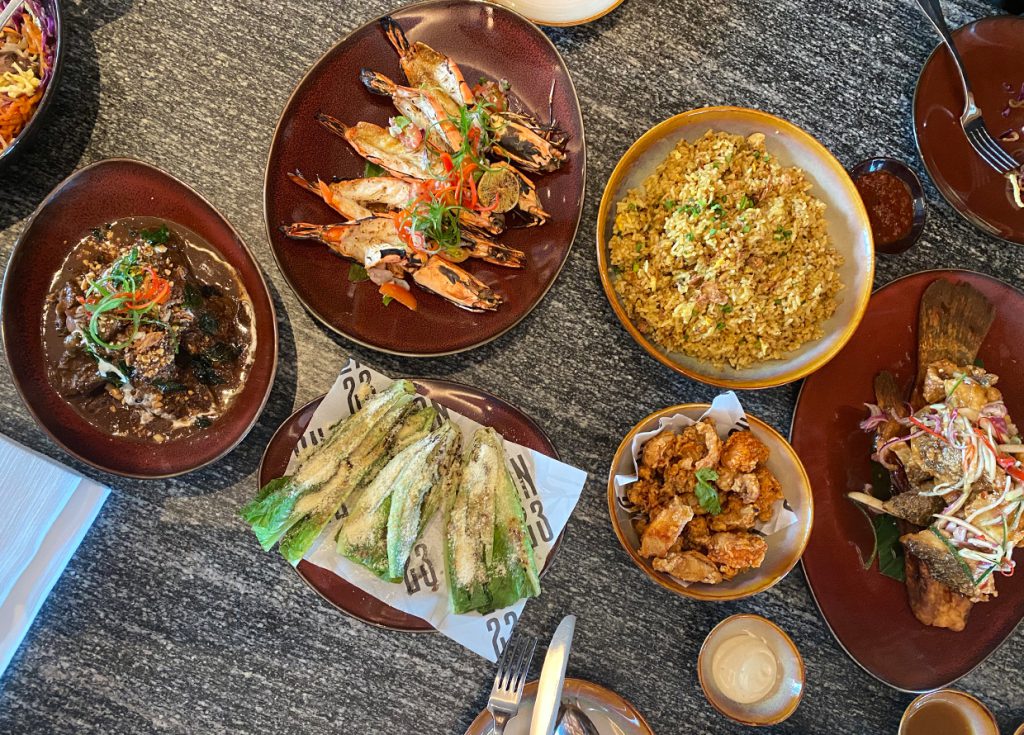 The meal kicked off with a bang, one that I would not stop yapping about how good it was even after the trip. Each of us were given a serving of homemade tuhau sambal with fish crackers, and we basically inhaled our appetisers within seconds—it was one of the best sambals I've ever had. Soon, various dishes began to grace our tables in streams, starting with Korean Glass Noodles, then Sambal Fried Rice, Charred Baby Romaine Lettuce, Salt and Chili Squid, Red Curry Tiger Prawns, Wok Fried Seabass, and Cheeky Masaman. With no exaggeration, it was easily the best hotel meal that I've had. Every dish was fresh, tender, and tasted authentic. Although the trip had just begun, I was already beyond impressed.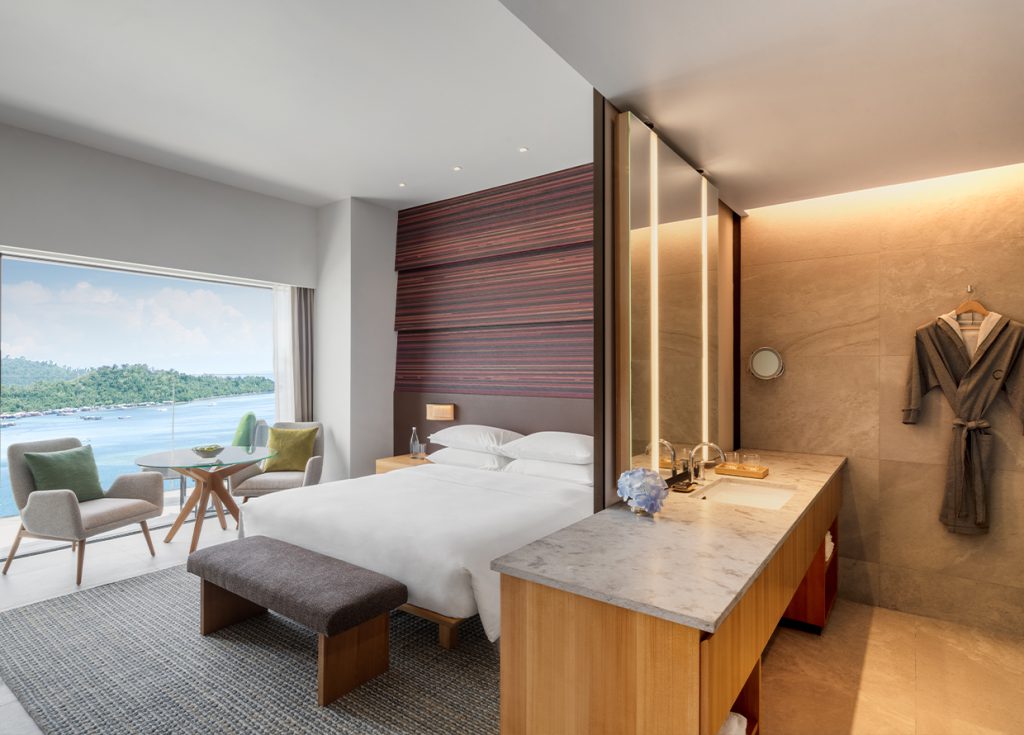 Following the heavenly afternoon dining, I headed straight to my room to settle in. Fit for business and leisure travellers, the commodious room features one king-sized bed, a 55-inch Smart HDTV, a Nespresso coffee machine, plenty of local snacks and refreshments, a walk-in rain shower with hooded bathrobes and socially conscious bath amenities, and the best of all, a six-square-metre private balcony complete with a lounge chair and table to relax and take in the stunning view of the sea. Once I was done exploring my room like a child in a candy store, I connected my Spotify account to the large television and streamed my favourite playlist whilst unpacking.
After the short break, we gathered at the lobby for a tour of the hotel. We started off at the multifunctional event spaces, which spanned up to 949 square feet, each complete with its own balcony and the latest high-spec audio-visual equipment. I also noticed that they provided notepads that featured a separate space for doodling, and I thought that it was such a fun touch!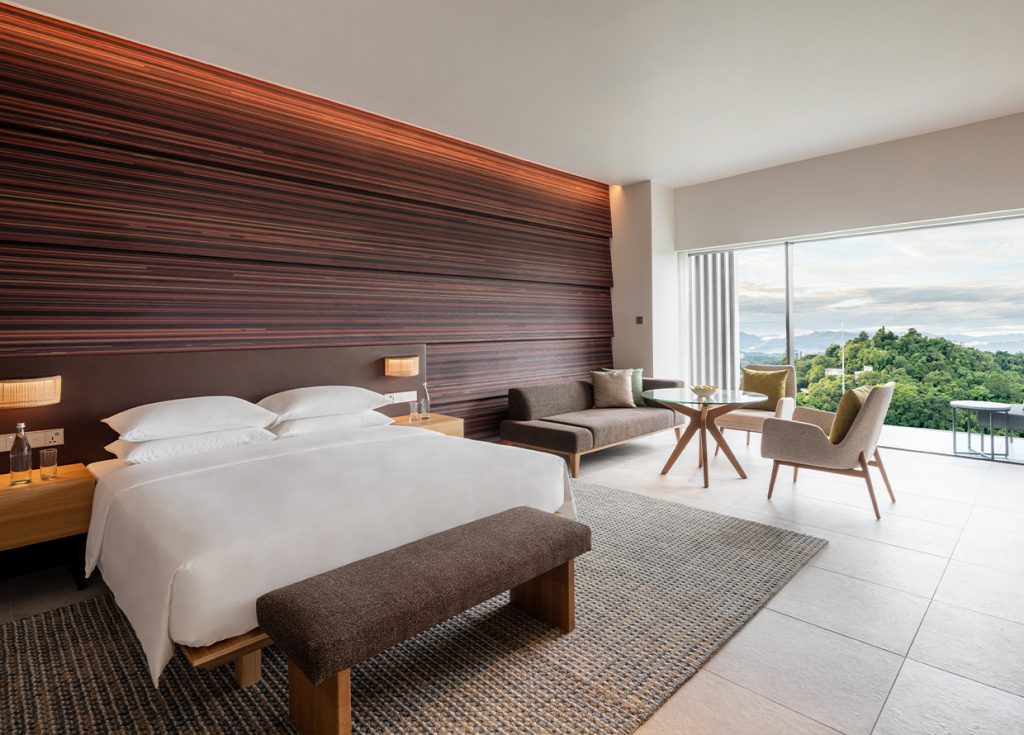 Next, we visited the Deluxe Hill View room, which comes with one king-sized bed, a seven-square-metre private balcony with a beautiful view of Signal Hill, and a capacious bathroom with a separate shower and bathtub. Not much different from the standard rooms, only it's much larger and comes with a bathtub.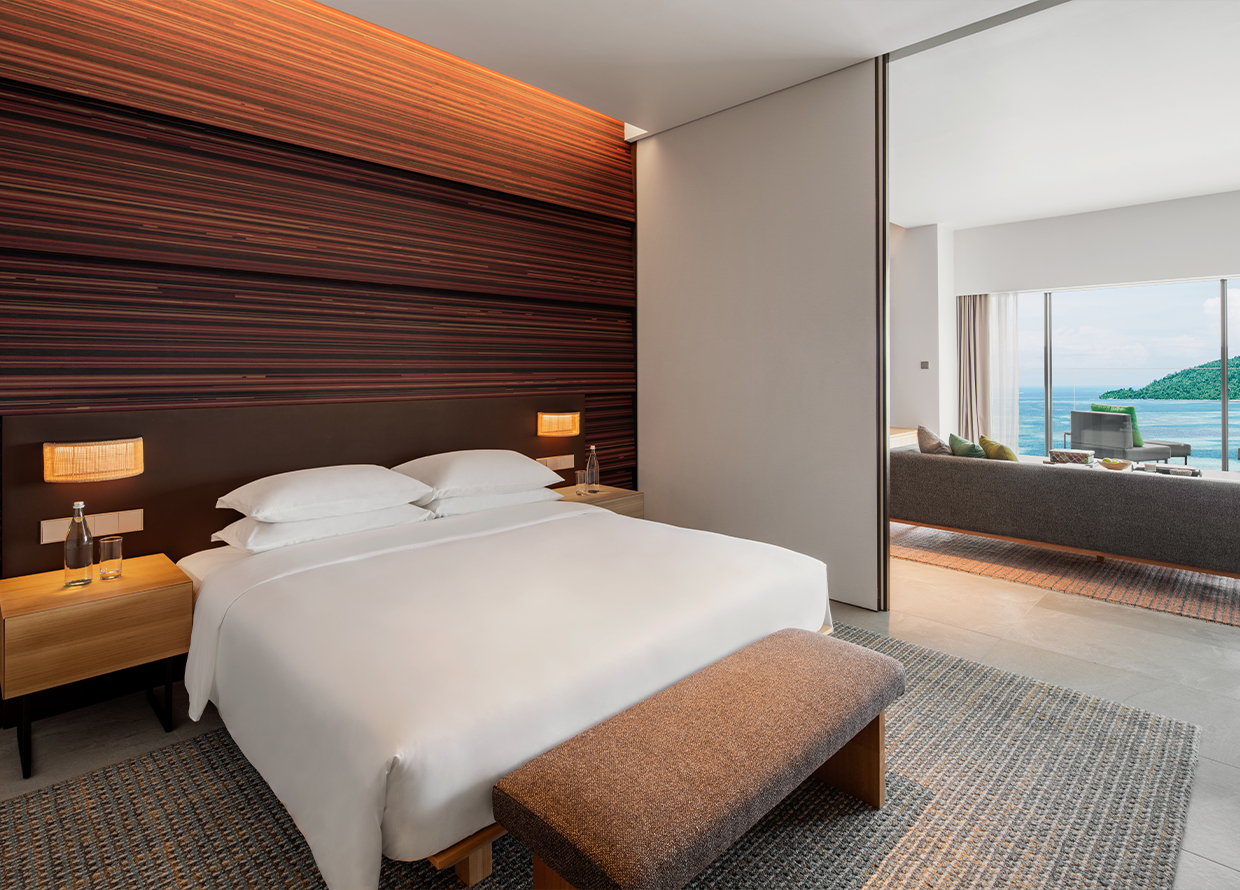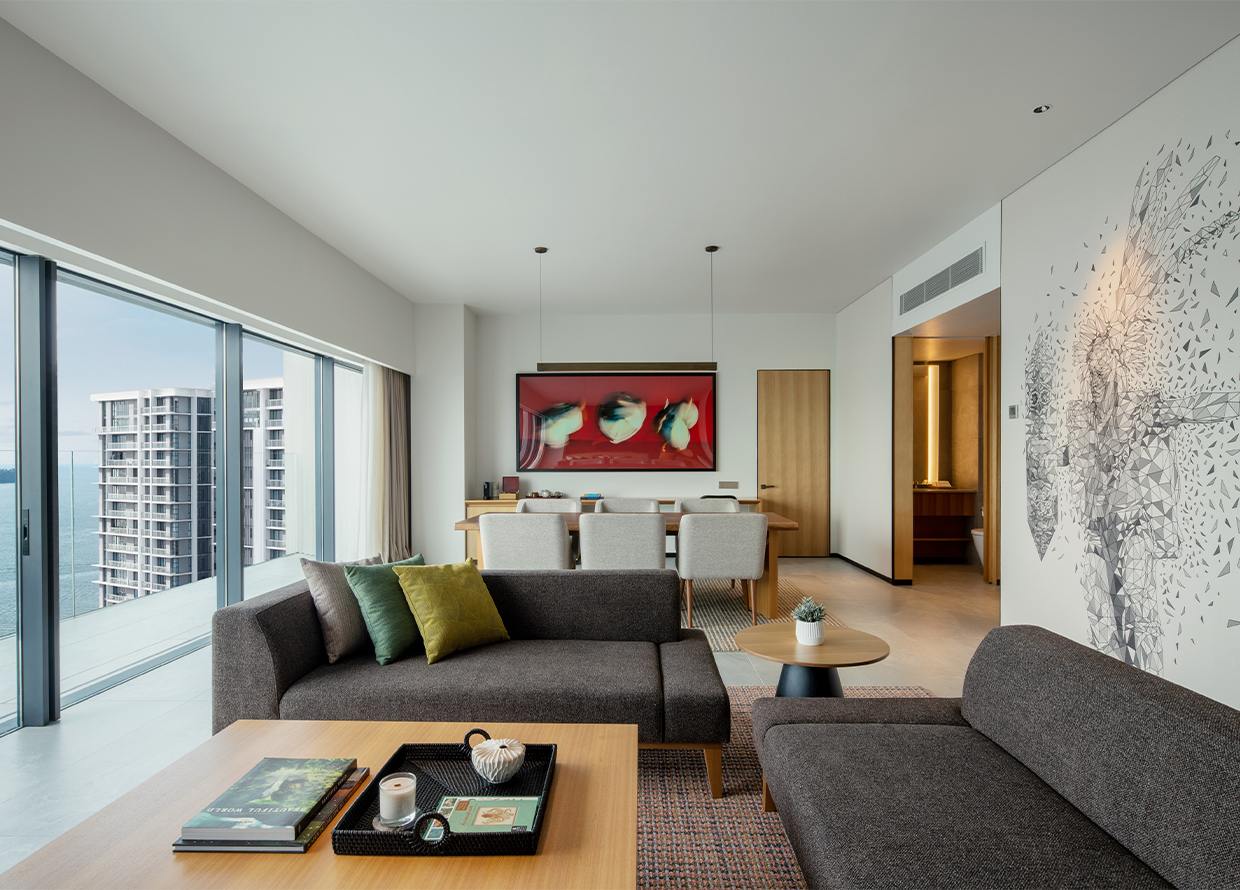 The King Sea View Suite was even more spacious, featuring its very own dining and living area, a separate shower and bathtub, and a thirteen-square-metre private balcony with a magnificent view of the sea.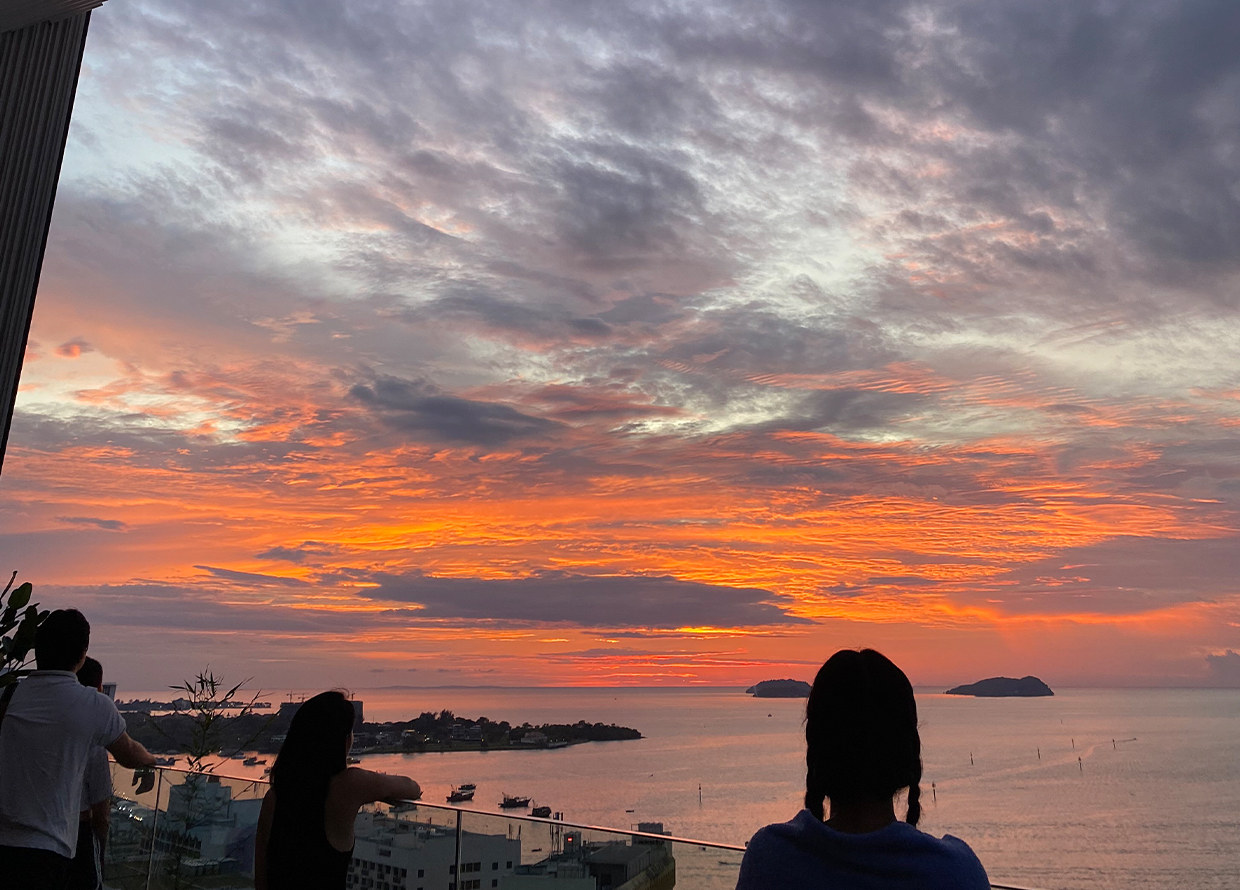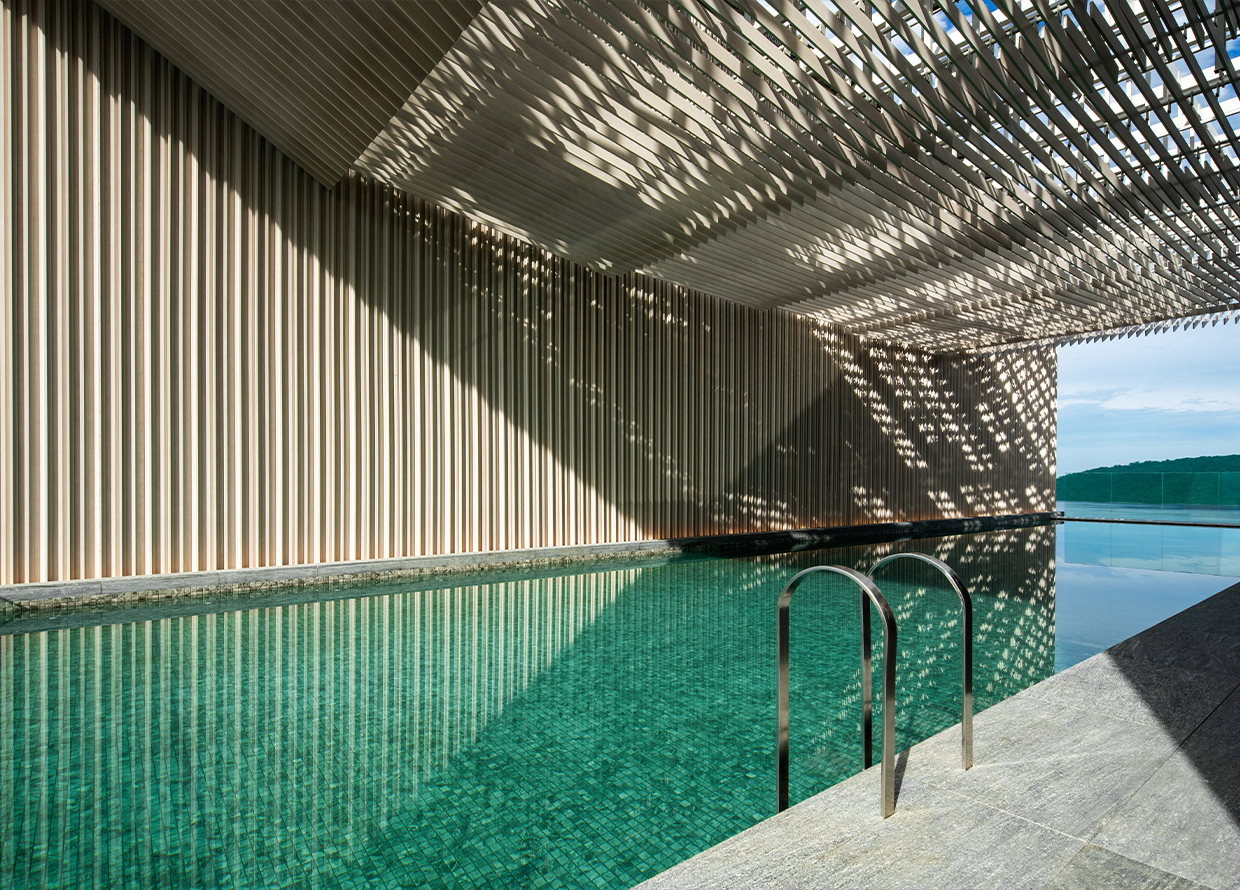 The tour ended on the 23rd level, where we explored the ON23 Sky Bar and the double-edged infinity rooftop pool overlooking the sea. Conveniently, it was during the sunset period and I got to witness one of the most breathtaking sunsets whilst sipping on margarita by the pool—it was surreal!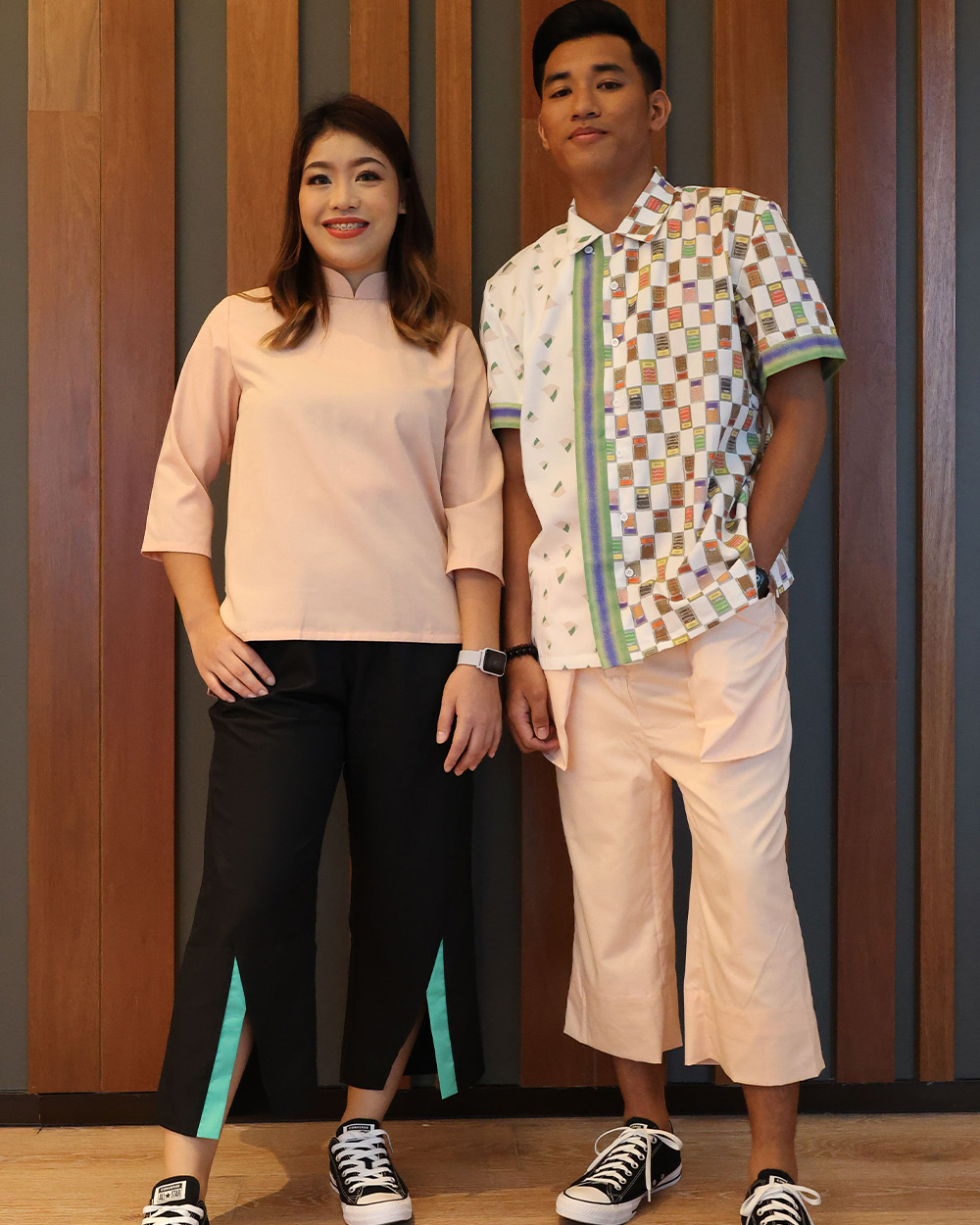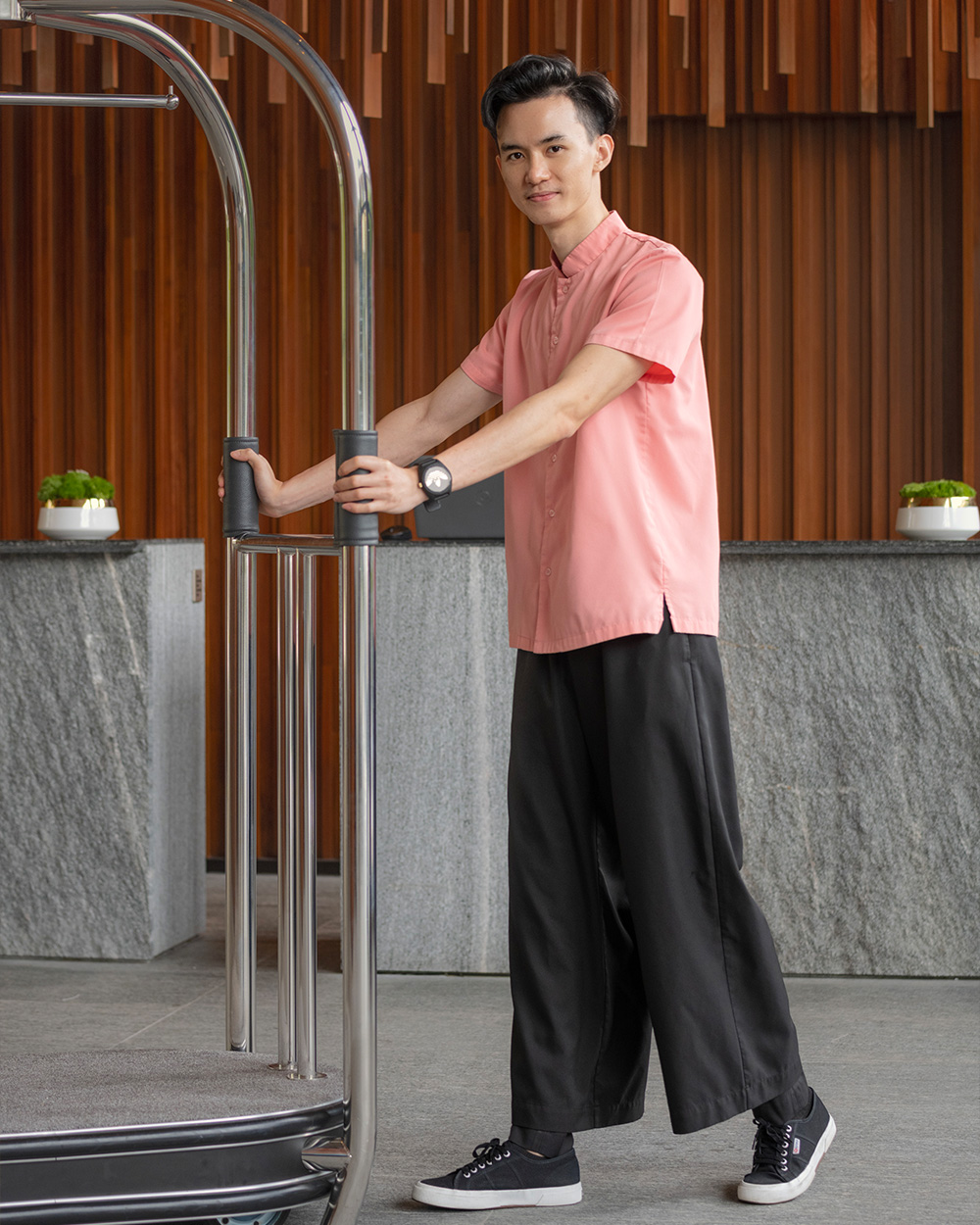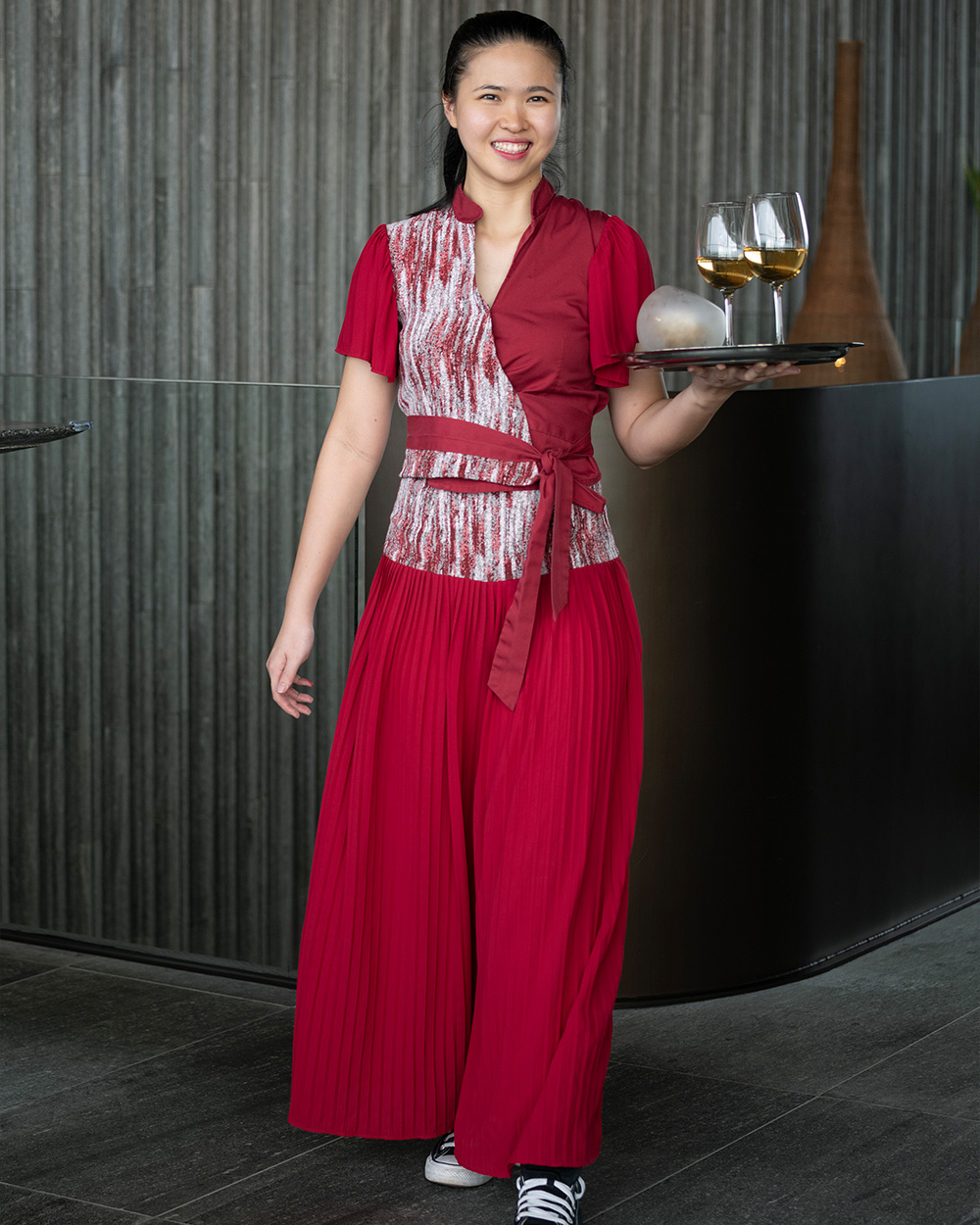 We also got to take a closer look at the staff uniforms, which were designed by Melinda Looi herself. The designer's signature eccentric codes can be seen on each uniform, blending traditional elements with modern details and vivid colours. One particular piece definitely stood out from the rest with its whimsical print of nostalgic tin box snacks!
For dinner, we took a five-minute stroll to Crab House down the street, where we were spoiled with heaps of fresh seafood before ending the night in our rooms.
Day two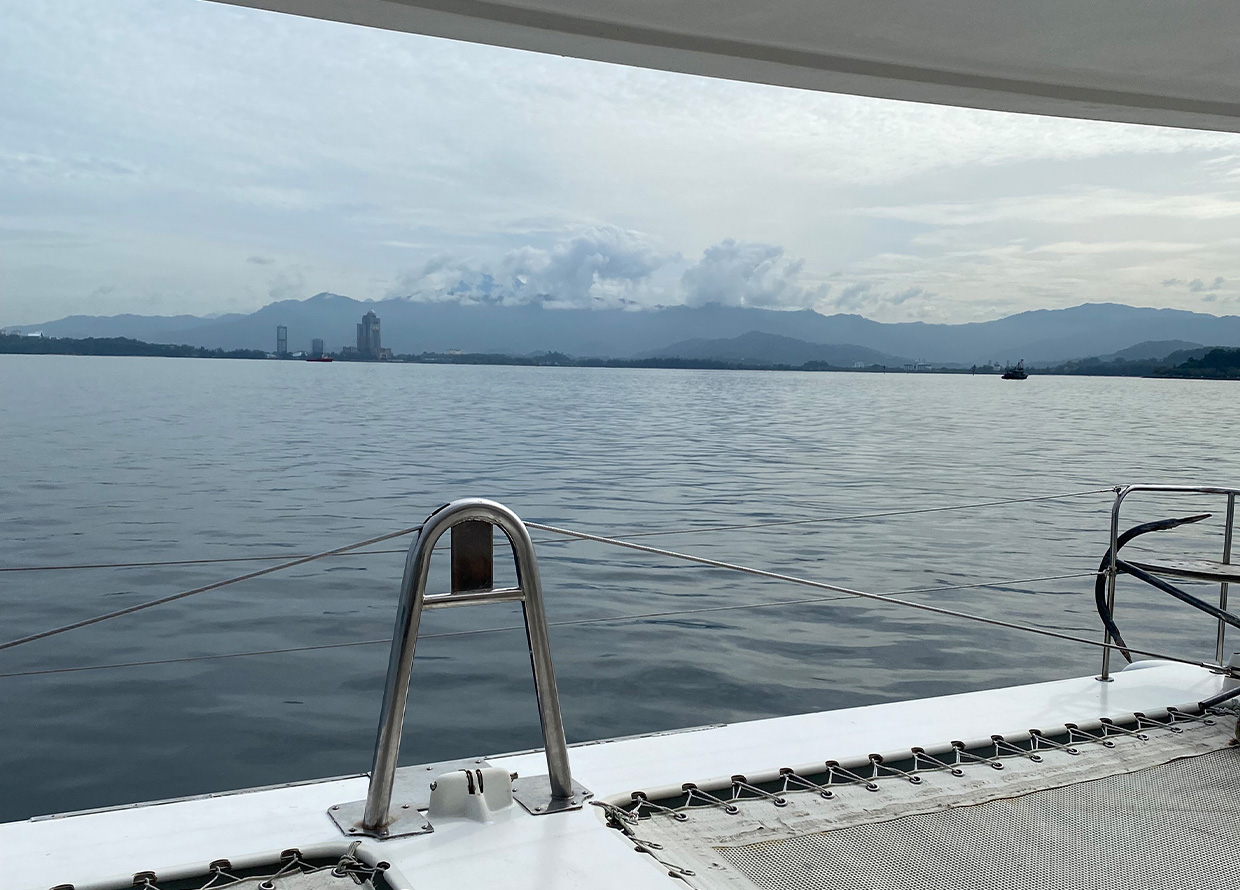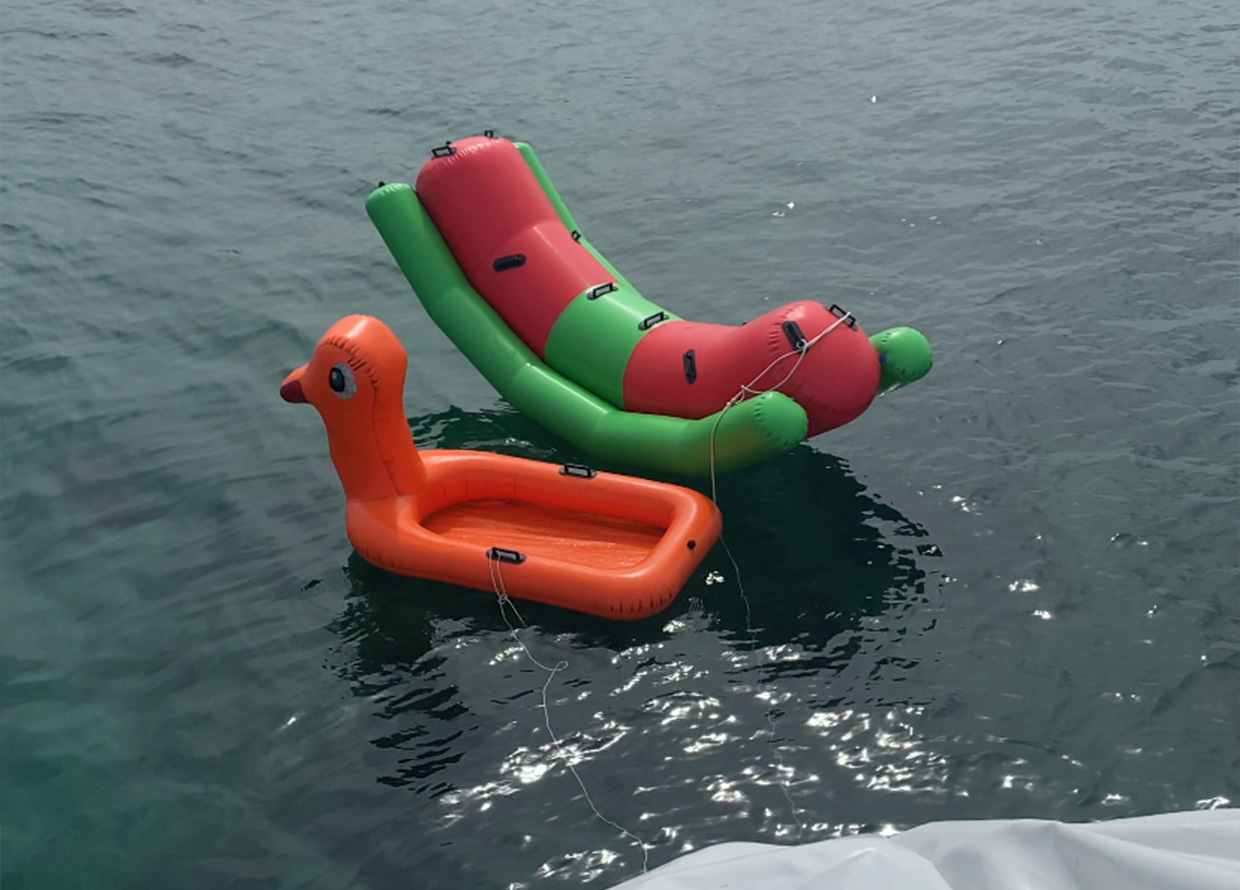 The second day was nothing short of fun! After breakfast, we grouped at the lobby and took a short walk to the jetty port nearby, hopped onto a boat, and cruised around the sea as we discovered the neighbouring islands with our enthusiastic guide, Fei Fei. Halfway through, we switched to a yacht and took a 30-minute ride further out to the sea for a refreshing swim under the sun.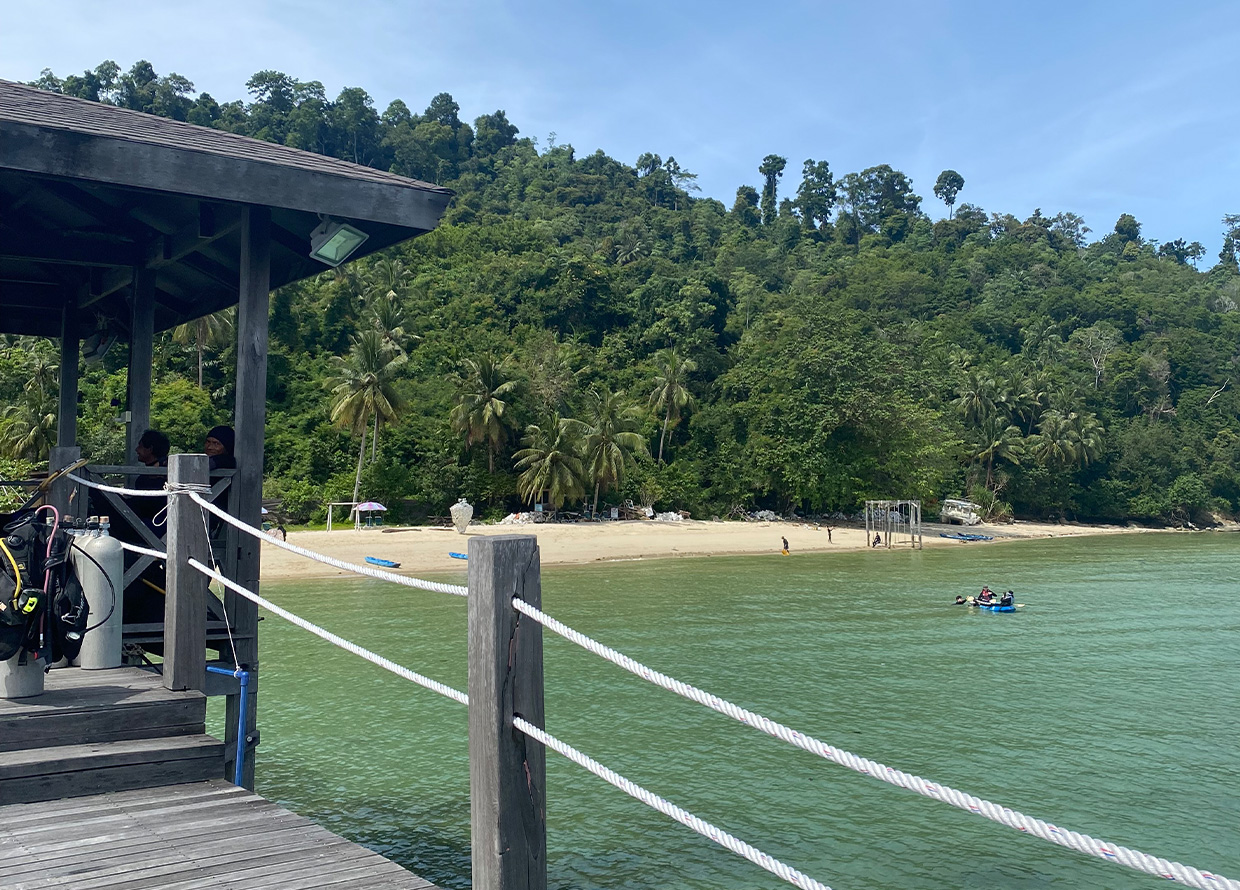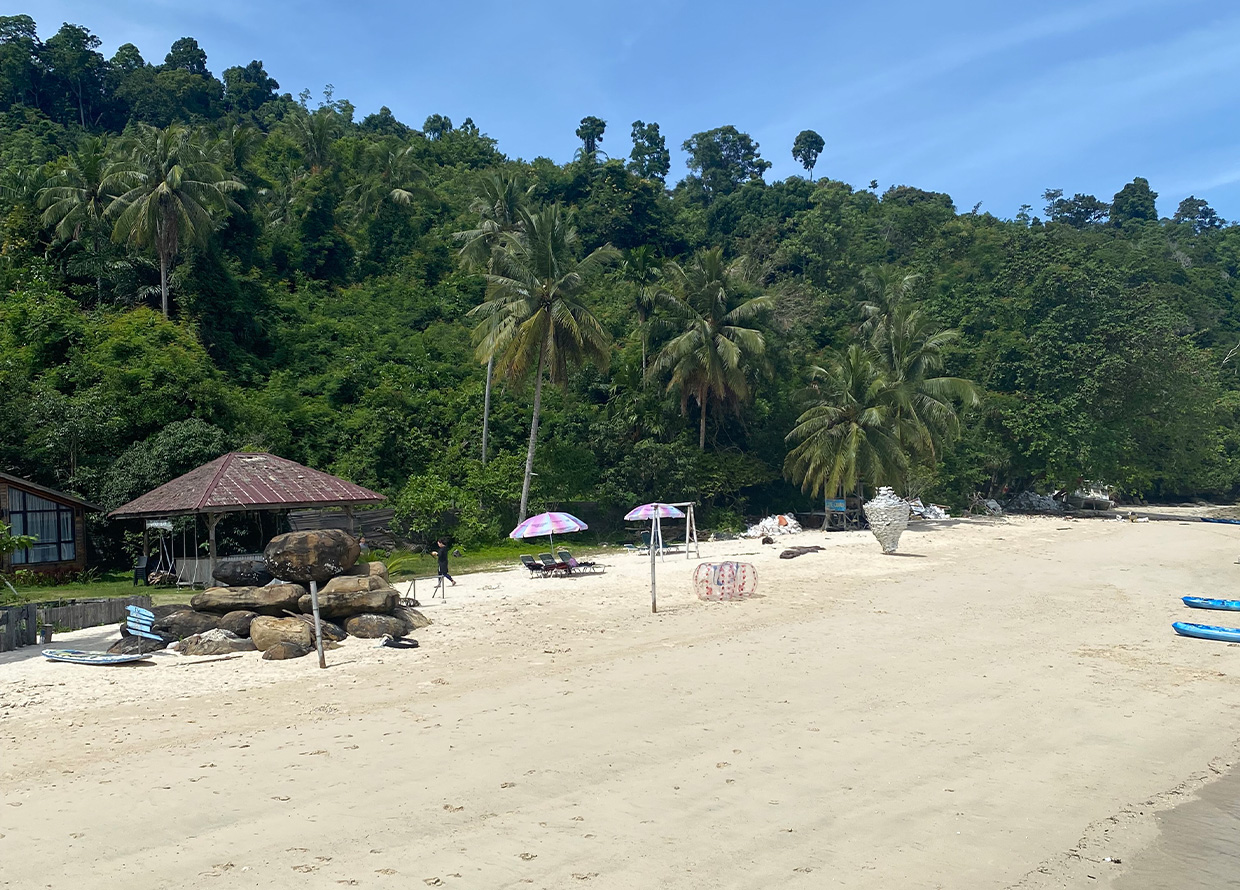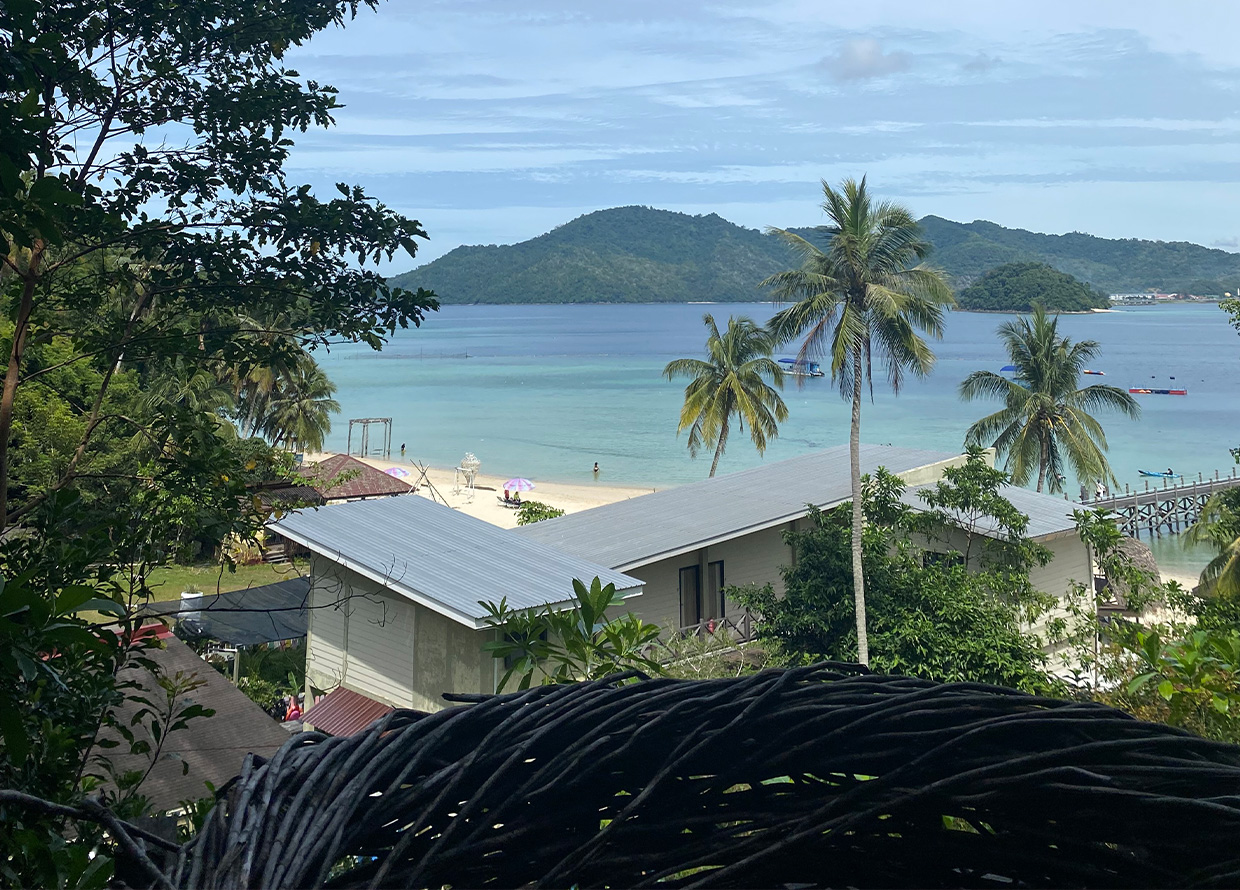 After splashing around in the clear waters with giant floaties for a few hours, we hopped right back on the yacht and made our way to Dreamer's Island to unwind—and splash around again by the beach.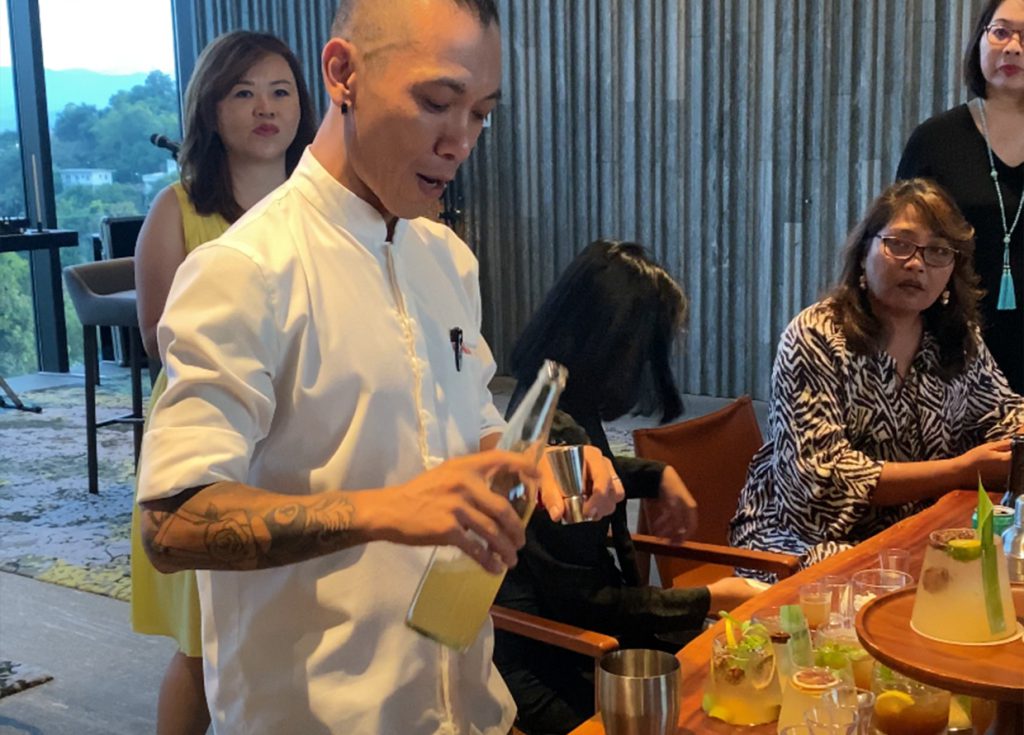 By 3pm in the afternoon, we couldn't be happier to be back in the comfort of our rooms after we had soaked in enough sun for the rest of the year. Though, the Hyatt Centric team had to remind us that the fun doesn't stop there! By 5pm, we were all gathered at ON23 for a mixology masterclass with bar manager, Kenneth Klassen, who was such a fantastic guru!
View this post on Instagram
Later, we headed down to the lobby to check out the 'Tying Cultures Through Craft' pop-up event held by the lovely girls at Dia Guild in collaboration with the newly opened hotel. With the aim to spotlight brilliant artisans and luxury labels across Southeast Asia that create sublime pieces by fusing heritage workmanship with contemporary elements, the pop-up not only united Kota Kinabalu's creative community, but also introduced a variety of the finest artists within our diverse continent.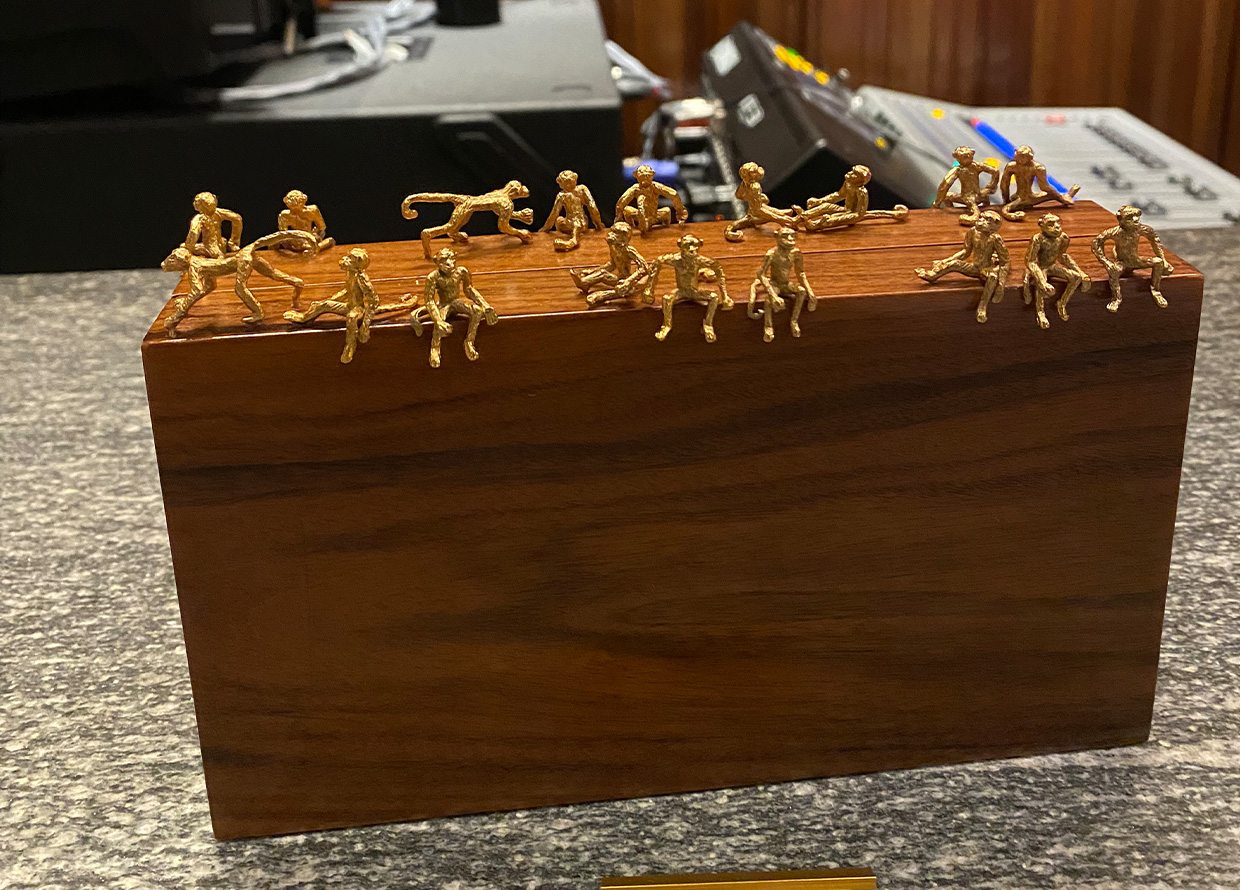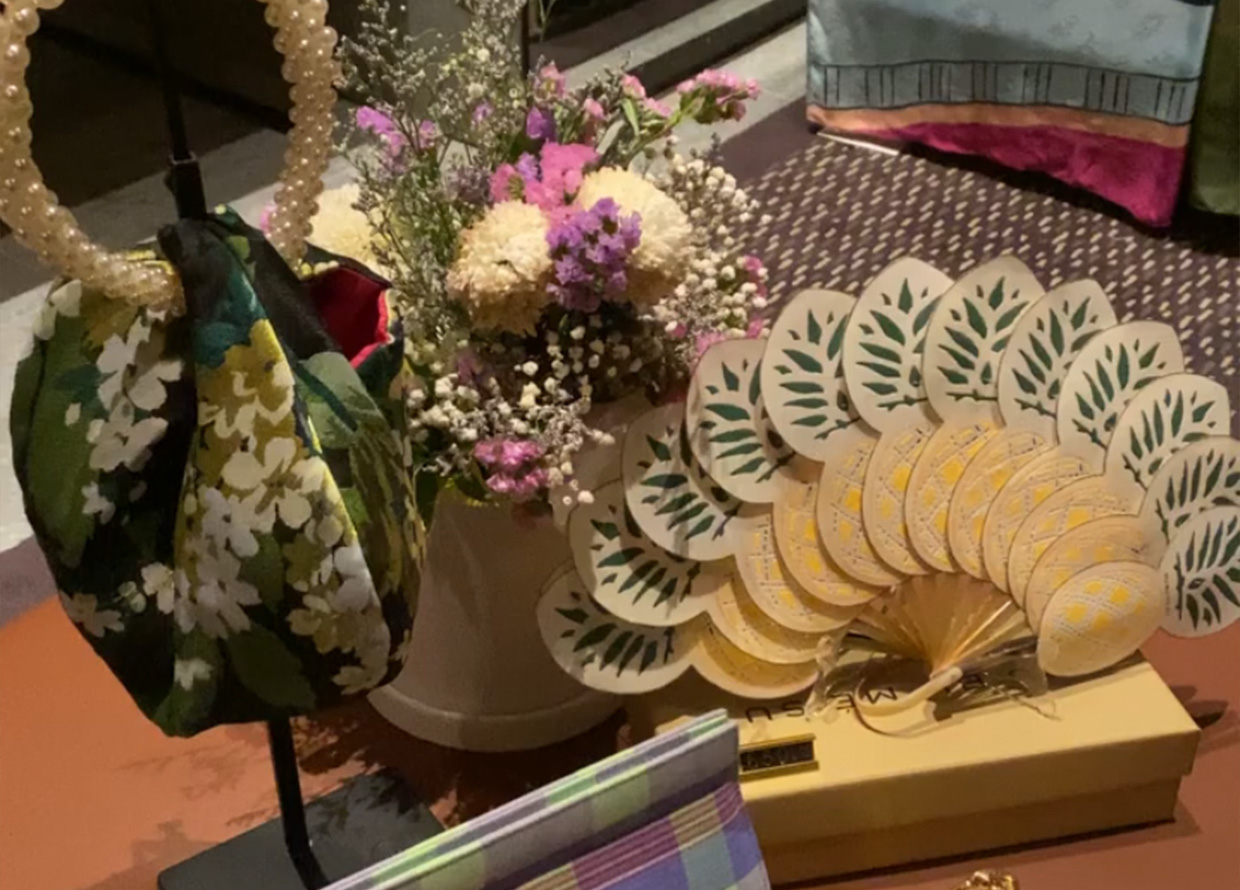 In an assemblage of beautifully crafted accessories, bags, and clothes from all around Southeast Asia, some of my personal favourites are the stunning Chiasa bags by Malaysian designer Khoon Hooi, the state-of-the-art handcrafted fans by Pubumésu's talented Indonesian artisans, the sparkling accessories by Malaysian jewellery label Olena, and, saving the best for last, the magnificent clutches by Filipino designer Neil Felipp, whose minaudières have been spotted in the famed Crazy Rich Asians film.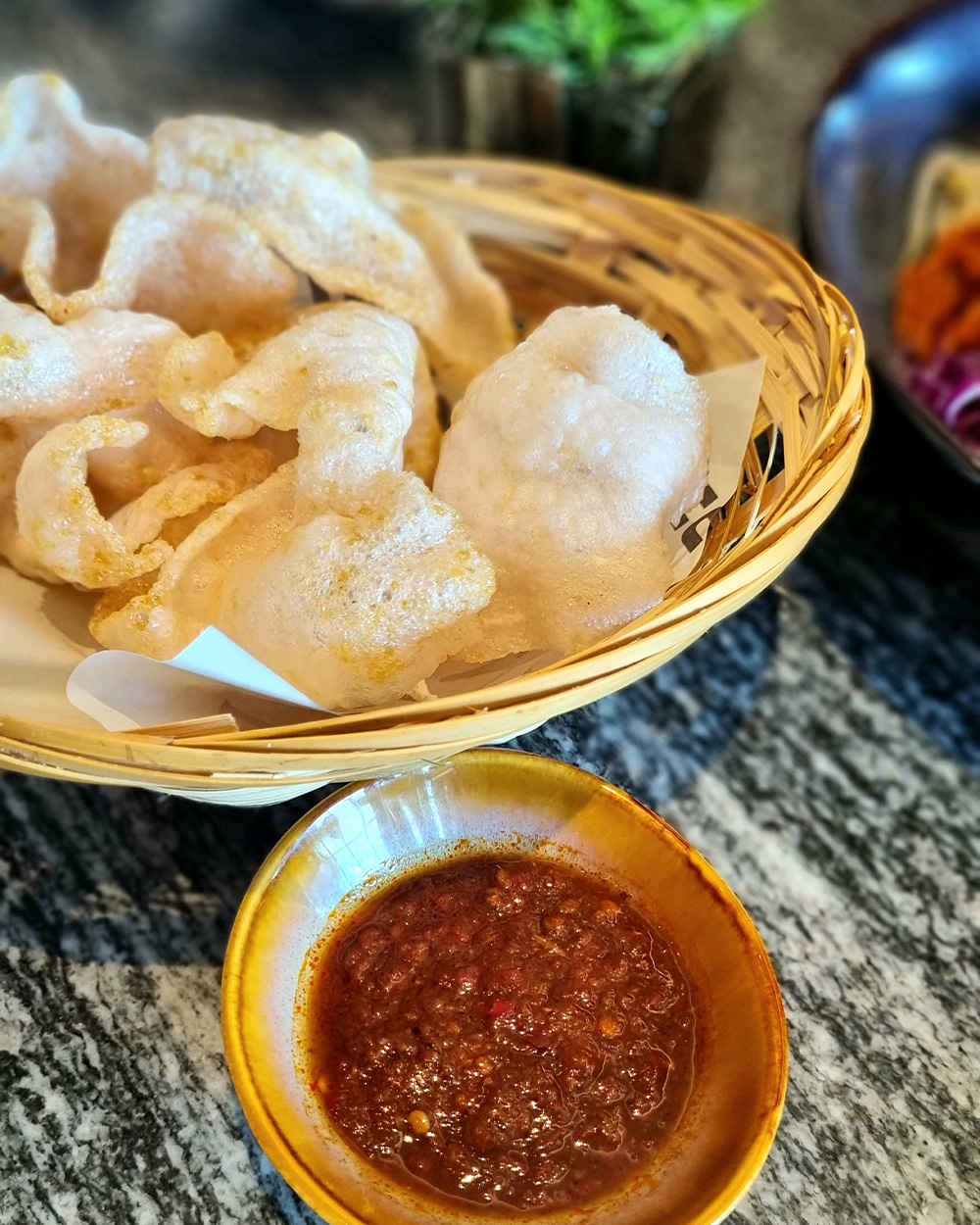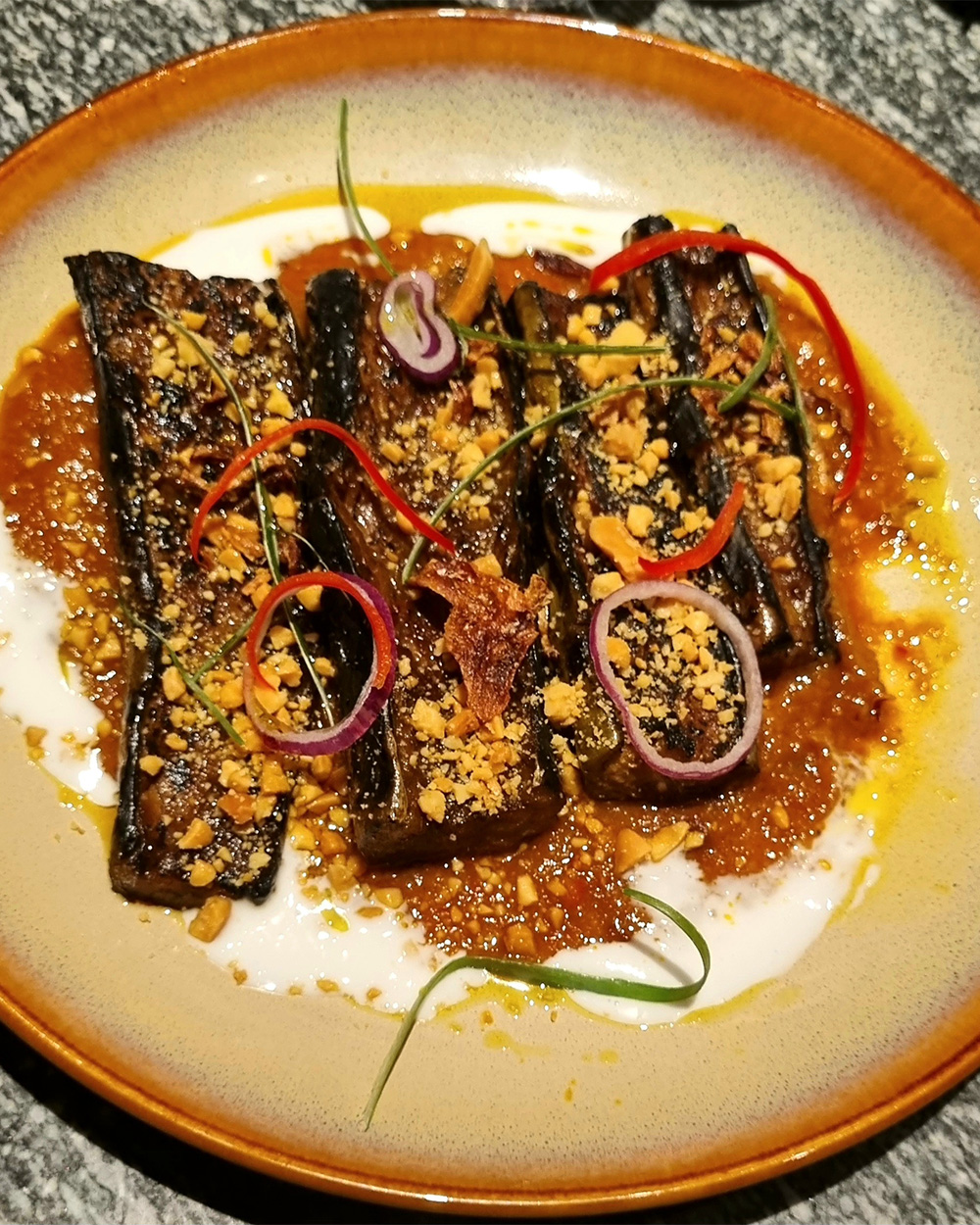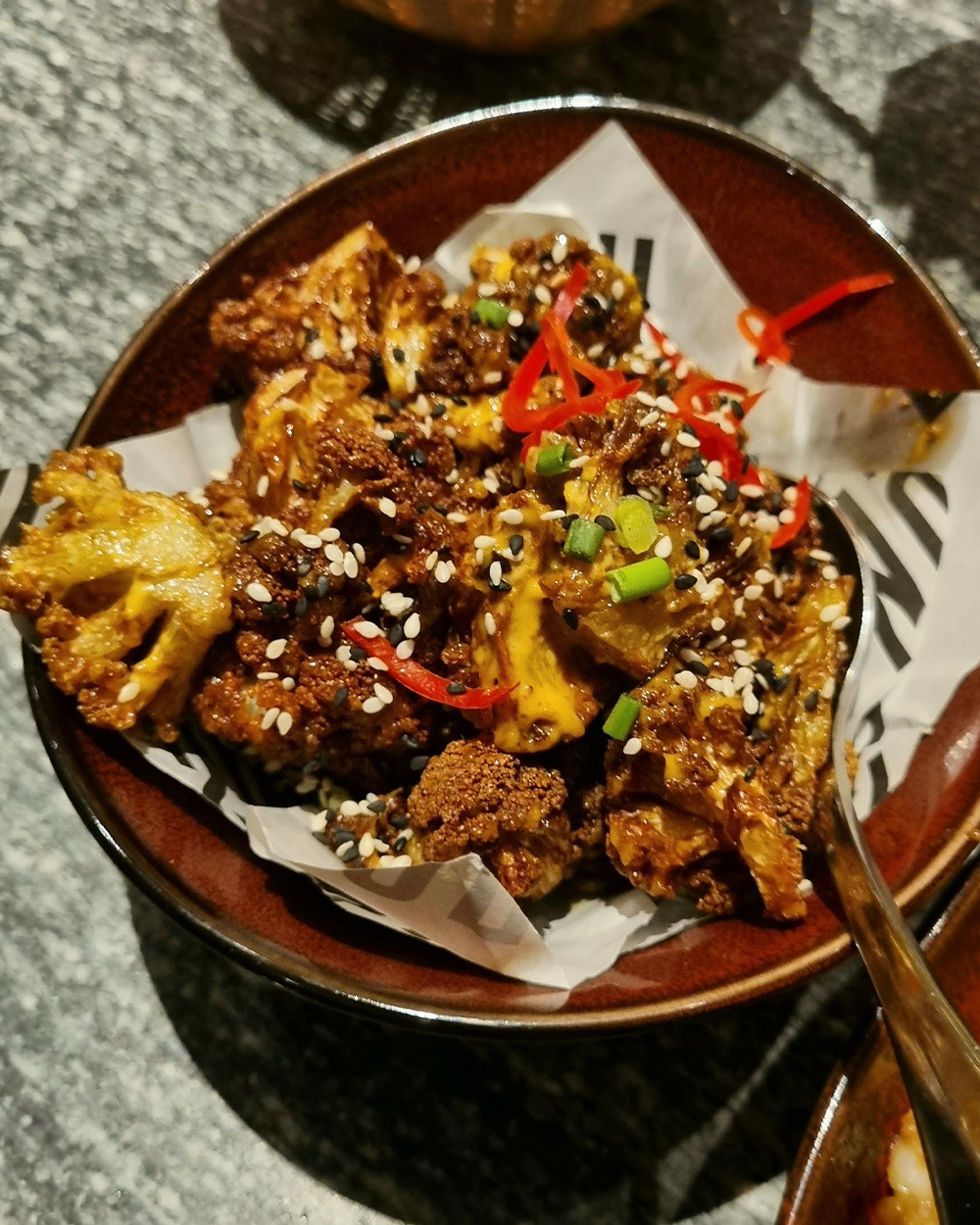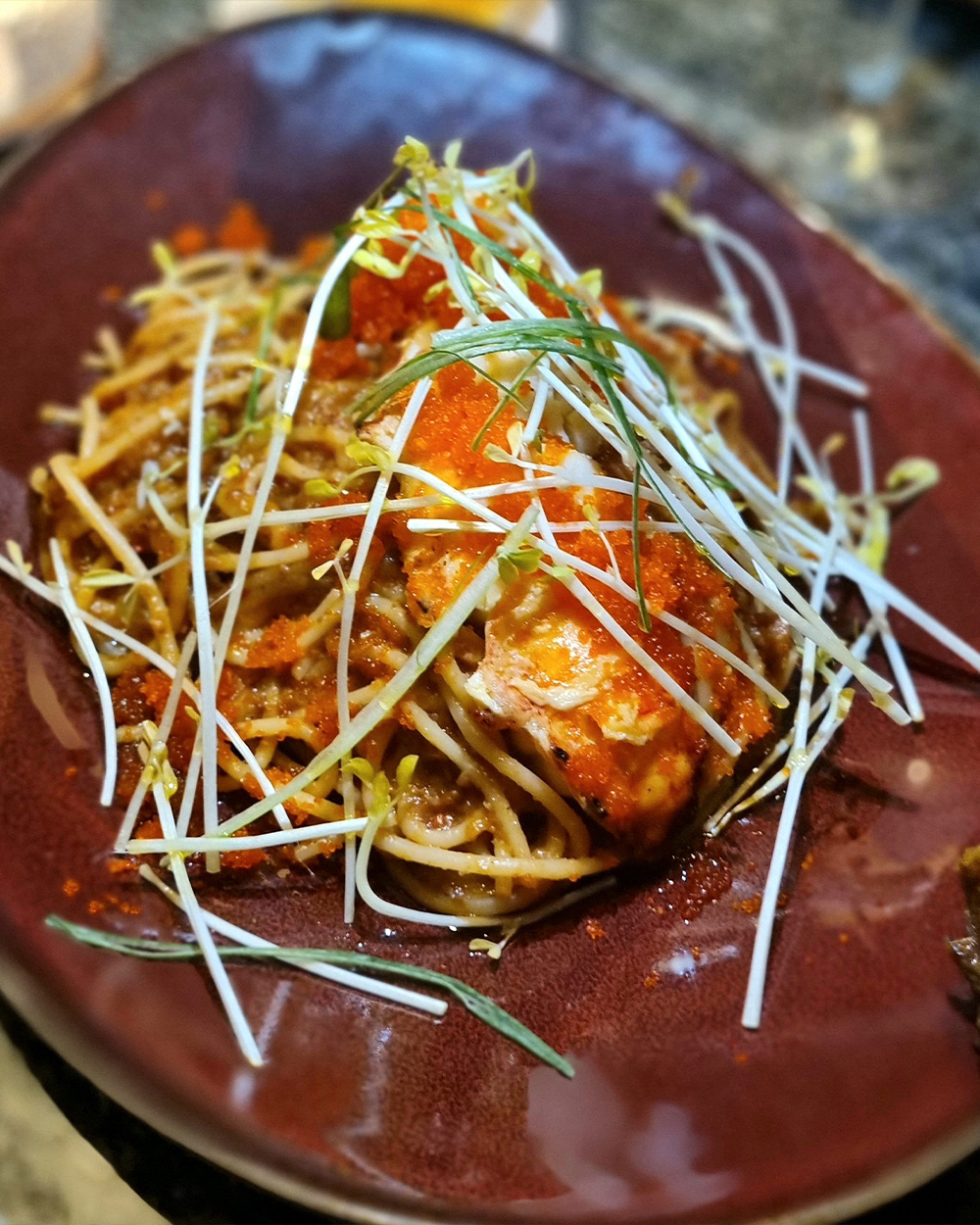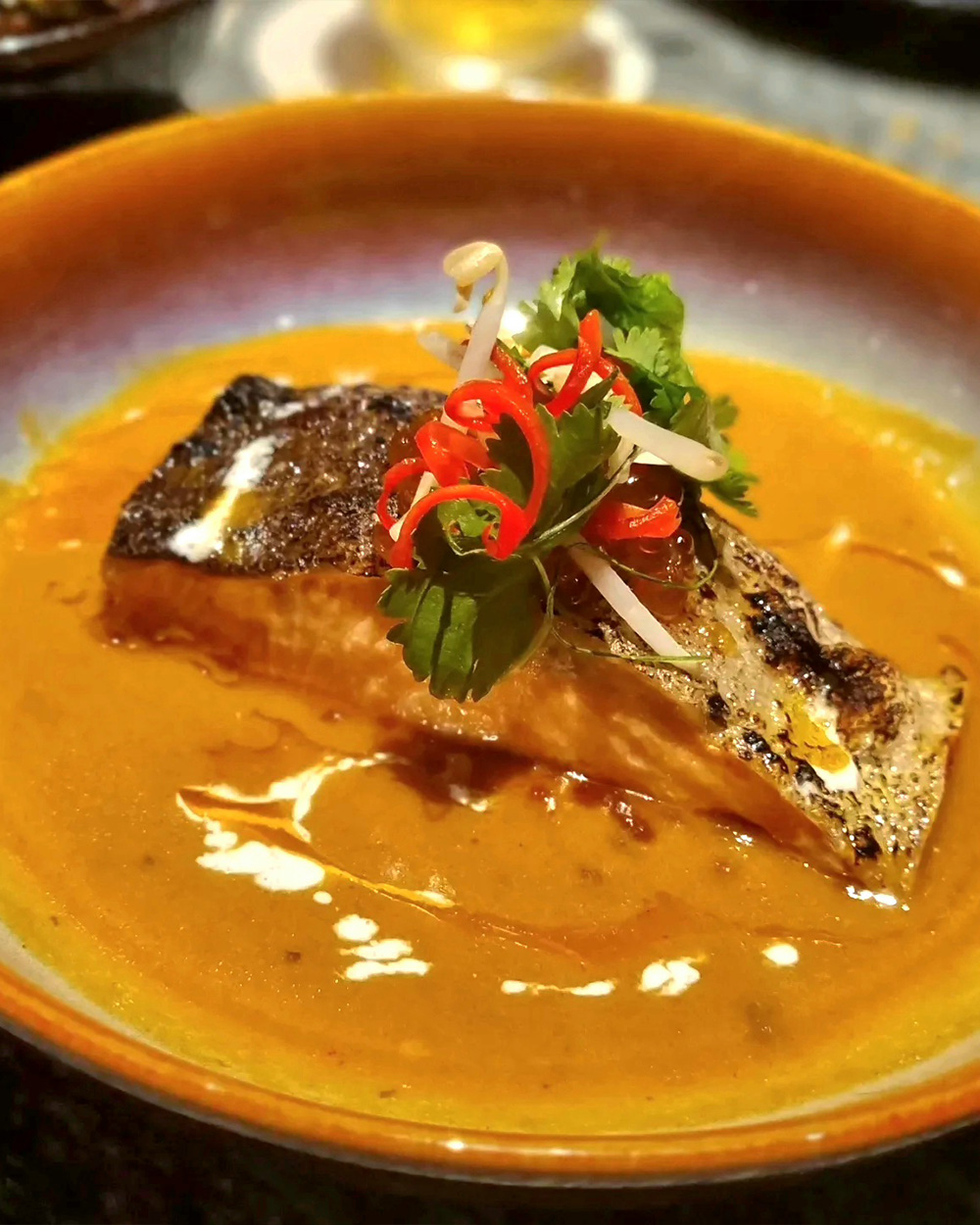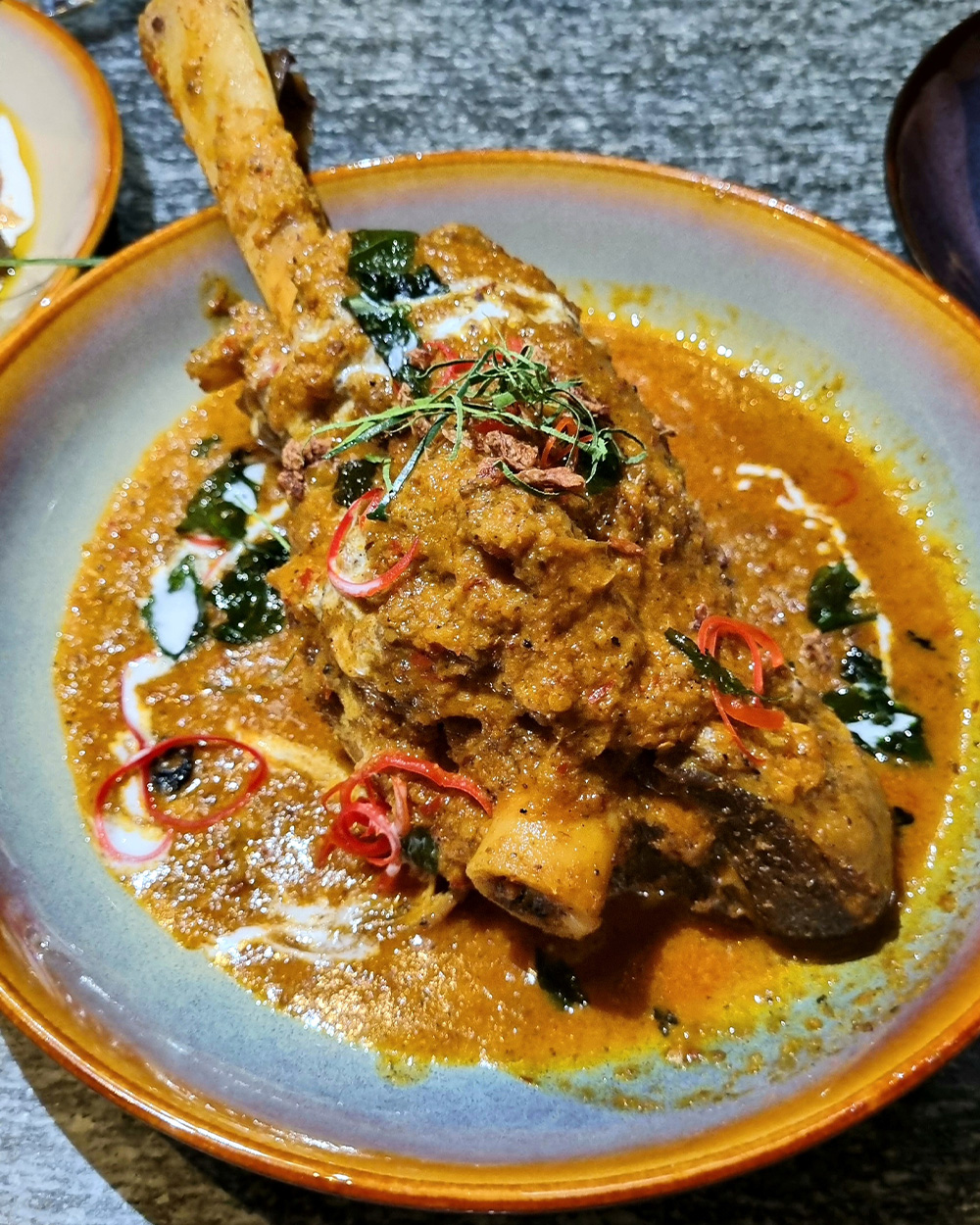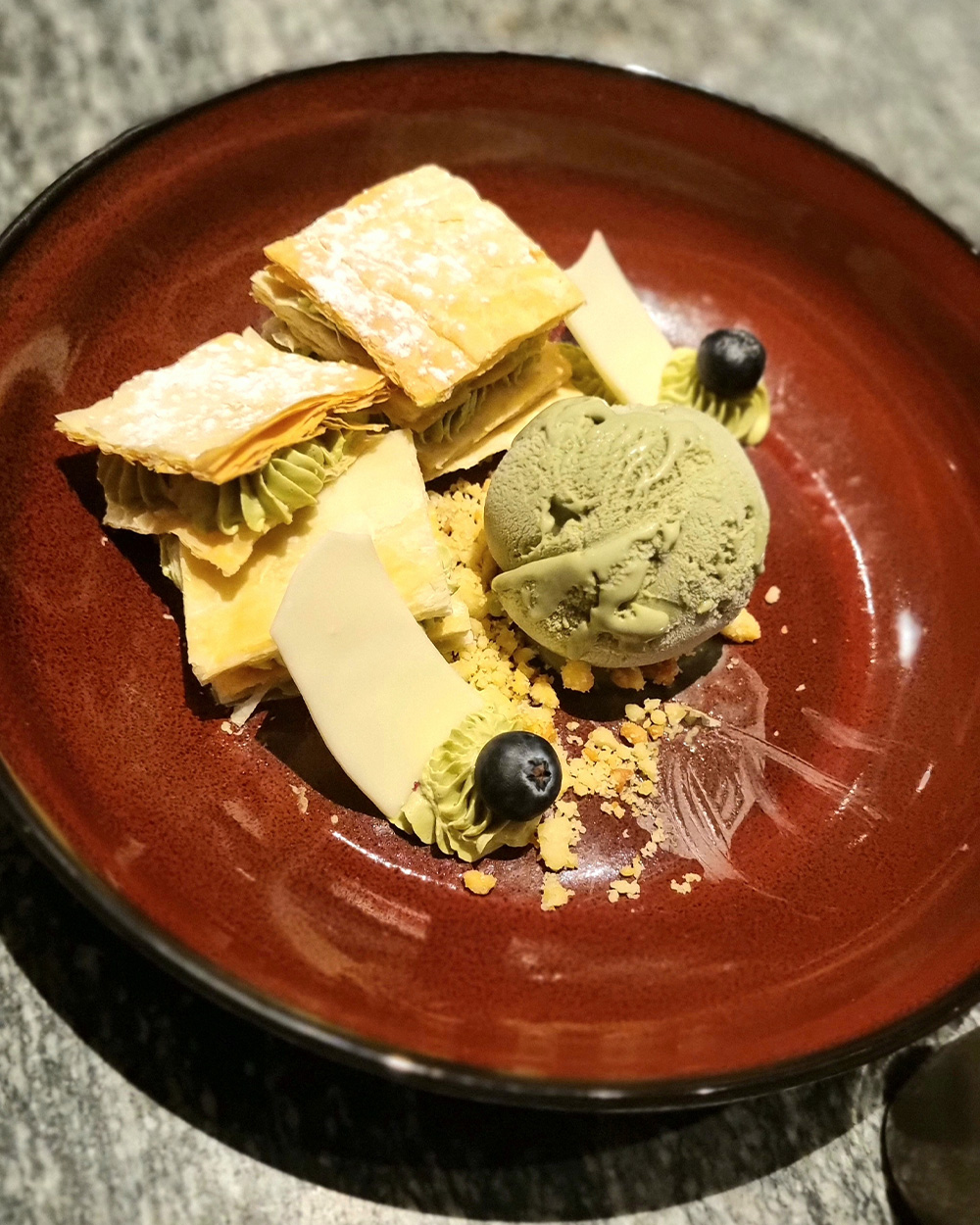 By dinner time, we were once again nestled by our quiet corner, ready to feast after a whole day out. Joined with Hyatt Centric Kota Kinabalu's General Manager Ruben Schrijver, chef Jun, along with the rest of the hotel's team, we spent the night chatting away, stuffing our faces with delicious food, and showering the chef with compliments. As it was the last night of our short escapade, we extended the night at ON23 Sky Bar where we had heaps of fun whilst sipping cocktails with the team.
Day three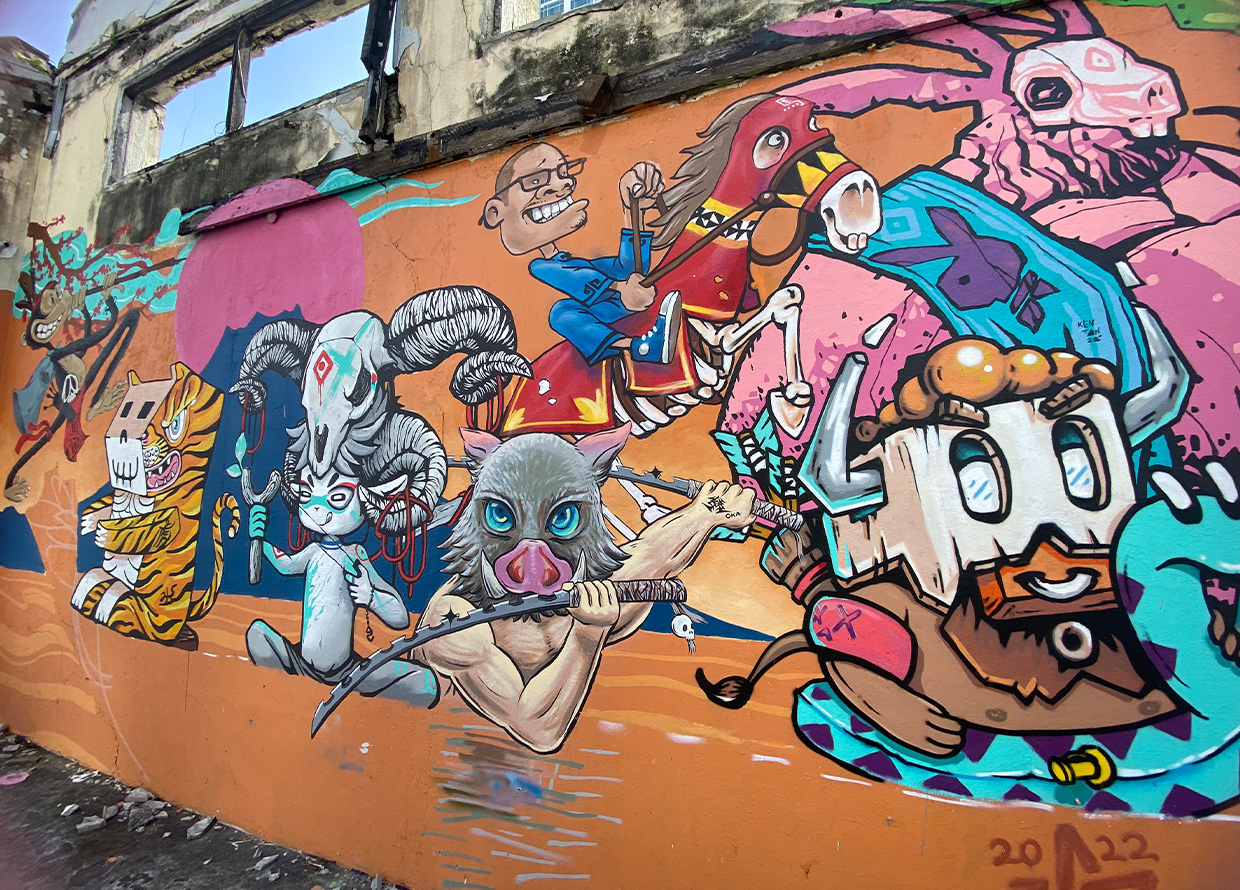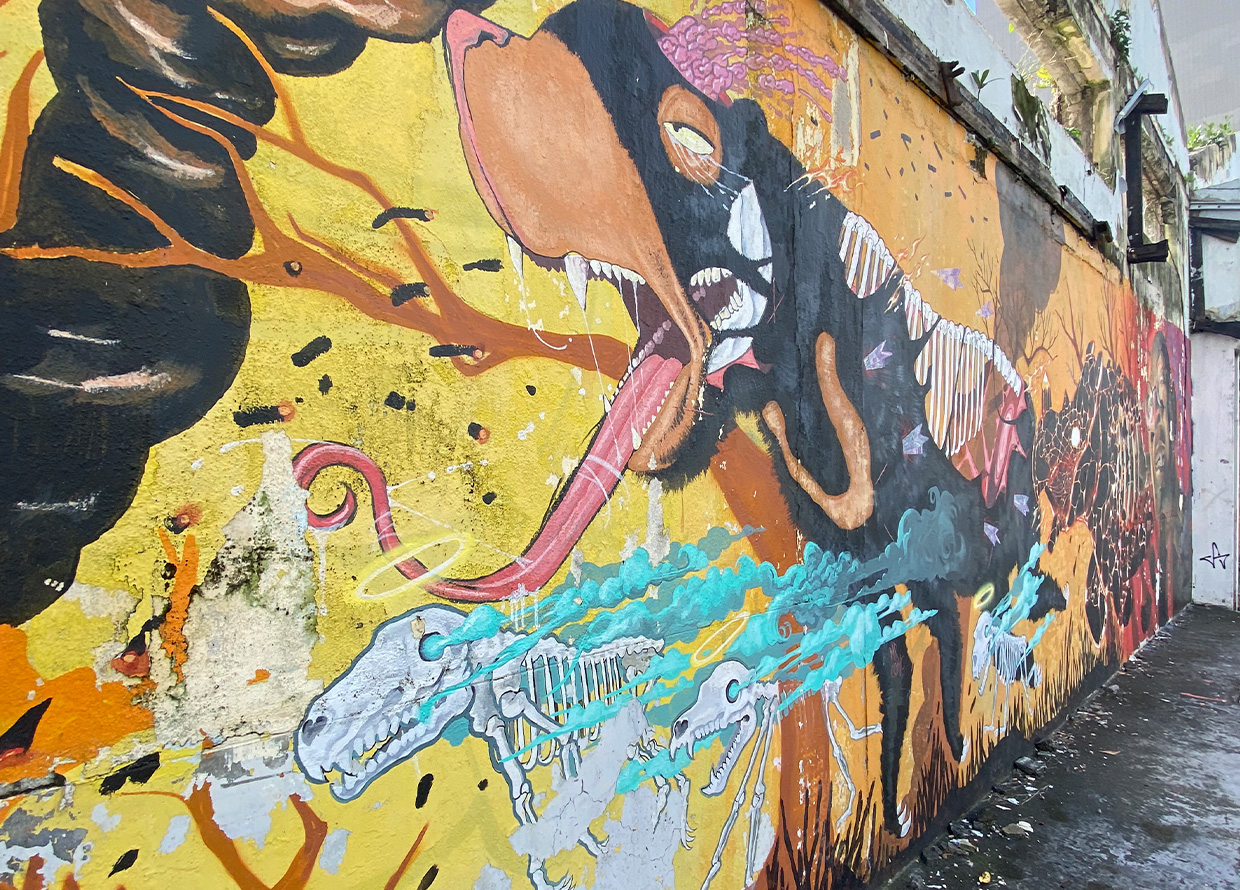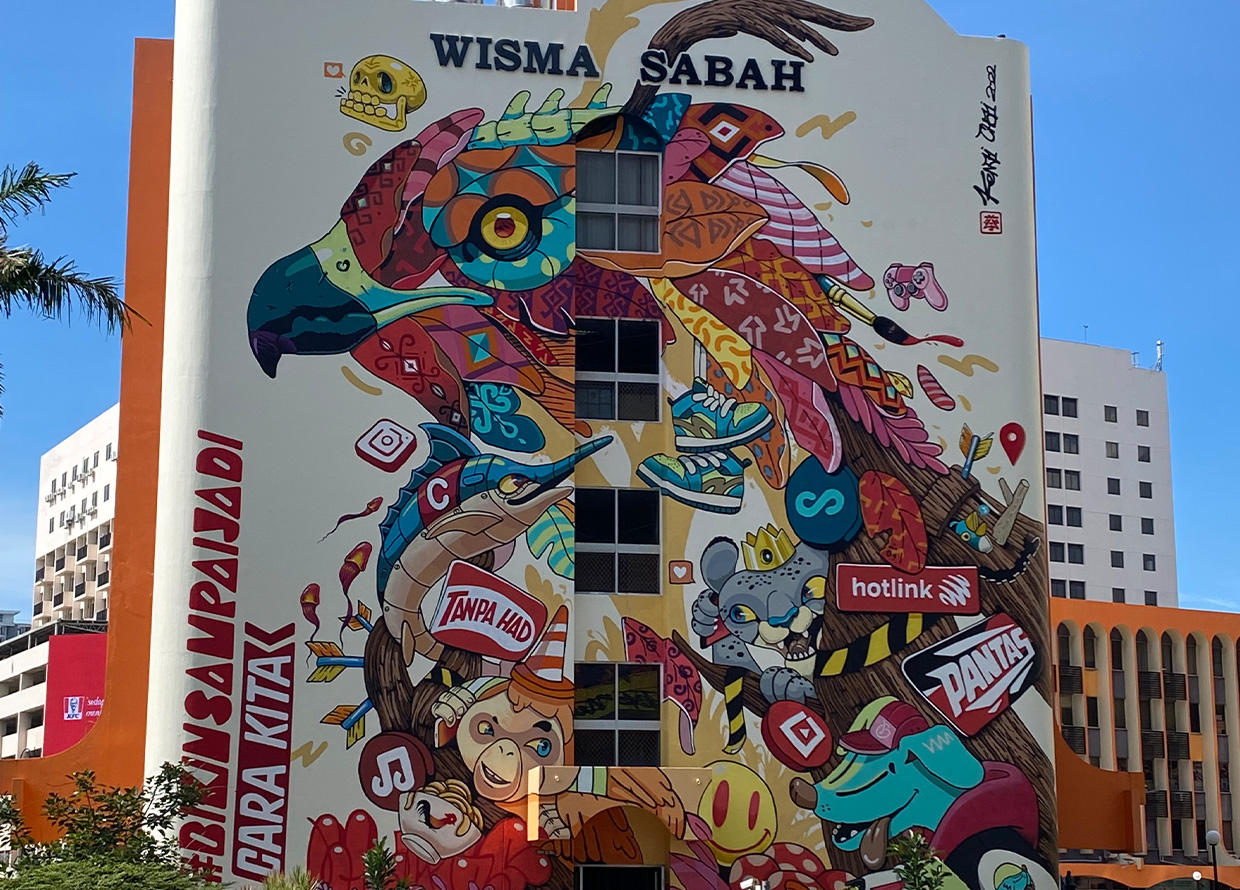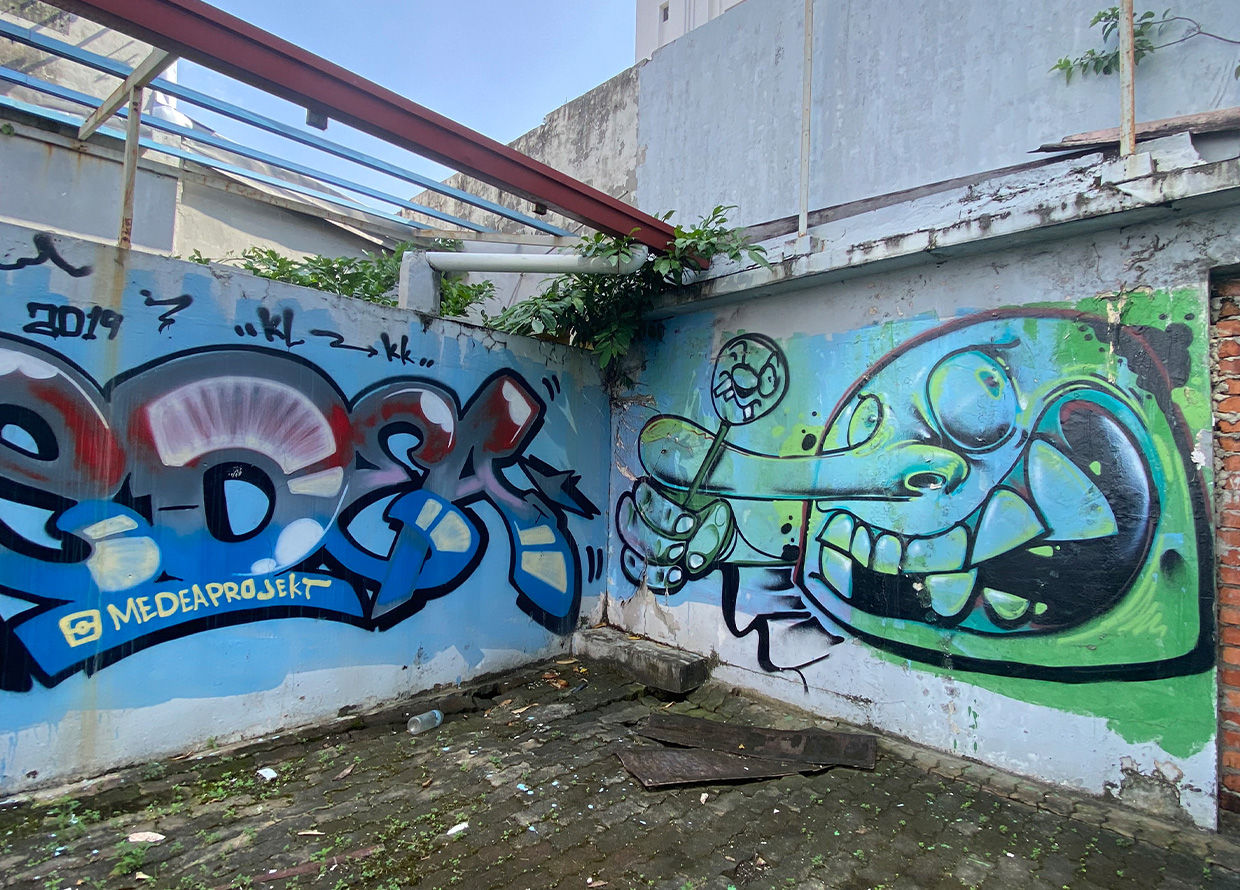 And finally, in a blink of an eye, the last day came. Making the most out of our time whilst we were still there, we sat down and had a chat with Schrijver to recap our trip before taking a stroll with artist Jared Abdul Rahman to discover the many extraordinary street art scattered all around the city centre.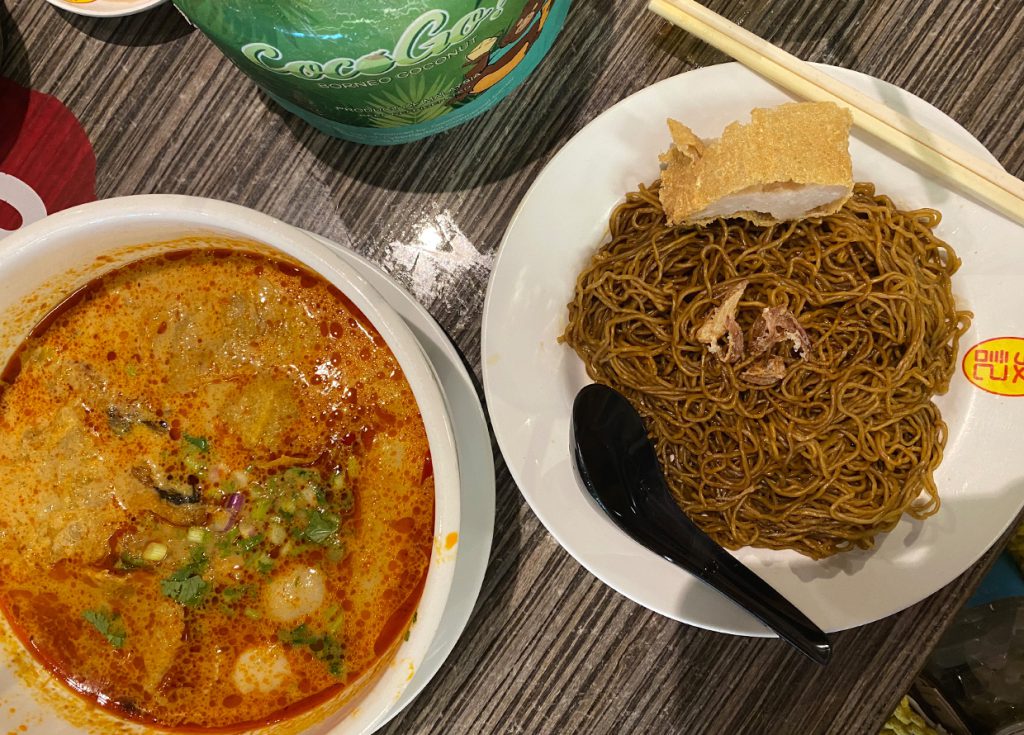 For our final meal, we ate at none other than the famous Fatt Kee Seafood restaurant that's conveniently located in a mall just right across the street from the hotel!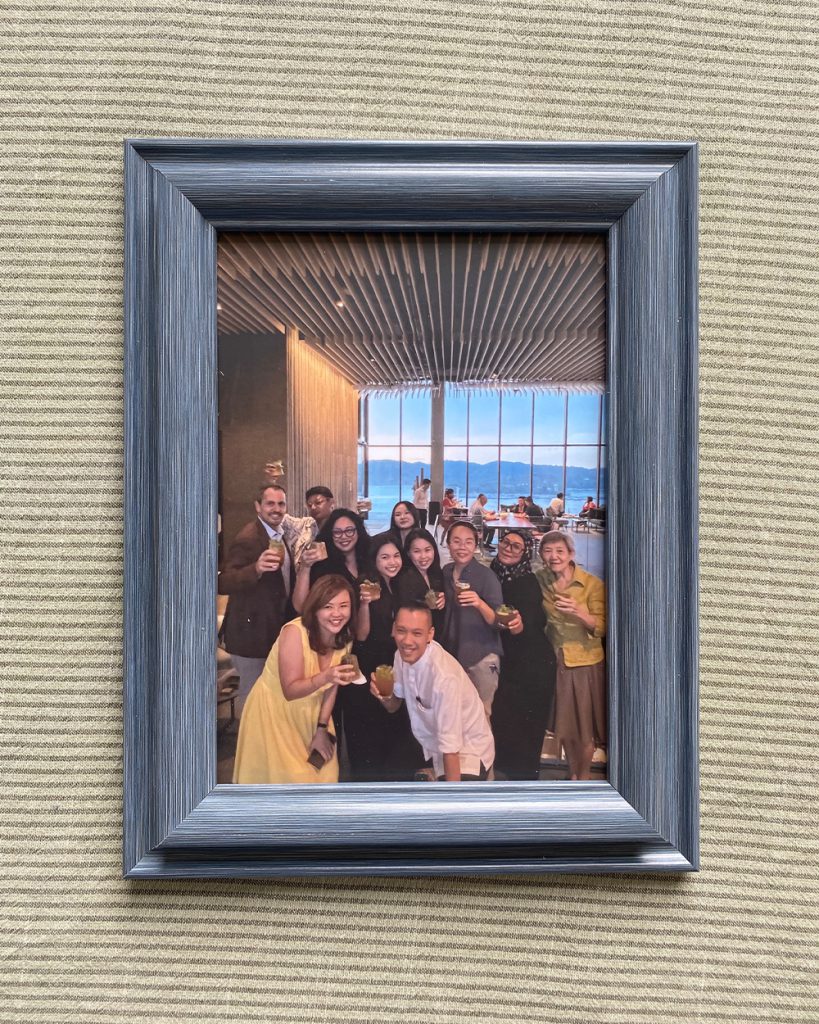 Once we were all packed up and gathered at the lobby to leave, each of us were given a framed picture to remember the amazing trip before saying our goodbyes.
My final verdict
I have to admit, after browsing through their website before my trip to get an idea of what I'm in for, I wasn't expecting much. Especially having lived in the bustling metropolis of Kuala Lumpur for years now and being spoiled with all the lively offerings of city life, at most, I was expecting a relaxing stay filled with delicious local food to indulge in and some sight-seeing around town like any other short escapade in the city—safe to say that I was very wrong.
Kota Kinabalu has always been on my list of must-visit destinations, and I'm beyond happy that I was not only able to tick it off my list, but also had the chance to experience the wonderful city with such an amazing group of people, as well as the team who welcomed us with open arms.
Whilst chatting with Schrijver, he shared that the goal isn't to hoard tourists within the hotel and keep them busy with all of its facilities, but to provide a convenient base and a delightful stay that completes their trip whilst encouraging them to get out there and experience the very best of what Kota Kinabalu has to offer. Their efforts to connect with the local community, support their businesses, and highlight the city's vibrant culture made it clear that Hyatt Centric Kota Kinabalu is more than just another hotel that sprung up in the city, and that is perhaps what I appreciate most about them.
Additionally, I also loved that no car was needed throughout the trip. Aside from our island adventure, we were able to experience so much just by taking short walks. Like the other guests, I'm already planning to return to explore the rest of Sabah very soon. It's an adventure that you simply must experience yourself at least once, and the team at Hyatt Centric Kota Kinabalu will be more than willing to curate a fun-filled itinerary for your escapade.
---
Hyatt Centric Kota Kinabalu
Address: 18, Jalan Haji Saman, Pusat Bandar Kota Kinabalu, 88000 Kota Kinabalu, Sabah
Contact:+60 158741234
Email: [email protected]
Website | Facebook | Instagram 
For more reviews of holiday destinations and experiences, head here.
| | |
| --- | --- |
| SHARE THE STORY | |
| Explore More | |