The winding route to Cameron Highlands doesn't have to be as daunting as it seems—and besides, the destination is worth it
Believe it or not, Malaysia has a treasure trove of road trip destinations; and we don't just mean Ipoh, Melaka or Penang. One of the best places to go is Cameron Highlands—for its cooler temperatures, lush greenery as well as tea plantations and strawberry farms, and more. 
Another common impression of it is the winding route that could either thrill or intimidate some. However, it doesn't have to be the latter when you're in good hands, or rather, in a car that's up for the challenge—like the models from the new Mercedes-Benz C-Class family that takes pride in their latest driving assistance and safety systems. Oh, not forgetting the new generation of four-cylinder engines too! 
To test it out, we joined the Never Stop Improving C-Class Rally and headed up to Cameron Highlands in our assigned C 300 AMG. Read on to see what we discovered during this mini road trip.
How long does it take to drive up: Generally, 3.5 hours from the KL City Centre. 
Where to stay: Cameron Highlands Resort
Charming inside and out with colonial touches to the design, the hotel is a crowd favourite when it comes to staying at Cameron Highlands. The rooms are spacious and generally overlooks a vast golf course, but the winning factor is really the warm service. While you can find a generous list of dining options around, don't miss out on the steamboat and BBQ dinner at their Gonbei Restaurant. In typical YTL Hotels-fashion, breakfast is a satisfying treat that includes a tower of fresh strawberries. 
Where else to eat: Smokehouse Hotel & Restaurant
Built in 1939, this English Tudor-style hotel has withstood the test of time, managing to immortalise its colonial charisma. Stop by for a picture, afternoon tea in the gardens with scones, cream and strawberry jam, or simply dine-in for a scrumptious spread. 
For the adventurous: Jim Thompson Trail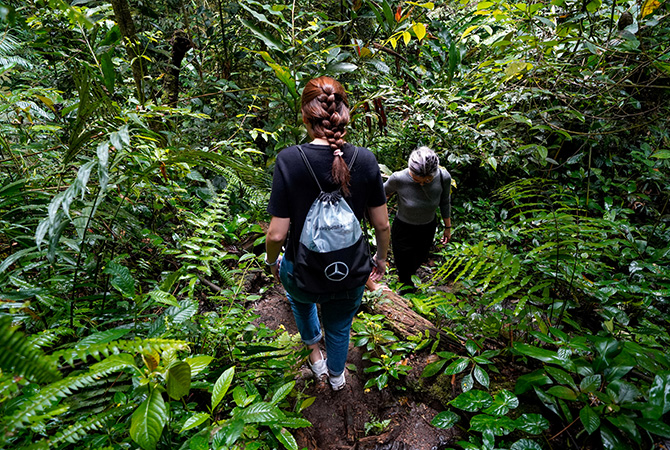 The disappearance of Jim Thompson has been a mystery since 1967 and remains one of Southeast Asia's greatest unsolved stories. One of the theories deduced he went for a walk but got lost and was thus swallowed by the dense jungle. That became the inspiration for this trail—trek through the lush jungle, pass a river and multiple native plants, hang on to vines and tree trunks while heading up- or downwards on the trail. Tip: Bring good trekking shoes. Caution: Might get muddy if it rains. 
For the curious: Big Red Strawberry Farm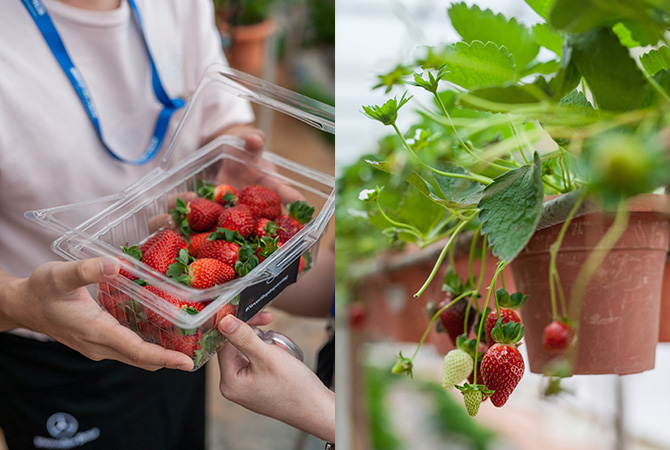 Strawberries from Cameron Highlands is a given but the most popular spot for them is the Big Red Strawberry Farm—because it's more than that. There's a cafe (you'll be amazed at how many ways they can serve this fruit), a gift shop, the option to pick your own strawberries, as well as games and rides for the kids. 
For the mystery fans: Murder Mystery at the Mystery Mountain
If you're planning to head up there in a group, this could make for a fun activity where participants basically play out a real-life Cluedo game and race to solve the murder mystery. The exclusive whodunit event can be arranged by Cameron Highlands Resort and features a plot set in the 1960s and revolves around Jim Thompson.
The verdict of the drive: Sporty in design, comfortable in both the driver and passenger seat, and stunning with its powertrain, the Mercedes-Benz C 300 AMG ultimately served every need, and more. With a record of 0-100 km/h in 5.9 seconds and a top speed of 250 km/h, acceleration was effortless and almost silent but the beauty of the car was most evident when handling the winding roads, both up and down the highlands—the entire one hour trip of just winding up (or down). Another awesome feature of the C 300 AMG is the Multibeam LED headlights system, which proved its worth in the heavy downpour en-route up to the highlands, providing optimum visibility of the road as well as to oncoming traffic.
The numbers at a glance: Equipped with a 2-litre four-cylinder petrol engine and paired with a 9G-TRONIC transmission, the C 300 AMG is both powerful yet on-point, reacting almost instantly be it from the brakes or the pick-up speed. It delivers a maximum power output of 190 kW, 258 horsepower and a maximum torque of 370 Nm.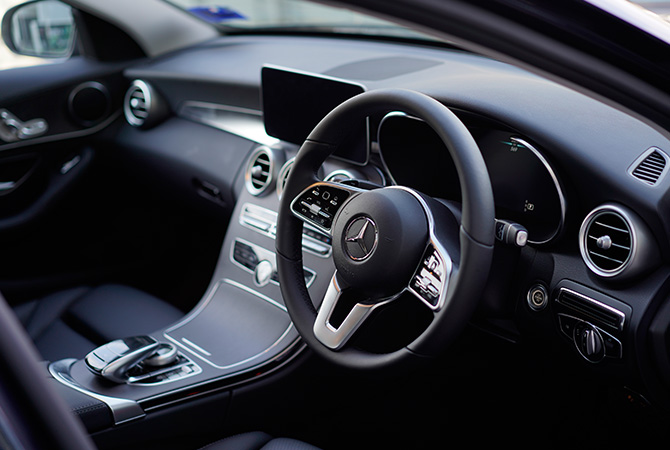 The new driving assistance system: Active Lane Keeping Assist is new in the C 300 and is something that deserves that nod of appreciation. In essence, it warns the driver via pulsed vibrations through the steering wheel when it detects a possible unintentional drift from its lane during speeds between 60 to 200 km/h. Next, if the car passes over a continuous line, it'll pull itself back into the lane by applying brakes on one side. The same applies in the case of a broken line to prevent the danger of colliding with a vehicle in the next lane. 
The Mercedes-Benz C 300 AMG is priced at RM304,888 (OTR without insurance). For more info, visit the website.