Since making its debut at the #GalaxyUnpacked 2021 event in September, the Samsung Galaxy Z Flip3 has cemented its position has one of the most stylish smartphones—and arguably *the most stylish foldable* smartphone—in the market today.
While its smooth clamshell flip form factor and unique two-tone colour scheme are key contributors to its fashionable design, Samsung has also introduced new personalised features and cool accessories that effectively make a style statement of its own.
Whether you've already got your hands on the phone or you're still looking for convincing reasons to, check out these customisation options for the Samsung Galaxy Z Flip3 that earn it (and by default, its users) extra style points.
Bespoke Edition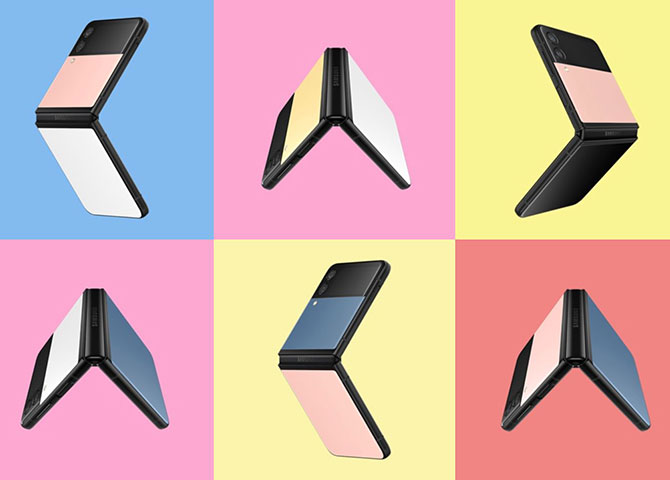 The South Korean tech company made an exciting announcement during its recent Unpacked Part 2 event: users can now personalise the colours on the Galaxy Z Flip3. Introducing the Bespoke Edition, featuring a black or silver phone frame and five colours for the front and back. The new colours include blue and yellow, in addition to the existing pink, black and white, making for a total of 49 combinations together with the frame options.
Samsung is also offering a Bespoke Upgrade Care service for the Galaxy Z Flip3 Bespoke Edition, where users can change the colour of the glass panels down the line for a fee. Pricing and availability for the Bespoke Edition has not been announced in Malaysia, but you can head over to the Samsung US website to start customising your preferred colours. However, the added customisability means that the Bespoke Edition will come at a slightly higher price compared to the base model.
Ring case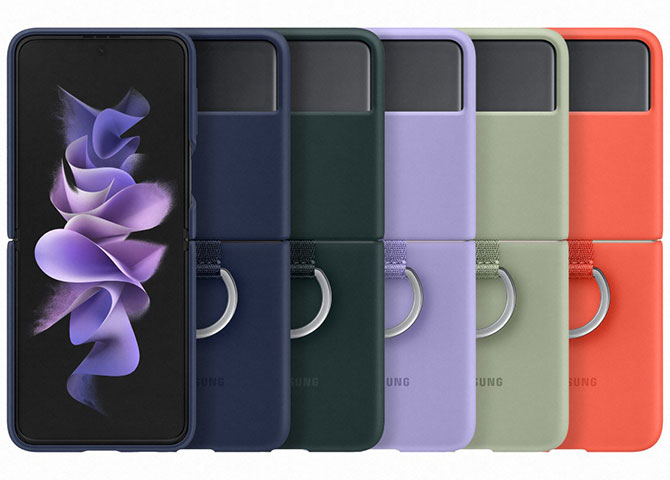 Turn your Flip3 into a sturdy fidget spinner (just kidding…or not) with a ring case that's both protective and practical for daily use. Although third-party accessory shops have long offered ring cases for all types of smartphones, Samsung has now introduced its own lineup made specially for the Z Flip3. The ring provides a better grip for users to prevent the phone from accidentally falling out of your hands. Plus, there's something about the compact, foldable design of the phone that fits perfectly with ring cases compared to non-foldable smartphones. You can even add a lanyard to the clip ring to wear it over your neck as an accessory or for convenience!
Strap case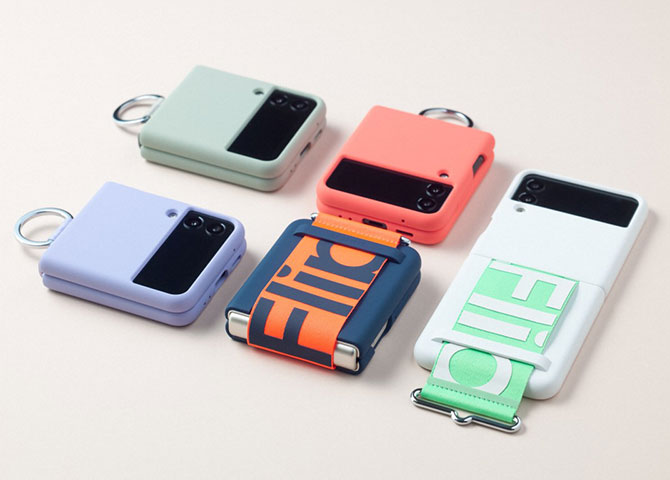 Besides the ring option, there's the strap case which features a built-in strap on the case to secure it in your hand. Samsung has two vibrant designs to choose from, available in a navy case with an orange strap or a white case with a neon green strap. Both come emblazoned with 'Flip' branding on the strap, making it stand out even more stylishly. Like with the ring case, you can also attach a lanyard to the end of the strap or clip it to another strap, such as a bag or backpack for greater utility (and flair, if we may add).
Stickers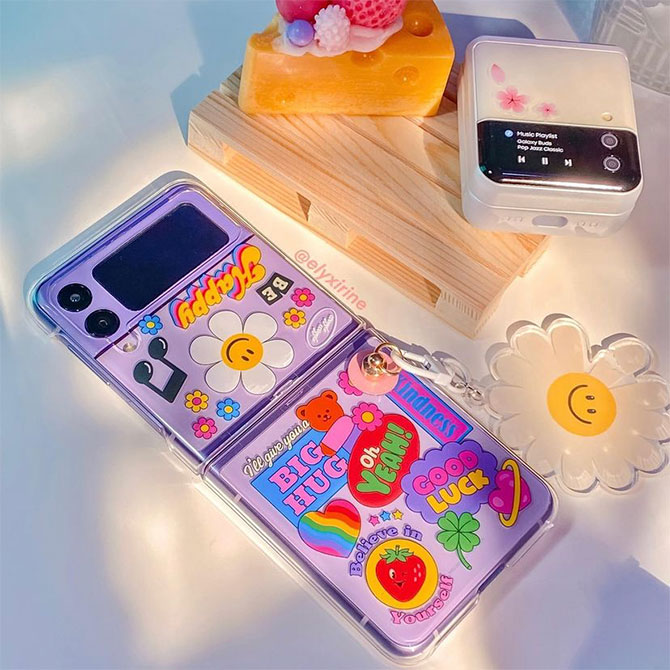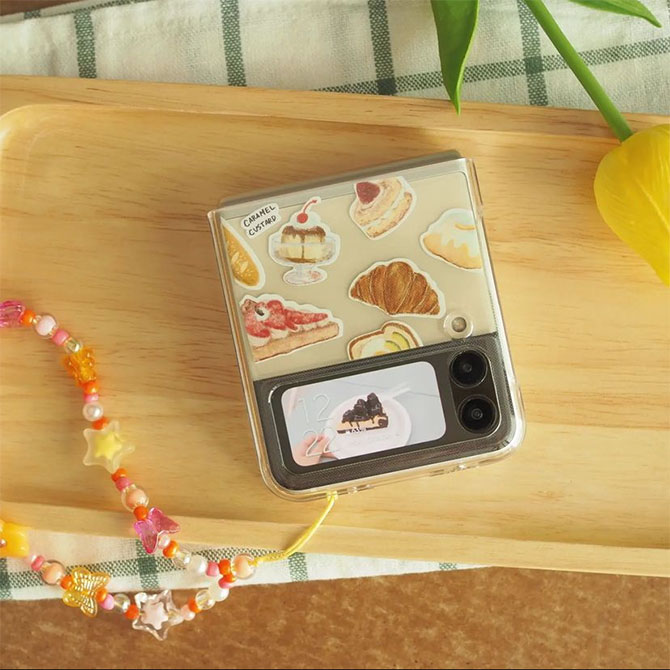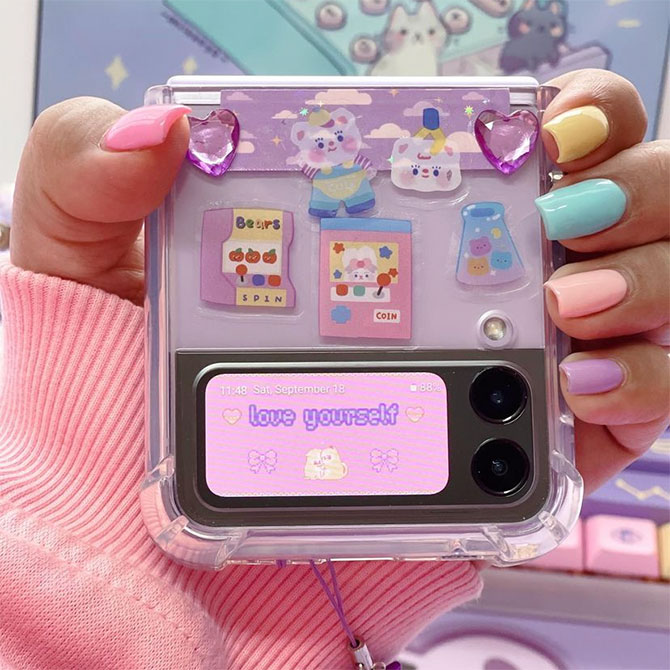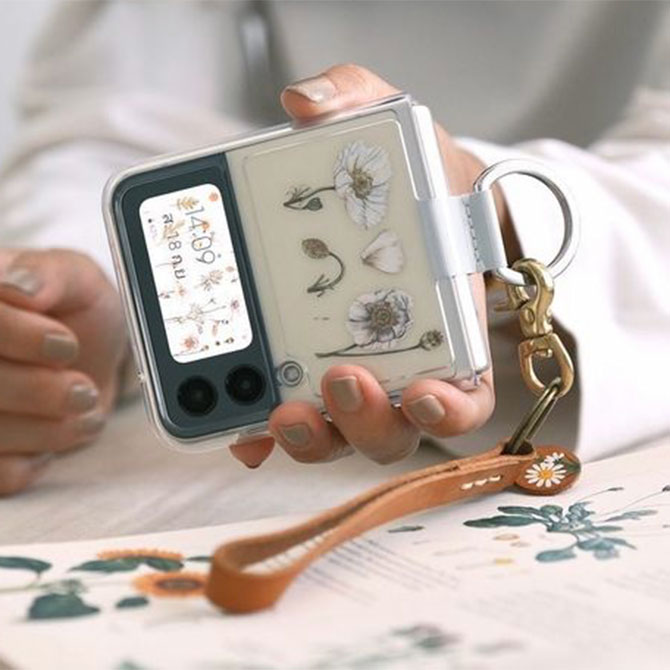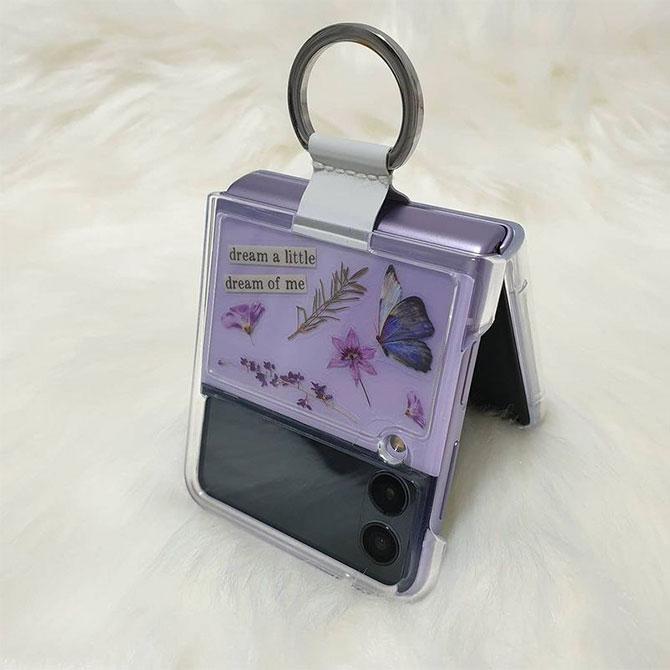 To further express your personal style with the phone, try adding stickers on the glass back or on the phone case. You can use different phrases, emojis, and stickers from your favourite brands to customise it to your own liking. We personally think this works best with a clear case, but there really are no rules—as long as you're happy with the result. Browse the gallery above for some inspiration we've found on the web.
Cover screen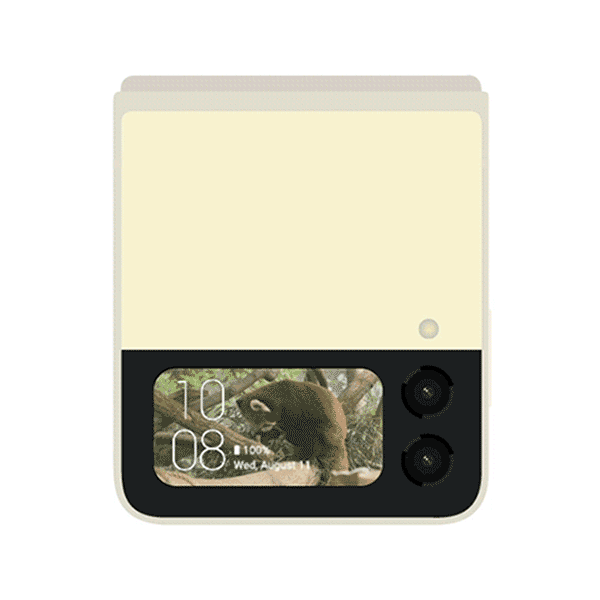 One feature that makes the Samsung Galaxy Z Flip3 stand out from non-foldable smartphones is the cover screen, which comes with a host of customisable functions. Similar to a smartwatch, users can choose different wallpapers, clock faces, or (up to 15) pictures from an album for the cover screen. Even GIFs work too! The screen will display a different image each time you turn on the device, making it the ideal blank canvas to express all facets of your personality.
There you have it—five ways to customise one of the most style-savvy phones out there. Which is your favourite?
For more tech gadget stories, head over here.
| | |
| --- | --- |
| SHARE THE STORY | |
| Explore More | |