In case you missed it: Samsung announced an array of new launches at their Galaxy Unpacked 2021 event, including the Galaxy Z Flip3 5G, the Galaxy Z Fold3 5G, and the Galaxy Watch4. However, one product that particularly piqued my interest was the new Galaxy Buds2.
Touted as the brand's smallest and lightest pair of earbuds yet, the Galaxy Buds2 boasts a wide variety of features including ANC (active noise-cancelling), well-balanced sound, customisable settings, and a built-in voice pick-up unit. Further, there are several colourways to choose from (something that, admittedly, is a definite added bonus for me).
Samsung was kind enough to send me a pair of the Galaxy Buds2 in Lavender, and I have been using them for the past two weeks. Ahead, I'm going to divulge my honest opinion of the earbuds, covering how they perform on their own, the benefits of their customisable features, and how compatible they really are with iPhones.
There are five things that really stood out to me with these earbuds: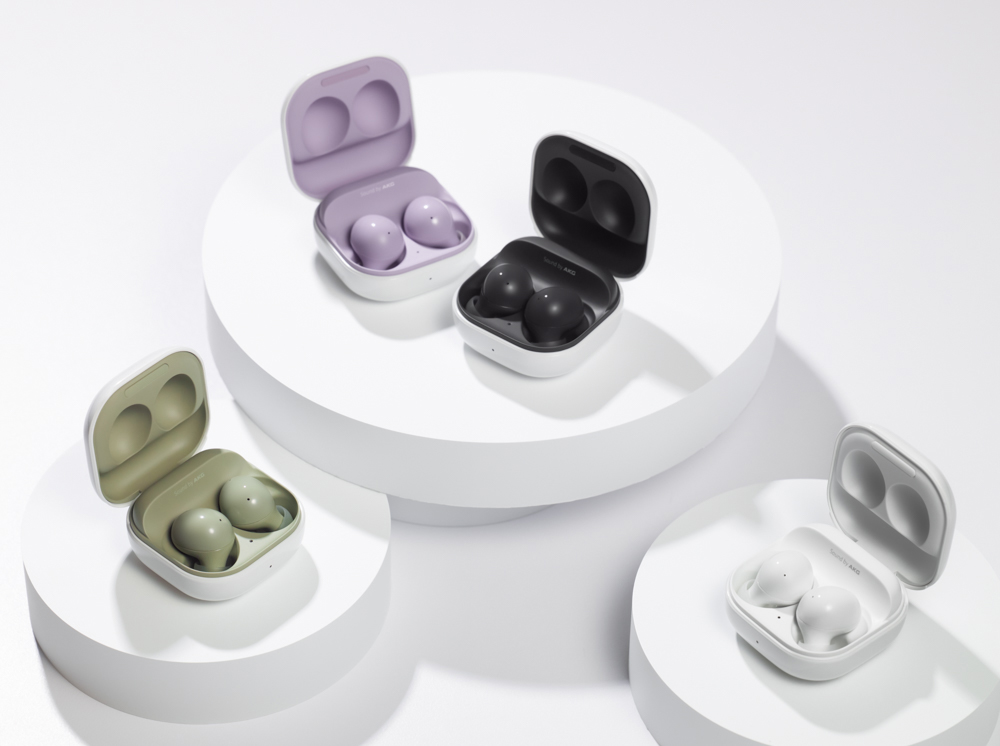 1. The Galaxy Buds2 have a comfortable fit with a good seal
I am ecstatic to have found a pair of earbuds that fit the contours of my ears so well. I personally find it very easy to get a good seal with these earbuds, which allow me to effortlessly reap the full benefits of the active noise-cancelling features. Further, the low protrusion design means that I am far less likely to knock them out of my ears by accident (and that the earbuds are less likely to pick up wind sounds while I am sat in front of my fan).
Because they fit so well, I can lie on my side, hang out upside down, and even sit like a normal human being without fear of them slipping out… which brings me to my next point.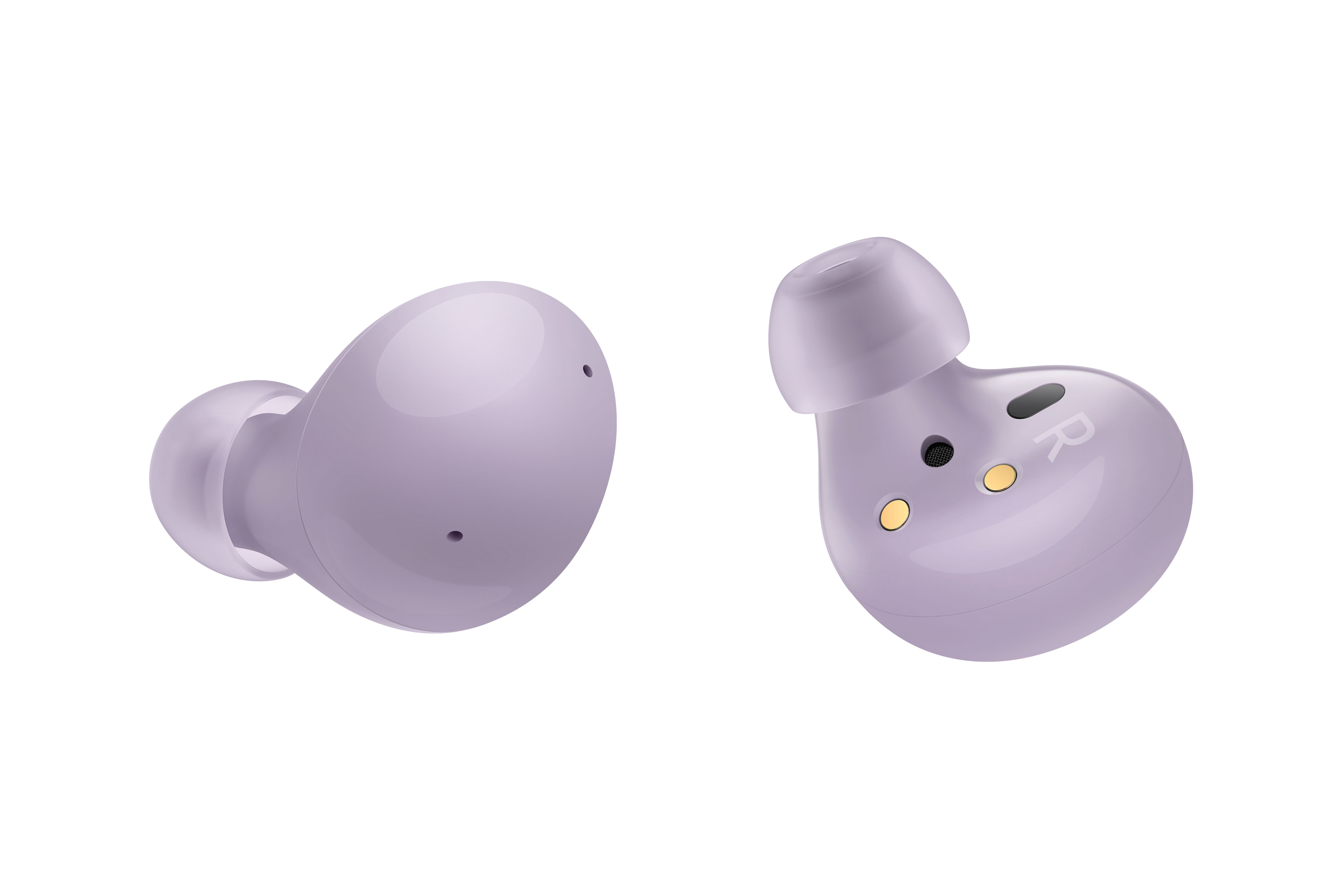 2. The Galaxy Buds2 do not fall out during exercise
According to Samsung, the small and lightweight design of the buds was intentional. It helps to keep the earbuds snug in your ears no matter how active your lifestyle is, ensuring that they stay put once they're in.
To test the staying power of these earbuds during a workout, I hopped, skipped, ran, and jumped around my house, and I can confirm that the seal did not budge! In fact, there were only two actions that managed to shift the position of the earbuds. The first was me vigorously shaking my head from side to side, and the second was me smiling widely; not too much of a concern as I don't do much of either of those things while working out.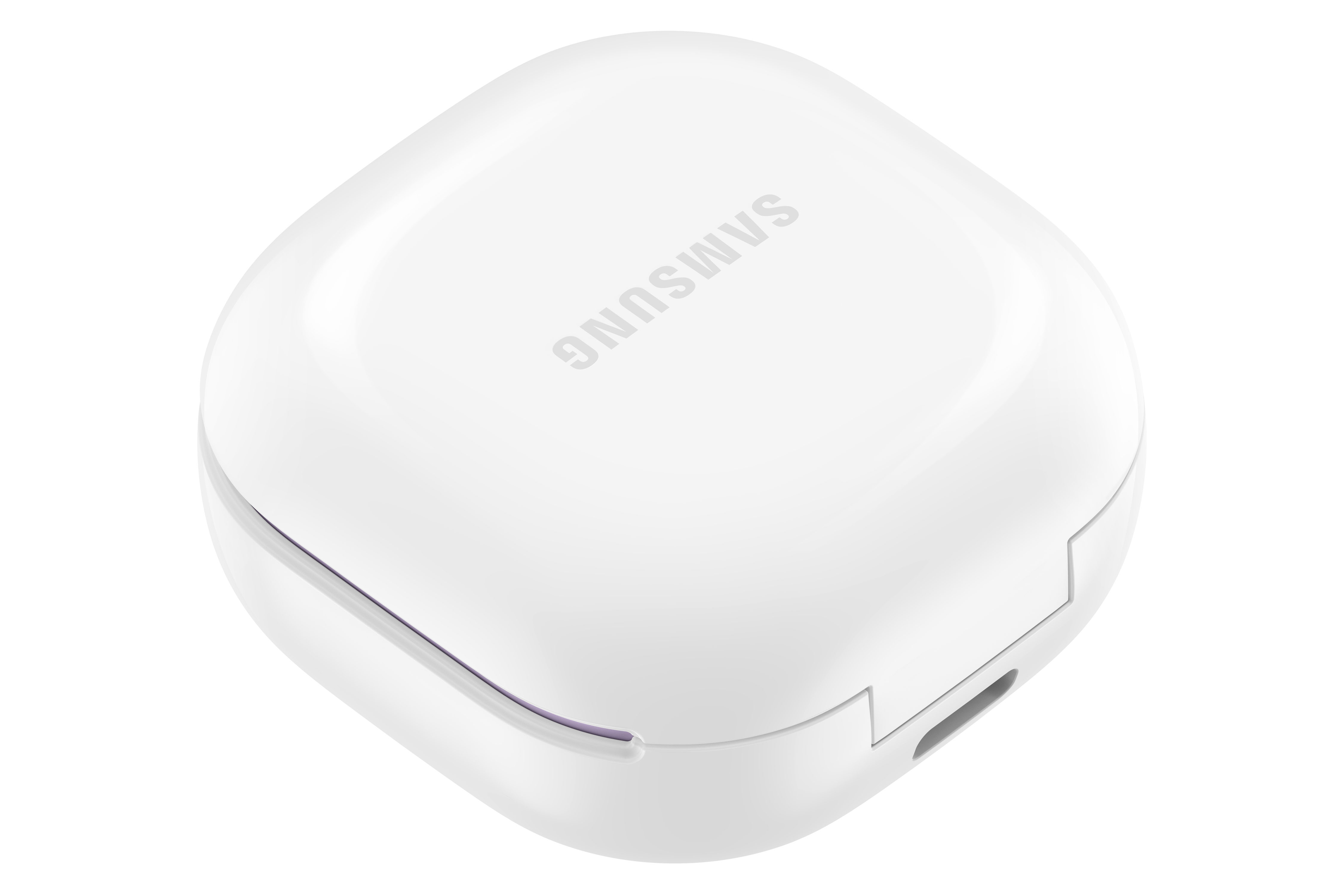 3. The Galaxy Buds2 have high-quality sound and adjustable noise-cancelling features
For you audiophiles out there, don't underestimate these all-rounder earbuds. They may be small, but they still deliver high-quality sound that allows you to hear your music with total clarity. For this, you can thank the built-in two-way dynamic speakers within the earbuds.
Further, as someone who can only concentrate with absolutely zero distractions, noise-cancelling features on my earbuds are an absolute must. Luckily, the Galaxy Buds2 comes with improved ANC technology that filters external background noise by up to 98 per cent—a feature that has been backed by UL verification.
Now, I do trust UL verification, but I also wanted to put these claims to the test for myself. As such, I placed myself in the noisiest place I possibly could: My own house. As far as noise cancellation goes, I'd say these earbuds are a win! For context, with ANC on and a white noise track playing on Spotify, I managed to sleep through four hours of construction, my (very) noisy cat screaming for attention, and the blaring ring of our landline. In short, while the Galaxy Buds2's ANC doesn't filter absolutely everything out, they are very effective for a pair of wireless earbuds.
That said, I don't always want to be out of the loop with my environment, which is why I really appreciate the ambient noise setting on the earbuds. There are three levels of ambient sound that you can choose from within the Galaxy Wearable app to fine-tune and control how much of your surroundings you can hear. This feature is particularly useful for outdoor activities that would require your full attention, such as jogging around busy roads.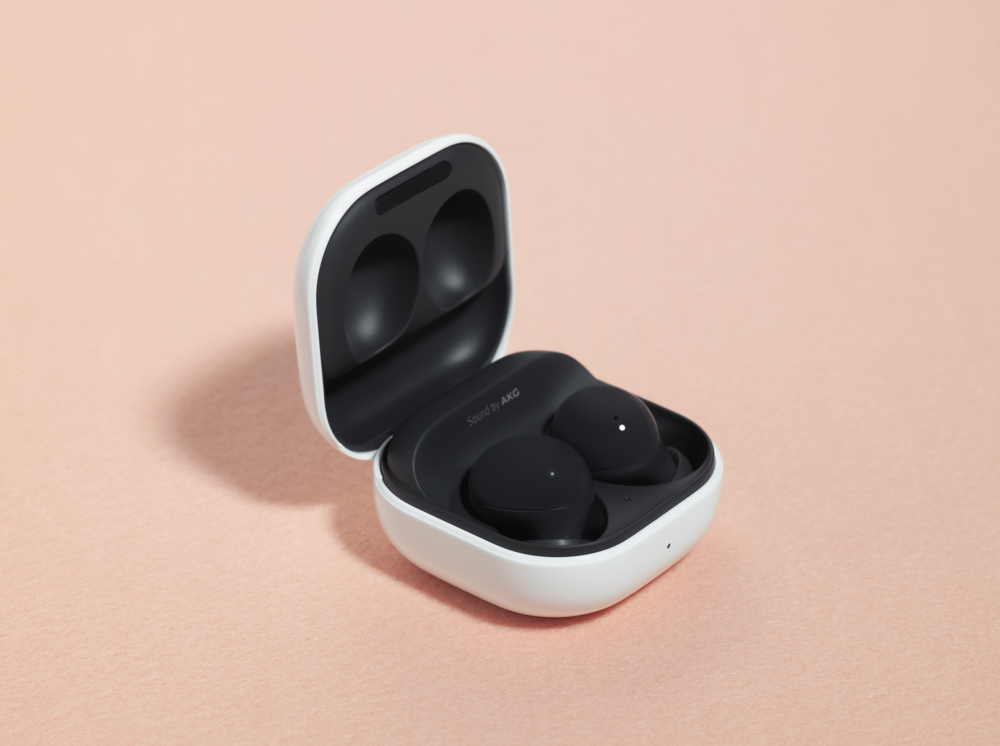 4. The Galaxy Buds2 offer crystal-clear quality on voice calls
As someone who spends a lot of time on the phone, voice clarity while on calls was another priority for me. Fortunately, the earbuds have been designed to maximise call clarity, with three built-in microphones and a voice pick-up unit (VPU) in tow.
I hopped on a call to try this out and, according to my partner, the earbuds greatly reduced the background noise on my end and made my voice significantly clearer. That said, they also complained that the noise-cancelling feature caused a small disconnect whenever I started or stopped speaking and that they could hear the chime whenever I changed modes from ANC to ambient sound. Neither of these things affected the call's experience too much and the quality on my partner's end was perfect, so I'd say the Galaxy Buds2 definitely delivers on its claims of maximised call clarity.
5. The Galaxy Buds2 offers long battery life
According to the brand, the battery offers up to five hours of playback with ANC turned on and up to 20 hours with the case. I can attest to this—the earbuds lasted for so long that I genuinely forgot that I was wearing them in the first place!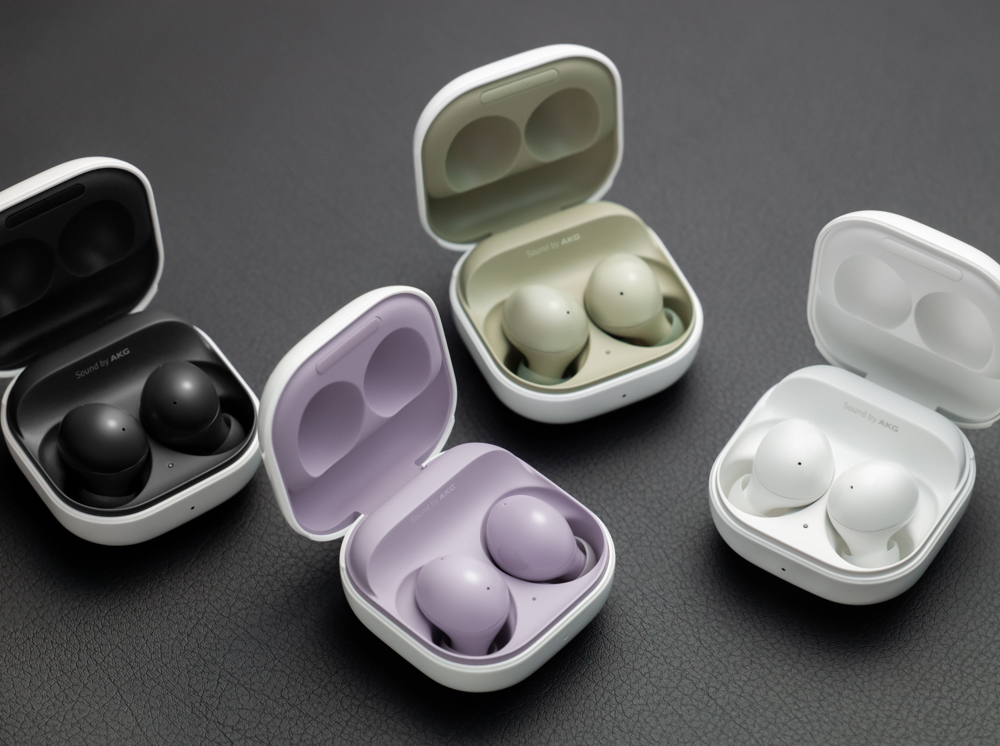 Do the Galaxy Buds2 work well with iOS?
Unfortunately, if you're an iPhone user like me, you won't have access to the Galaxy Wearable app as it is not available on the App Store. As such, you'll be limited to the default settings on the earbuds. This isn't necessarily a bad thing—you'll still be able to connect to the earbuds and use the default controls (tap once to pause or play your music, and long press to swap between ANC and ambient modes). That said, if you're hoping to get the most out of your earbuds, you'll definitely need a Samsung phone.
As I mentioned, I don't have a Samsung phone myself, but I do have a brother who has a Samsung Galaxy S20 Ultra! The app allows you to adjust the ANC/ambient settings, customise the touch controls, and change the equaliser settings for your tunes. You can also use the app to test the fit of your earbuds and find them in the event that they've disappeared (one of the drawbacks of being the smallest-ever earbuds is that they are prone to going missing).
There is a silver lining for you Apple heads, though—if you do happen to have the Samsung phone of a friend or family member handy, you can just use it to quickly adjust the settings to your liking. Even after said friend or family member deletes the app and forgets the earbuds, the settings will remain as they were. So, despite my using an iPhone, I can now double tap to skip songs and triple tap to replay. Really, the only thing I'm actually missing is the find-my-earbuds feature; something that, to be fair, I can live without.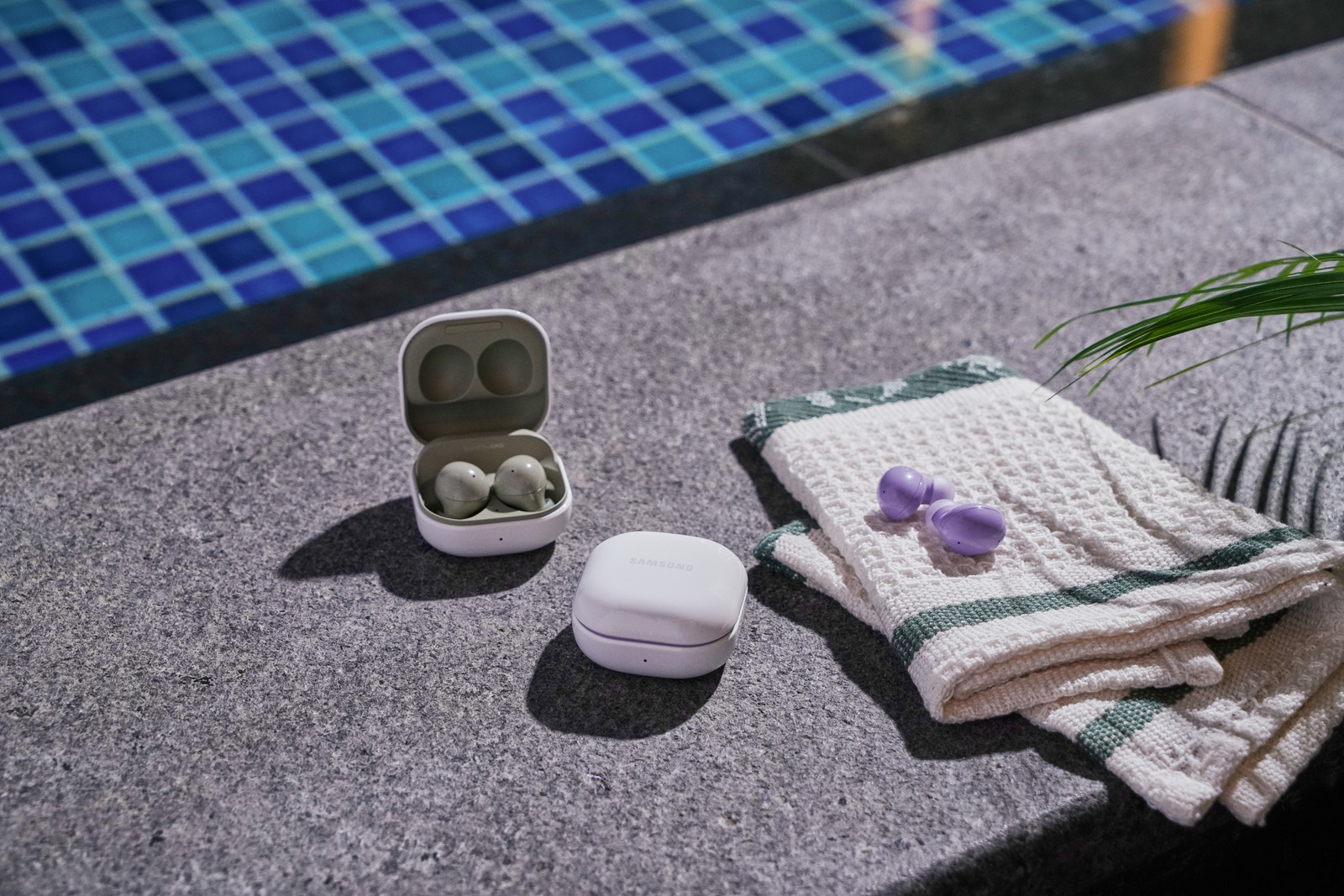 The verdict:
All in all, if you're looking for a well-rounded pair of earbuds that offers noise-cancelling technology, a crystal-clear voice pick-up unit, and good sound quality, look no further than the new Samsung Galaxy Buds2.
In my opinion, at the price of RM499, they're an absolute steal! The Galaxy Buds 2 comes in four colours: Graphite, White, Olive, and Lavender.
For more tech reviews like this, click here.
| | |
| --- | --- |
| SHARE THE STORY | |
| Explore More | |