Technology
Review: The Samsung Galaxy Z Flip5 is redefining mobile novelty
Flippin' fabulous
Images courtesy of Samsung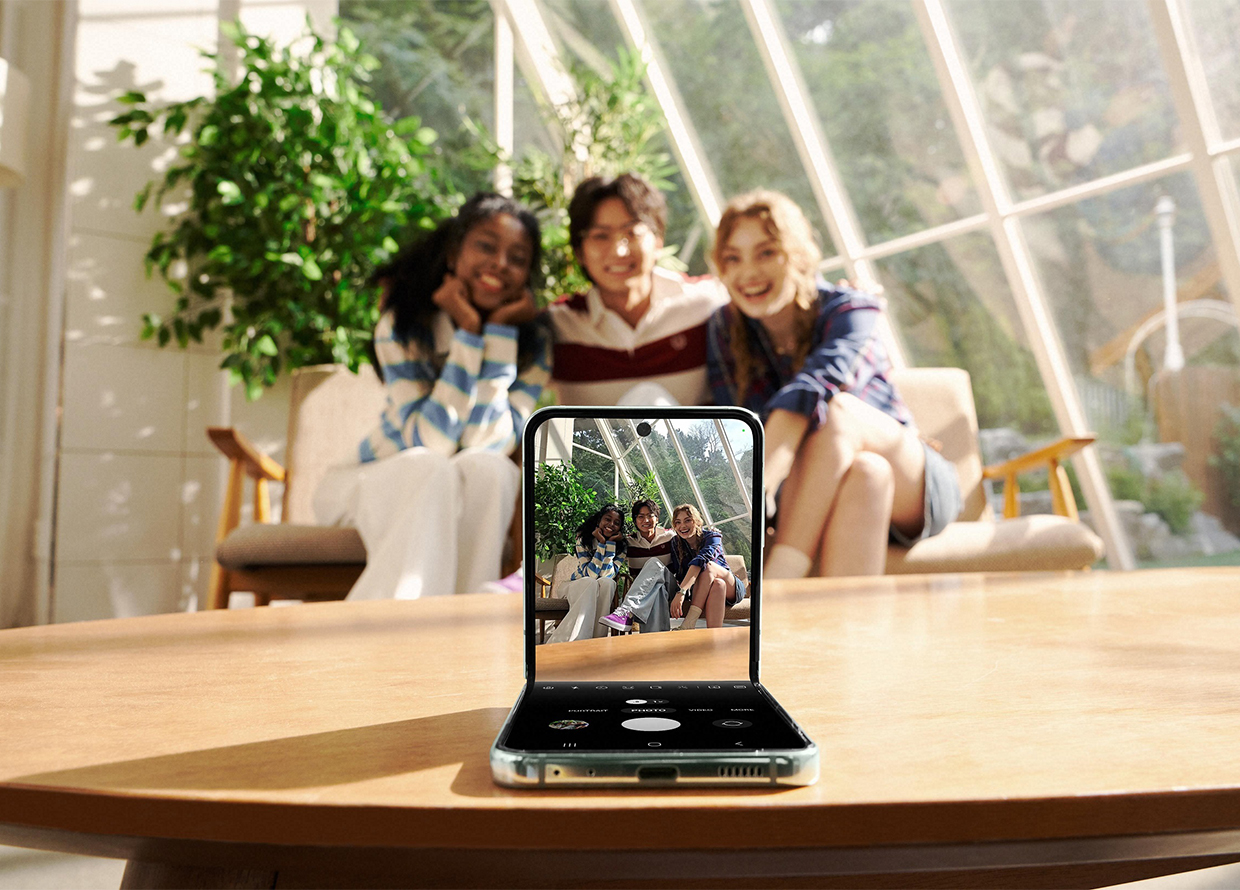 Since its debut at Samsung's Unpacked event in 2020, the Galaxy Z Flip model, along with foldable smartphones in general, may have lost some of its initial novelty in the rapidly evolving tech industry. Numerous foldable phones flood the market every few months, each offering the convenience of  portability and the enjoyable 'flip' action. However, with the recent release of Samsung's fourth-generation model, the Galaxy Z Flip5, I'm delighted to report that there are still remarkable innovations and opportunities for enhancement in the realm of foldable smartphones. While I've already highlighted some of my favourite features of the phone here, after using it for a little over a month now, I'd like to share my thoughts on these new improvements.
Bigger and better…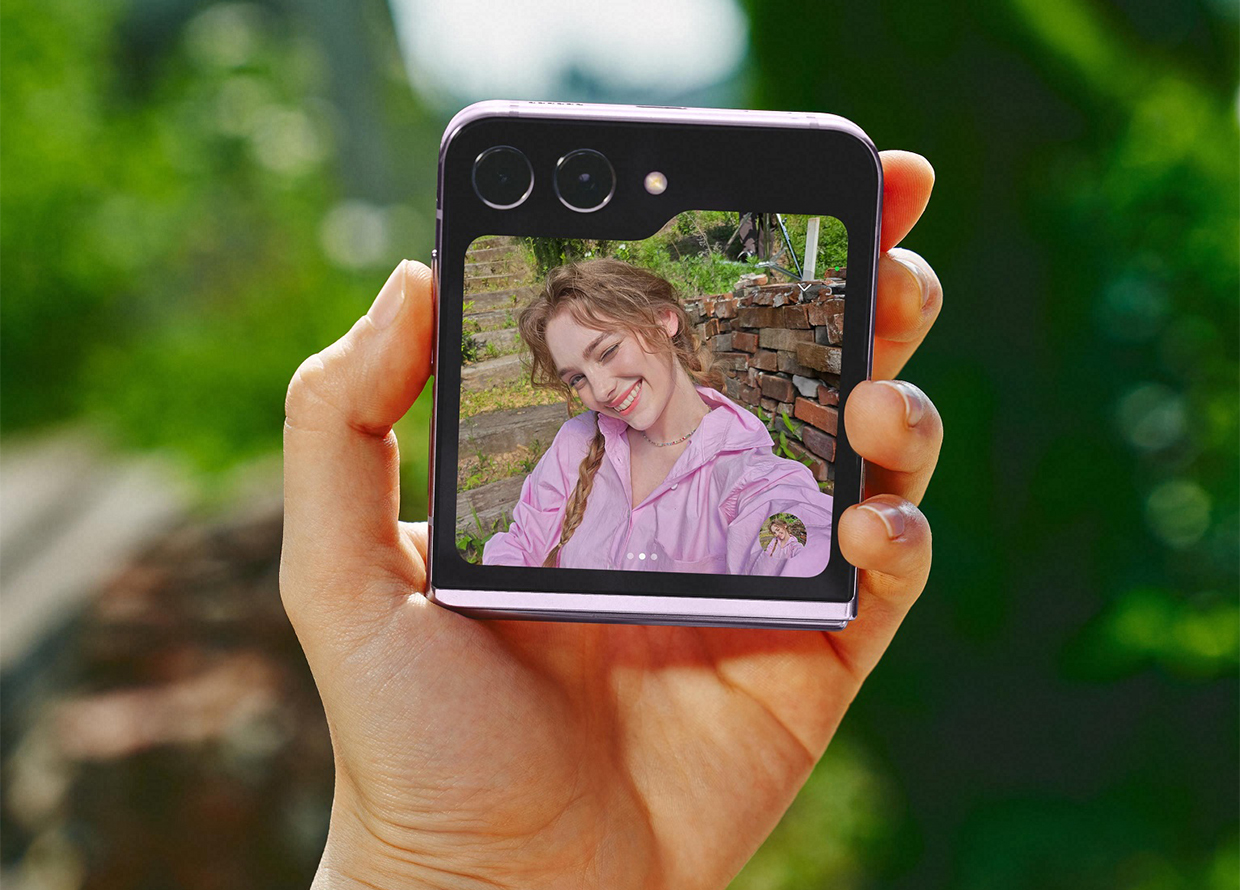 The Flex Window, that is. My introduction to the Galaxy Z Flip series began with the Z Flip3, featuring a 1.9-inch Cover Screen. The following model also retained the same screen size. While it was revolutionary at the time, comparing it to today's 3.4-inch Flex Window reveals substantial progress. Accessibility is key, and with the Z Flip5, there is so much more that you can do quite literally in the palm of your hand. This means that accessing your favourite and essential apps no longer requires flipping your phone open, and I'll delve further into this below.
It's stronger too!
Initially, when using the Galaxy Z Flip5, I naturally exercised caution for two main reasons. Firstly, I wasn't used to how delicate the device feels, and secondly, I didn't want to damage such a beautiful phone in my first few weeks of usage. However, it turns out I didn't really need to be concerned as the Z Flip5 offers greater durability compared to its predecessors. This includes the incorporation of a shock dispersion layer and an integrated hinge module. The phone is also built with a robust exterior, featuring Corning Gorilla Glass Victus 2, and aircraft-grade Armour Aluminum, ensuring its resilience.
Swipe to unfold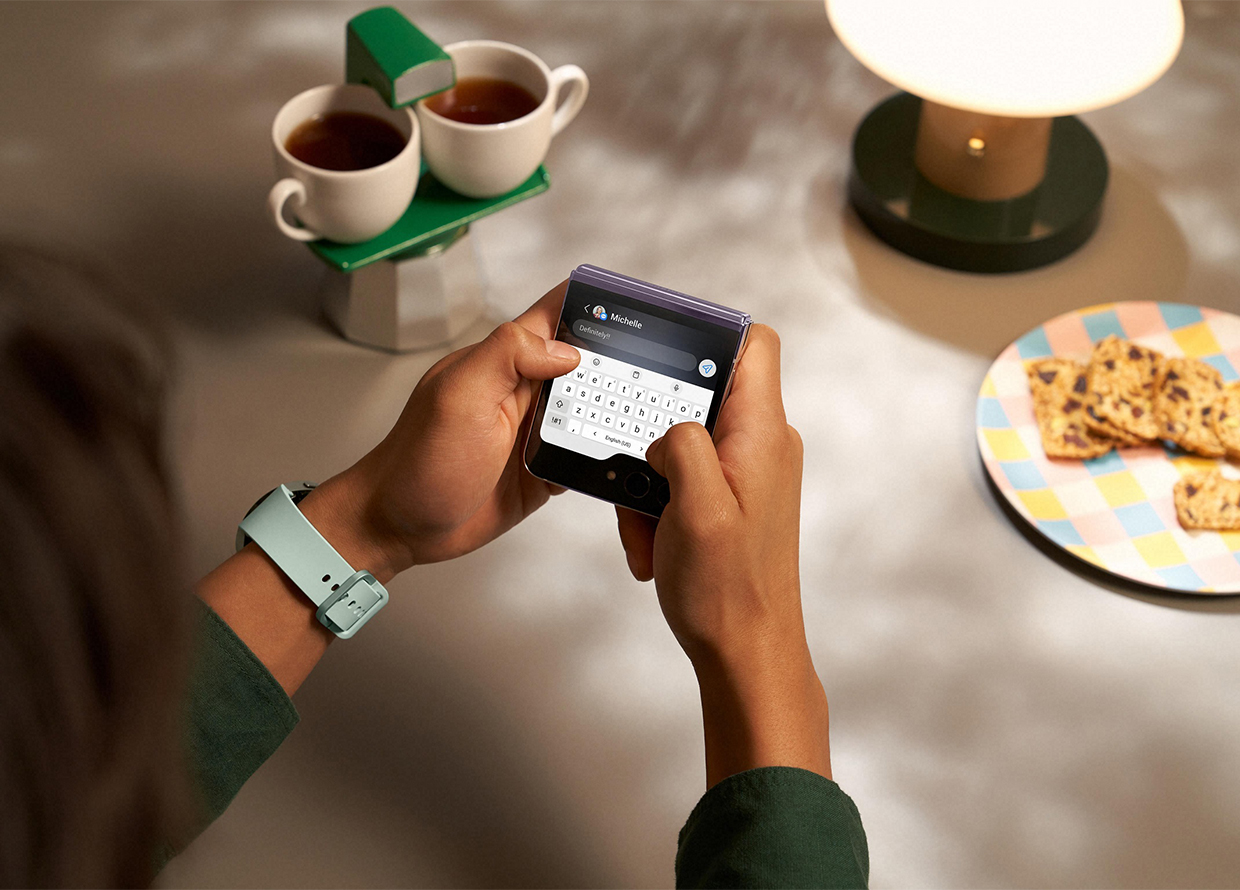 Samsung has made it incredibly easy to check the screen without having to open the phone. A simple swipe in any direction activates the Flex Window, allowing instant access to widgets and notifications. In the age of TikTok, Instagram Reels and doom scrolling, this seamless feature is a much-appreciated addition that doesn't have you thinking too much. One of the advantages of the Flex Window is the extensive range of customisation options it offers. Beyond offering templates, I can tailor my phone to exactly what I want, aesthetically. From the font style and lock screen images to the placement of the clock face and matching background on the home cover screen, the possibilities for creativity are limitless.
Stellar selfies and videos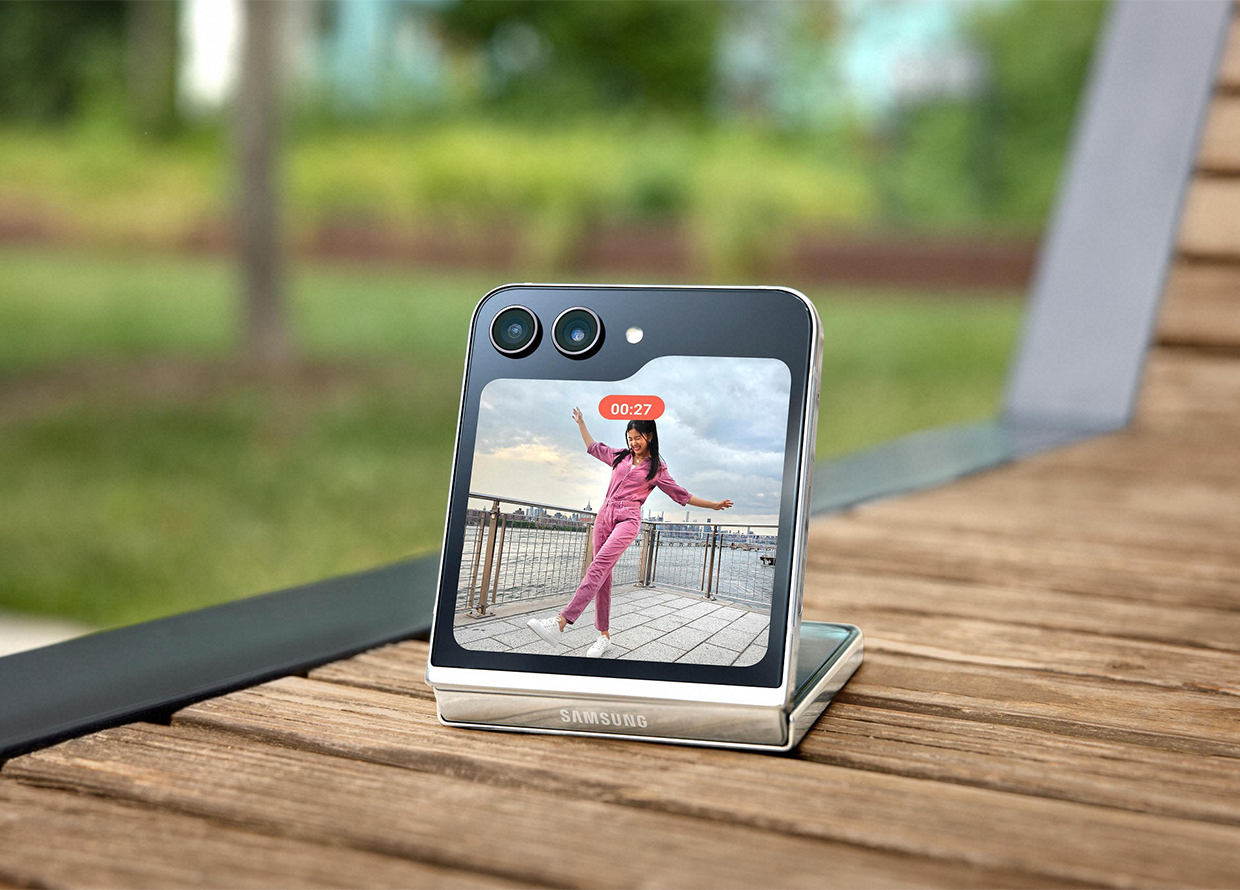 As someone who heavily relies on the phone for daily work involving content creation, camera convenience and performance hold great significance. The Galaxy Z Flip5 effortlessly delivers on this front. Taking high-definition selfies or videos using the 12MP rear camera is perfect with the Dual Preview because you can check out how you look in real-time as you snap. This means you no longer need anyone to assist—just place the phone down on a flat, elevated surface, adjust the camera angle, use the timer or activate the Show Palm prompt, and start capturing. Now powered by AI enhancements, image and video quality is boosted. Additionally, the new Nightography capabilities improve the quality of photos and videos even in low-light ambient conditions.
Robust performance
With its optimised battery and powered by the latest Snapdragon 8 Gen 2 Mobile processor, the Galaxy Z Flip5 sets new standards for smartphones. Despite not being an avid gamer, I frequently use the device to watch videos on YouTube and Netflix, and the experience is truly elevated with striking visuals and an advanced cooling system that intelligently dissipates heat, resulting in minimal lag and uninterrupted performance. This makes it an ideal choice for extended TV series marathon sessions.
A trendy design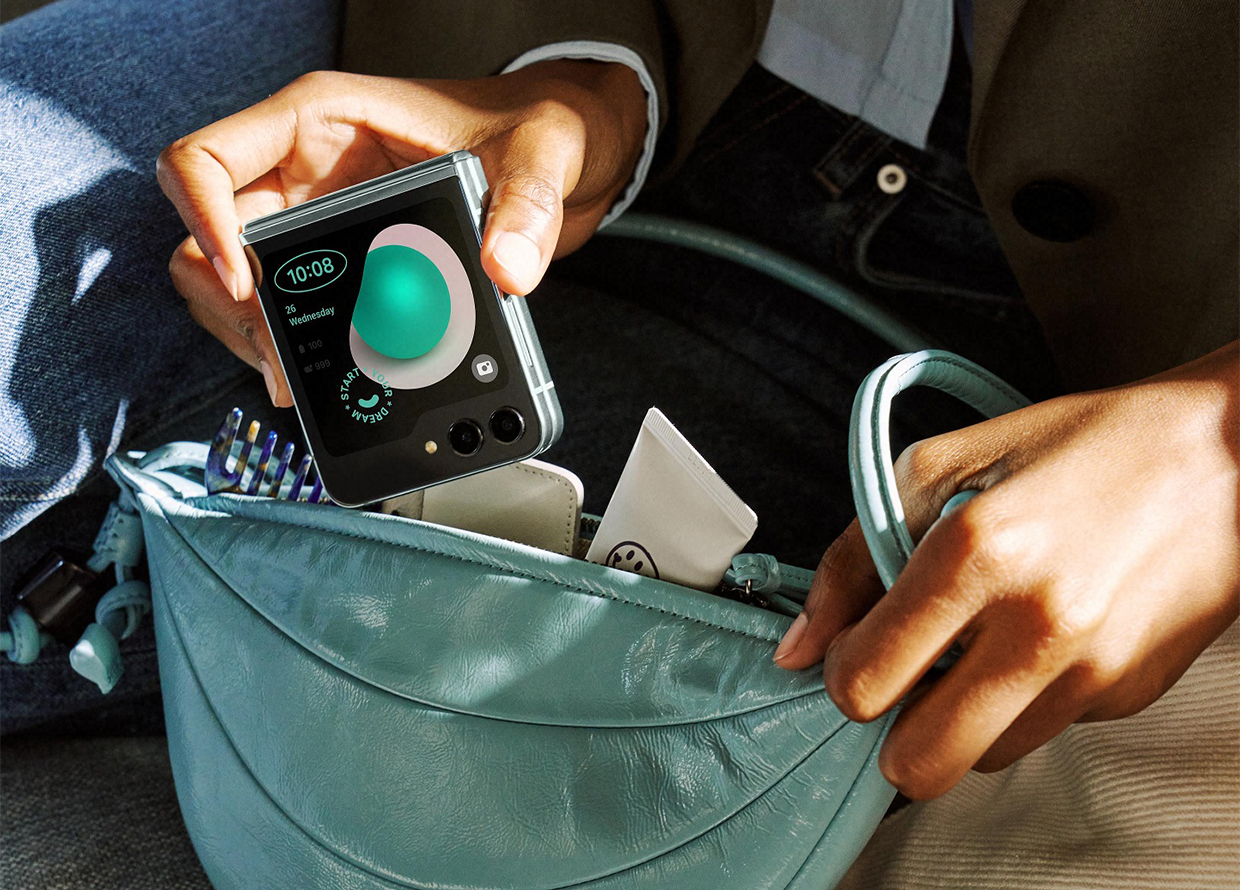 Stylish as always, the Galaxy Z Flip5 comes in a compact size of 3.4 inches when folded and 6.7 inches when expanded, offering the perfect combo of innovation and premium design. You have the option to choose from a vibrant selection of youthful colours, including Mint, elegant Cream, Lavender, or classic Graphite, allowing you to effortlessly express your unique identity.
Purchase the Samsung Galaxy Z Flip5 here.
For more tech reviews, click here.
| | |
| --- | --- |
| SHARE THE STORY | |
| Explore More | |