As a frequent traveller, it's true when I say that the MacBook Air is a tempting idea. After all, my previous review of the iPad Pro (2018) has shown that the iPad is not meant to be a replacement, but an alternative—especially for the nature of my work. That is: Emails, concocting the usual documents, Photoshop, occasional video editing, and using Buro Malaysia's CMS (content management system). All that certainly meant the new MacBook Air (released in late 2018) would indeed be a good choice, considering I was using the MacBook Pro.
In comparison, the MacBook Pro 13-inch weights around 1.37kg versus the new MacBook Air which weighs 1.25kg. It might not look like a huge difference but you'll really feel it when you're carrying it in a bag or just holding it. Also, it's about 100g lighter than the previous Air. On that note, it's worth mentioning that this is the first Mac made with 100 per cent recycled aluminium. Apple created a new aluminium alloy from it to ensure it delivers the same strength, durability and flawless finish. Now, that's impressive and one step forward into the possibility of a greener future, and Apple is huge on its environmental goals. Little fun facts like this tend to gain bonus points from me.
Side note: I have the gold one (though it looks more like rose gold) and while it is beautiful to see and touch, it can easily get scratches on the cover if you're not careful.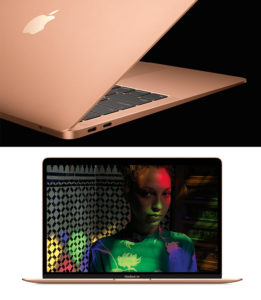 macbook air 2018 review
Moving beyond the top/cover of the laptop, the Retina Display makes viewing anything on the MacBook Air a joy. Colours are indeed sharp, vibrant and thanks to the thinner bezels (and lack of silver bezels), the screen looks bigger too. Then, there's the keyboard which has a light tapping sound when you use it, which I personally like hearing—I'm actually not a fan of silent keyboards—but for the others who work in a quiet space, it might not be ideal. And understandably so. The usual power button has been replaced with a Touch ID, which I felt was a nice touch (pun intended). It doubles as a power button but mostly, it replaces the constant need to type in your password. You can also use it for purchases—ike you would on the iPhone before Face ID came about—but this is something I didn't test out. The trackpad is also larger and smoother to use.
One of my main concerns prior to using the MacBook Air was its performance. Would it be powerful enough for Photoshop and video editing? To my relief, the answer is yes. Even with 20 over tabs opened in Chrome and four apps running (which includes Spotify), nothing lagged. Not even while I'm working on Photoshop. That's enough of a testament for me. Although when I did install and play the game Two Point Hospital (anyone remembers Theme Hospital back in the late 90s?), it wouldn't play smoothly even if I had set it to the lowest graphics settings. To be fair, Apple's computers and laptops have never really been known as gaming laptops and the new MacBook Air is certainly more of a worker than a player.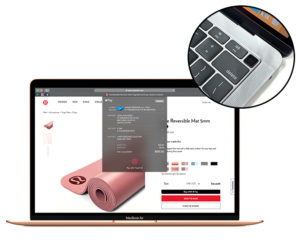 macbook air 2018 review touch id
Last, but not least, the lack of a USB-A port. Lack of ports, in general. There are only two USB-C ports and one of them would already be in use for your charger. That means there isn't much left for you to plug in another. The good thing is, four months in and I have yet to need to use the port for anything besides the charger, thanks to the huge storage space on the MacBook Air. Also, I'm glad they kept the headphone jack, which is essential for me to plug in whenever I'm at work.
All in all, the new MacBook Air is great and I'm loving it every day I'm using it. There's not really anything to complain about. It's a great laptop. Enough said.
The new MacBook Air retails from RM5,249 and is available via apple.com/my, Apple retail stores and through Apple Authorised Resellers.
Additional technical specifications, configure-to-order options and accessories are available online at apple.com/my/mac. 
| | |
| --- | --- |
| SHARE THE STORY | |
| Explore More | |