Personally, I love the camera on Huawei's flagship smartphones. It only took one model to convince me—the Huawei Mate 20 Pro, which I reviewed previously here. So when its latest offering, the P30 Series was announced—everything you need to know about it here—I was psyched. I needed to get my hands on it. And of course, I wasn't disappointed when I did. The main reason: The camera. Hands down, one of the best smartphone cameras out there. Oh, the things you could do with it, especially with that 10x hybrid zoom and 50x digital zoom. Case in point: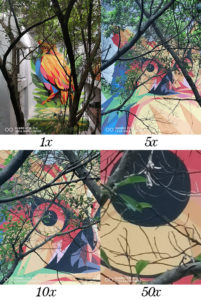 huawei p30 pro camera review
And look at the shot of the moon I managed to take (as shown in the video review above). As mentioned, you'll need a tripod or extremely steady hands if you want to snap something under the 50x digital zoom. Everything else looks amazing and remains true to colour and lighting in reality. There's also Night Mode which takes vibrant, sharp and noise-free images when there's barely-any lighting in the environment of your subject.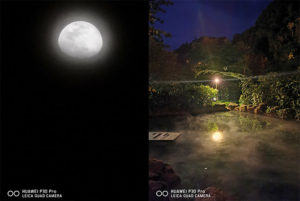 huawei p30 pro camera review
Camera aside, every other feature on the Huawei P30 Pro is decent. The size is good enough to use with one hand. The curved, high-quality OLED display is satisfying to use and to look at. There's barely any bezels visible and similarly, you'll barely notice the tiny notch in the centre for the front-camera.
It's light, slim and still, it packs a powerful 4,200 mAh battery which could last a little more than a day. Even better, it has fast-charging capabilities where you can get in a good 70 percent charge in just 30 minutes. Like the Mate 20 Pro, it supports wireless and reverse charging, though you probably wouldn't use the latter much.
Security features, as usual, include an in-display fingerprint scanner and facial recognition. Nothing to shout about—it works. Is it powerful enough for fast speed/heavy graphics? Yes, both the performance of the phone matches the beauty of that OLED screen to display gorgeous graphics, be it for videos, photos or games.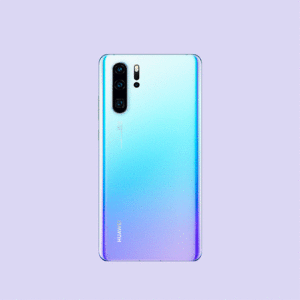 huawei p30 pro camera review
Truth be told, Huawei is a strong contender in the competitive world of smartphones… until things got quite shaky recently. Three words: Huawei Google ban. You're probably wondering: Should you even still consider getting the Huawei P30 Pro? Read on as I explain further on what it is, and what it means for current and future Huawei users.
Basically, Google announced that it was going to cut off Huawei's license to use its apps and operating system, a.k.a Android which is developed by Google. So no Gmail, no Maps, no Play Store—you get it. This comes after US President Donald Trump issued a blacklist order against the Chinese tech giant, accusing the company of stealing trade secrets, fraud and violating US sanctions against Iran; and thus justifying the action as a means to protect national security.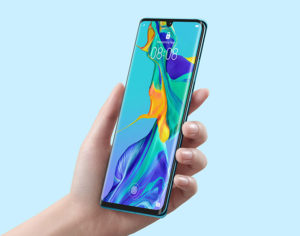 huawei p30 pro camera review
In response, Huawei is preparing to file a lawsuit and have issued the following press statement:
Banning Huawei using cybersecurity as an excuse "will do nothing to make networks more secure. They provide a false sense of security, and distract attention from the real challenges we face," said Song Liuping, Huawei's chief legal officer.
"Politicians in the U.S. are using the strength of an entire nation to come after a private company. This is not normal. Almost never seen in history. The U.S. government has provided no evidence to show that Huawei is a security threat. There is no gun, no smoke. Only speculation," Song added.
#Huawei "can spy as much as they like, because we have no secrets," says #Malaysia's Mahathir pic.twitter.com/6HLE9pY1Kc

— SCMP News (@SCMPNews) May 31, 2019
There are a fair few others who disapprove the move by the US administration, including our own Prime Minister of Malaysia, Tun Dr Mahathir Mohamad. So no worries for Huawei fans in Malaysia.
Comedian, political commentator and host of The Daily Show (which often touches on the American political scene with a satirical approach), Trevor Noah shared a similar sentiment on the move by Trump.
Political agendas aside, fret not if you're currently owning a Huawei smartphone, or any of their upcoming products that they have announced. Meaning even the P30 series and the upcoming Huawei Mate 20 X 5G. According to Google, Android and the Google Play store will continue to be available on existing Huawei devices. The upcoming Mate 30 range that's slated to be released in October, however? Slim chances; although there is that lawsuit.
Still, whatever happens, Huawei is prepared. Back in March, Huawei's head of consumer, Richard Yu said that the company has been working on its own operating system as a back-up plan. It might not be able to beat Google, but they could surprise us—the same way they blew people's minds with the Huawei P30 Pro.
The Huawei P30 Pro is now available in Malaysia and is priced as follows:
P30 Pro 8GB RAM + 256GB storage – RM3,799
P30 Pro 8GB RAM + 512GB storage – RM4,399
For more information on the Huawei P30 Series, head to the website.
| | |
| --- | --- |
| SHARE THE STORY | |
| Explore More | |