Accidents happen and sometimes, they occur in the least favourable conditions such as when you're out mountain biking, jogging or even exercising at home alone. If you fall hard onto the ground, it might render you helpless enough to be unable to reach out for your phone to call for assistance, be it from emergency services or a loved one. No one wants that but it's always good to be prepared.
WHAT IS FALL DETECTION?
Fall Detection isn't new but for the unfamiliar, it's a feature that was first introduced in the Apple Watch Series 4 back in 2018. What happens is that the Apple Watch will be able to detect if the user has taken a hard fall and prompt the user if they had fallen down (and need help) or if they're okay. If the former is chosen or if there's no response (in the event the individual is unconscious as a result of the fall), the Apple Watch will automatically contact the local emergency services with an audio recording explaining that the person has taken a fall, require emergency services and provide the location details. Once that's done, it will proceed to notify the emergency contacts listed in the user's Health profile (customisable on the iPhone). Apple Watch takes it a step further by then flashing the medical ID on its screen to provide essential information (allergies, current medications, etc) for the emergency responder to give the necessary aid.
WHY WATCHOS 8.1 MAKES A HUGE DIFFERENCE
As you can imagine, Fall Detection has proven to help countless people since its inception. It's also normal to immediately assume how beneficial it is for the older generation—after all, it is automatically enabled for users aged 55 and above. Ron Huang, Vice President of Sensing and Connectivity at Apple, elaborates that in the age group of people over 65 years old, one in three falls down every year. Injuries aside, it also demotivates older folks, causing them to worry and lose confidence, especially if they're often on their own. These feelings exist regardless of age.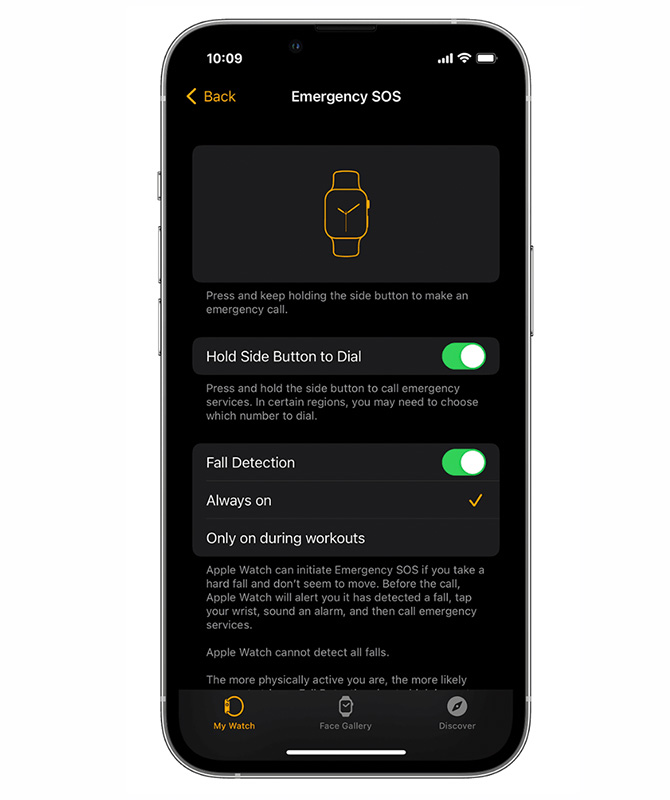 But with the release of watchOS 8.1, Apple has made the Apple Watch even more intuitive and helpful for everyday life, for all ages. In particular, Fall Detection is now enabled for workouts because a wrong move or a mishap can lead to a risky fall just as much. It could happen when you're out cycling or it could happen when you're playing football. Previously, users between the age of 18 and 55 would have to go into Settings to manually activate Fall Detection for all-day use. You can still opt to do this but if you don't, rest assured that it is automatically enabled once you start a workout—any workout.
HOW IS IT BEING ENABLED FOR WORKOUTS ANY DIFFERENT?
Before the watchOS 8.1 update, Fall Detection worked anyway as long as you turn it on (if you're below 55 years old). True. But imagine the difference in motions between cycling and dancing, casually walking and playing badminton. The motion of each workout is different, just like the motion of falling down from each workout is different. The new Fall Detection is now more accurate as its algorithm for fall protection is tailored specifically according to individual exercises. Because every workout is different, this is no small feat, and within the motions of one workout, a lot of factors are taken into account in perfecting this algorithm to be able to detect a real hard fall. Take mountain biking for example. How would the Apple Watch be able to tell if you're just doing a jump on the bike or actually crashed on your back or sides?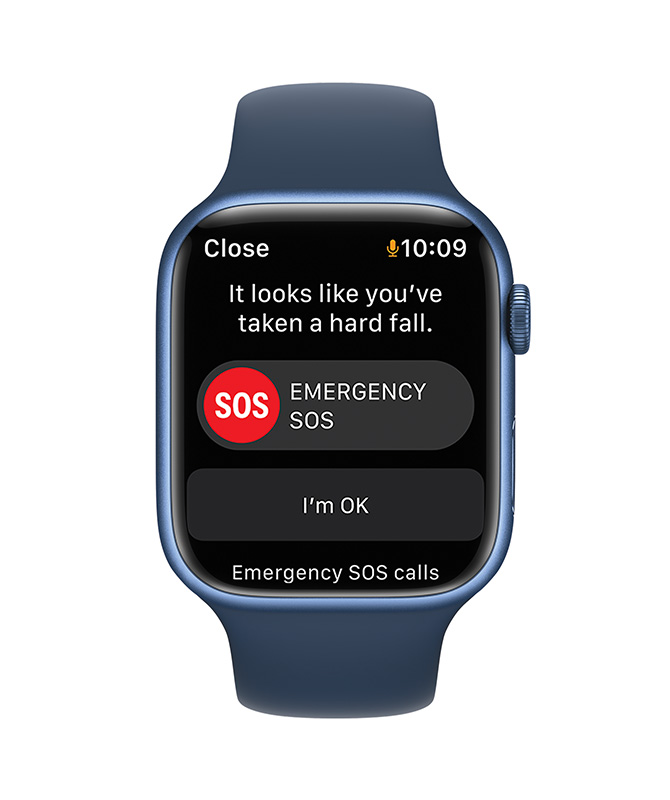 Apple has taken data from countless mountain biking sessions which clocks in the various types of mountain bikes, the kind of terrains, the directions of impact, rotations of the wrist throughout, to name a few. Not to mention, when you're tracking your running or biking workout, the GPS is running in the background to track your route. With the GPS function, it can confirm if the user fell and stopped moving or just took a big jump and is riding down the mountain. This is exactly why this update is only available now. "We did hear from a number of users that had Fall Detection turned on, and it did detect a fall during a bike crash," says Deidre Caldbeck, Director of Product Marketing for Apple Watch. But to make it accurate and applicable to all workouts take time. "Features take a very long time to build and validate, and of course, we set ourselves up for very high standards to make sure that they could work really well for all users," Caldbeck shares.
HOW IS THE ALGORITHM ABLE TO BE THAT ACCURATE?
How accurate really is it? More than you can imagine and it didn't come from thin air, simulations or working with stunt people. It came from real-life data of real-life people in the real world:
880,000 workout hours
Over 1.3 million individual workouts tracked
150,000 people who agreed to share their data with Apple
Participants of a wide variety of ages, gender, physical abilities
Over the course of 20 months
Different seasons and weather conditions were taken into account
All these came from the Apple Heart and Movement Study, a public study available to everyone's reading pleasure as well as for Apple to utilise for the sake of improving and building new health and safety features, as well as assisting Apple partners with potential medical discoveries. For Fall Detection, Apple grouped the study data by workout types as well as followed up with questionnaires and calls with individuals, receiving even more context of the fall—how hard was the impact, what they were doing, the kind of injury sustained, and so on. Thousands of participants shared all that and here we are today.
"Our algorithms have always been multifactorial. So we look at the motion you were having before the fall, we look at the actual impact itself, we look at the severity, the direction of the impact, and so forth. And we even continue looking at your motion after the fall to tell if it's a true fall that we need to help you with or you're actually okay. So with the vast amount of data that we now have, additionally, from Apple Heart and Movement Study, we can specialise it," says Huang.
"Our goal is always to try to make the Apple Watch a better and better guardian angel for you. It's tough to build Fall Detection for sporting activities because of the different energy incurred on your wrist depending on the activity," he continues.
Caldbeck agrees, "It's great to be able to leverage the Apple Heart and Movement Study, which was launched two years ago, giving us the ability to detect the real falls versus false ones. It helped us remove the noise and ensure we were accurately detecting them so that we don't give anyone a false alert."
All in all, the Apple Watch has transformed from just being a personal assistant, a life coach, and a motivator for healthy living to all of that plus being a mental health advocate (Breathe), a sleep doctor (have you tried sleep tracking yet?), and your guardian angel, as Huang puts it. All on your wrist.
Fall Detection is available on Apple Watch Series 4 and later, running watchOS 8.1.
| | |
| --- | --- |
| SHARE THE STORY | |
| Explore More | |