Technology
2022 Guide: 4 Powerful laptops to level up your content creation
Meet your creative needs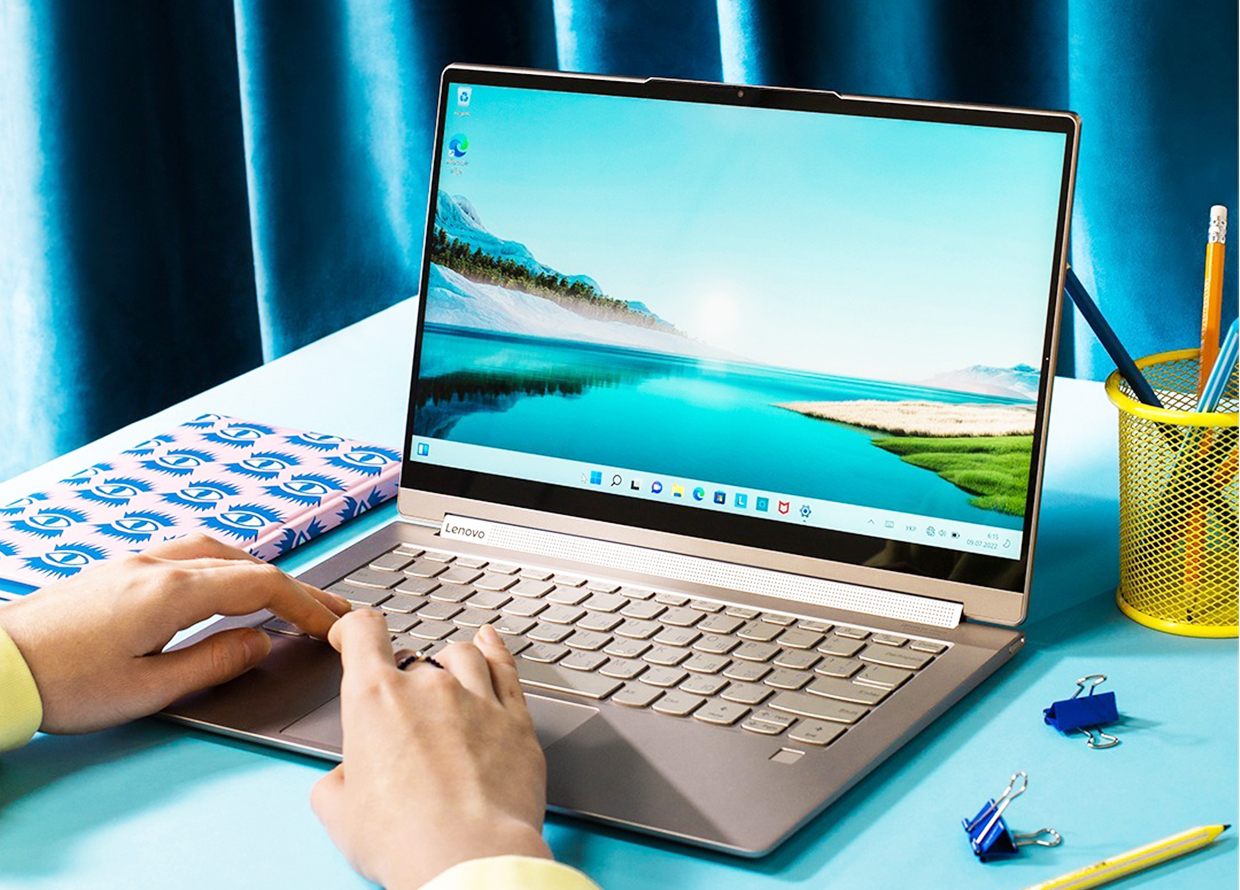 Imagine this: you've been working on editing a video for the whole day. It's past midnight and you're finally done. You click to save, but the dreaded buffer icon appears, and you begin to sweat. Next thing you know, your software has crashed, and you've lost all your progress. Your deadline is the next morning (AKA in a couple hours), and you have to start all over again.
This may sound like a total nightmare, but it has been a reality for many creatives whose laptops unfortunately cannot handle their high-performance tasks. The right laptop enables you to not only meet your creative needs, but to also fully tap into your creative potential. Tasks will no longer seem tedious or repetitive thanks to AI features and render time will also dramatically reduce meaning you will have more time to focus on the things that matter.
Today, we've compiled four laptops from Lenovo for various type of creative work that will serve as powerful digital tools.
For the all-rounder creative on the go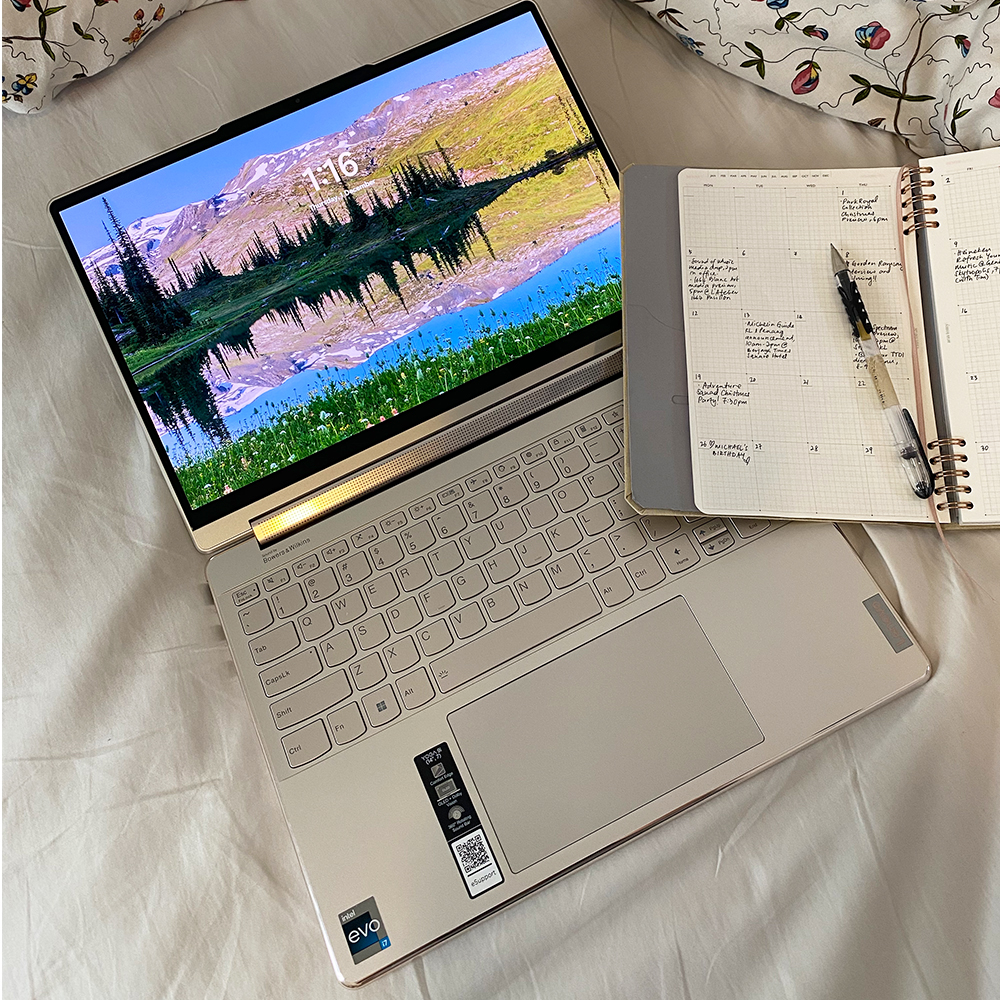 The Lenovo Yoga 9i is the laptop for you if you work on a multitude of creative work such as writing, video editing, and social media content creation; and have a hybrid working lifestyle whether that's in the office or on the fly. With the Yoga 9i's 360-degree hinge, you can easily set the laptop up in laptop mode, tent it on a table or carry it around in tablet mode. This functional convertible design as well as its edge-to-edge keyboard layout of the new One-Click Function keys allow you to work on a range of creative tasks for multitasking convenience.
In addition, its PureSight OLED, 100 per cent DCI-P3 display offers four-side narrow bezels with a 90.4 per cent active area ratio, which means that you can view even more vertical content at one go without constantly scrolling. For an enhanced audio experience, this laptop comes with the first-ever Bowers & Wilkins 360-degree rotating soundbar for a pure, unadulterated soundscape.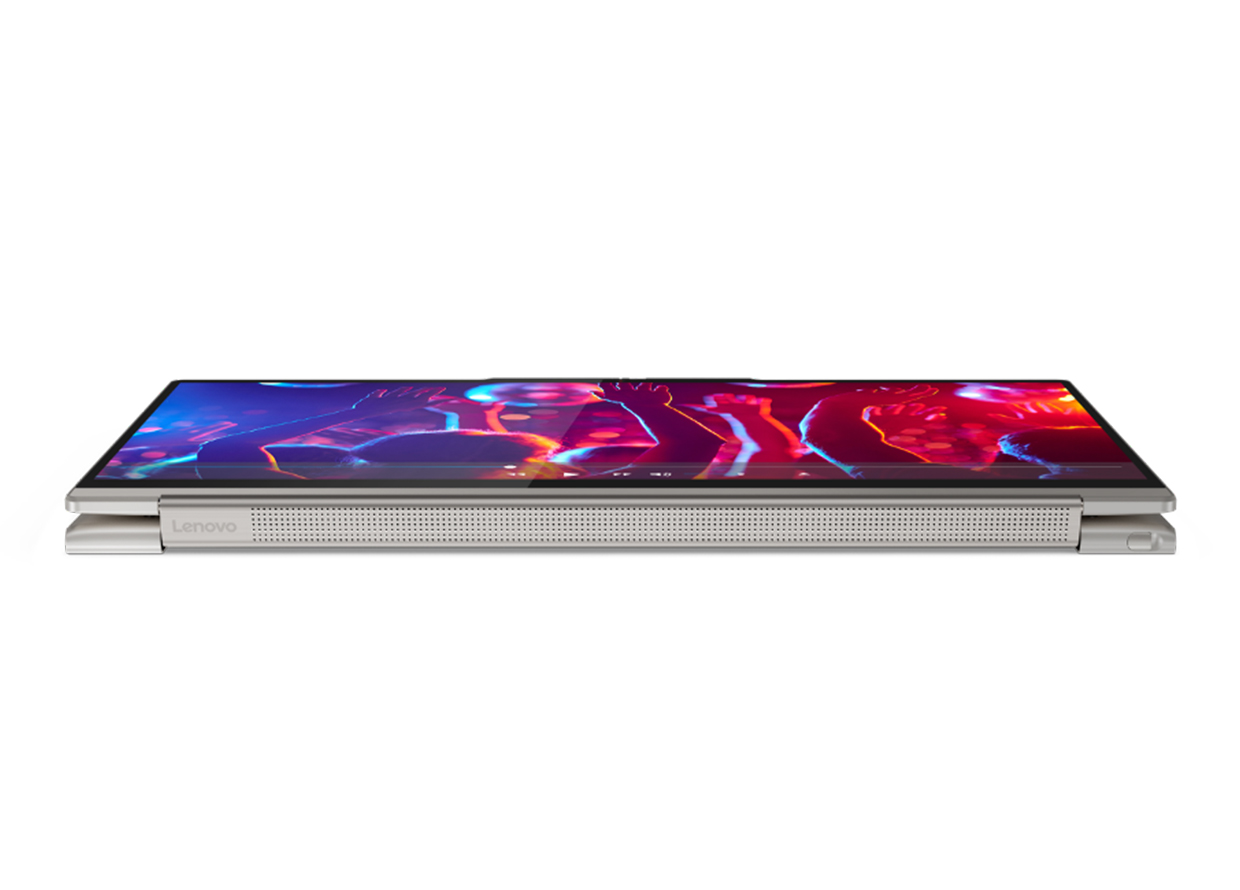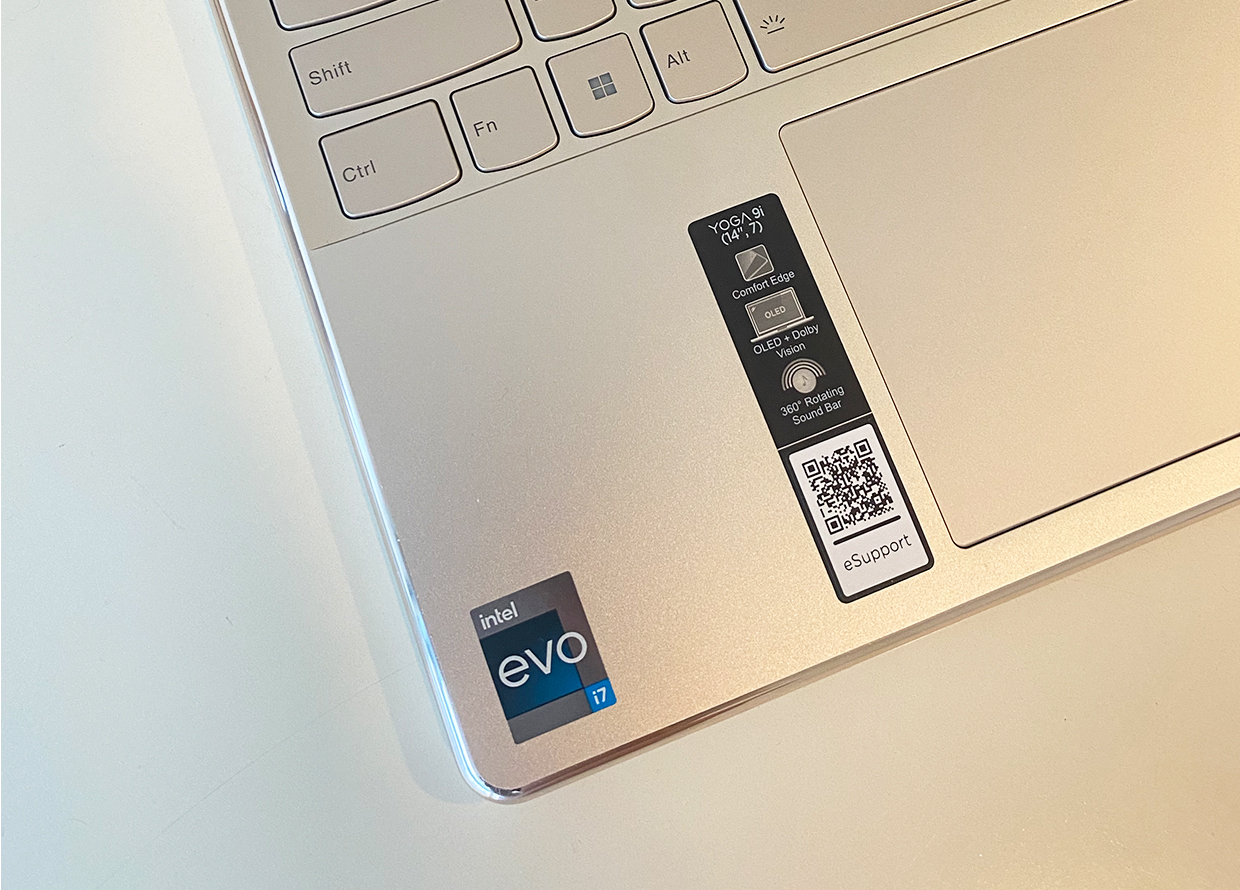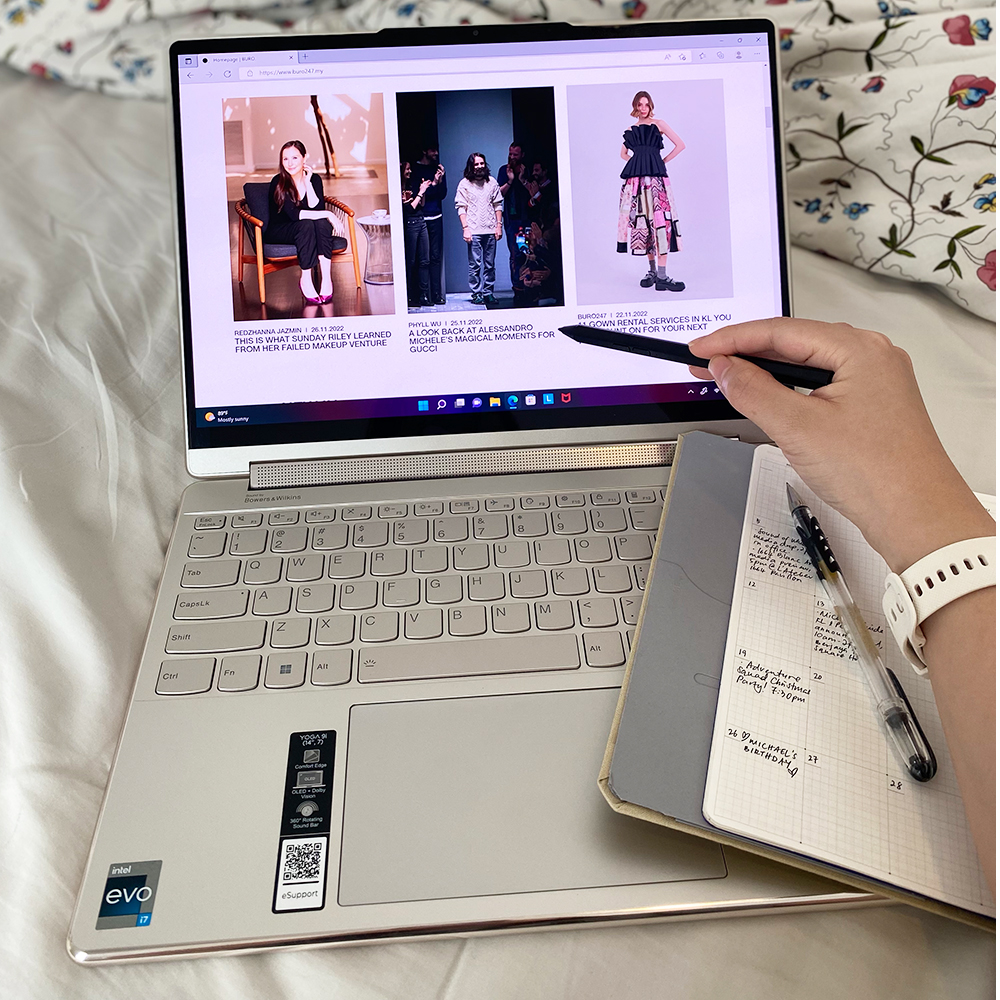 The Yoga 9i is also powered by Lenovo's AI Engine+ which comes with AI-powered features that enhance a creative's user experience. This includes the FHD IR camera with Smart Appearance such as background blur and video enhancers for virtual meetings; Presence Detection which enables hands-free facial recognition, auto lock and video auto-pause when you walk away; and a TrueBlock camera privacy shutter. Weighing at just 1.4kg and as thin as 15.25mm with a 14-hour battery life, the Yoga 9i powered by 12th Gen Intel® Core™ doesn't sacrifice performance, graphics or battery life for a thin and light laptop. Intel® Evo™-based laptops have been engineered for mobile performance so that users get the best experience no matter what they're doing, allowing users to achieve more while on the go.
Price: From RM6,699
For visual artists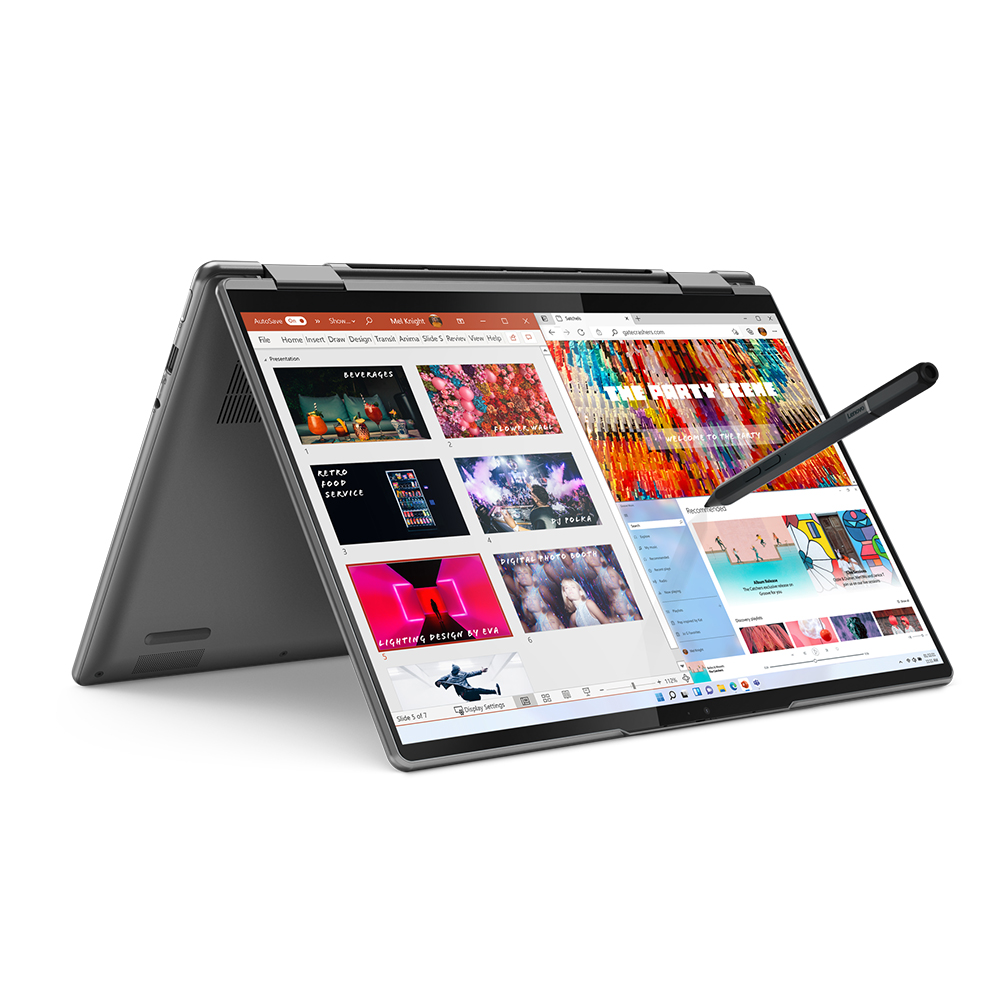 Designed for comfort, ease and smarter convenience, the Yoga 7i is a great laptop for those working in graphic design, photography, and the like. The laptop also comes with the 360-degree hinge which makes it easier for you to express your creativity in any way you want. Another interesting feature is the built-in Smart Note function which allows creatives to scribble their ideas quickly or annotate client feedback seamlessly with the use of the optional Active Pen. Simply press the button or bring the pen close to the monitor and the Smart Note app will open.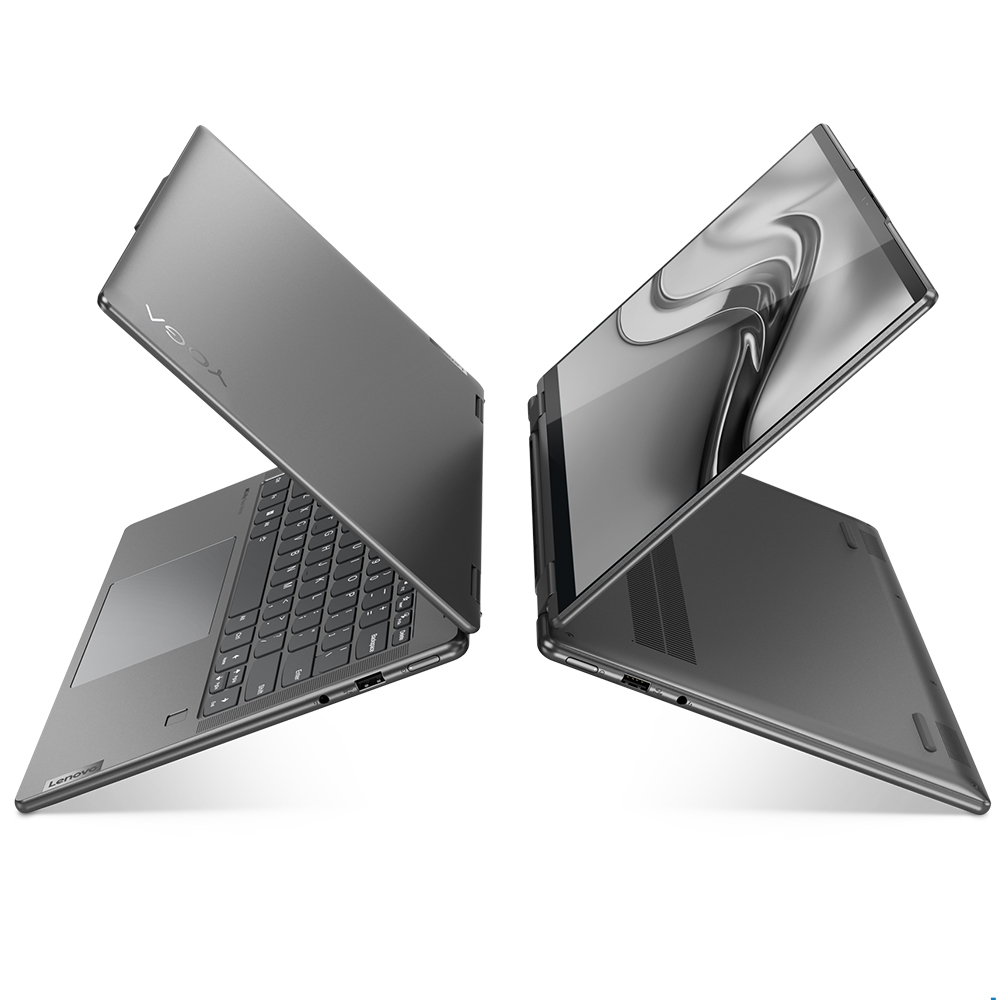 Another reason why the Yoga 7i is good for visual content work is due to its vibrant and sharp display which comes with a 2.2K IPS touchscreen display, 100 per cent sRGB colour gamut, and Dolby Vision™. With this, you're able to see all your work in high definition and capture small details with accuracy. Combined with the front-facing Dolby Atmos® Speaker system, this creates an immersive world for not just work, but also entertainment. With the device's Smart Charger, users will immediately get three hours of usage with just a 15-minute charge. With a full charge, the Yoga 7i can last up to 16 hours, perfect for any creative workaholic burning the midnight oil on a tight deadline.
 Price: From RM5,199
For the video editor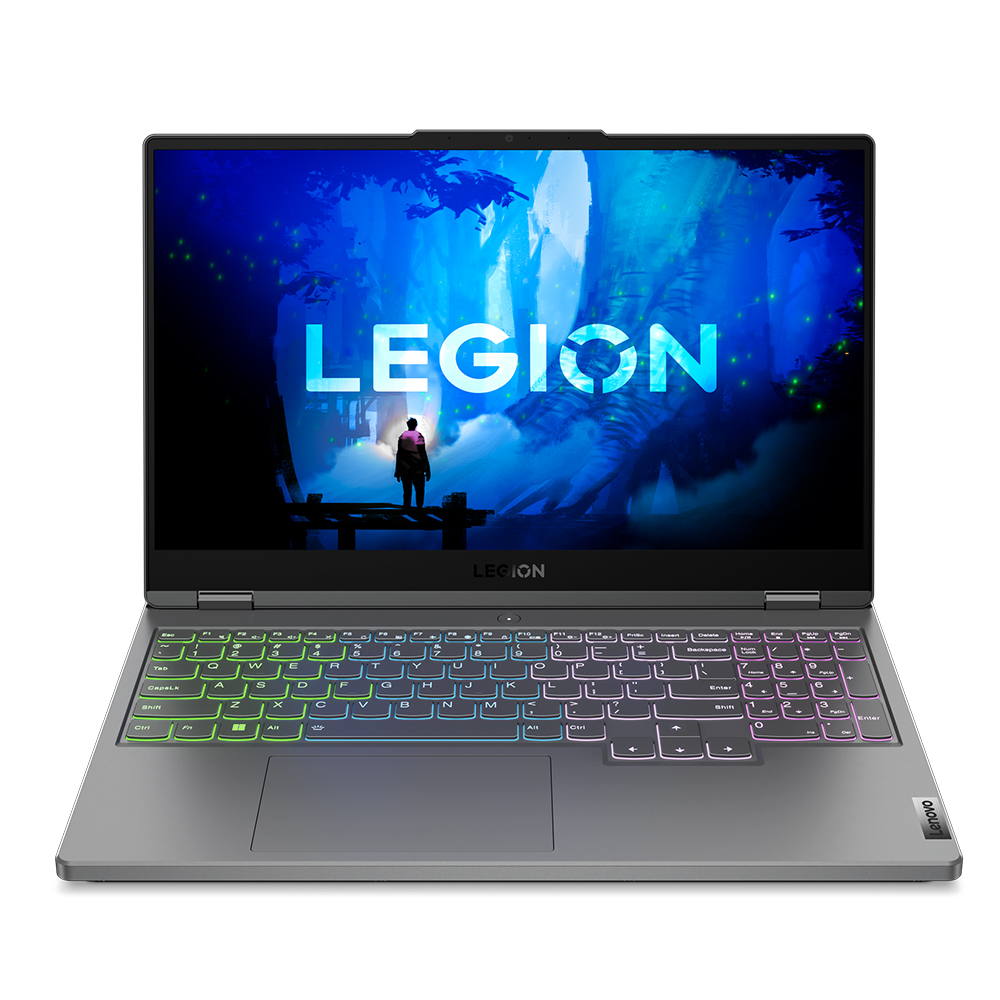 Whilst the Legion 5i is a great gaming laptop, we also recommend the laptop for any video editor who handles multiple projects at a time. As the Legion 5i is specifically designed for performance-driven work, it can support high processing tasks. This feat of software engineering packs 12th Generation Intel® Core™ processors which do the hard work of processing high-definition videos and images at top speeds for you. It also delivers colour clarity with a super-fast 165 Hz refresh rate on a 100 per cent sRGB 15.6-inch IPS display. Not only can you view your content in crisp and clear details, you'll also never have to worry about incessant lags or your laptop crashing on you mid-edit.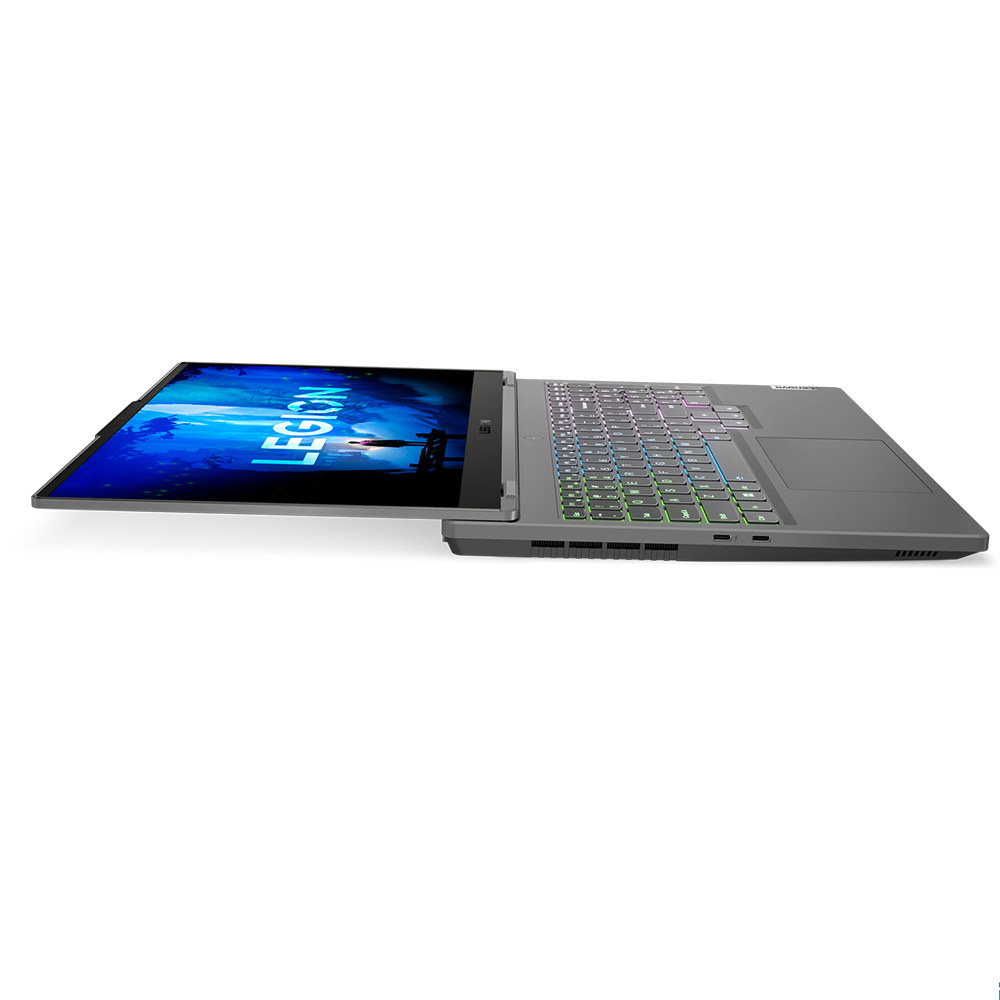 The Legion 5i also comes with noticeably quieter keystrokes at a 33 per cent reduction in percussion noise so you don't have to worry about being disruptive while you burn the midnight oil. Its soft-landing switches yield 1.5mm key travel, resulting in faster and more efficient edits. If you're an animation video editor, the Legion 5i also works great thanks to the second Generation Ray Tracing and third Generation AI Tensor Cores, offering maximum graphical power.
Price: From RM5,999 for FHD display and from RM6,399 for WQHD display
For the live streamer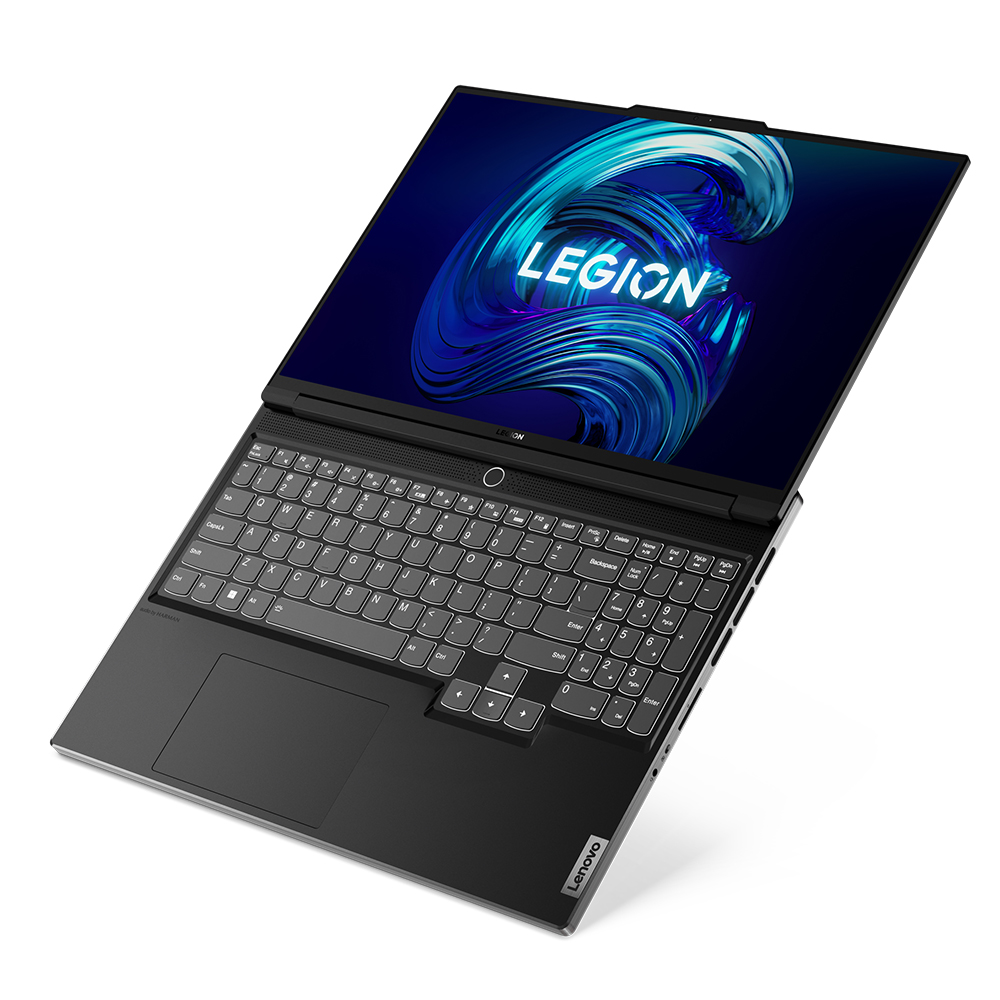 Much like the Legion 5i, the Legion Slim 7i offers the ultimate gaming freedom—and comes with a set of features that will take your content up a few notches. If you're looking for a laptop that will cater to your high-performance gaming and streaming needs, then look no further. The Legion Slim 7i is powered by 12th Generation Intel® Core™ i7 H Series processors, which means that it touts impressive rendering capabilities across different softwares at an incredible 165 Hz refresh rate. The result is an even more seamless and smooth experience when you're switching between multiple tasks.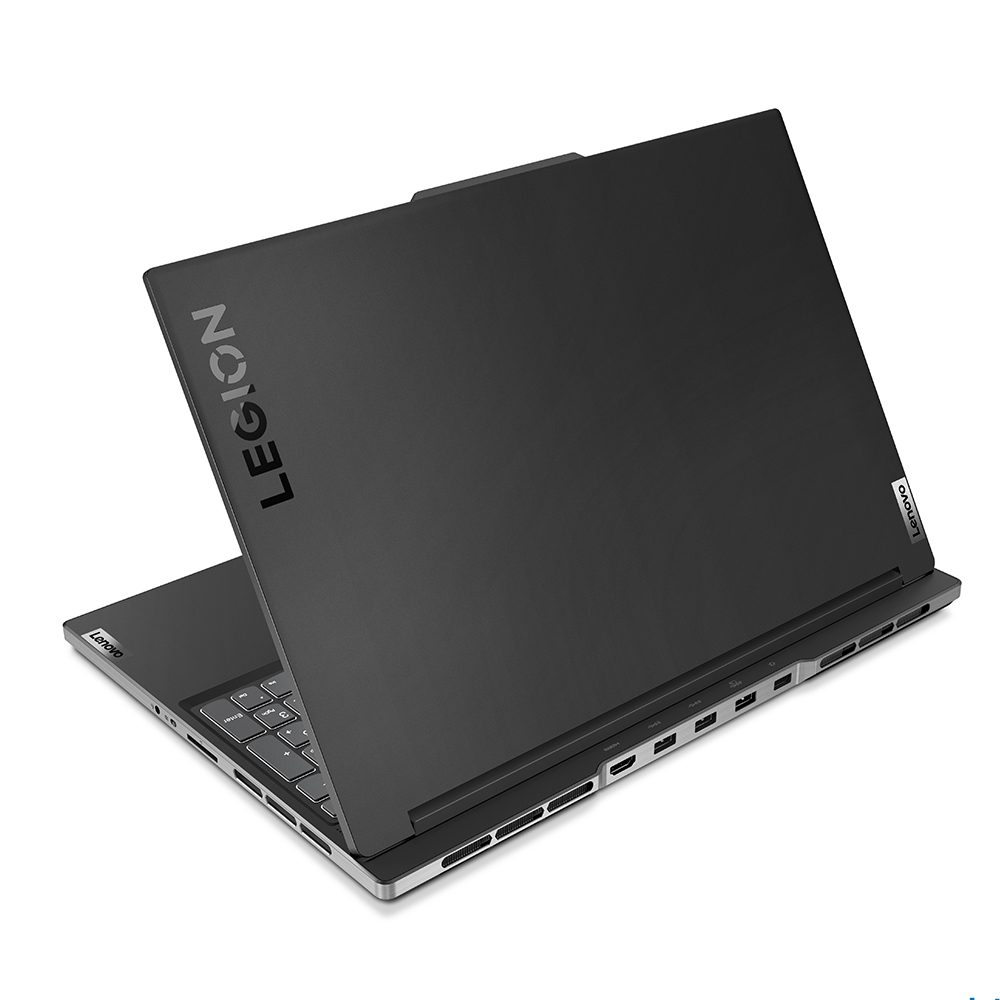 Further, the Legion Slim 7i is the first Legion Slim 7 with a 16-inch display with Mini-LED technology and comes with a 1080p FHD webcam which allows you to shoot in crisp quality. Paired with the Legion Coldfront 4.0 cooling technology with a stealth killer quiet fan system, the device is the perfect model for those wanting to create high-quality live stream content, uninterrupted, and without any unwanted white noise. Live stream from anywhere without sacrificing performance or quality thanks to the 99.99WHr battery capacity—the world's largest battery capacity—that gives you 12 hours of undisrupted gameplay.
Price: From RM7,399
Quick tip: To bring the best out of your device, be sure to utilise Lenovo's Premium Care service which offers front-of-the-queue and straight-to-the-experts customer support service for any enquiries or issues.
Lenovo's Accidental Damage Protection service covers accidents beyond the system warranty such as drops, spills, bumps and even electrical surges. Make sure your new device has maximum protection, avoid unplanned costs and get peace of mind. Both services are applicable to Yoga users.
For Legion users, on top of Accidental Damage Protection, call up the Legion Ultimate Support technicians who are available 24/7 by phone or chat and utilise their expertise! Apart from product queries, they can also assist with settings, tuning, hardware and software optimisations, and gaming-related needs. If any hardware issues cannot be solved remotely, the users will also get onsite support by the next business day.
And there you have it—four impressive laptops made to empower your creative ambitions. Start your journey with Lenovo and tap into your potential today.
Shop yours from Shopee and Lazada.
Follow Lenovo Malaysia on Facebook and Instagram for the latest updates.
For more reads on the latest tech gadgets, head here.
| | |
| --- | --- |
| SHARE THE STORY | |
| Explore More | |