Technology
10 Video chat tricks you can use for your virtual Raya reunions—with Zoom, FaceTime, and Skype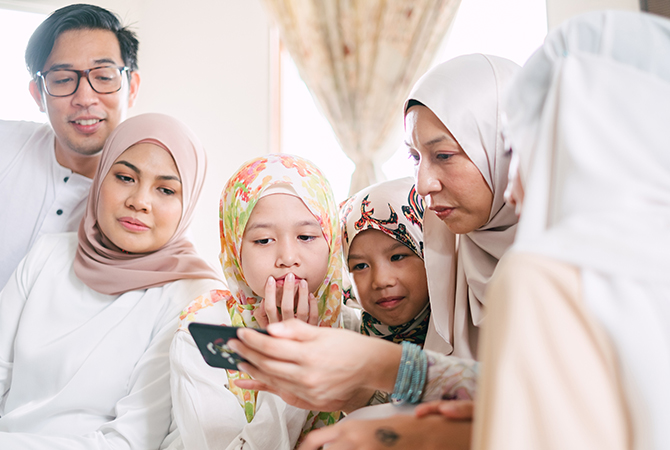 With Conditional Movement Control Order (CMCO) in place, travelling to other states are prohibited. Malaysians understand that very well, especially while we're still encouraged to practise social distancing. Yes, regulations are more relaxed now and we are allowed to leave home. However, we know that we should only head out when necessary—with work being a prime example. The COVID-19 pandemic hasn't been eradicated yet.
Raya is bound to be very different this year. It's the "New Normal" after all. Health Director-General Datuk Dr Noor Hisham Abdullah urged Malaysians to stay home and avoid visiting each other. The good news is that doing our part to contain the spread of COVID-19 doesn't mean we can't still spend time with family and friends during the festive period.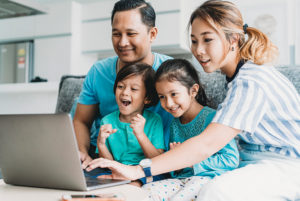 Photo by Getty Images
With the brilliant assistance of technology, we can set up virtual reunions with loved ones wherever they are. There are many tricks and tips you can use to stay connected!
FaceTime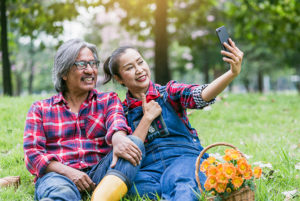 Photo by Getty Images
1. Start a FaceTime conversation directly in iMessage
Tap the contact's profile picture or the name at the top of an individual or group conversation—in the Messages conversation. Here, you will able to select FaceTime. After that, FaceTime or Group FaceTime with the participants in that conversation will be launched instantly.
2. Screen record your FaceTime video call
Firstly, add the Screen Recording feature to Control Centre by selecting the following (in order): Settings, Control Centre, Customise Controls, and Select Screen Recording. Before you open your FaceTime call, proceed to tap Control Centre and then, the Screen Recording icon.
3. Use Memoji or Animoji in FaceTime
You can use Memoji or Animoji during a FaceTime call with iPhone X or later, or an iPad with Face ID. Tap the Effects button when the call starts. After that, select the Memoji you want to use. To continue without a Memoji, tap the X button.
4. Add stickers and effects to your FaceTime
You can change your appearance or add stickers, labels and shapes with built-in filters. Tap on the screen to open controls. Here, continue by selecting filters, stickers, text, or shapes.
Zoom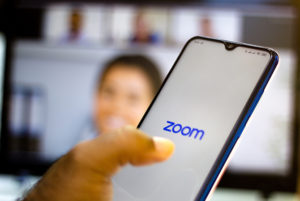 Photo by Getty Images
1. Use the beauty filter on Zoom
If you're not feeling your best during Raya, this is an option. To turn on Touch Up My Appearance, select the up arrow icon beside Start Video. After that, click Video Settings and tick the box for Touch Up My Appearance under My Video.
2. Change your Zoom background
Thinking of adding the festive spirit to your Zoom session? You can customise your background to anything you desire. These are some suggestions: white couch for something simple or a plain green background with greeting for something appropriate to theme. Need more options? You might find one you like here. Why not search for kampung backgrounds on Google? Head to Virtual Background under Settings and upload your preferred image.
3. Record the Zoom session with your desktop
Using your computer, you can save your calls for future references. Unfortunately, you can't do this with your phone yet. To start recording, turn on the Recording option under Settings. You can click the Record icon on the bottom toolbar if you are hosting the session.
4. Use emoji to react on screen during the Zoom call
All you have to do is select the Reactions tab at the bottom of the meeting screen. You will then be able to choose the emoji you prefer. Your reaction will appear on the screen for five seconds. With an emoji, you can let family and friends know what you think without speaking.
Skype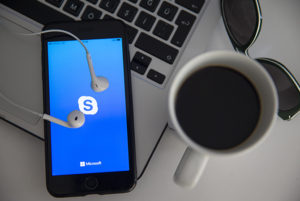 Photo by Getty Images
1. Blur your background on Skype
If you don't feel like showing your background during a call, you can actually have it blurred. However, this feature is only possible on the desktop version and not with the mobile app. To get blurry, start a video call on your computer and select Blur My Background. You can spot it on the bottom of the screen where the camera icon is.
2. Turn on live captions and subtitle during a Skype call
Yes, this is actually possible. The real-time captioning feature allows you to read the words that are spoken during a call. Languages that are currently available include Japanese, Spanish, French, Russian, German, Portuguese, English, and Chinese. To turn live captions and subtitles on in Skype, choose the More button (a plus sign) during a call. From there, you will be able to turn subtitles on.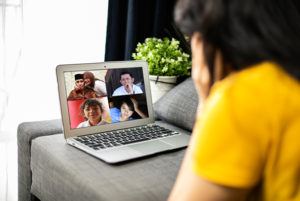 Photo by Getty Images
These tips and tricks will help you stay connected with loved ones during the festive period. Although we won't be celebrating Raya the way we used to, we can still enjoy each other's company with the assistance of technology. While we feast on our favourite Raya dishes, let's remember to stay safe and healthy. Selamat Hari Raya, everyone!
For more Raya-related stories, click here.
| | |
| --- | --- |
| SHARE THE STORY | |
| Explore More | |