(Updated on 6 July, 2021: The original post on 30 June, 2021, has been updated with details on the Bendera Putih app and food banks to reach out to if you or someone you know has raised the white flag.)
News of yet another MCO extension (or what is now called Phase One of the National Recovery Plan) has understandably heightened levels of anxiety, fear and distress among Malaysians. Thousands of businesses have been shuttered or badly affected and many have lost their jobs, incomes and loved ones to the Covid-19 pandemic, with seemingly little to no help or silver lining in sight.
In response to this, netizens have taken to social media to start the #WhiteFlag or #BenderaPutih movement, calling on those in need of assistance to raise a white flag outside their homes. Whether you're someone in need or a concerned Malaysian willing to help others (see: #KitaJagaKita and #RakyatJagaRakyat), here's everything to know about the movement.
What is the movement all about?
The #BenderaPutih initiative kicked off yesterday amid growing reports of Malaysians being pushed to their breaking points by the indefinite closure of the economy due to the pandemic. The mechanics of the movement are simple: if you are in need of food and essentials, just raise a white flag outside your home to signal to others and ask for assistance. It can even be a plea for help instead of taking drastic actions that may hurt you or your loved ones.
"Raise the white flag if you need help, there is no need to beg or feel ashamed," Twitter user @HafizolHakami wrote. "Don't take actions that may harm yourself and your loved ones. No need to plead, no need to be embarrassed. Just fly the flag."
The post has since been retweeted more than 16,000 times by users of the platform, with many voicing support for the movement following disappointment over the government's PEMULIH aid and recovery plans.
Kepada semua yang susah dan tiada makanan, naikkan bendera putih di kediaman anda.Biar orang sekeliling pakat bantu sedikit sebanyak yang termampu.Tolong jangan ambil tindakan yang meremukkan hati orang yang tersayang.Tak perlu merayu, tak perlu malu. Kibar saja bendera pic.twitter.com/BGy7muxcMc

— Hafizol Hakami (@HafizolHakami) June 28, 2021
Another Facebook page named Malaysia Food Truck Shop shared the initiative with the caption: "To those who are struggling and have no food, raise a White Flag at your residence, your car or your bike. In case you have no house, no car or bike, carry along a white flag with you. Let the people around you help you as little as they can."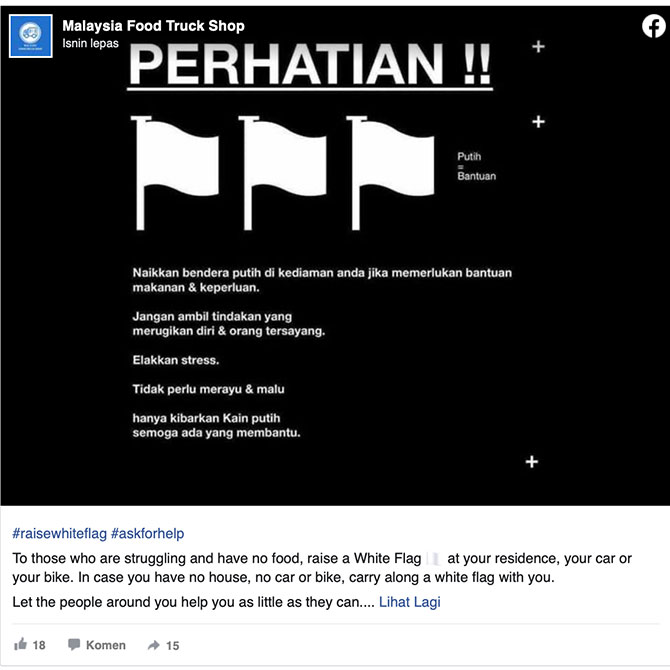 Where can you get help?
If you or someone you know has raised the white flag, please do not hesitate to reach out to your nearest food bank for assistance. One Twitter user, @penangstrays, has populated the location of food banks that have popped up across peninsular Malaysia over the past few days on Google Maps. You may refer to the non-exhaustive list of checkpoints here.
I populated the location of food banks that popped up in Malaysia over the past few days on Google Maps.Please share it out to those who need help in these trying times.Reference threads in subsequent tweets below.https://t.co/s4jmP9Epi2

— ༺ ρєηαηgιтє ༻ (@penangstrays) July 2, 2021
Alternatively, you may 'ask for help' on the Bendera Putih app (accessible with a Google account for verification purposes). From there, you will be required to upload an image of your house (you don't have to raise a white flag in this case, if you don't have one), then set your address accordingly with remarks of what kind of help you need (food, medicine, hygiene supplies, etc.). Do note that all reports made will be subject to human review to maintain a healthy environment on the app and to ensure authenticity. Reports are typically approved or rejected within 24 hours of posting.
How can you help fellow Malaysians?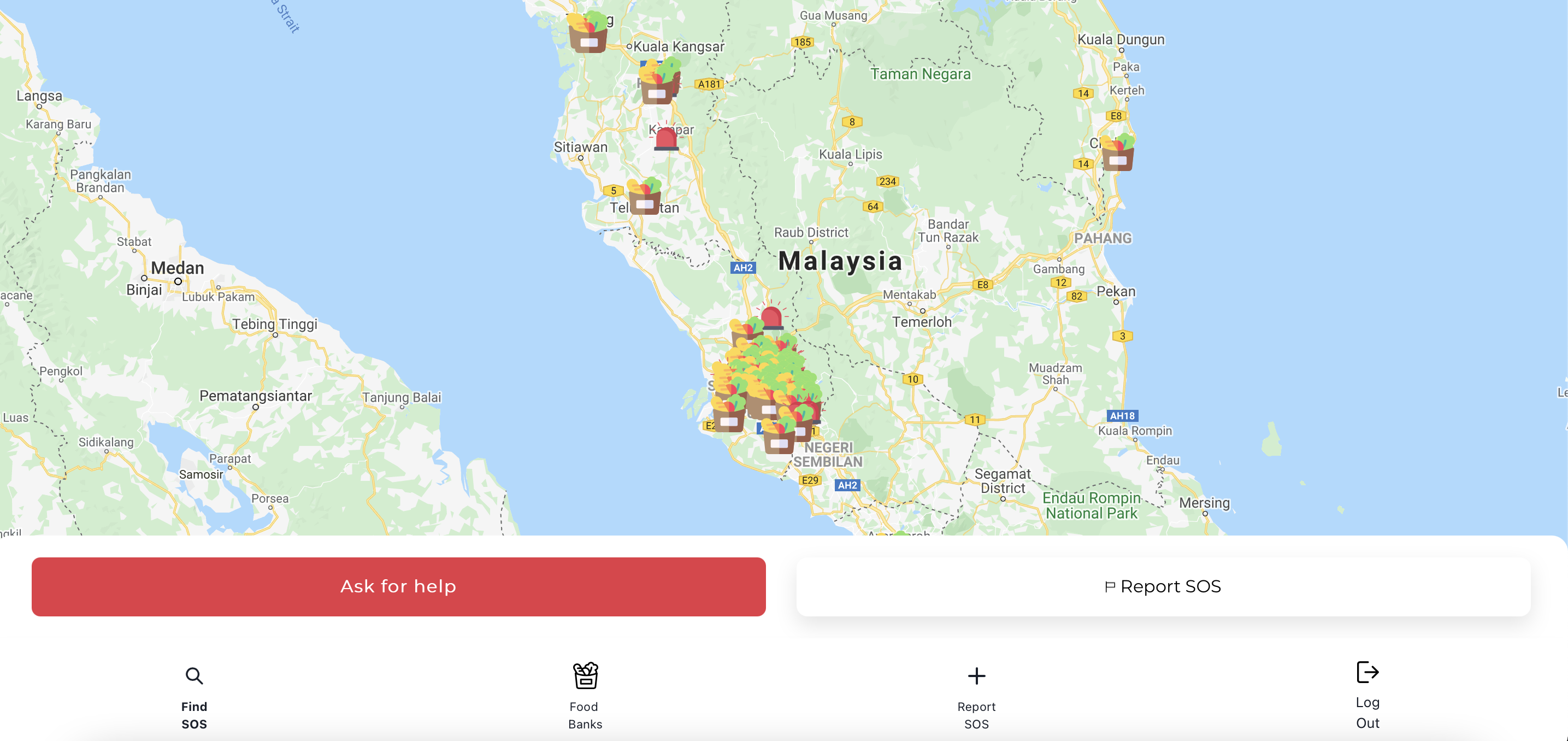 There are two ways you can help make a difference for fellow Malaysians in need. For one, if you see a white flag around your neighbourhood, do try to provide funds, groceries or assistance to the best of your abilities. However, do bear in mind to follow the SOPs, wear your masks and maintain social distancing as much as possible. You can also pinpoint the address/location of the spotted white flag via the Bendera Putih app to direct those with additional resources to the needy.
Secondly, you can help by spreading awareness on the campaign so that those who have been suffering in silence may know that they are not alone in this fight. This will reduce the stigma of asking for help and connect them to the nearest food bank or distribution centres listed above. Spreading the word will also encourage more people to help out in the campaign, if they have the means to.
Further, there are many Covid-19 initiatives and food drives that are currently accepting cash or in-kind donations to support struggling individuals and underprivileged communities. Read our #RakyatJagaRakyat article for more ways to donate/contribute to these efforts.
Charity begins at home, so let's all continue to do our parts to lend a hand to our fellow citizens. After all, we're all in this together. In the meantime, do practise self-care and watch over your own mental health too.
Here are more helpful resources on mental health to equip yourself with:
#BenderaPutih doesn't mean you are accepting defeat or failing miserably. You're just 'calling for back up'. We are here for you.Stay strong.

— Jisnukvitran Vejayaindren (@jisnukvitran) June 28, 2021
For more ways you can help during this Covid-19 pandemic, click here.
| | |
| --- | --- |
| SHARE THE STORY | |
| Explore More | |