Lifestyle
The best food vendors to have at your wedding reception (that your guests would actually enjoy)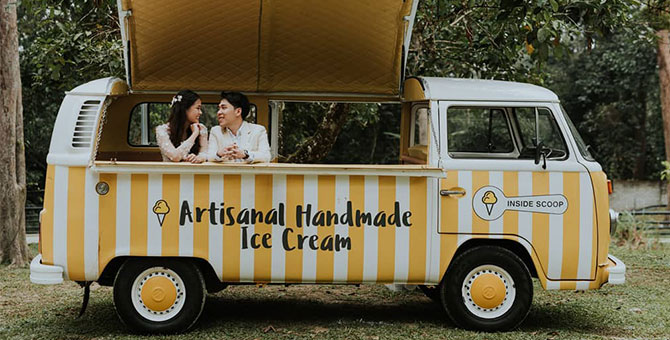 Make your wedding a more fun experience with these alternative food vendors that offer local delights and sweet treats
When it comes to food at weddings, there's not much to look forward to—especially if the reception is held at a hotel that offers the usual seven-course meal that leaves a lot (for our bellies) to be desired.
For your big day, take an unconventional route with catering and opt for food vendors to whet your guests' appetite? Here are some of our suggestions that you will surely satisfy anyone's tummies.
Prefer something safe? These desserts are surely loved by all:
Ice cream
View this post on Instagram
Who says you can't have dessert before dinner? Many of us can vouch for having a cold treat to beat the heat or just because. The best part is that it's great for both adults and kids alike. Local ice cream brands that you can consider for your big day include Inside Scoop, Kind Kones and Crème De La Crème.
If you're looking for cool (pun unintended) ways to serve your guests, go for Inside Scoop. Their options include a scoop-it-yourself mini cart, a scoop station (that also serves their famous waffles) and even a Volkswagon Kombi if your wedding is outdoors.
Another ice creamery that we would recommend is Kind Kones—perfect for guests who are vegan or are conscious of their weight. Lastly, for preservative-, flavouring- and colouring-free artisanal ice cream, call up Crème De La Crème. Besides ice cream, try out their super adorable petit gâteaux for your big day.
Pastries
View this post on Instagram
Pastries are also another universally-loved treat, be it doughnuts, cupcakes, cookies or tarts. For a filling option, go for doughnuts—we recommend Patina by Three. As suggested by their motto "round food for every mood", they specialise in these 'hole-some' pastries in an assortment of flavours including pandan gula melaka and Earl Grey rose water.
For Instagrammable pastries, you definitely can't go wrong with Jaslyn Cakes. If you've ever visited their cafes, you'll know how decadently good their sweet treats are. Another well-known cafe-cum-bakery is Lisette's. Ring them up for all sorts of baked goodies such as croissants, danishs and pies.
Want to embrace the Malaysian in you? Go for these options:
Lok-lok

If you don't know what lok-lok is, think of it as on-the-go steamboat/hot pot. The food is typically cooked in chicken or tom yam broth, and all served on sticks. You can usually find them sold in a food truck by the road side but fret not, many of them now offer options to go indoors.
Lok-lok is a no-brainer if you're looking to add a local twist to your wedding. Plus, it's almost a comfort food for some. Our suggestions include Fat One Lok-lok, Lok-lok King On Wheels and Lok-lok Fatt.
Kuih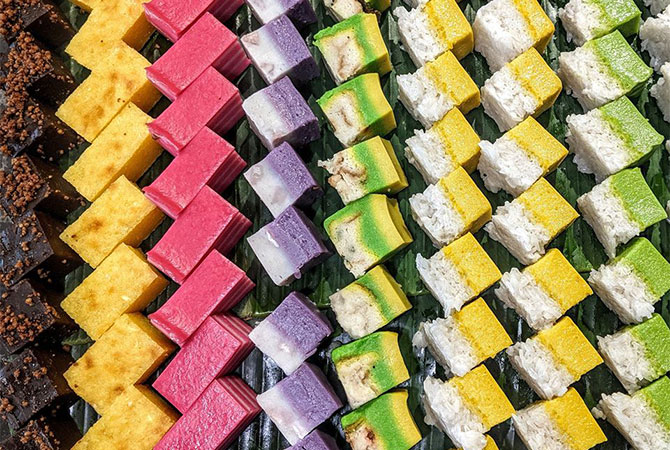 On the topic of adding a local spin to weddings, you definitely can't miss out on a kuih vendor. These colourful traditional delicacies are usually made from glutinous rice and more often steamed than baked. They also come in different shapes, textures and flavours. Nyonya Colours, Nyonya Tingkat and Kueh are some options if you're interested in having platters of these delicacies at your weding reception.
Have your choice of beverage:
Coffee
View this post on Instagram
Coffee is customarily served at hotel weddings, but why not take it up a notch and have your very own coffee bar? We suggest hitting up Brew and Bread, Transparent Coffee or Pulp to host your coffee bar at your reception. All three are cafés that are well-known for directly sourcing coffee beans and quality espresso-based drinks. Coffee aficionados will surely approve.
Healthier drinks
View this post on Instagram
Interested in serving something other than coffee, tea or liquor? There are options for those who are more health-conscious, such as kombucha and smoothies. Check out these home-grown kombucha brands—Wonderbrew, Wild Kombbucha, Cha Cha Kombucha—for gut-friendly bubbly teas. As for smoothie drinks and bowls, check out what Glow Smoothie Bar have in store.
For a complete wedding guide, click here.
| | |
| --- | --- |
| SHARE THE STORY | |
| Explore More | |