Disco dreams are made of these! Roller skating is back in a big way, thanks to TikTok—and we're for it. A fun, low-impact exercise to incorporate into your day, here's the best part of being on roller skates: it won't even feel like you're exercising, at least until the soreness kicks in. When scrolling through TikTok under the #rollerskating hashtag, we discovered a seemingly endless loop of pavement princesses showing off tips and tricks with their sweet kicks.
Like most sports, roller skating isn't as easy as it looks and it's a matter of practice—and not forgetting, the importance of starting out with a solid foundation. So here's what you need to know, from the best skates to safety essentials to actually useful tips.

Best skates to shop for
Moxi Skates 
One of those making roller skating mainstream again is the founder of Moxi Skates, Michelle Steilen, who sees skates as a practical everyday item. Made in the USA, each skate is hand-stitched for ultimate quality and comfort. These beauties have a flexible boot, quality plates, as well as outdoor wheels and bearings. Moxi's come in nine models, with the most popular ones being 'Beach Bunny' and 'Lolly'.
Chaya Skates
California dreamin'? Chaya's skates stay true to their collections' names. Our favourites are the 'Vintage' and 'Lifestyle'—besides being pretty, these gorgeous babies perform professionally too. The Vintage collection stands out for having custom-made parts like the Chaya Aja plate with an offset toe stop (scroll down to see the function of these stoppers) and power toe, alongside the new custom Vintage outsole. The Lifestyle collection will call out to all fashionistas. Taking us back to the '70s, this collection is perfect for making skating your way down the pier (or the closest equivalent in your neighbourhood).
Impala Skate
Started in 2017 by a team of passionate skater girls, Impala Skate has since grown into a bone fide pop culture phemomenon. Based in Melbourne, Australia, these skates are inspired by the '70s, '80s, and '90s. They've got some of the coolest prints and even holographic options—talk about a blast from the past!

Why these shoes aren't made for walking
Knowing your skate's anatomy help you with wearing and using it correctly. These technicalities will also come in handy when you're learning the fundamentals of skating. After all, you have to know what you're getting yourself into: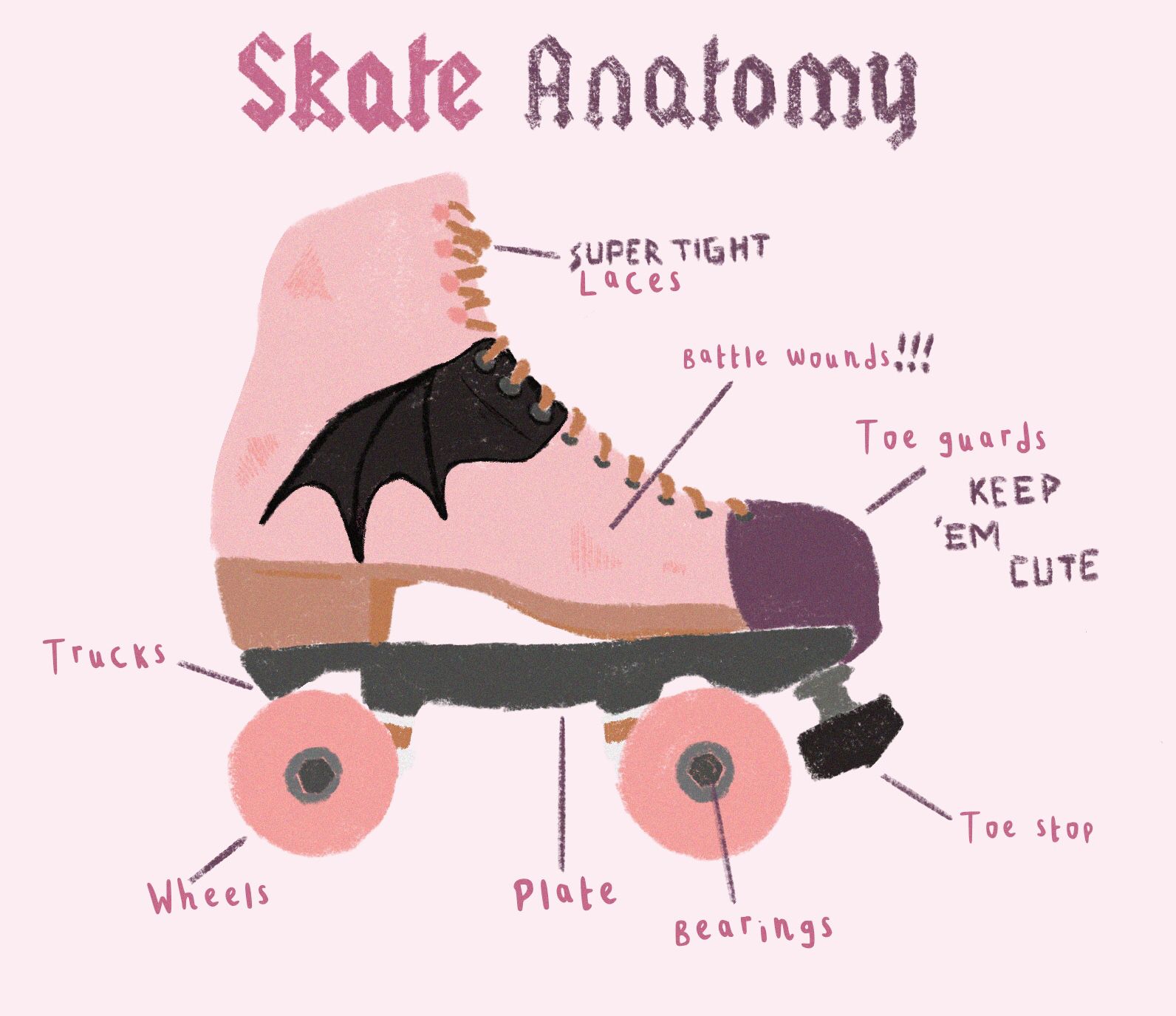 Boot: Every skate has one because, well, it's the main part. Boots are usually made of leather or suede and have a lining, sole, tongue, eyelets, and hooks or laces. Just like a normal shoe!
Plate: The plate is mounted to the bottom of the boot and it's where everything is attached. It's made from metal as this part of the skate, especially, demands durability.
Wheels: it wouldn't be a roller skate without these. Wheels come in different sizes and hardness; depending on where you choose to skate, a certain wheel may be better for you.
Bearings: Located inside the wheel hub to help the wheels spin, bearings come in two sizes: 7mm and 8mm. There are two in each wheel, so a pair of skates has 16 bearings.
Toe stops: Like the name implies, these stoppers are designed to aid with slowing down when roller skating.

Safety essentials (AKA padding and more padding)
Helmet: Using a helmet made specifically for skating is important because they come down lower in the back, toward the base of the skull, for better protection in the event of a backward fall. Be sure your helmet fits properly and always fasten the chin straps.
Knee pads, elbow pads, and wrist guards: Protection is key. These pads help prevent scrapes and also cushion the bones in case of a fall.
Light gloves: These keep your fingers and palms safe in the case of a forward fall.

How to roller skate 
| | |
| --- | --- |
| SHARE THE STORY | |
| Explore More | |