Lifestyle
The royal step-back: What is the rationale behind Prince Harry and Meghan Markle's decision, and what does it mean?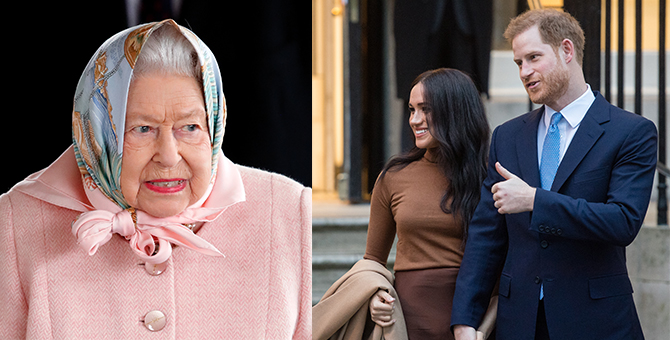 Many of us grew up following the British royal family. After all, they are major symbols of the United Kingdom, and to an extent, the world. Regardless of differing opinions on the Queen and the other members of the royal family, there is no denying that anything they do or say matters—from their endeavours with philanthropy to their style. Well, the royal family recently made the headlines again; this time by Prince Harry and Meghan Markle. The couple, who got married in May 2018, took to Instagram to announce that they will be stepping back from their roles as senior members of the royal family. The Duke and Duchess of Sussex continued by saying that they plan "to become financially independent while continuing to fully support Her Majesty The Queen". What does that really mean?
One thing we know from the announcement is that the pair plans to divide their time between the United Kingdom and North America. However, with the permission of the Queen, they plan to keep Frogmore Cottage in Windsor as their official residence in the United Kingdom. From the Instagram post, it is also know that their priorities are both Archie and Sussex Royal, their new charitable entity. More information will probably be revealed in the coming days but for now, it's time to dissect the situation and figure out the intricacies of the unprecedented move.
Changes to handling of media relations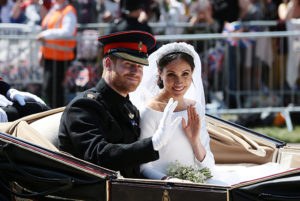 Prince Harry, Duke of Sussex and Meghan, Duchess of Sussex, on carriage
Prince Harry and Meghan Markle added in their website that they intend to ensure a more diverse and open access to what they do with Sussex Royal. Hence, there will be a revamp in their media approach. The Duke and Duchess of Sussex's transition into a "progressive new role" will include a phased approach. Firstly, official communication channels will be utilised to disseminate information directly to the wider public. Moreover, they will start engaging with grassroot media organisations as well as young, up-and-coming journalists. However, it's their exclusion from the Royal Rota system that caught the most attention. At the moment, media outlets in the United Kingdom that have exclusive inside access to the official engagements of members of the Royal Family include the likes The Daily Mail, The Telegraph, The Sun, The Times, and The Evening Standard. Established more than 40 years ago, the system makes sure that factual information of the Royal Family are shared. However, in 2020, it is obvious that news reporting in the digital age is predated by the rota. Well—Prince Harry and Meghan Markle continued that they will keep using social media; now with the ability to directly communicate with the public instead. Hooray to that indeed!
Say hello to financial independence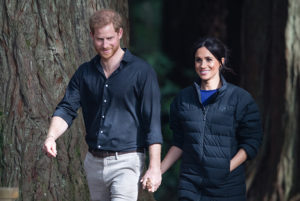 Prince Harry, Duke of Sussex and Meghan, Duchess of Sussex visit Redwoods Tree Walk, New Zealand
Is a member of the Royal Family actually about to earn income as professionals instead of receiving money through the Sovereign Grant? According to the Duke and Duchess of Sussex, yes—it's possible! By stepping back as senior members of the Royal Family, Prince Harry and Meghan Markle will be able to be financially independent. The question is why; what is the rationale behind such a decision? They will be able have autonomy over their own finances and work externally without ditching their duties for Her Majesty The Queen. If you haven't heard of the Sovereign Grant, it is defined as "the annual funding mechanism of the monarchy that covers the work of the Royal Family in support of HM The Queen, including expenses to maintain official residences and workspaces". It is said that under the current structure, the pair are unable to earn any income but in terms of precedence, this is not new. There are actually members of the Royal Family who have full-time jobs while supporting the monarch. It is also worth noting that "all travel arrangements undertaken by the Duke and Duchess in their private time have always been and will continue to be paid for privately and not by UK taxpayers". With a combined net worth of $30 million (approximately RM122,652,000), it seems like the royal duo would not be facing any issues with funds any time soon.
What could have caused the decision?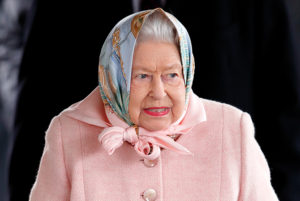 Queen Elizabeth II arrives at Sandringham
There are many speculations surrounding the "exit" and that's completely normal. Many—in the UK and abroad—are interested to know the catalysts behind the shocking revelation. At the moment, we know that the three main reasons include: being free from the public eye, giving baby Archie a better space to grow up in without forgoing appreciation for royal tradition, and the ability to make their own money.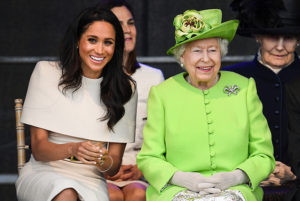 Queen Elizabeth II and Meghan Markle, Duchess of Sussex
It is said that Queen Elizabeth wants the crisis—dubbed by some as "Megxit"—to be solved as soon as possible. In order to properly sort out the couple's role in the future, royal courtiers were called into action. A conference call was held and involved the Queen, Prince Charles, Prince William, and Harry himself.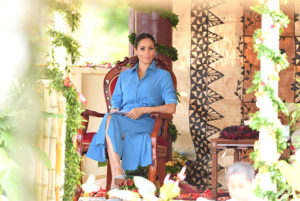 Meghan, Duchess of Sussex visits Tonga
It is also public knowledge that the Duke and Duchess of Sussex were not happy recipients of intrusive media coverage (no one is), especially racism from the British media. For example, one of the earliest headlines about Meghan Markle referred to her as "straight outta Compton" and baby Archie was allegedly compared to a chimpanzee. Oh, how about that time when a blackamoor brooch was worn by Princess Michael of Kent at a lunch meeting with Meghan? These examples, among many others, could be major contributors to the pair's decision to walk away from their roles as senior members of the royal family.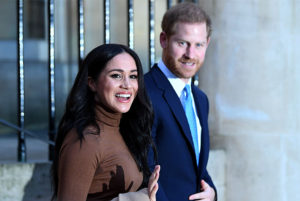 Prince Harry, Duke of Sussex and Meghan Markle, Duchess of Sussex visit Canada House
In return for donation to the Elephants Without Borders organisation, a voiceover deal was signed by Meghan Markle with Disney. This isn't the royal's first involvement with Disney—to celebrate their birth of Archie, a watercolour Winnie-the-Pooh animation was given to them. Would leaving behind the constant receiving of royal funds be good for Prince Harry and Meghan in the long run? The answer's probably yes! They are significant public figures and they will always be; with or without their titles. Think about this: they could earn tens of millions every year if they become global ambassadors for a giant company (such as Apple). To be even more specific, $100 million (approximately RM407,591,000) a year would amount to a billion dollars over ten years. That's a massive sum and while no concrete steps were given as to how they plan to be completely independent in terms of finances, this is definitely one way.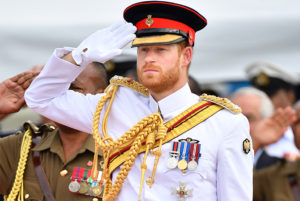 Prince Harry, Duke of Sussex visits the War Memorial in Suva
As for Prince Harry, a reason could be the desire to protect his family and to ensure that what happened to Princess Diana, his mother who died in 1997, does not occur again. "Part of this job is putting on a brave face but, for me and my wife, there is a lot of stuff that hurts, especially when the majority of it is untrue," he said. Would moving to North America really give them the peace and quiet they seek for? We will only be able to find out when time comes.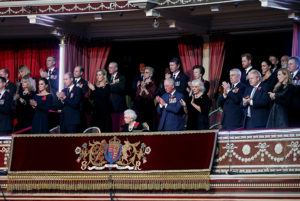 The Royal Family attend the Annual Royal British Legion Festival of Remembrance
In summation, the British public are not very happy with the news. By not very happy, it seems like they are furious. A poll showed that a majority wants Prince Harry to lose the right to accession (54 percent). In addition to that, 44 percent said Meghan is to blame for the decision and only four percent for Prince Harry. Moreover, when asked if the public would want the Duke and Duchess of Sussex to be stripped off HRH royal titles (His Royal Highness or Her Royal Highness)—47 percent said yes! Their popularity in the United Kingdom might be dropping but they will always be the centre of attention. The shocking news rocked the world but it is apparent that the royal family and the people of the UK are feeling the aftermath the most. More information will be shared as time progresses but here's hoping that discussions among all parties involved go well. What are your thoughts on Prince Harry and Meghan Markle's decision to step back as senior members of the royal family, and why do you think they made the unprecedented announcement?
UPDATE!
Here's some good news for Prince Harry and Meghan Markle. The Queen has agreed on a "period of transition". Even though she prefers that the Duke and Duchess of Sussex remain full-time working royals, she supports their decision "to live a more independent life as a family". In a statement released on 13 January, the Queen said the following: "These are complex matters for my family to resolve, and there is some more work to be done, but I have asked for final decisions to be reached in the coming days".
You can find out more about the British Royal family here and Sussex Royal here.
| | |
| --- | --- |
| SHARE THE STORY | |
| Explore More | |