Lifestyle
Demi Lovato's heartfelt Grammys performance, live-action of 'One Piece' to be aired on Netflix and more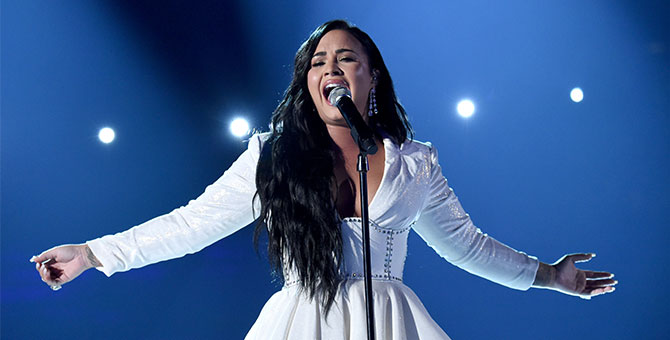 Hello, pop culture junkies! Welcome back to Pop Culture Catch-Up where we bring you everything you need to know in the pop culture scene that happened over the week. This week's headlines include Netflix announcing a live-action series of Japanese manga One Piece and Justin Bieber's release date for his new album, Changes.
Basketball legend Kobe Bryant has passed away
Last week started off on a mournful tone with the news of basketball legend Kobe Bryant's passing. The 41-year-old was among the nine people who lost their lives in a tragic helipcopter crash in Calabasas, California on 26 January. The eight other passengers include Bryant's 13-year-old daughter, Gianna; Gianna's basketball teammate Alyssa Altobelli, her mother Keri and her father John; another basketball teammate Payton Chester and her mother Sarah; basketball assistant coach, Christina Mauser; and pilot, Ara Zobayan.
Bryant's wife, Vanessa broke her silence three days after the crash that took the life of her husband and daughter. "There aren't enough words to describe our pain right now," she wrote in a post on Instagram. She also asked for privacy as her family figures out how "to navigate this new reality". Vanessa and Kobe were married in 2001 and had four daughters together.
The pilot and eight passengers were on their way to Bryant's Mamba Sports Academy, where Bryant was to coach his daughter's Team Mamba in a basketball tournament. Investigations are still ongoing on the unfortunate incident; watch this space for updates.
Netflix to produce live-action series of Japanese manga, One Piece
One Piece fans, listen up! Netflix has officially announced that a live-action adaptation of the iconic Japanese manga is in the works. The first season will run for 10 episodes, while the cast has yet to be announced. If you're worried about how it will turn out (considering the very questionable past live-action adaptations), fret not! Creator of One Piece, Eiichiro Oda will be overseeing the series as an executive producer.
Fun fact: The manga series holds a Guinness World Record for the most copies published for the same comic book series by a single author!
Henry Golding suffers injuries while filming the G.I. Joe spin-off, Snake Eyes
In an interview with MTV News, the 32-year-old actor Henry Golding revealed that he performed his own stunts during the filming of his latest Hollywood project, Snake Eyes, resulting in hip and leg injuries. "I had a few injuries, I'm not gonna lie. I blew out my hip, I tore my quad," said Golding who will be starring as the lead role, Snake Eyes. Despite so, he says that all the hard work was necessary "to bring real tenacity to this character and do him justice."
Golding took over the role from Ray Park, who played Snake Eyes in the previous two installments of the G.I. Joe movies—The Rise Of The Cobra (2009) and Retaliation (2013). The movie—which tells the origin story of Snake Eyes—is scheduled for release in October 2020.
Justin Bieber announces release date of new album, Changes
Justin Bieber continues to make 2020 his year. Back in December, he posted an announcement video titled #Bieber2020, teasing us about his upcoming projects—a new album, a docuseries, tour dates and a new single. Since then, he has released his single, Yummy and his docuseries, Justin Bieber: Seasons. Last Tuesday, the 25-year-old singer finally revealed the title and release date of his upcoming album, which we now know is called, Changes. This is his first album since Purpose (launched in 2015) and it will be released on February 14. Changes include his recent single Yummy, as well as a brand new single called Get Me, featuring Kehlani.
Quick recap of the Grammys 2020 highlights
If you haven't already heard, Billie Eilish made history as the youngest (and only the second) artist to win all the "big four" categories—Record of the Year, Song of the Year, Album of the Year and Best New Artist—at the 62nd Grammy Awards. The 18-year-old artist also won Best Pop Vocal Album, which makes it a total of five wins out of her six nominations (she lost Best Pop Solo Performance to Lizzo).
Her brother/recording partner/producer Finneas, also took home five awards—Record of the Year, Song of the Year (as songwriter, along with Billie Eilish), Album of the Year, Best Engineered Album, non-classical (an engineer's award), and Best Producer, non-classical. Just like his younger sister, the 22-year-old made history as the youngest producer to win Best Producer.
This year's Grammys also saw Demi Lovato making an emotional yet powerful comeback performance of her new song Anyone, which was written only four days before her near-fatal overdose back in July 2018. The 27-year-old earned a standing ovation despite a short mishap during the intro. Click here for the full list of winners and more highlights of the night.
James Corden comes clean about Carpool Karaoke
Many people were surprised (and upset) after a viral video of James Corden's Range Rover getting towed while fiming Carpool Karaoke with Justin Bieber surfaced on Twitter. On Thursday (January 30), James Corden directly addressed the scandal and revealed that he really does drive the car—unless they're doing something that might not be deemed safe for the passengers.
"I swear to you, 95 percent of the time I really am endangering the lives of the world's biggest pop stars," said The Late Late Show host. He even provided a list of every Carpool Karoke where he used a tow—only five times—and another list of those that he actually drove.
Super Junior releases '2Ya2Yao' music video and repackaged album, TIMELESS
One of the OG Korean boybands, Super Junior just dropped the music video for their new song, 2Ya2Yao. This new track is produced by Zico and is also the title track for their repackaged ninth album TIMELESS. On top of the 10 tracks included in Time_Slip (their ninth album which was released last October), a total of four new songs—2Ya2Yao, Ticky Tocky, Shadow and Rock Your Body—will be added into the repackged album.
For our previous Pop Culture Catch-Up, click here.
| | |
| --- | --- |
| SHARE THE STORY | |
| Explore More | |