Say goodbye to that particular New Year's resolution on watching how much you eat because the holiday season is upon us. While some of us might traditionally spend Christmas at home, there are also other that choose to eat out as well. The most important thing is having your loved ones with you, sharing fond memories and new stories. But of course, having great ambiance and delicious food help to set the mood, and for that, there's Mama San KL.
Located in the heart of Kuala Lumpur at Suria KLCC, you'll find a plethora of Asian favourites at the restaurant, which is under the Melium Group, that are either kept in its traditional goodness or sprinkled with some playful touches by Chef Will Meyrick. We invited couples Vanessa Tevi and Ismael Ma as well as Amanda Man and Gregory Ling, and newfound friends Jonathan Putra and Didi Moggie to Mama San KL for some quality conversations over equally quality food and drinks.
VANESSA TEVI & ISMAEL MA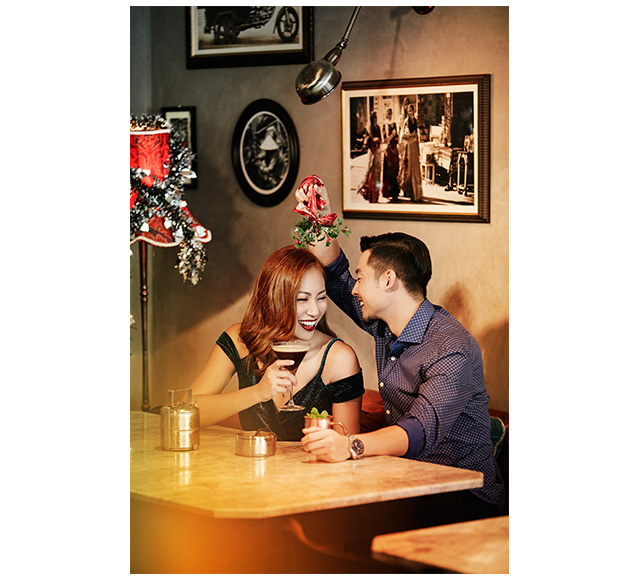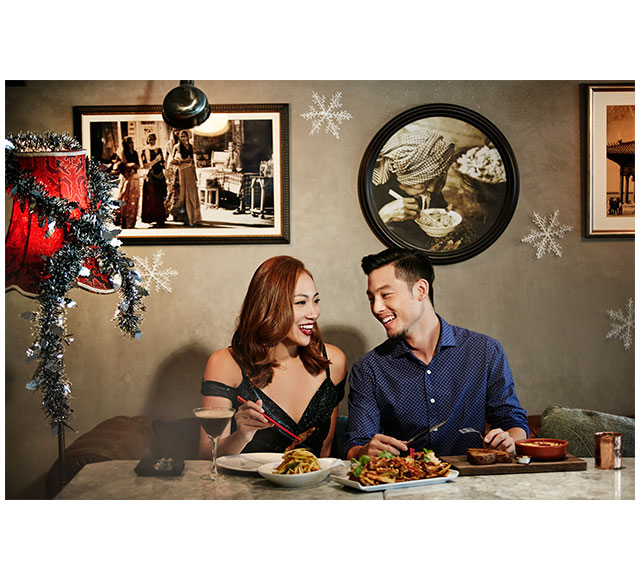 Tell us a favourite memory together with Vanessa.
Ismael: I have so many! Well, there is that time when we were having dinner at a restaurant while we were still getting to know each other. Disclaimer: It's not exactly the most romantic. She finished her food first and while waiting, she spat a small piece of ice through a straw at me. I tried to do the same to get back at her but my glass was already empty so I went to a waiter to get more ice and as I made my way back to the table, she was getting ready to leave so I had to change my plan. Once we got outside, however, we chased each other for a bit and it was in that moment—her smile, laugh and playfulness—that made me realise that nothing else mattered then.
What do you like about Mama San KL? 
Ismael: I really enjoy the coconut rice with Indonesian beef rendang and oh, the soft shell crab rujak is superb!
Vanessa: Definitely the ambiance—it has a mysterious yet romantic feel to the place—and of course, the food and drinks. The Lychee Tiffin Punch is hands down my favourite cocktail by far. It's a perfectly balanced blend served with fresh fruits where the alcohol is subtle but the fruity flavoured syrup doesn't overpower it either. I'm not even a cocktails kind of person so that's saying something. 
Do you guys like to share food when you go out to eat?
Vanessa: We do! Especially when I'm feeling a little greedy and want to try everything so we'll order a few dishes to share. But most of the time, he eats my food too which is weird because I don't know how he stays so skinny.
Ismael: Yes but sometimes if she's not very 'nice', she'll be like 'No, I love my food—you're not having any.' (laughs) That happens too.
Three other things you like to share with each other.
Ismael: At the end of each day, we like to share how it went. And also, past happy memories and our travel experiences.
Vanessa: My day; because he always finds a way to make it better. My thoughts; because it helps us connect on a deeper level and understand each other better. My experiences; as in adventures, travels, and adrenaline-pumping activities. I love them so much, I want to share those moments and what more when I have the perfect partner who would be up for it just as much as I would.  
AMANDA MAN & GREGORY LING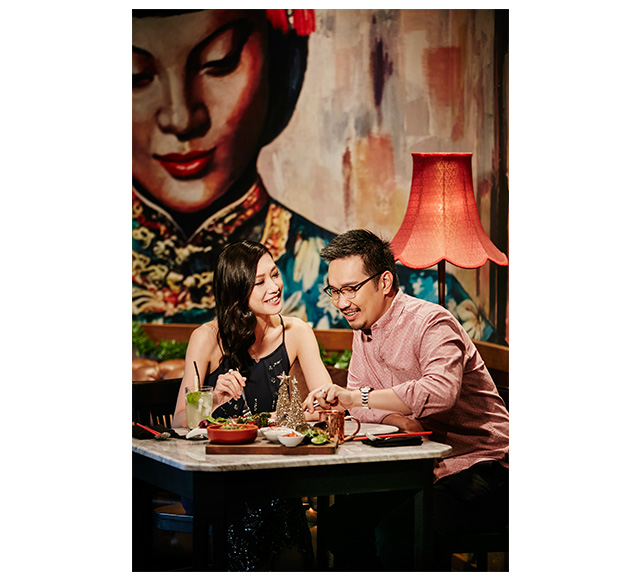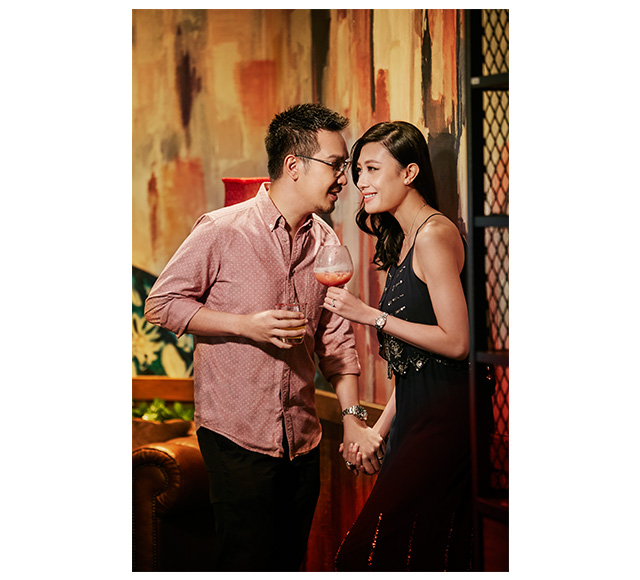 What does Christmas mean to you?
Gregory: Other than the birth of Christ, another important symbolism of Christmas is family time. We also get to celebrate with our church friends and of course, we can't forget about the presents we give each other (and to ourselves).
Amanda: To me, it's also about the food. (laughs) I like Christmas turkey and its accompaniments. Christmas is the best time of the year!
Having been together for about six years, what is a favourite memory of each other?
Gregory: Wow, every day is a favourite memory. (laughs) 
Amanda: While it's great that we see each other every day, I'd have to say that nothing beats a holiday. They're a break from the norm—a good opportunity to relax, have real quality time together and explore somewhere new. We were just in Phuket recently and it was such as a lovely beach holiday!
Favourite food and drink at Mama San KL.
Amanda: I enjoyed the barramundi that was wrapped in banana leaves. It was tasty and paired well with the sambal.
Gregory: For me, I like the dendeng balado together with the Chilli Lime Margarita. It has a good zing to it.
Christmas time is all about sharing but what is something that you both don't share?
Gregory: This is something that surprises most of our friends. We're both lawyers but we don't talk about our work even though we're doing the same thing. It's quite healthy. She'll ask me for advice once in a blue moon for a case but otherwise, when we have quality time together, it really is strictly that. We like each other's company.
Amanda: (jokes) That's good because we're stuck together.
JONATHAN PUTRA & DIDI MOGGIE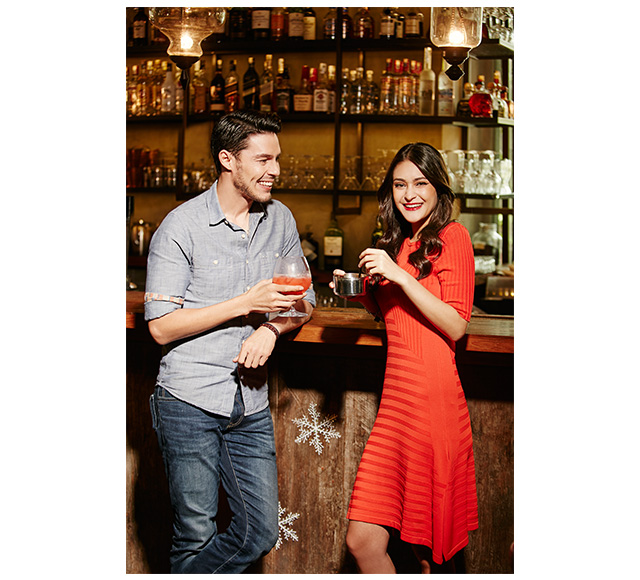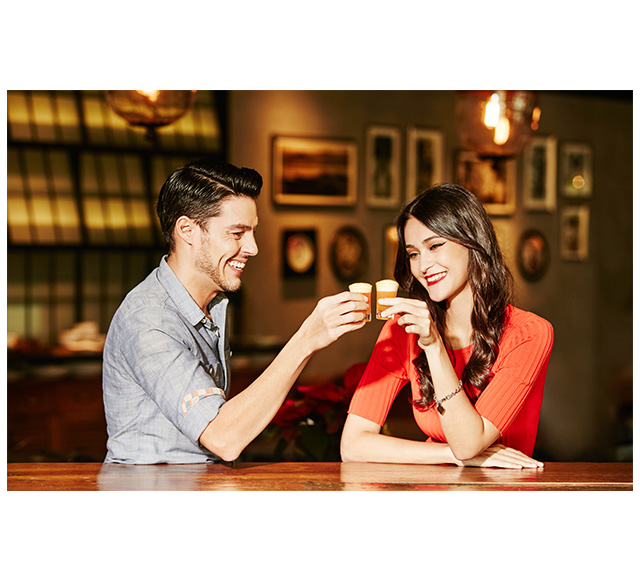 What does Christmas mean to you?
Jonathan: It's the feeling you get when you spend time with family; especially for me since my family is spread out over five continents so we don't always get to see each other. 
Didi: It's a full-day family event at my grandparents' home. My grandmother is a huge Christmas person. She will cook up a Christmas lunch while the family gets together at about 11am and we open presents then have lunch. We'll pass out after that while some will go home. Then, we'll gather back at the same house for dinner. It's the same scene every year but it's so much fun.
Best memory of Christmas?
Didi: When I was three, I was still the only grandchild so I was quite spoilt come Christmas day. So that time we would have a laundry basket where we chuck all the wrapping paper in and I remember sitting in there. There's a photo of me having so much fun with all the wrappers and throwing them around.
What do you like to share with people?
Jonathan: A great conversation. I like to find out what makes a person who they are and hear stories about their experiences. Also, sharing a moment and a connection. The two might seem like the same thing but you can actually share a connection without ever saying a word or even if you've not seen the person for a long time. 
How do you find the food at Mama San KL?
Jonathan: I love the food here! It captures the character of Asian cuisine but it does so in a way that caters more to the Western palette. I can't say I have a favourite item off the menu since they have a great variety here plus the ambiance is nice and almost nolstagic. 
Didi: As I'm a huge fan of Thai food, I'd have to say my favourite is the phad thai as it has the perfect balance of spiciness and sweetness. To end a meal at Mama San KL, choose the durian pannacotta! I love how it's served with sticky rice on the side but as I'm such a durian fan, I practically ate it on its own.
Any tips for meeting people for the first time at dinner parties this holiday season?
Jonathan: I'll just be myself (as weird as I am). I throw out jokes and tell stories, and try to get people out of their shells. I feel that when people are meeting someone new, they put on a polite front just to be safe. Have an honest conversation. What's the point of meeting someone if you're not going to let them meet you.
Didi: Just talk and spring up random conversations with people. If I were to approach a new face, I'll go up to the ones that are alone first but if it's a sit-down dinner, I'll slowly slip into conversations to join in, and work from there.
Dine in at Mama San KL on Christmas for either lunch or dinner to enjoy their complimentary Christmas shooters.
Credits:
Photography: Eric Chow/Blink Studio
Photography assistant: Tommi Chu
Makeup: Shaun Goh
Hair: Cody Chua
Styling: Jasmine Leong
Styling assistants: Rachel Au and Alyssa Lee
| | |
| --- | --- |
| SHARE THE STORY | |
| Explore More | |