A lot will change as a result of the novel coronavirus. Industries will be affected and what we considered normal would require some fine-tuning. It's the age of the "New Normal". One thing's for sure; many around the world can't wait to travel again—whether it's to indulge in amazing food at top-notch restaurants or to experience some of the best hospitality in splendid hotels. The roundup below consists of brilliant dining and accommodation options around the world, from Asia to Europe to Africa.
1. Sugalabo V by Louis Vuitton (Osaka, Japan)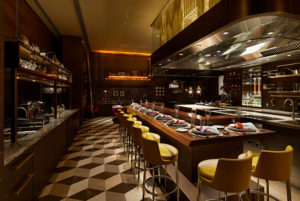 Photo by Louis Vuitton
Let's begin the list with Louis Vuitton's first ever restaurant. This is also LVMH's inaugural foray into the fine dining world. Taking the highest floor of Maison Osaka Midosuji, Sugalabo—located next to the luxury house's popular Le Café V—specialises in Japanese-French fusion cuisine. With only 24 seats, the restaurant operates with an invitation-only policy and a dinner tasting menu that begins at JPY30,000 per guest. That's approximately RM1,218 per person.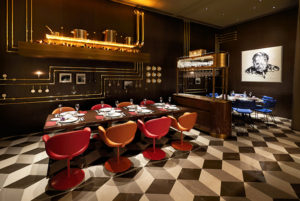 Photo by Louis Vuitton
In Sugalabo V, expect to discover brick-patterned trompe l'oeil floors and dark wood that lines the entire space. Architects Peter Marino and Jun Aoki designed the restaurant together. In charge of the menu is Chef Yosuke Suga of Tokyo's Sugalabo. Tableware in Sugalabo V are created by Japanese designer Tokujin Yoshioka—and you will be sure to notice that with the restaurant's charger plate.
2. The Tiffany Blue Box Cafe (London, England)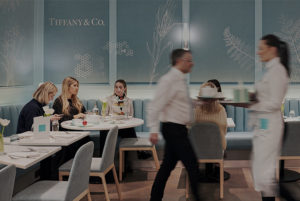 Photo by Tiffany & Co.
Located in London's iconic Harrods, this is Tiffany & Co.'s first outpost in Europe. You'll be able to find one in New York's Fifth Avenue. Expect to discover a space that's surrounded by Tiffany jewels, hand-painted Tiffany motifs, and sleek stone features.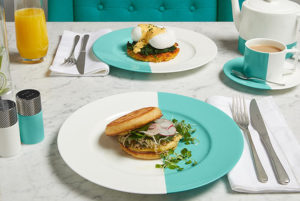 Photo by Tiffany & Co.
For breakfast, try the Croissant Box (baked all-butter croissant filled with raspberry jam, chocolate crémeux, or lemon curd). Other signatures include Fifth Avenue Bagel (Faroe Islands smoked salmon, whipped cream cheese, cucumber, lemon, and dill in a New York-style bagel); Eggs Florence (poached Cacklebean Farm eggs, spinach, and brown-butter hollandaise served on potato rosti); and Signature Crab Muffin (Cornish crab, Barber's Cheddar rarebit, pickled shallots, and sliced radish in an English muffin).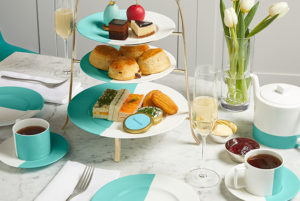 Photo by Tiffany & Co.
Prefer to go there for an afternoon tea session? Sandwich selections include Egg and Black Truffle (black truffle butter and white pain de mie) and Warm Parmesan Madeleine (caviar, cream, and chives). Craving for something sweet? Go for the Tiffany Blue Egg (lemon curd and mascarpone in the original Tiffany's colour inspired by the robin's egg) and New York Cheesecake (homage to New York's best-known pastry).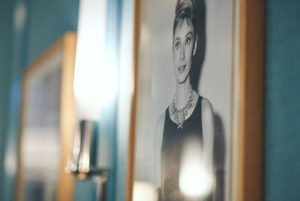 Photo by Tiffany & Co.
In the evenings, there are two-course and three-course meals—featuring dishes such as Central Park Salad (Endive, butter leaf lettuce, sliced shallot, toasted hazelnuts, shaved 24-month Parmesan, and salad cream dressing) and 57th Street Flatbread (soured cream, Faroe Islands smoked salmon, caviar, and cold-pressed olive oil).
3. Sindhorn Kempinski Hotel (Bangkok, Thailand)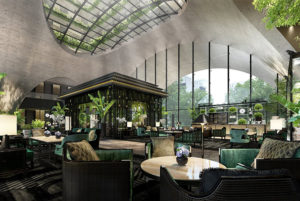 Photo by Kempinski Hotels
Situated within the newly developed Sindhorn Village, this is the second project between Kempinski Hotels and Siam Sindhorn Company Limited. Designed to be an extension of Lumphini Park, one will be able to notice how the building's design blends flawlessly with the iconic garden. Rooms here start at 66 square metres and there are 285 guestrooms in the hotel—featuring authentic Thai elements such as the Phudtan.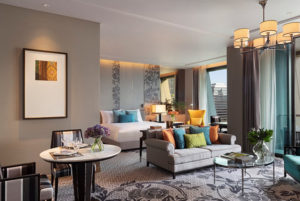 Photo by Kempinski Hotels
Dining establishments here include Chef Eric Lecras' Flow where patrons can get modern wellness plant-based cuisine. Located on Level Nine, expect 100 percent certified organic produce. As for Flourish, it's an all-day dining spot with Thai, European, Mediterranean, Asian, and vegan cuisine. If you're seeking for a tipple or two, the hotel's Firefly Bar is the place to visit—positioned strategically at the lobby.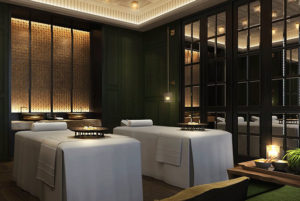 Photo by Kempinski Hotels
True to its Wellness Lifestyle theme, there is also Sindhorn Wellness by Resense. Occupying 4,000 square metres, the space includes a spa with 26 treatment rooms and a plethora of bespoke advanced therapies. Workout studios are spread over two floors—consisting of live and virtual cycle studio, HIIT (High Intensity Interval Training) studio, exercise studios, and Pilates studio.
4. One&Only Portonovi (Kotor, Montenegro)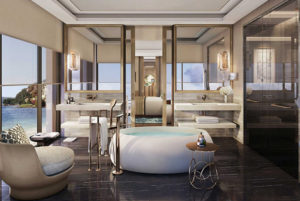 Photo by One&Only
Did you know that this is One&Only's first resort in Europe? Situated in Boka Bay (close to the town of Perast), One&Only Portonovi consists of about 140 rooms and villas, private residences, and a marina. The building and rooms are designed to amplify the beauty of the surroundings. It's the Adriatic Sea, after all. Room types include the Portonovi Room, Bayview Suite, and various types of sublime suites—all with the natural palettes of Montenegro and contemporary European elegance.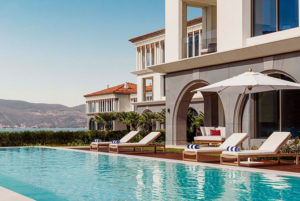 Photo by One&Only
At One&Only Portonovi, expect to feast on wholesome Mediterranean fare. Sabia—helmed by Michelin-starred Chef Giorgio Locatelli—comes with an organic vegetable crudo and mozzarella bar and a wood-fired oven for artisan pizza. There is also the Tapasake Club; an Asian fusion restaurant positioned by the pool. For authenic Montenegrin cuisine, head over to La Veranda whereas the Caminetti Bar is perfect for sipping on cocktails while taking in the surreal views.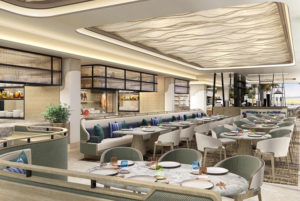 Photo by One&Only
The resort is also home to the world-renowned Chenot Espace. Treatments here are bespoke and tailored to individuals. They include nutritional menus, fitness schedules, targeted spa treatments, stress relieving activities, and cosmetic beautification.
5. Mott 32 (Singapore)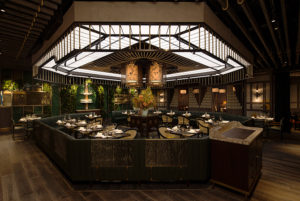 Photo by Mott 32
Located in Marina Bay Sands, this is Mott 32's latest outpost after Hong Kong, Las Vegas, Seoul, and Vancouver. Founded in 2014 with Hong Kong as its first location, Mott 32 is known for its signature approach to regional Chinese cuisine. The Singapore restaurant is designed by award-winning interior designer Joyce Wang. The main dining room features a canopy reminiscent of pagodas, pale mint sofas, and classic bucket chairs.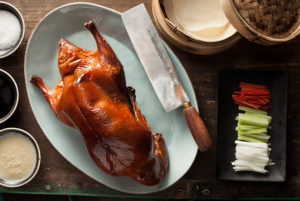 Photo by Mott 32
Executive Chef Chan Wai Keung helms the kitchen here at Mott 32 Singapore—bringing with him over 35 years of culinary experience. Expect to dine on iconic dishes such as the Barbecue Pluma Iberico Pork Glazed with Yellow Mountain Honey and the Apple Wood Roasted Peking Duck with Mott 32's Signature Cut. Requiring a 24-hour advanced reservation, these ducks are available daily in limited quantities.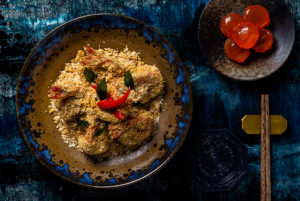 Photo by Mott 32
In addition to the original Mott 32 menu, dishes exclusive to Singapore include the likes of Signature Crispy Sugar Coated Peking Duck Bun, Crispy Prawns with Salty Egg Yolk and Oatmeal as well as the Wok-Fried Live Whole Crab in Black Pepper Singapore Style. Lovers of cocktails can also expect a myriad of signature cocktails inspired by Asian ingredients and culture.
6. Pavyllon (Paris, France)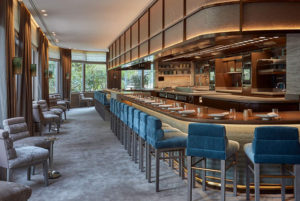 Photo by Pavyllon
Pavyllon is Yannick Alléno's third restaurant at Pavillon Ledoyen. Alléno Paris and L'Abysse were both rewarded by the Michelin guide in 2019. The restaurant comprises of 42 seats, with 30 at the counter. Designed by Chahan Minassian, the establishment is equipped with patinated bronze wooden counter, velvet and suede seats, and lime-finished oak panels on the walls. You can either be seated at the counter or at the patio with a direct view of the garden.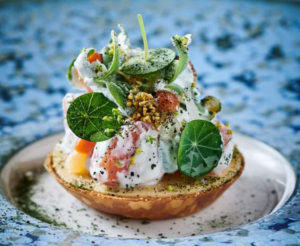 Photo by Pavyllon
The menu at Pavyllon includes Scallops Quenelle with white button mushroom stewed and raw; Game terrine with sherry gel and toasted baguette; Turbot with razor clams and fermented shallot chive nage; Pigeon roasted with juniper and black olive condiments; Steamed Comté soufflé with foie gras and Albufera; as well as Langoustines with curry mayonnaise and wild herbs. There are a variety of quality concoctions and wine pairing sets.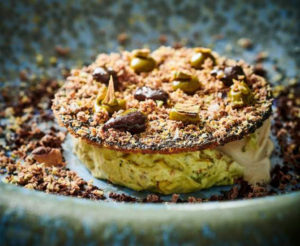 Photo by Pavyllon
Desserts include the likes of Biscuit Tuile with pear and milky vanilla foam; Chocolate crémeux with sobacha and sea salt brown butter; as well as Buckwheat with iced and crumbled Cider gel and crispy galette.
7. Arctic Bath (Harads, Sweden)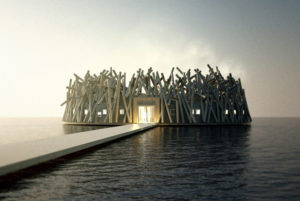 Photo by Arctic Bath
Situated on Lule River, Arctic Bath is—without a doubt—one of the most unique hotels in the world. It has been opened for awhile but it definitely deserves a spot on this list for the oasis that it is. Depending on the season, the hotel alternates between floating and frozen. In addition to being a hotel, Arctic Bath also houses a spa and wellness facility.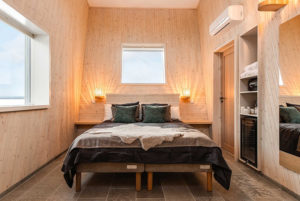 Photo by Arctic Bath
Rooms are divided into three categories: land, water, and suite. The land cabins, designed by AnnKathrin Lundqvist, measures at 62 square metres in size and are elevated on poles. As for the floating cabins, they are connected to the shore by a floating walkway. They are designed by both Bertil Harström and Johan Kauppi. Each cabin is equipped with a wood deck.
Photo by Arctic Bath
The land suites have a spiral staircase leading to a loft. Guests can meditate and relax at the deck attached to the room. The land suites—also designed by AnnKathrin Lundqvist—can accommodate a maximum of two.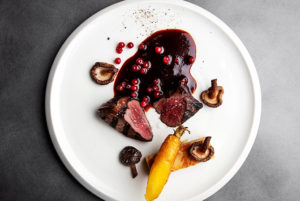 Photo by Arctic Bath
The five course set menu at Arctic Bath's restaurant—helmed by Kristoffer Åström and Maarten De Wilde—changes daily, depending on local ingredients. Signature dishes here include the likes of lightly smoked capercaille, Gahkku (Sámi flat bread, and Gompa (a Sámi dish with Arctic Angelica and sour milk). All the ingredients used at the restaurant are sourced from its surroundings.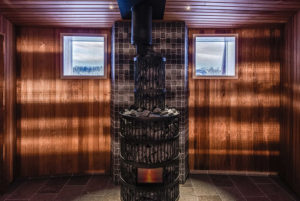 Photo by Arctic Bath
You can't talk about Arctic Bath and not mention the spa. Every visit to the spa comes with a bathrobe, bathing suit or shorts, as well as natural spa products from Kerstin Florian. The spa-ritual session allows you to to enjoy a traditional cold bath and sauna experience. There are a variety of treatments to choose from for an exceptional affair.
8. Kruger Shalati (Shukuza, South Africa)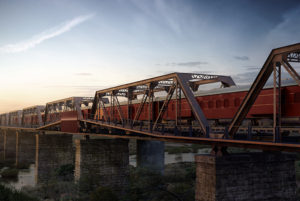 Photo by Kruger Shalati
Ever thought of staying in a train that's positioned on a bridge in a national park? Kruger Shalati (also known as The Train on the Bridge) is located on the historically-rich Selati Bridge in South Africa's Kruger National Park. The accommodation offers 31 rooms—24 carriage rooms and seven Bridge House rooms.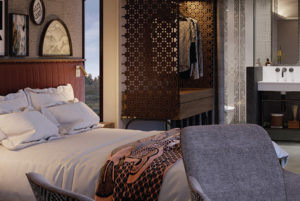 Photo by Kruger Shalati
Inspired by the early 1920s when visits to the park were first allowed, Kruger Shalati celebrates the spot where the train would park overnight. Rooms here are equipped with glass floor-to-ceiling walls—allowing guests to take infinite looks at the Sabie River. As for the train's aesthetics, expect a celebration of African designs.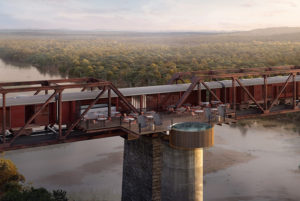 Photo by Kruger Shalati
This initiative is a project by Thebe Tourism Group—aiming to transform South Africa into a leading destination for global luxury tourism.
9. Gucci Osteria da Massimo Bottura (Los Angeles, USA)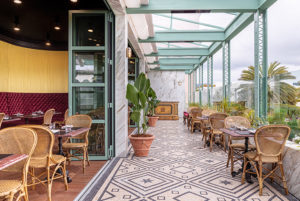 Photo by Pablo Enriquez/Gucci
Located above Gucci's store in Beverly Hills, this is Massimo Bottura's second collaboration with the Italian fashion house after Gucci Garden in Florence, Italy. Bistro-style chairs and tables with burgundy marble countertops fill the space along with mosaic floors on the outdoor terrace. On the inside, the black ceiling is decorated with spotlights in the shape of stars.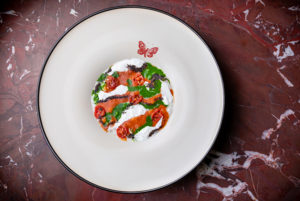 Photo by Pablo Enriquez/Gucci
The 50-seat restaurant is ideal as a spot to drop in while you shop. In addition to Chef Massimo Bottura, the team that's responsible for the menu here includes chef de cuisine Mattia Agazzi and chef Karime López.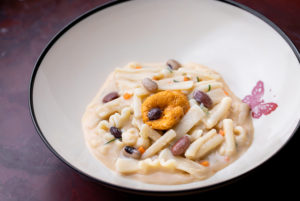 Photo by Pablo Enriquez/Gucci
The menu here exudes California-inspired Italian fare—from pizzas to pasta to burgers. Gucci Osteria could very well be one of the most fashionable restaurants in Los Angeles, it not the most.
10. Superfly (Beijing, China)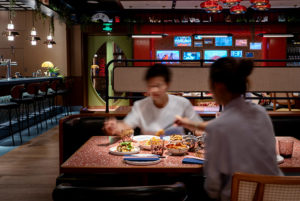 Photo by Superfly
This new bar and restaurant by The Opposite House in Beijing—located in the Sanlitun district—serves comfort food, Asian craft cocktails, and draft beer from award-winning local brewery, Great Leap. Described as a neighbourhood hangout spot, Superfly is reminiscent of Sichuan's buzzed about "Fly restaurants".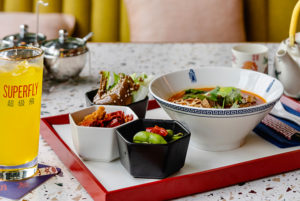 Photo by Superfly
Designed by AvroKO Design, you will notice boldly patterned ceramic tiles in greens, blues, and whites; salmon-coloured terrazzo tables; neon and an array of eclectic lighting; graphic novels, Kung Fu comics, and pop-culture posters; as well as a signature video art installation.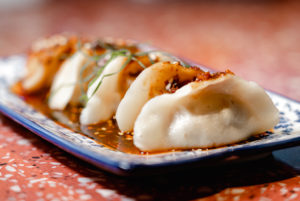 Photo by Superfly
As for food, expect Sichuan-inspired cuisine—led by Michelin-starred Chef Li Dong from Jing Yaa Tang—such as Tian Shui Noodles (Sweet Water noodles), and G.L.B Super Dumplings.
Where do you want to go when the pandemic is over? Do you already have an idea in mind? Travelling the way we used to might not happen any time soon. We will just have to be patient and continue to do our respective parts in this fight against the COVID-19 pandemic. We have to practise social distancing, wear masks, wash our hands, and adhere to guidelines. One day, we shall be able to visit all the places mentioned above and more!
| | |
| --- | --- |
| SHARE THE STORY | |
| Explore More | |