Travel
Travel trends for couples in the next decade: New experiences, environmental initiatives, and gender fluidity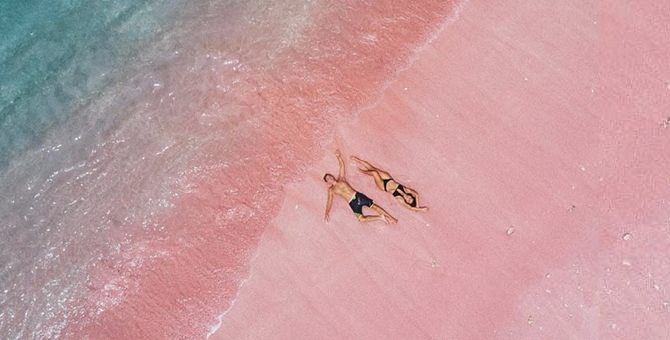 Oh modern love. It's getting hard to put a finger on what exactly keeps the romance going — or burning, if that's what you're into. These days, a box of chocolates can't exactly elicit the same pleasure and joy that it would have a decade ago. That goes the same when we travel with our other halves, seeking intimacy in a different city, different hotel, and perhaps as different individuals. In a new era of dismantled norms, changing attitudes, political melodrama, and planetary peril, what would we yearn for in 2030? Surely, something spectacular.
For some foresight, the hotel curating couple Mr & Mrs Smith has paired up with The Future Laboratory, one of the world's most renowned future consultancies, to speculate what romantic travel would look like in the next decade.
Refining romantic travel
By 2030, our notion of romance will have morphed and escalated to include all kinds of relationships —between friends, lovers and the self. Indulging in the potential for frisson in each distinct type of 'situationship' will fuel romantic travel and what is being sought through it.
Independent monogamy
With self-improvement and self-actualisation becoming key concerns, each partner will seek to better themselves and to support their partner's development. As a result, within a decade a trend will emerge of holidaying together, apart, to enhance those moments of shared intimacy when they do arise.
In uncoupled sleepovers, couples will book separate hotel rooms to create space and allow considered choices: deciding whether to invite their partner to stay over for the night, or opting instead to spend a morning or evening alone. Equally, couples might opt to spend a few days per trip dedicated to pursuing activities independently, allowing them time for personal growth during the day and providing an opportunity to re-unite and reconnect at night.
Status singles
Euromonitor predicts that by 2030, single-person households will see faster growth than any other household type globally and points to young professionals as a driver of this growth, as well as a population growing older alone. Equally, as stigma decreases and concerns for the environment increase, more people than ever are choosing to remain child-free. With this in mind, singledom will increasingly have an equal standing to coupledom in hospitality offerings.
With an increase in young single women who choose to holiday with significant friends as opposed to romantic partners, a market exists to cater for these platonic romances, where intimacy and connection are valued as deeply as they are in intimate sexual relationships. Hotels will provide the perfect space to meet like-minds as they attract consumers of a similar ilk. Not all solo travellers will be seeking romance, though. Some will take themselves away in search of self-care, self-love and to enhance their wellbeing. Hotel offerings can cater for these travellers by eliminating the 'singles tax' — the higher cost of a single occupancy room — giving the single consumer the same sense of indulgence and attention afforded to couples.
Co-Romancing rising
As global living, co-working and co-living rise as trends, the idea that romance consists of monogamous marriage and cohabitation will be entirely deconstructed. Co-romancing will occur, with more people taking up multiple relationships and seeking connections with various partners. The first trip polymoon (honeymoon for polyamorous people) with boyfriend number two will be considered to be as significant as the honeymoon away with one's significant other.
Fluent in the hotel concept when it comes to functionality and fluidity, co-romancers will look to luxury breaks to offer the perfect re-imagining of their living situation: distinct from the functional, essentialised co-working and co-living environments, next-level sensual bedrooms will offer a chance for nomadic workers to indulge in fantasy and romance in a completely different setting.
More hotels will embrace these new relationship configurations, adding triple beds to the standard double and twin offering, with hotel room details to match: three robes, three sets of slippers and three chocolates left at turn-down.
Purposeful travels
With a couple's preferred travel company taking care of concerns over sustainability, each part of the romantic getaway will be underpinned by the knowledge they'll be leaving no trace on the dream destinations they're visiting. Travellers will increasingly look to make a positive impact through their travels, as well as deriving a sense of paired-up progress, bonding through a sense of shared purpose on their trips. Mission based travel of this kind will become a key tenet of a couple's sense of intimacy and connection as they travel, allowing them to create memories around meaningful experiences and milestones around purpose-based activities.
For the couple, being among nature and working to protect a beloved environment is part and parcel of the romantic getaway. Indeed, millennials and younger generations are leading the trend towards sustainable travel, and will account for 75% of all consumers and travellers by 2025, according to a report by Airbnb.
Driven by concerns about overtourism, younger couples will embrace culture-driven, community venues and destinations promoting long-term, sustainable solutions to damaging tourism. The city of Venice has tackled this problem by producing the Detourism: Travel Venice Like a Local campaign. Beginning as a series of maps in 2014, the slow and sustainable tourism campaign now circulates a digital magazine, operates social media accounts and encourages hotel concierges to recommend its less busy neighbourhoods.
Hotels reimagined
The future's sexiest bedrooms
Travellers will look for intimacy, rest and emotional enhancement from their surroundings — not purely through the design and décor of the room, but through its extension onto the senses and the body. As urbanisation increases globally, hotels will find ways to re-ignite guests' senses by re-introducing them to nature. From Soneva Jani's retractable, star-gazing roofs and straight-to-sea slides to the retreat at Blue Lagoon set within the mineral-rich water of surrounding volcanic rock, farflung getaways will be an opportunity for privacy and intimacy that elevates old romantic cornerstones like the jacuzzi and in-room massage to the next level of luxury.
And beyond romantic design, rooms will become more adaptable as new technologies allow architecture to adapt to each individual occupant. No longer bound to screens, technology will be woven into the fabric of places, helping couples optimise their mood and physical wellbeing upon arrival.
An early indicator of such technology is Layer's Move smart seating for Airbus, an aeroplane seat knitted with conductive thread that responds to the occupant's weight, size and movements. Adaptable fabrics and artwork of this kind will be a feature of future hotel rooms to respond to each visitor's biometric make-up, and will be able to be programmed to suit a couple's mood — from arousal to rest. Adaptable fabrics and artwork of this kind will be a feature of future hotel rooms to respond to each visitor's biometric make-up, and will be able to be programmed to suit a couple's mood — from arousal to rest.
Having grown up surrounded by visual media, culture and stimulation, younger consumers are increasingly turning to sound as a way of decelerating, according to a new study by Spotify. This extends to sensuality, with erotic audio apps such as Dipsea and Quinn aiming to encourage female sexual curiosity and arousal through audio content. As rooms are curated to delight the senses and ignite couples' sensuality, there will be opportunities to take away different kinds of souvenirs. Entirely shoppable hotel rooms will become the norm, with items from the room selected and delivered to a guest's home in time for their arrival back.
Hotels will respond to couples' wishes to decelerate and educate themselves by providing printed pages, with curated print usurping the large in-room flat screen as smart hoteliers' core entertainment offering. With a growing awareness of the value of digital desaturation, many hotels are reviving the hotel library—an offering once thought to be defunct.
Bio-positive produce
Oysters on their own will no longer be an aphrodisiac in 2030. Instead, the aphrodisiac will lie in the experience around the oysters: a couple will help farm them sustainably, learn how to shuck them and prepare them for a romantic dinner at night. In a decade, couples will embark on adventures in dedicated veg-end breaks where sustainability and indulgence are key features, with plant-based food offerings for vegetarian and vegan lovebirds.
In a mark of things to come, an entire suite at Hilton's London Bankside location was refurbished with vegan materials and ethical design elements. The vegan suite, co-created with experience design studio Bompas & Parr, was designed to rethink every touchpoint, allowing the hotel to provide an eco-conscious luxury experience. This trend will emerge amid an increasing number of far-flung gourmet getaways, the main draw of which is their food offering. The Garden Hotpot Restaurant in Chengdu weaves through a forest in rural China, taking advantage of the region's climate to immerse diners in its verdant landscape.
Hotels will be shaped around gourmet offerings, with a trend for restaurant-first hospitality. Ergon House Hotel in Athens is situated at the foot of the Acropolis, which incorporates a marketplace that celebrates the best of Greek cuisine culture. The hotel features common spaces, in which to cook, a lounge and a gym.
Wellness awakening
Whether it's in service to self-love or coupled-up kindling, pleasure, sensuality and deceleration will become key tenets of wellness and spa offerings in the hotel space. Modern Med Spas will focus on rejuvenation, romance and sexual selfcare, as spas become destination retreats in and of themselves, and use increasingly innovative treatments to allow couples to explore pleasure and wellbeing.
Alongside this focus on pleasure and sexual wellness, bio-positive beauty will come to the fore, with treatments that are sustainably sourced throughout the supply chain. Hotel guests will enjoy their spa treatments with peace of mind, knowing that the ingredients are sourced locally, contributing to a locale's economic as well as environmental sustainability.
Equally, spas will increasingly draw on the local surroundings to inspire guests. Concepts like Caudalie's Vinothérapie, drawing on its vintage-rich setting of Bordeaux, or Euphoria Retreat's holistic blend of Hellenic and medical treatments will inspire spa-first destination retreats where a generation of couples escape to in order to unwind and decelerate.
And beyond beauty, physical wellness in the gym will be equally re-imagined. For hotels where romance is key, in-room gym facilities as well as personal trainers will be within reach of the bed, so couples can indulge in the ultimate weekend workout. Much as with the trend for gourmet getaways, fitness will become a key draw in and of itself, as fitness brands such as Equinox expand into the hospitality space, providing wowing workout spaces to act as a luxurious upgrade from guests' more routine gym experiences.
Read the full report here. Visit Mr & Mrs Smith's list of hotels.
This story was originally posted on Buro Singapore, and it has been updated with minor text adjustments.
| | |
| --- | --- |
| SHARE THE STORY | |
| Explore More | |