Lifestyle
Montblanc takes the traditional writing experience into the digital world
Write, digitise, share
Typing everything out on a device—the way of the modern-day digital world—is quick, easily edited and shared, but here the font is but a setting instead of a projection of personality, and distraction is just a notification away. The hands-on feel one gets from the traditional writing experience, on the other hand, isn't quite the same. Some may even find calm in putting pen to paper.
Here to reinvent the writing experience, Montblanc bridges these two worlds with a brand new writing innovation: the Montblanc Augmented Paper. Encased in a sleek and elegant leather envelope organiser, the Augmented Paper includes a notebook and a StarWalker writing instrument. Written notes and sketches done using the StarWalker writing instrument can be transferred from paper to your mobile device with the simple press of a button. Once on the device, your work can be translated into digital text, edited, and shared with others. The handwriting recognition technology embedded within the instrument can recognise 12 languages, including English, Chinese, German and Spanish.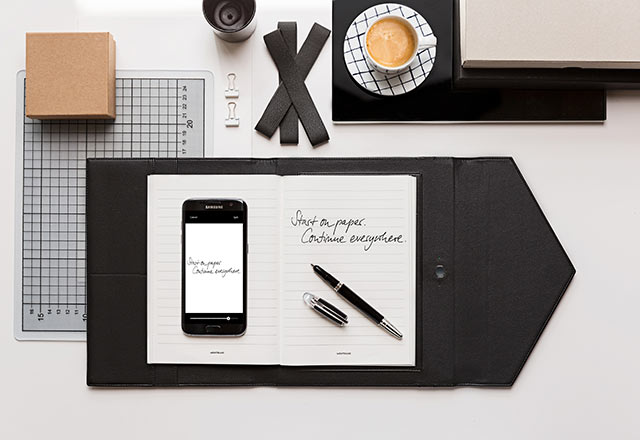 Another cool talking point of the Montblanc Augmented Paper is its long battery life. It allows up to eight hours of continuous use, or up to a week of regular work use, along with the ability to store up to 100 pages in its internal storage. What this means is even if your laptop or smartphone ran out of battery, you can continue writing with the StarWalker and your work will be stored in its memory to be transferred later. This also encourages focus and concentration during meetings and other similar occasions, where one can take down notes or work without being distracted by digital devices.
See the Montblanc Augmented Paper in action here:
Montblanc Augmented Paper is available from October 2016 in Europe, the United States, Canada, Singapore, Hong Kong and Korea. For Malaysia, kindly contact Montblanc Pavilion Boutique (03-21443323) or Montblanc KLCC Boutique (03-21662886) for more information.
Related stories:
Montblanc pays tribute to Shakespeare
The most interesting way to use tobacco leaves
| | |
| --- | --- |
| SHARE THE STORY | |
| Explore More | |