Lifestyle
Modern Mums: Emily Quak on becoming a new mother in a post-pandemic world
When a child is born, so is a mother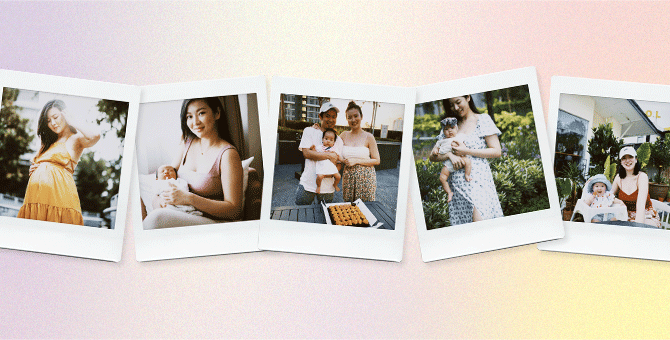 The first step of motherhood often invites more questions than answers. Beyond entering a new phase of life, the responsibility of planning for the arrival of a baby, then nurturing and ensuring the best possible environment for the child's growth is a journey one can never be fully prepared for.
With ongoing concerns about Covid-19 (and, recently, other viruses like monkeypox and hand, foot, and mouth disease), there's even more uncertainty and qualms for mothers concerning the safety of their newborns. Just ask Emily Quak, a former lawyer turned beauty content creator who welcomed her first child, Raelynn, last September.
Describing her 8-month-old as a "feisty, happy, loving ball of energy", Emily confesses that motherhood has taught her perseverance, mindfulness and love despite being a lonely journey during the pandemic. Read on for our full interview on her joys and struggles as a new mother.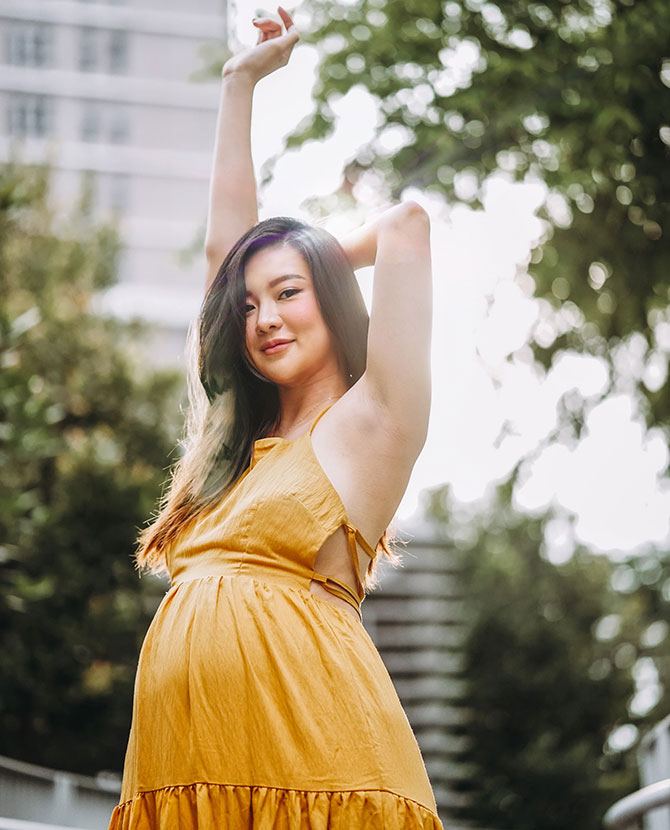 Congratulations on welcoming Raelynn into the world! How did you feel when you first found out you were pregnant during the pandemic?
"My husband and I had discussed at great length whether having a child was something we wanted, and finally decided (on my birthday!) that we were ready. Even so, I was a little shocked when I found out, but definitely excited to tell my husband and family."
What did you look forward to most about becoming a mum?
"I've always been fascinated by the mental development of a child and how you can promote and nurture it. So I have been researching and reading up on the best ways to not only boost Raelynn's mind, but also to spark her curiosity and encourage calm mindfulness and cooperation."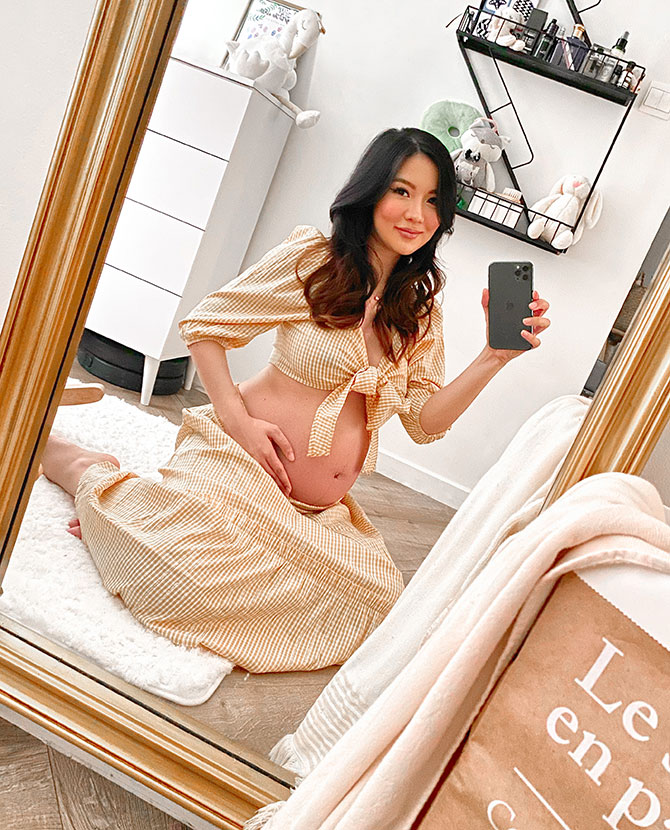 How would you describe your pregnancy journey as a new mother?
"My first trimester wasn't easy (as is usually the case for many pregnancies) but the rest of it was pure excitement. I expected Raelynn to come early and was eagerly predicting which day she'd arrive—I guessed it would be 11 September (9/11)—but this little one chose to make her entrance on her exact due date, 25 September (at 9.11pm!)."
What are some of the challenges you have faced during and after pregnancy, especially during the lockdowns?
"The lack of support and excitement. When I was younger, I imagined I might be the glowing pregnant woman that people would stop in the street or at a cafe to say congratulations to. Sadly, I didn't experience that since I barely met anyone throughout my pregnancy. It was lonely, for sure. It still is now, since we are being extra cautious as Raelynn has no access to any Covid vaccine. We get judgemental remarks and even some snide comments when people think we're not listening. It's sad that people feel the need to judge, but we are doing the best we can for our baby."
How did you overcome these challenges?
"Thankfully, I have a family who are more than willing to take the necessary precautions to protect Raelynn at the cost of their own social lives. I appreciate them so much and they've been such a joy to have around Raelynn and such a huge help to a new mum like me!"
What tips do you have for other new mums who may be facing these challenges?
Don't feel like you need to be strong! Everyone needs support, so go out and seek it! If you're dealing with the pandemic and being cautious like me, find people who are just as cautious and form your own little bubble. You could also seek out a community online, or meet outdoors at the park. It's important to seek support when you need it, because dwelling in your own dark or lonely thoughts can be damaging to you and your family. In my family, there is a history of depression, so I'm very aware of my thoughts and emotions, and I always try to find ways to release stress and center myself.
How do you juggle between your career and personal life while taking on the role of a new mother?
"I'm still trying to! I prioritise this little one over everything else, and I'm still trying to find ways to balance between her and my other responsibilities. (Mamas, please give me a call or DM and share your tips!). I literally have no time to myself now. My husband and I are caring for Raelynn without help, so we pretty much have to work whilst she naps or trade off whenever someone has a little time on their hands and the other needs to attend to work. Luckily, we both have relatively flexible schedules, so we're making it work for now.
"As far as my personal grooming and routine, if you saw me in the street you might not recognise me! I've always been low maintenance but I can throw on a good glam when I'm in the mood. Unfortunately, with a baby to take care of, I barely have time for brows and concealer and I'm out the door!"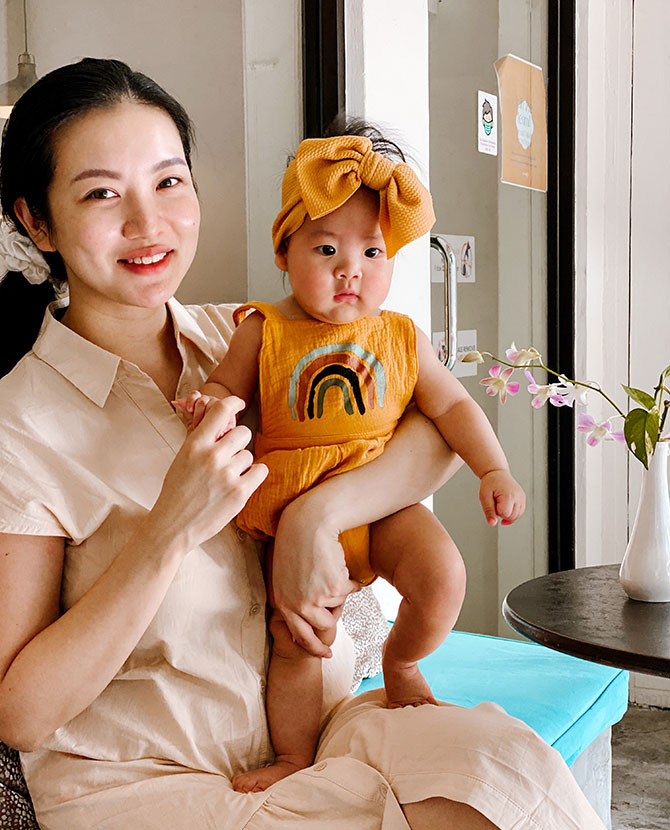 Have you faced mum-guilt or mum-shaming? If so, how do you deal with it?
"Yes, all the time! I try to remember that mum-shaming says more about the person running their mouth (or keyboard) than it does about my mothering, and so I brush their comments aside and soldier on."
What were some memorable moments you had with your daughter during the pandemic?
"I think my absolute favourite thing is just being present. I've had the opportunity to be home, together with my husband and sometimes my own extended family, through so many of Raelynn's milestones. She is extremely active and loves being around people, and to be honest I'm kind of the opposite! But I love her energy and her love for people, and she makes me want to go out and explore more."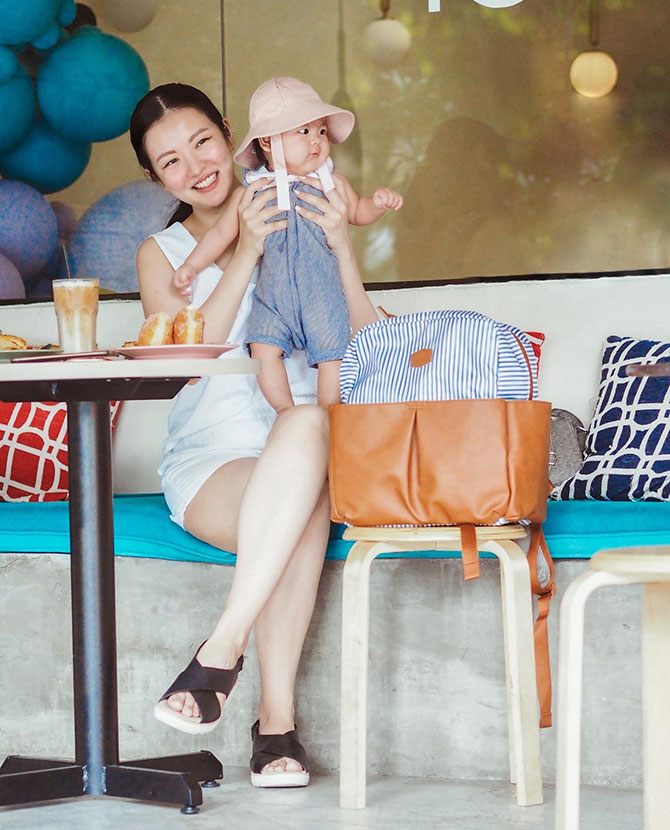 What does motherhood mean to you?
"Motherhood means loving more than you thought you ever could, and sacrificing more than anyone (with the exception of other mothers!) can know, but being willing to do it all over again in a heartbeat."
Keep up with Emily on Instagram @emilyquak.
Read more stories on motherhood here.
| | |
| --- | --- |
| SHARE THE STORY | |
| Explore More | |