Previously, the Buro 24/7 Malaysia team had their first encounter with meditation through Sound Bath in a #FitnessFriday episode. This time, we tried it with art. Imagine closing your eyes, opening your heart and focusing on your inner peace. Fifteen minutes later, let your spiritual mind guide your hand in creating your batik design and painting in the colours. This is the Meditation through Batik workshop by Cotton & Sago, a social initiative making efforts to create a more sustainable income for the batik artisans from Kuala Terengganu while promoting the art itself. Watch this month's episode of Buro Tries below for a glimpse of what the Meditation through Batik workshop entails:
Jasmine Leong, Senior Fashion Writer
When I found out that we were up for a session of meditation through batik, I was absolutely intrigued. While I know that painting can get really therapeutic, but batik painting with hot wax involved? This, I got to see. After we made ourselves comfortable in a circle, we started our meditation session with Shelley. We were told to relax with our eyes closed and were later asked a few questions. Although I had quite a difficult time concentrating (the room was rather noisy), surprisingly, I was able to visualise whatever that was described by Shelley while we were meditating. Next, we proceeded to batik painting, guided by Mr Lazim. As I suspected, applying wax in fine lines with the canting tool was anything but easy. Thankfully, Mr Lazim was patient and encouraging. Before I knew it, I was already done with the wax application and started painting—my favourite part of the session. My batik painting was no masterpiece but it certainly did not stop me from having fun. Who knew creating ombré effects with watercolours on fabric could be so enjoyable? I'd definitely do it again! Only next time, I will (try to) ace the fine lines.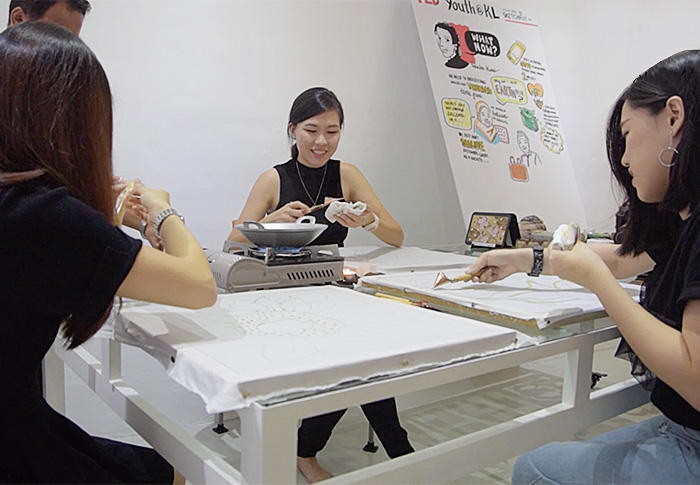 Rachel Au, Senior Lifestyle Writer
I've never been really good with meditations even though Shelley's voice was pleasantly soothing. In general, I usually find it so hard to quiet my mind (with the only exception being when I'm having food coma). Still, all was not in vain. Art itself is, after all, therapeutic and the workshop was a great stress reliever. The batik canting part with the oil was slightly tricky but not completely foreign. It reminded me of the time we tried making pewter accessories by freehand. Then, with the finished pattern, we fill the gaps with an array of watercolours where an ombre effect is also possible. Being too excited, my batik design ended up looking like a unicorn had just pooped on a butterfly. That's okay. Art is abstract, right? In all seriousness, I learnt the basics of this traditional art and it's true that we should preserve this heritage and support the local artisans who don't get enough credit for their skills.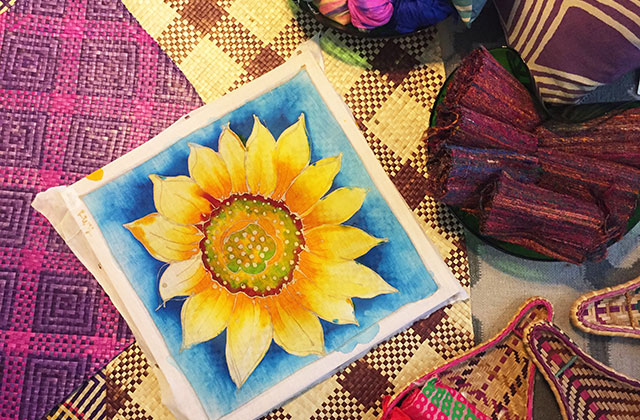 Loh Wei Yeen, Fashion & Beauty Writer
I've only used meditation as a means to clear my mind and relax (usually before going to bed), so doing it before embarking on something creative was a new experience to me. But on this occasion I found that it helped me de-stress along with visualise what I wanted to paint thereafter. Mr Lazim was super helpful with teaching us how to use the hot wax to create specific batik prints and how to fill them in with watercolours—gradient by gradient. If not for his patience (and assistance), there would have been irregular squiggles on my piece of cloth as an attempt to show off my less-than-impressive artistic skills. But it was interesting to find out more about our nation's proudest form of textile art during this session—I guess the extra perk would be the unwind-and-relax part.
For more info on the Meditation through Batik workshop, visit Cotton & Sago's website or Facebook. This video was shot at Earth Heir@Ampang Point, another social initiative which celebrates traditional craftsmanship while empowering artisans to achieve sustainable livelihoods.
Watch the previous episodes of Buro Tries:
Buro Tries: Pyrography Art (Wood Burning) with Black Milk Project
Buro Tries: Latte Art with Common Man Coffee Roasters KL
| | |
| --- | --- |
| SHARE THE STORY | |
| Explore More | |