Lifestyle
Get on board Keretapi Sarong to celebrate Malaysia Day
For the culture
FEATURED IMAGES: @LOCCOMY / INSTAGRAM, @TUNRAZAKEXCHANGE / INSTAGRAM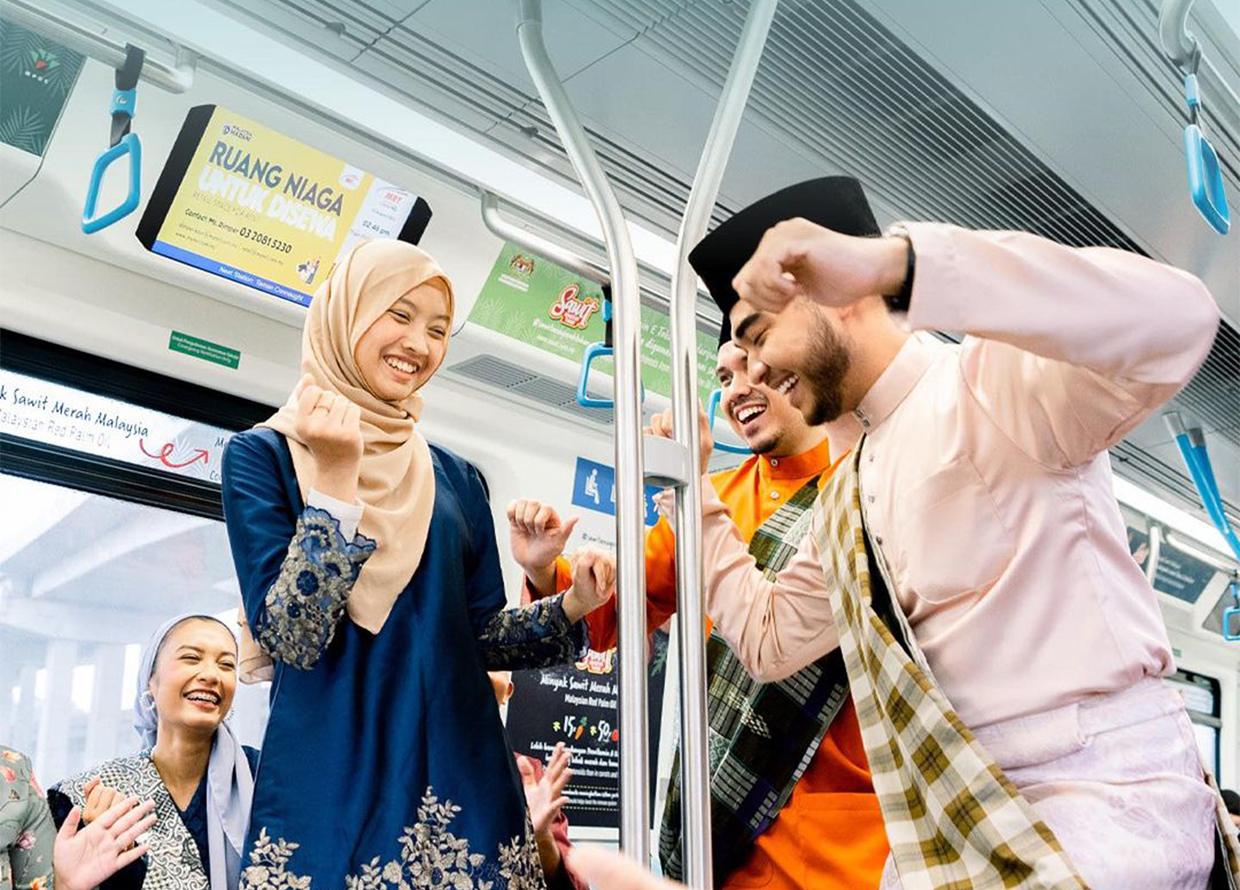 Have you ever wondered why people dress up in sarongs and traditional attire on Malaysia Day? Well, it's because thousands of people come together to celebrate at Keretapi Sarong. 
Regardless of how we feel about our country, one thing's for sure: we are proud of the culture we have. The idea behind Keretapi Sarong was simple—to create awareness for the Malaysian sarong and the story behind it. The event also upholds the sarong as a symbol of unity and is celebrated on Malaysia Day as a celebration for the people by the people. 
The journey starts at a train station of your choice and ends at a secret location. During the journey, people would sing along to traditional Malaysian songs like Rasa Sayang, Can Mali Can, and more. The celebration only gets better when they reach the final destination, where there are performances and plenty of traditional activities that they can partake in. 
We spoke to Adam Faizal, the Community and Activation Coordinator for Keretapi Sarong and Content Strategist for Locco to find out more about the event.
View this post on Instagram
Could you tell us the history behind Keretapi Sarong?
"Originally, this event was organised by another group, Random Alphabets, but then they stopped. In 2017, we were interested in organising an event in conjunction with the campaign Sayangi Malaysia, so we reached out to their team and asked if we could run Keretapi Sarong and they agreed."
What do you think has changed for Keretapi Sarong over the years?
"I think the significant change is, of course, the number of participants. It started with 1,000 people in 2017 then it doubled up to 2,000 the next year. Then in 2019, we got a crowd of 5,000 people. During the pandemic, sadly, we couldn't do the Keretapi Sarong event but we converted it to a campaign of Hari Sarong where we conducted an online activation. We didn't know how many people to expect at the time, but continued with the online campaign and it turned out that every state in Malaysia participated in the campaign. After the pandemic was over in 2022, we had a comeback and did it at Pavilion Kuala Lumpur with a crowd that was over 6,000."
View this post on Instagram
What can participants look forward to this year?
"I think what makes this year different is the partnerships with our community and the people behind it. There are non-governmental organisations that we are working together with to enhance the experience." 
Have you met people who came down to KL to join the event?
"Oh, absolutely! Some people look forward to the event and they plan things out weeks before."
So it's a whole event for them?
"Yeah, people will always be asking us, "Will it be happening again this year?". We always see familiar faces, and some people come from other states because the experience in KL is bigger compared to other places." 
Usually, the final location is kept a secret. But this year, for the first time, the final location was revealed, is there a reason why? 
"Yes, it is. Since the number is growing, we are worried that we won't be able to cater to everyone on the train. We revealed the seven stations that are the starting points earlier, but based on past experiences, people are split into two trains. So the experience becomes less intimate than before because the crowd is bigger. That's why we revealed it to give participants the option to go directly to the final location, Dataran Merdeka." 
View this post on Instagram
The Ikat Tepi experience is also a new addition to Keretapi Sarong, can you tell us about it?
"Ikat Tepi is a more intimate event that's an extension of Keretapi Sarong. There will be classes, workshops, sharing sessions, and performances. It's also the platform for others to have a deeper understanding of the Keretapi Sarong experience. We're not just showcasing performances but we're also showing the significance of the sarong itself; the uses, the culture, and the history behind it. And how sarong is a universal piece and goes beyond ethnicities." 
What advice can you give to first-time goers? 
"For first-timers and ones that are solo, we have a group called Geng Takde Geng. We invite people to join the group on Telegram. There, they can start making friends and organising their plans. In my opinion, you won't feel left out when you join Keretapi Sarong because the crowd is very welcoming." 
If you are joining Keretapi Sarong this year, here's what you need to know:
The theme:
This year's theme is ethnicity, so dress in an outfit that represents your culture. We're talking gorgeous kebayas, colourful cheongsams, vibrant sarees, and more! 
The starting points:
These are the starting points where you should gather at 8.30am: 
LRT Stations: KL Sentral, Subang Jaya, Ampang, and Gombak

MRT stations: Bandar Utama and Kajang

KLIA Transit: Putrajaya Sentral
For more information on Keretapi Sarong, follow @loccomy. 
| | |
| --- | --- |
| SHARE THE STORY | |
| Explore More | |