Lifestyle
#InstaLove: Christmas bagels and unicorn hot chocolate now exist
Bring on the holiday spirit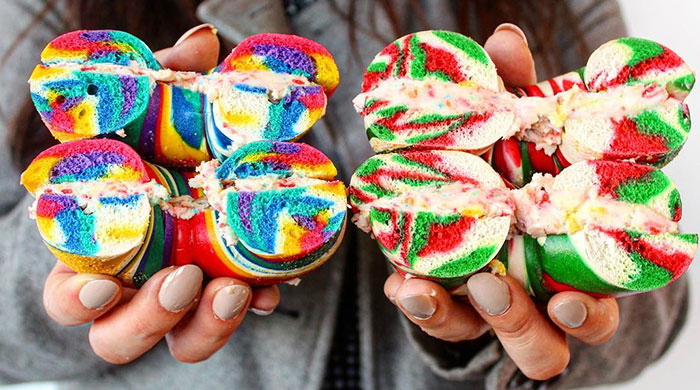 We recently featured local bakers with the prettiest Christmas treats (including a reindeer cake) for our #InstaLove series but this time, it's back to the United States where a Christmas bagel was spotted in San Diego and a unicorn hot chocolate in Anaheim—and they're everything that's Instagram-worthy.
First up, Square Bar Cafe in San Diego is no stranger to having wild ideas for its menu and seeing that the holidays are coming up, they've conjured together Christmas-themed bagels that are pure edible joy.
They can be paired with your cream cheese of choice: plain, Oreo or Fruity Pebbles. Yes, the people behind the cafe are that creative but take a closer look and you can probably guess how delicious they look as well.
In another city of California, Crème and Sugar might as well add creators of magical unicorn treats to their profile with the latest invention being unicorn hot chocolate. (And we thought unicorn toast—and a healthy one at that—was mindblowing enough.)
While the cup of pink-dyed white hot chocolate topped with pastel marshmallows and rainbow sprinkles look literally like a cup of sugar, it's definitely every unicorn lover's dream.
Related stories:
#InstaLove: Rainbow sushi that is both pretty and healthy
#InstaLove: Birthday cake croissants
| | |
| --- | --- |
| SHARE THE STORY | |
| Explore More | |