Sustainability has always been one of our favourite topics, which got us thinking, "How far can we take it?" Sure, we can carry KeepCups and metal straws around; opt for a more fuel-efficient vehicle; and consider eco-friendly fabrics. What else? Oh, what about parties? We asked three founders of local stores that promote a zero-waste lifestyle — Claire Sancelot of The Hive Bulk Foods, Najmia Zulkarnain of The Pilgrims, and Malika Bouqniss of Frangipani — exactly how that practice can be adapted for parties. 
DO'S
Najmia: I've got three. 
Get in touch with Mother Nature — Nothing beats a space in tune with nature be it outdoors, semi-outdoors or indoors with lots of greenery. It's good for purifying the air, lifting moods and best of all, it acts as a beautiful, natural decor.
Essential oils/diffusers — We often resort to party decor and music to create the atmosphere. Awakening the senses with smell can be a great way to create a positive and uplifting environment. 
Tasty plant-based finger food — Yes, nutritional food can be yummy when prepared with creativity and love.
DON'TS
Claire: No balloons, plastic cutleries and cheap plastic party favours (they'll break after a few hours anyway).
INVITATIONS
Claire: E-invites, of course. You can send them via email, WhatsApp or even set up a Facebook event page.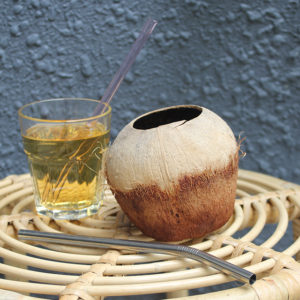 PARTY DECOR
Najmia: Think reusable versus disposable. There are many great natural and easily-obtainable plants and tropical decor which we can use to create a vibrant space. For starters, instead of balloons, opt for plants and flowers.
Table Mats — Banana leaves (available at any mamak)

Cups — Reusable jars

Flower/plant jars or drinking Jars — Pineapple and coconut shells

Table cover/picnic mats and floor seating covers — non-GMO fast-drying Turkish Towels (available by Real.m)

Serving bowls and tray — Rattan baskets/décor (available by Mettise Maison)
UTENSILS
Claire: Use bamboo cutlery and paper products (non-plastic-coated cups and plates) but only if you don't have enough reusable ones first.
Malika: Some biodegradable party utensils are not necessarily "zero-waste" or 100 per cent biodegradable. Buying then throwing them out also means it's not entirely "zero-waste". My advice is to reuse. If it's a small house party, ask your friends, family or neighbours to lend you their tableware. If it's a larger gathering, rent them or just ask your caterer. 
GIFTS LIST
Claire: Perhaps suggest to your guests to contribute for a big gift instead (a trip, tickets to a concert, cooking class, etc). 
Najmia: Firstly, be sure to remind your guests to use recyclable gift wrappers or none at all. They can also use old cloth or reusable bags. As for the gifts, these are pretty nice and functional:
Dried foods and granola jars 

Plants for the home

Experiences whether it's a ticket or coupon to a spa, movie, concert and/or workshop

Conscious lifestyle products with high usage such as Real.m Travel Towels for the home, Body Scrubs by Root Remedies, Metal Straws by The Hive Bulk Foods and more
GAMES/ACTIVITIES
Claire: Ball games, hire a magician — there are plenty of games that don't generate waste. You can even set up food stations instead where your guests can make their own granolas or cookies, then they can bring those home as party favours. 
Najmia: You can try dyeing with natural dyes with local upcoming brand Muniminalism. The shift back to using natural dyes for clothing and textile is a more sustainable step in saving the ocean and land from large amounts of toxins from clothing production and wastage. Alternatively, batik painting with natural dyes. 
LEFTOVER FOOD
Malika: Food waste is a real issue and the first step to reducing chances of this is by confirming your RSVPs so you don't over-cater. The second step is to find places around you where you can bring the leftovers: a refugee community, a mosque or an association like The Lost Food Project, which rescues food and redistributes it to the needy.
Claire: Ask guests to bring containers in case of leftovers. Who wouldn't want cake for breakfast?
You can shop for more sustainable lifestyle products at:
The Hive Bulk Foods: Website | Facebook | Instagram
92A, Lorong Maarof, Bangsar
The Pilgrims: Facebook | Instagram
Level 1, Bangsar Village II
Frangipani: Website | Instagram
The Linc KL
| | |
| --- | --- |
| SHARE THE STORY | |
| Explore More | |