Updated: 17 May 2021
The second round of opt-in for the AstraZeneca Covid-19 vaccination in Malaysia will open on May 23. However, Science, Technology and Innovation Minister Khairy Jamaluddin has clarified that priority will be given to the senior citizens (60 years old and above) first. These elderly folk will have to be residing in Selangor, Kuala Lumpur, Penang, Sarawak and Johor.
In addition, those who registered to be waitlisted during the first opt-in will be issued appointments as well. Doses will then be offered to those below 60 once there are doses left after allocating to the senior citizens who sign up for the AstraZeneca Covid-19 vaccination.
READ MORE: What to do if you get side effects from the vaccine
Meanwhile, if you're still unsure of what to do on the day of your vaccination, here's a helpful guide by the official Vaksin Covid-19 Twitter account: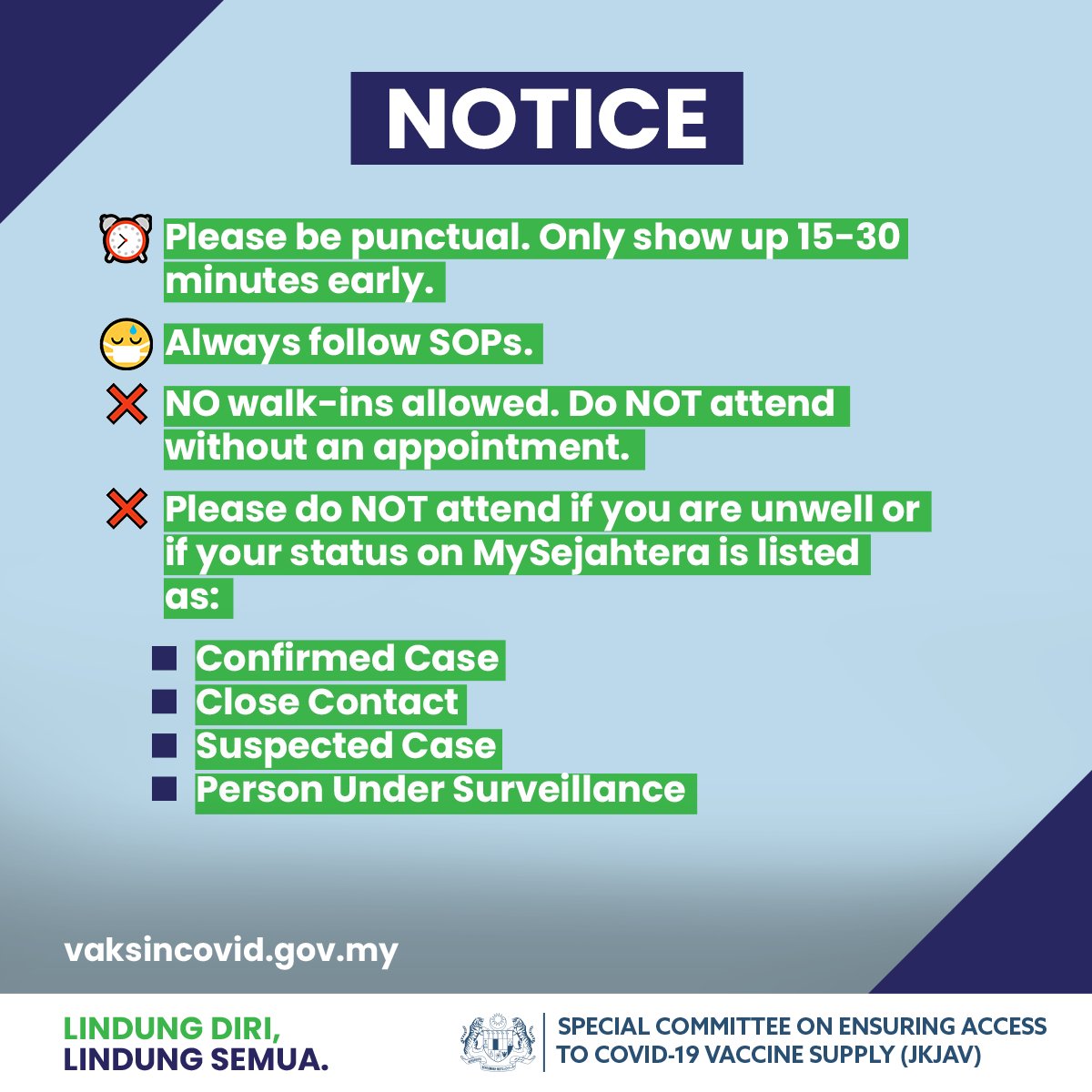 Here are a couple more tips shared by the Twitterverse:
To ease your appointment at the vaccination administration centre (PPV), please follow the tips listed.Also, do remember to be punctual for your appointment to avoid disappointment.Register for vaccination: https://t.co/8VAVxosbn0#LindungDiriLindungSemua pic.twitter.com/yVAxBpr3Rp

— Vaksin COVID-19 (@JKJAVMY) May 15, 2021
Before I forget, 1) There is a special lane for Senior Citizens and OKU which starts from the entrance of the hall. They will regularly announce for these 2 categories to take the lane. And it is indeed a fast lane! Great job @JKJAVMY! #CucukMyAZ

— Liyana (@nurezzahliyana) May 16, 2021
5. Wear appropriate clothes. Avoid wearing hard-to-roll sleeve clothes. Wear loose or short sleeve. For muslim ladies, you can wear cardigans.6. Bring a pen! You have to sign a consent note once you are inside.7. Keep your distance and stop kepochi with other participants.

— HakimZahar (@hakim__zahar) May 15, 2021
10. Take your observation session seriously. Usually it will take at most 30 minutes after the jab. Report to the medical team if you feel nausea or any weird feeling.11. If all is good, the whole experience in WTC PPV will take at most 2 hours. So bring water ok? Goodluck!

— HakimZahar (@hakim__zahar) May 15, 2021

Updated: 23 February 2021
Things are looking a little brighter in the country. Malaysia's number of Covid-19 infections has dwindled to the 2,000 ranges; the first batch of Covid-19 vaccines (Pfizer-Biontech) is scheduled to arrive in the country on February 21, or even five days earlier, as disclosed by Prime Minister Tan Sri Muhyiddin Yassin today. His announcement coincides with the launch of the official website and guidebook for the National Covid-19 Immunisation Plan (NIP).
In addition, the PM said that the first rollout of Malaysia's vaccination plan will begin on February 26. "On that day, I will be the first to receive the vaccine along with medical frontliners," he said.
Malaysia is getting five types of Covid-19 vaccines: Pfizer-Biontech, AstraZeneca, Sinovac, CanSinoBio and Sputnik V. Pfizer-Biontech is the first of the five to be approved while the rest are still awaiting approval by the National Pharmaceutical Regulatory Agency (NPRA).
MORE: What are the pros, cons and side effects of the Covid-19 vaccinations for Malaysia
Khabar gembira yang dinantikan semua. Kumpulan vaksin pertama akan tiba di Malaysia. Muat turun maklumat lanjut di https://t.co/c6JUco6Dhl #LindungDiriLindungSemua pic.twitter.com/337O6wgWvv

— JKJAV (@JKJAVMY) February 16, 2021
Below is a brief overview of FAQs regarding the Covid-19 vaccination programme in Malaysia:
The National Covid-19 Immunisation Plan (NIP) will take place in three phases.
PHASE 1 (February – April 2021)
500,000 people
Frontliners (public and private healthcare workers), frontline personnel in essential and defence services
PHASE 2 (April – August 2021)
9.4 million people
The rest of the staff in healthcare, essential and defence services; the elderly (aged 65 years and above); high-risk groups with chronic diseases such as heart disease, obesity, diabetes and high blood pressure; people with disabilities (OKU)
PHASE 3 (May 2021 – February 2022)
13.7 million people (or more)
Residents aged 18 and above (citizens and non-citizens*). Priority will be given to those in the red, yellow and then green zones (in that order).
*Non-citizens include diplomats, expatriates, students, foreign spouses and children, foreign workers & UNHCR card holders.
"No one is safe, until everyone is safe."The National COVID-19 Immunisation Program also provides free vaccines to foreigners in Malaysia. Download the MySejahtera app for more info on vaccination registration: https://t.co/YOXtrwfuiJ #LindungDiriLindungSemua pic.twitter.com/gSpgW0WST4

— JKJAV (@JKJAVMY) February 12, 2021
What about children?
As the current vaccines are only clinically approved for those who are 18 years old and above, children will not be receiving the vaccinations (yet).
Pfizer and Moderna are testing their coronavirus vaccines on children 12 and older. They hope to have results by late summer. https://t.co/QzwmcR2mFC

— The New York Times (@nytimes) February 15, 2021
What if I'm pregnant?
Health Minister Datuk Seri Dr Adham Baba has announced that pregnant women as well as nursing mothers "would not be given the shot based on a resolution of the Covid-19 Vaccine Supply Access Guarantee Special Committee (JKJAV)." In the same article, it was reported that since there is no clinical evidence to support the vaccine's safe usage for this category of people, it is best to skip it to avoid side effects.
Do I have to pay?
No, the vaccines are free. They are also voluntary though it is highly encouraged to receive it to help achieve the goal of forming a herd immunity.
What do I have to do?
Those who wish to participate in the immunisation programme can register via the MySejahtera app or the newly-launched VaksinCovid website.
Berikut adalah 5 kaedah pendaftaran vaksinasi COVID-19 yang boleh dilakukan bermula Mac 2021. Untuk maklumat lanjut tentang kaedah-kaedah ini, layari https://t.co/c6JUco6Dhl #LindungDiriLindungSemua pic.twitter.com/X77ZToCX8H

— JKJAV (@JKJAVMY) February 16, 2021
Note: Registration is expected to take place beginning March.
Updated on 23 Feb 2021:
You can now register your "interest" to receive the Covid-19 vaccine shots via a new MySejahtera app (for both iOS and Android devices). Upon updating the app, you'll find a "Covid-19 vaccination" icon on the main screen where registration will require the following information:
Verifying your full name
MyKad number
Contact number
Responding to four questions, which includes your current residence address and comorbidities history
You may then enable notifications for future vaccination status updates, although appointment details will also be shared via a phone call or SMS.
There is no indication, however, that early registration equals to earlier access. The process is expected to officially begin in March; when the public can also register their interest via "the soon-to-launched hotline, Special Committee on Covid-19 Vaccine Supply Access Guarantee (JKJAV) official website, outreach programme at rural/interior areas, and at public and private healthcare facilities".
What will the vaccination process look like?
According to the Malay Mail, on the day of your vaccination appointment:
1) Go through temperature checks and close-contact screening
2) Confirm your identity by registering using the QR code provided
3) Receive consultation then fill up permission forms
4) Receive your first vaccination dosage
5) You'll have to remain under observation at the premises for 30 minutes
6) After that, you'll be issued a vaccination card and given an appointment date for the second dose (if applicable)
*The same procedure is expected when you go for your second appointment. Once the vaccination process (or dosage) is complete, you'll receive a Covid-19 Immunisation Certificate.
Updated on 23 Feb 2021:
In a recent article by the Malay Mail, Health Minister Datuk Seri Dr Adham Baba was quoted saying the procedure (up till the vaccine jab) would take approximately 10 to 15 minutes, excluding the observation period.
Why do I have to register?
Science, Technology and Innovation Minister Khairy Jamaluddin responded to naysayers with the following tweet:
Perlu daftar untuk masuk appointments management system. Most countries give out vaccinations based on appointments. Asking people to just show up will create huge queues or wastage. Appointments management system will also assist with vaccine logistics – how many to send where. https://t.co/Ht4ZkPf73U

— Khairy Jamaluddin (@Khairykj) February 13, 2021
The registration process is part of making an appointment. Then they will be given the stipulated date, time and place based on the info given e.g. where they live which may not be the same as their IC address. https://t.co/mwk2h6uIZf

— Khairy Jamaluddin (@Khairykj) February 13, 2021
What if I get side effects?
Khairy told Reuters that "Malaysia's cabinet has also agreed to prepare a special injury scheme to compensate people who experience serious side-effects after receiving the vaccine".
Slight fever, headaches and soreness at the site of injection are some normal side effects of any vaccination. For COVID-19 vaccines these side effects only last a couple of days, if at all. Many have said they have displayed no side effects. https://t.co/6jf3C2DTt4

— Khairy Jamaluddin (@Khairykj) February 14, 2021
Individuals will need to observe for any potential side effects on their own. If there are any, report them via the MySejahtera app, the website or head to the closest government clinic.
Can I choose which Covid-19 vaccine to receive?
You won't be able to choose which vaccine you will get. All vaccines approved by NPRA @KKMPutrajaya are safe and efficacious. At the moment only Pfizer has been approved. AstraZeneca, Sputnik, Sinovac are currently being evaluated. Website to be launched on Tuesday w/ FAQs. https://t.co/AfwaymNo6E

— Khairy Jamaluddin (@Khairykj) February 14, 2021
How do I determine the date for my second dosage of the vaccine?
When you come for your first dose, you will be given an appointment card. It will also be recorded in your MySejahtera. The date for your second dose will be noted down. For Pfizer it will be 21 days after. Other vaccines may be different. You will also get a reminder. https://t.co/FbGSji1juc

— Khairy Jamaluddin (@Khairykj) February 13, 2021
If I've been infected with Covid-19 before, do I still need to get vaccinated?
This is because studies show that COVID-19 antibodies drop rapidly after recovering from the illness. So even if you have been infected, get the vaccine. #LindungDiriLindungSemua https://t.co/bcFOHTQhDk

— Khairy Jamaluddin (@Khairykj) February 14, 2021
You can also find out more info via the 'Covid-19 National Immunisation Programme guidebook' which you can download via the VaksinCovid website. It covers the timeline, the impact or side effects of the vaccines, and more.
| | |
| --- | --- |
| SHARE THE STORY | |
| Explore More | |