Looking for things to do this weekend? The BURO Weekend Guide has a couple of neat ideas for you and your loved ones
1. Wet & Licky
When: 1 May 2021, Saturday
Time: 4pm till late
Where: Wet Deck, Level 12 @ W Kuala Lumpur
Reservations: 6012 347 9088 or [email protected]
Two of the hottest spots in town are coming together for an enjoyable collaboration. Licky Chan is an up-and-coming ice cream parlour in the city, known for its wacky flavours and Instagrammable aesthetic. And W Kuala Lumpur is synonymous with its fun energy. Together, expect an afternoon (turned evening and then, night) of ice cream by the pool. We hear there'll be some exciting flavours to try—including boozy ones too! Be sure to stay past 6pm cos that's when ice cream and Barcardi cocktails will be served.
For more info, visit their Facebook.
2. Order in of Chef Wan's Ramadhan sharing sets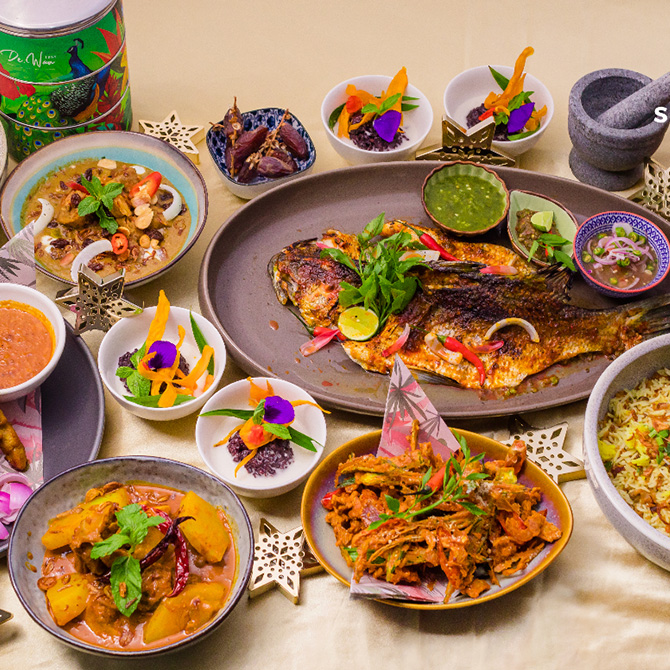 Prefer to stay at home this weekend? Liven it up with Smartbite's collaboration with De.Wan 1958 by Chef Wan—delectable Ramadhan feasts for the family, featuring only the best classic Malay dishes. There are two sets (RM248+ and RM368+ respectively) to choose from, and each serves enough for up to four to five people. Expect tantalising items such as Chef Wan's famous Ikan Jenahak, the fan-favourite Daging Puteri Manis and the signature Ayam Pencok. Are you salivating yet?
For more information or to order, head to SmartBite's website.
MORE: Alternatively, check out our list of Ramadan buffets in KL
3. Fabrications 101 Workshop
Where: Me.reka, Publika
When: Pick a time between 11am - 4pm, Mon-Sun
Price: RM200
Looking to pick up a new skill (that's not baking)? Me.reka's Master Builder, Tauqeer, is up for the task of guiding you through the process of woodworking, metalworking and welding. Yes, you'll really get your hands dirty, learning how to handle tools such as the grinder and the drop saw. The aim is to show you how to breathe life into materials, just with an idea you might have.
To register, click here.
4. "Let's Mess Up Luigi's Kitchen"—a one-night-only culinary mashup
When: 29 April 2021, Thursday
Time: Pre-dinner drinks at 6pm, dinner at 7pm
Where: Mandarin Grill @ Mandarin Oriental, Kuala Lumpur
Price: RM588 per person
Some of the best chefs in KL are coming together to, well, mess up the kitchen of Luigi Stinga, Chef de Cuisine of Mandarin Grill. That's what friends do, right? But instead of a real mess, diners will get to enjoy a unique seven-course degustation menu, transporting your senses from Asia to Europe. Chef Luigi will be joined by Jun Wong of Kikubari, Chai Chun Boon of Copper, Tyson Gee of Atas – Modern Malaysian, Lroy Lim of Willow, and Jeff Ramsey of Japas. It's a stellar line-up, complemented by guest bartender Giovanni Andrea Magliaro of Frank's Bar with his delicious cocktails that boasts his unmistakable flair.
For more information or reservations, call +603 2330 8798 or email [email protected]
5. Donate your unwanted denim pieces for a good cause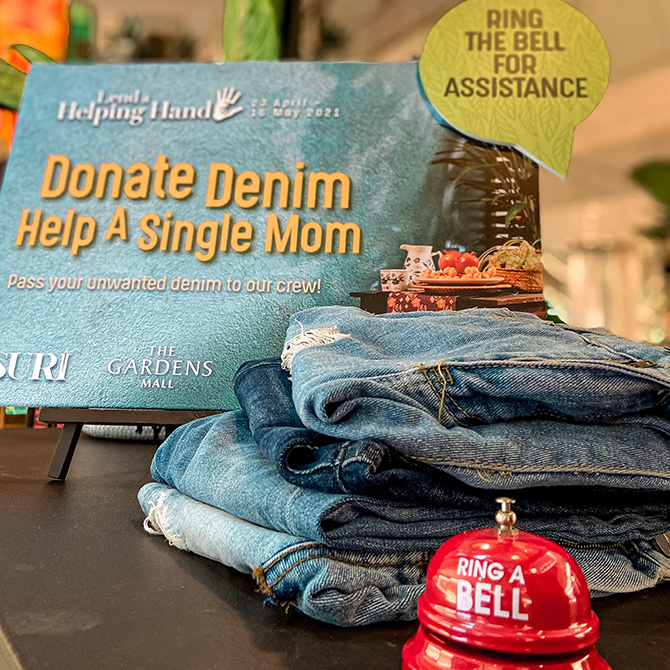 Where: The Gardens Mall
A little help goes a long way so, if you have any unwanted denim pieces lying around, drop them off at the South Palm (Ground Floor) of The Gardens Mall. The collected items will then be donated to the single mothers of Suri, a social enterprise that employs single mothers from low-income communities. The women will transform the material into new clothes and other household items. That's helping two causes: the women in need and the environment.
6. Riuh Raya/Tiffin Ber-Riuh Raya
When: 1 & 2 May 2021, Sat & Sun
Time: 2pm - 10pm
Where: Sentul Depot
At long last, Riuh is back after more than a year's absence. Following strict SOPs*, the event is even bigger than before, and it'll be a collaboration with Tiffin (yes, they're back, and you can check out their upcoming plans here). There will be much to explore as the line-up includes 52 exciting homegrown brands and a delicious curation of 12 F&B purveyors. Supporting local includes supporting charities—shopping from any of the 12 'Buy For Impact' retail vendors will give back to groups like single mothers, youth refugees, and more. Last but not least, what's a Riuh outing without live performances. Headliners include Ushera, Colour of Voices, Mai, Merakki and more.
*To ensure crowd control and in adherence to strict SOPs, event admission will be by admission only. Register for your slot here.
For more information, visit Riuh's new website.
7. Win yourself a 'Monkey Shoulder: After-Work Drinks kit'
The giveaway ends this Sunday, 2 May 2021, and it consists of two Monkey Shoulder bottled cocktails, a mini speaker, card games and more. Don't miss out!