With the interstate and national borders still shut (understandably so), many are starving for new experiences. Some take up baking, hiking, or trying the latest restaurants in town, to name a few. While there's still plenty to discover in Selangor, there's something just as good coming up: Tiffin—yes, the same people who did Tiffin Food Court—is back. With quite a few exciting culinary events and collaborations lined up, they're bigger and bolder than before.
"Tiffin has always prided itself as being at the intersection of the culinary and creative scenes. So, it's very inspiring to be back working with some of the best talents from these communities. In essence, the gift packs, pop-up events and food court are truly a celebration of this creativity and camaraderie albeit in different forms," says Adrian Yap, founder of Tiffin.
Here's what you can expect from Tiffin in the next few months:
Tiffin Gift Pack
You know of great dining establishments like Dewakan, A Little Farm on the Hill and gēn 根, perhaps even dined at them, but you definitely haven't tried anything from the Tiffin Gift Pack. Housed in a beautiful gift box designed by creative outfit Fictionist Studio, it's a gift pack featuring fun and delicious delicacies created by some of the top names in the local culinary scene. Some of which were crafted exclusively for Tiffin, such as Dewakan's Banana Ketchup, OpenHouse's Sambal Hitam Pahang, A Little Farm on the Hill's Salted Gula Melaka Biscuit, and Au Jardin's Nutmeg and Roselle Jam. Inspired by the tiffin carrier, the fun gift box can be reused as a spice rack or tray organiser.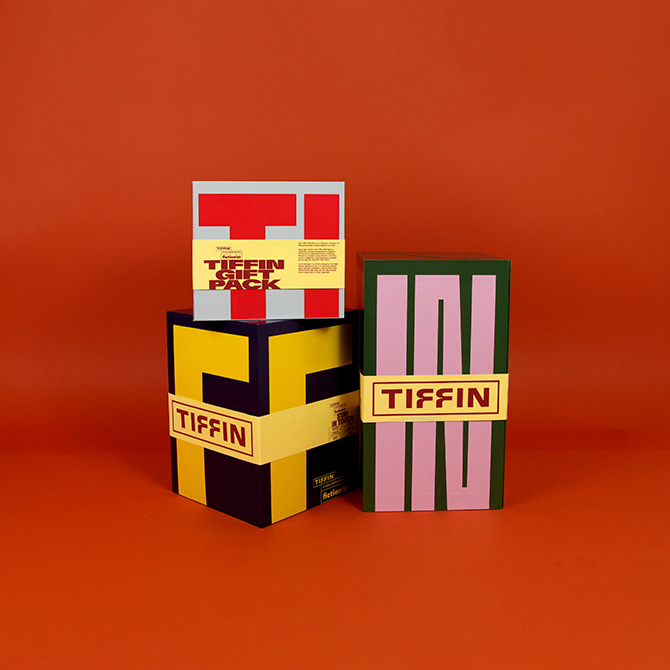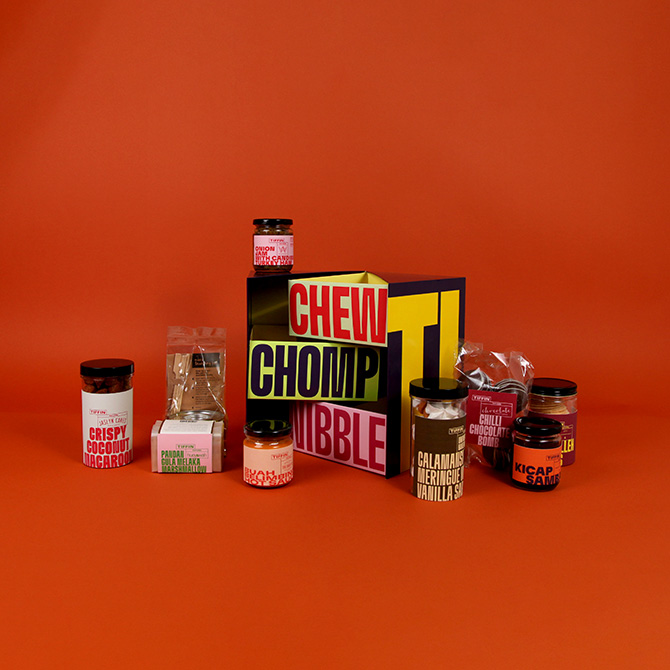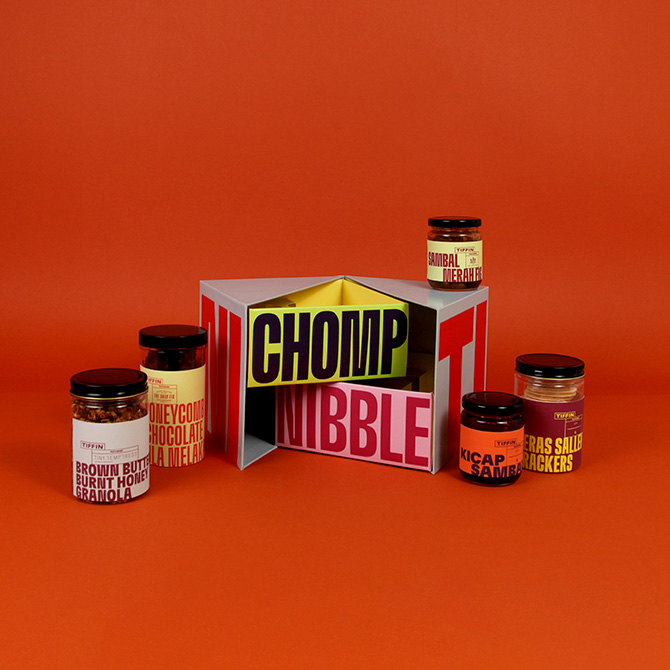 The Tiffin Gift Pack comes in three varieties: Taste (RM149), Graze (RM269) and Feast (RM459). It's now available for pre-order via tiffin-giftpack.myshopify.com.
Psst… Scroll to the end for a chance to win a Tiffin Gift Pack of your own!
Tiffin Ber-Riuh Raya, 1 & 2 May 2021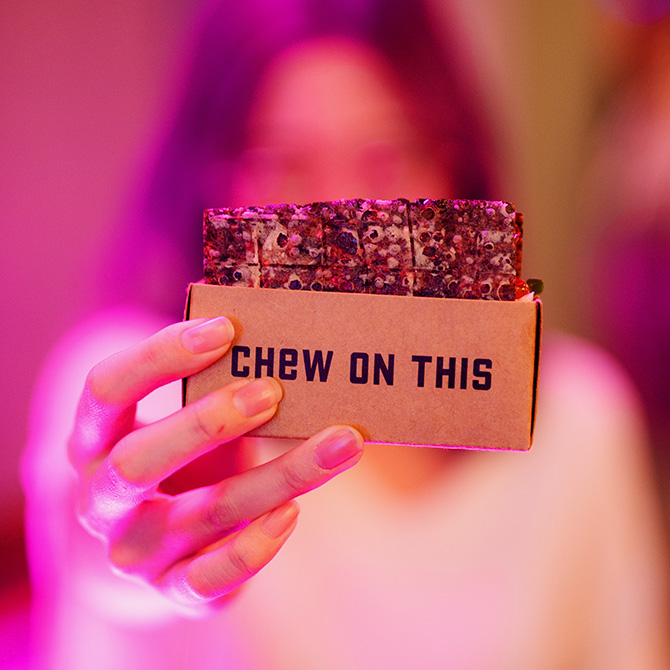 It's not just about food. It's going to be multi-sensorial experiences as Tiffin returns with a series of collaborative events that will include music, design, performing arts, lifestyle and more. To kickstart this is the upcoming Tiffin Ber-Riuh Raya, the first physical event since the pandemic for both organisers: Tiffin and Riuh, together with venue partner YTL Land. The event will be hosted at Sentul Depot with 12 homegrown F&B brands that will be serving up new renditions of Raya favourites; 52 local brands and their artisanal products; and of course, live performances.
Tiffin At The Yard, July 2021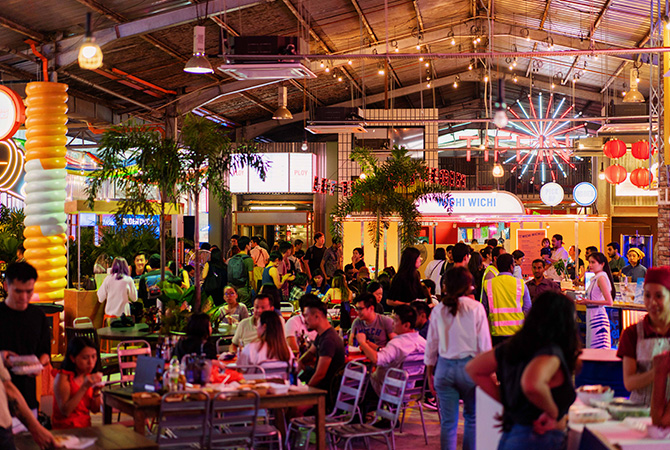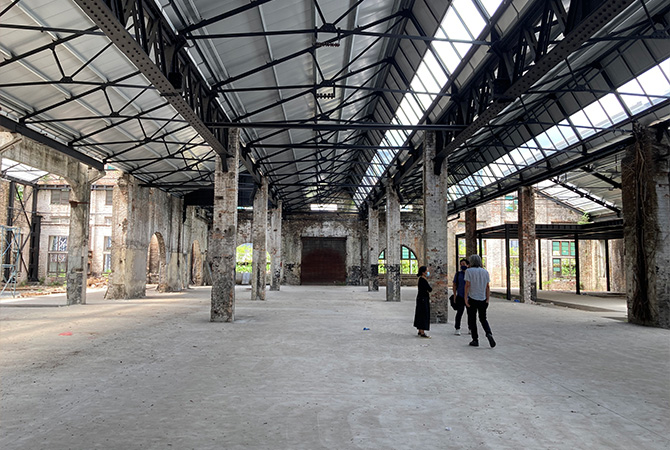 The biggest news of the lot is the return of Tiffin Food Court, but with a few twists. It's here to stay and has been rebranded as Tiffin at the Yard. Taking up 20,000 sqft space at Sentul Depot, it'll be the first F&B concept to take over one of the oldest heritage buildings in the country. The new concept will now incorporate a unique dine-in and cloud kitchen hybrid system, featuring top chefs and restauranteurs, popular F&B establishments, and up-and-coming talents—the result: Klang Valley's own creative culinary playground.
For more updates, visit Tiffin's Facebook and Instagram.
GIVEAWAY ALERT!
Stand a chance to win a Tiffin Gift Pack (Taste)! We're giving away five (5) sets and it's super easy to win one. All you have to do is:
1) Follow @buromalaysia and @tiffineats on Instagram
2) Like the Instagram post below
3) Tag two (2) of your friends in the comments after completing the steps above!
4) Share this post to your IG story and tag us for a bonus entry! *Make sure the post is public!
View this post on Instagram
The BURO x Tiffin Giveaway runs from Wednesday, 5 May 2021 till Sunday, 16 May 2021. Winners will be announced on Wednesday 19 May 2021 via social media, and on this page. Other terms and conditions apply*.
1. Employees of BURO Malaysia and its related corporations ("Indochine Media Ventures") or BURO Malaysia partners and/or sponsors for the giveaway (if applicable), and their immediate family members (including spouses, children, parents, brothers and sisters) are not eligible to participate in the giveaway.
2. The winners of this giveaway are chosen at random.
3. This giveaway is organised by BURO Malaysia (hereinafter referred to as the 'Organiser').
4. The prizes for this giveaway are neither exchangeable for cash nor transferable.
5. All persons ('Participants') taking part in this giveaway agree that these rules shall be binding on them, and that the entries in this giveaway, including their name and likeness, may be used without restriction in any future publicity material by the Organiser.
6. The Organiser reserves the right to amend these rules or terminate the giveaway at any time at its sole and absolute discretion. All decisions made by the Organiser under these rules shall be final and no discussion or correspondence will be entertained. The Organiser may, but is not required to, justify any decisions relating to this giveaway.
7. The Participant acknowledges that the interest and good reputation of the Organiser are of paramount importance. The Organiser reserves the right to disqualify a Participant from the giveaway, or to withdraw the prize if it is believed the Participant is in breach of its obligations under the rules. The Participants shall not by act or omission, directly or indirectly bring the Organiser into disrepute.
8. All entries are sent at the risk of the Participants and in the event that there are technical difficulties experienced arising out of the internet or from any associated equipment or internet security is compromised, the Organiser may at its sole and absolute discretion disqualify the entire entry and shall not accept any liability doing so.
9. Giveaway entries may only be submitted via the stated medium of communication.
10. This giveaway is open to anyone above 18 years old and within Klang Valley only.
11. Each entry must be completed in full. The Organiser reserves the right to disqualify any incomplete entries in its sole and absolute discretion.
12. Incomplete entries will be deemed void.
13. Winners will be notified via social media, and on this page.
14. Uses of 'aliases' shall be considered a form of deception and are prohibited.
15. The winner must produce their original IC / passport with legible IC / passport number in order to claim the prize. The winner may also be required to produce additional original proof of identity at the discretion of the Organiser.
16. All Prizes are accepted entirely at the risk of the winner, and the Organiser excludes all warranties in connection with the prize to the extent permitted by law.
17. All Participants release from, and indemnify the Organiser, its agencies, sponsors and representatives against, all liability, cost, loss or expense arising out of acceptance of any prize or participation in the giveaway including (but not limited to) personal injury and damage to property and whether direct or consequential, foreseeable, due to some negligent act or omission or otherwise.
18. All personal particulars furnished are meant for identification purposes and will not be sold or given to any third parties. In the case of giveaways, our partners may wish to offer you services which require your personal particulars. These specific requests will be expressly stated within relevant giveaways, with a choice to opt out.
19. Inability to contact the Lucky Winners by Wednesday, 19 May 2021 will result in disqualification and selection of an alternate winner.
20. Prizes are final; no cash equivalent or alternative prize will be given. Prizes are non-transferable, non-exchangeable and strictly not for resale. If the winner is found to be selling the prize(s), the Organiser reserves the right to demand the return of the prize.
| | |
| --- | --- |
| SHARE THE STORY | |
| Explore More | |