Lifestyle
Billie Eilish releases new 007 theme song, Robert Pattinson debuts first look as the new Batman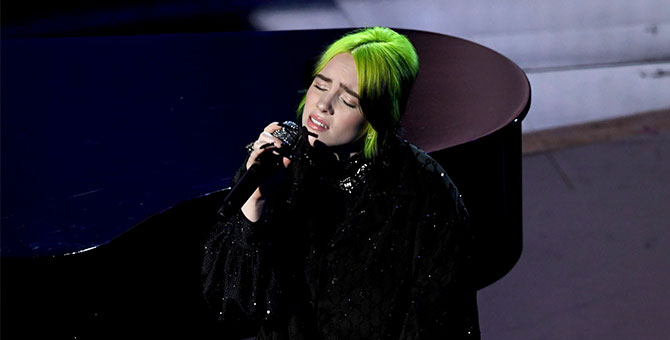 Hello, pop culture junkies! Welcome back to Pop Culture Catch-Up where we bring you everything you need to know in the pop culture scene that happened over the week. This week's headlines include a first look at Robert Pattinson as the Dark Knight and Billie Eilish releases theme song for the new James Bond film, No Time To Die.
The trailer for Wes Anderson's new movie, The French Dispatch is out now
Wes Anderson's highly anticipated new film The French Dispatch has just released their first trailer. Set in a fictional French city, the film revolves around a group of journalists at an outpost of an American newspaper bureau, led by editor Arthur Howitzer Jr.—played by Bill Murray. The star-studded cast includes Timothee Chalamet, Tilda Swinton, Frances McDormand, Benicio del Toro, Saoirse Ronan and more.
The upcoming film will be Anderson's 10th feature film and also his first live-action effort since the release of The Grand Budapest Hotel—he last directed the stop-motion-animated film Isle of Dogs. Catch The French Dispatch in theatres starting July 24.
Kesha loses Dr. Luke defamation lawsuit
Last week, New York State Supreme Court Justice Jennifer G. Schecter ruled that Kesha had defamed her former producer Lukasz Gottwald—professionally known as Dr. Luke—in text messages to Lady Gaga claiming that he had raped both, Katy Perry and herself. The 32-year-old pop star was also ordered to pay over USD374,000 in interest to him due to her late payment of over USD1.3 million in royalties.
Back in 2014, Dr. Luke countersued Kesha for defamation after she sued him for verbal abuse and alleged sexual assault. During their six-year-long legal battle, it was revealed that Kesha sent text messages to Lady Gaga claiming that Dr. Luke raped both Kesha and Katy Perry, which Dr. Luke claims to be further instances of defamation. Following the ruling (which you can read here), Kesha's legal team said that they are planning to appeal.
Game of Throne's star Sophie Turner is reportedly pregnant
Sophie Turner and Joe Jonas are expecting their first child together, as confirmed by JustJared in a report last Wednesday. According to E! News, the 23-year-old actress is about four months along and they are both "extremely excited". The pregnancy comes less than a year since they got hitched in Las Vegas last May. A formal second wedding was also held a month later in France.
A quick recap of Oscars 2020 highlights
The 92nd Academy Awards was a historic night when Parasite was announced as the winner of the Awards' most prestigious category, Best Picture. The South Korean comedic thriller went home as the biggest winner of the night with four awards—Best Original Screenplay, Best Foreign Language Film, Best Director and Best Picture. They made Oscar-history as the first non-English language film to bag the Best Picture award and were also the first South Korean film to ever be nominated for an Oscar.
Besides honouring the best of film, the Oscars 2020 also honoured the many talents that were lost during the previous year including Kirk Douglas, Kobe Bryant, Godfrey Gao. During the In Memoriam segment, Billie Eilish performed her rendition of of the song Yesterday as a touching tribute. Click here to see the full Oscars 2020 In Memorium gallery.
Another highlight was Eminem's surprise performance of his 2002 song Lose Yourself, 17 years after it won him an Academy Award for Best Original Song. Despite the confused reactions from various attendees (which went viral), the 47-year-old rapper earned a standing ovation at the end of his performance. In a later interview with Variety, he revealed that the performance was a belated do-over since he did not attend the 2003 Oscar ceremony. More here for Oscars 2020 winners list and highlights.
Netflix's Sex Education will return for a third season
Heads up, Sex Education fans! Netflix has announced the return of its third season. While there are no confirmations regarding the release date right now, many speculate that the third season will premiere next January—based on the release dates of two of its previous seasons (January 2019 and January 2020 respectively). Click here for more information on the hit teen drama.
Billie Eilish debuts theme song for new James Bond film, No Time To Die
Grammy-award-winning singer, Billie Eilish released No Time To Die last Thursday, which will be the theme song for the upcoming James Bond film of the same name. It was announced back in January that the 18-year-old singer will follow the footsteps of singers such as Adele and Sam Smith to perform the new 007 theme song, incidentally making her the youngest artist to compose a theme song for the franchise.
The slow but dramatic ballad was written alongside her brother and musical collaborator, Finneas O'Connell, who also produced her Grammy-winning album When We Fall Asleep, Where Do We Go?. The 25th installment of the James Bond series is set to release in April.
The Batman director, Matt Reeves shares first look of Robert Pattinson as the Dark Knight
#TheBatman#CameraTesthttps://t.co/M1tAE2aTA1

— Matt Reeves (@mattreevesLA) February 13, 2020
Thanks to director Matt Reeves, we scored a first look of Robert Pattinson in the famous batsuit. The 56-second screen test shared on Reeve's Twitter showed the Batman symbol—many fans believe it's crafted from the gun that killed Bruce Wayne's parents—on the outfit and also Pattinson in Batman's cowl.
Other cast members include Zoe Kravitz as Catwoman, Colin Farrell as Oswold Cobblepot/Penguin, John Turturro as Gotham mob boss Carmine Falcone and more. The Batman is scheduled to release on June 25, 2021.
To All The Boys: P.S. I Still Love You is out now
guess what malaysia, now you can watch To All The Boys I've Loved Before without signing up! it's our gift to you ❤ #ToAllTheBoyshttps://t.co/WP4M6eTvnN pic.twitter.com/waMKDCZC8X

— Netflix Malaysia (@NetflixMY) February 12, 2020
Good news for all fellow Malaysians who are fans of Noah Centineo, ahem. The second installment of the To All The Boys I've Loved Before film series is now out on Netflix. In honour of it's release, the first installment is now available for all Malaysians without a Netflix account to watch through March 9. Catch all the romance and drama between Lara Jean and Peter Kravinsky here. Don't miss out!
| | |
| --- | --- |
| SHARE THE STORY | |
| Explore More | |