Lifestyle
29 Best memes and Twitter reactions to the 2023 Oscars
And the Oscar for the best meme goes to...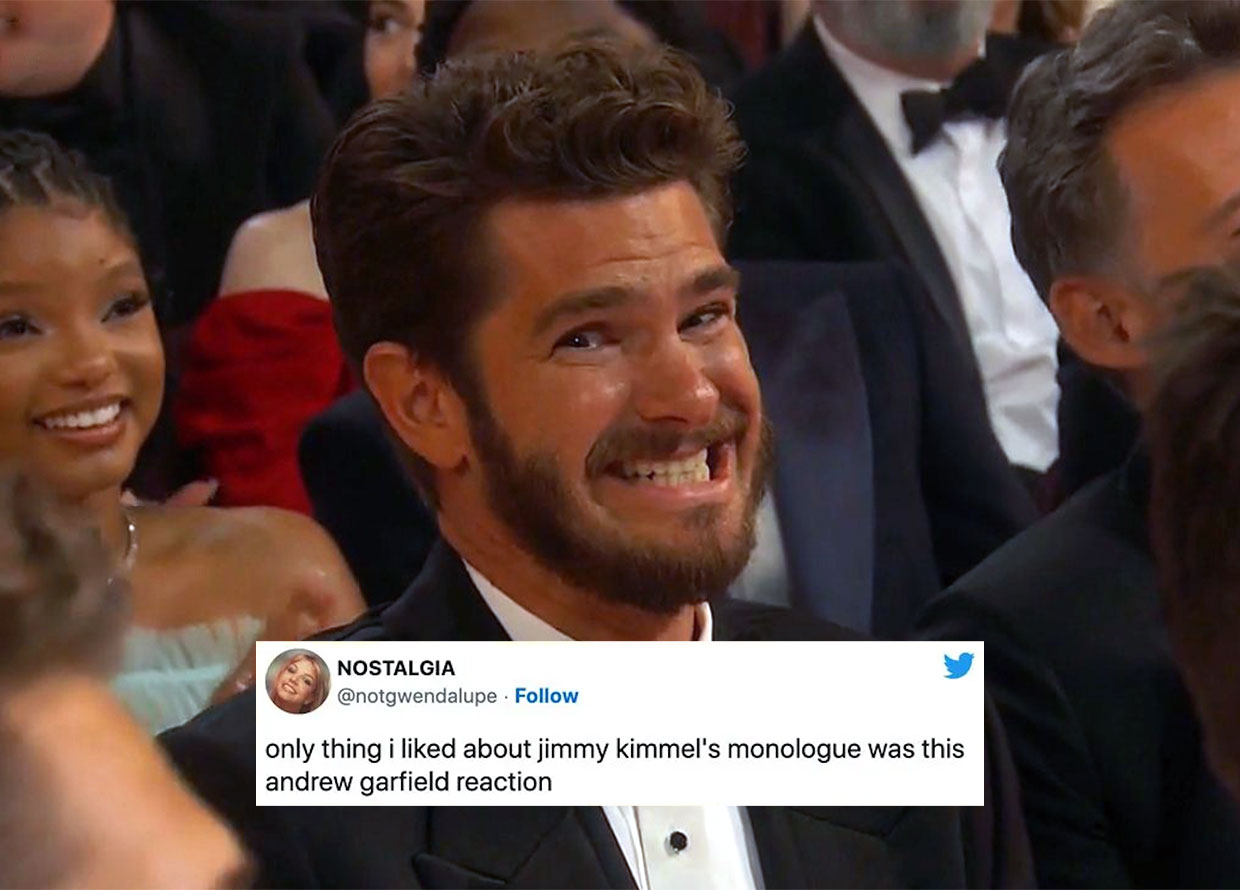 She's finally done it—Malaysian actress Michelle Yeoh made history today as the first Asian woman to win an Oscar for Best Actress for her leading role in Everything Everywhere All At Once. And Yeoh's not the only Asian to have stolen the spotlight at the 95th Academy Awards (we're proud of you too, Ke Huy Quan)! 
Amidst the glitz and glamour and much-deserved wins of the most prestigious awards in the US entertainment industry though, there were plenty of hilarious, questionable, and tear-jerking moments in between too. Of course, you can count on Twitterverse for further commentary. Ahead, we've catalogued some of the best Tweets and memes in reaction to the 95th Academy Awards. 
That awkward moment
hugh grant wants no part of this dumb shit pic.twitter.com/uBQ70QcZGf

— Timothy Burke (@bubbaprog) March 12, 2023
And the Oscar for the guy who totally doesn't want to be there goes to Hugh Grant. #Oscars pic.twitter.com/Gq6Q3n1EEU

— Lance Ulanoff (@LanceUlanoff) March 12, 2023
Hugh Grant at the Oscars pic.twitter.com/8obxWDhoT3

— St. Olaf Stories (@StOlafStories) March 12, 2023
Jimmy Kimmel comes out swinging: "How does the Academy not nominate the guy who directed Avatar? What do they think he is, a woman?"

— BrooklynDad_Defiant!☮️ (@mmpadellan) March 13, 2023
these jimmy kimmel's jokes.. pic.twitter.com/hLRvOPtiWC

— chris paul mescal fans (@ATR3lDES) March 13, 2023
Just for laughs
Find someone who looks at you the way Colin Farrell looks at Jenny the donkey. #Oscars #AcademyAwards pic.twitter.com/6iQbhcPzd5

— Garin Pirnia (@gpirnia) March 13, 2023
not to overexaggerate but I would go to war for jenny the donkey

— Conor Ryan (@ConorRyan_93) March 13, 2023
only thing i liked about jimmy kimmel's monologue was this andrew garfield reaction pic.twitter.com/X1ujr1cash

— NOSTALGIA (@notgwendalupe) March 13, 2023
Easter eggs
For the first time since I've attended the Oscars, there's a box of snacks under every seat with a bottle of water, Hot Tamales, a pretzel and a note from Jimmy Kimmel. "Eat this. You're hungry." #Oscars2023 pic.twitter.com/NyrN3n04cc

— Ramin Setoodeh (@RaminSetoodeh) March 13, 2023
Michael B. Jordan and Jonathan Majors give a shoutout to Angela Bassett: "Hey Auntie, we love you." #Oscars pic.twitter.com/xIQlVq8AOZ

— philip lewis (@Phil_Lewis_) March 13, 2023
love the fact that daniel kwan's suit is inspired by michelle yeoh's cardigan in #EEAAO pic.twitter.com/yaIKU8jNox

— Nicole Zhu (@nicolelzhu) March 13, 2023
Still winners in our hearts
My final tweet of the night. My favourite film of 2022, and one of my favourites this century so far. Thank you for existing, The Banshees of Inisherin. Maybe the Oscars don't appreciate you enough, but we certainly do. pic.twitter.com/1emAkP5gA8

— Sethsfilmreviews (@sethsfilmreview) March 13, 2023
All of us seeing Ke Huy Quan win then seeing Angela lose pic.twitter.com/xUbqew53VQ

— 💫 (@heyjaeee) March 13, 2023
Jaime Lee Curtis????? Over Angela Bassett and Stephanie Hsu??? #Oscars pic.twitter.com/yp7odMPJ77

— wine mom yor forger🍷 (@autumnvelvets) March 13, 2023
me stealing an oscar so i can give it to paul mescal pic.twitter.com/nYRniwGXcu

— grace dante (@misslefroy) March 11, 2023
Full circle moments
winning an oscar on ur literal comeback role after 30 years of not acting is the hardest shit of all time. ke huy quan is a legend asf

— clementine (@ilyclemmie) March 13, 2023
HARRISON FORD PRESENTING AN OSCAR TO KE HUY QUAN. RIVER OF TEARS pic.twitter.com/1gq4uXPgGI

— k • 🐯⚖️ (@ripleysdaya) March 13, 2023
Michelle Yeoh is the first Asian woman to win Best Actress and only the second woman of color in the history of the category—after Halle Berry more than 20 years ago. #Oscars pic.twitter.com/umgJ1p11ej

— Film Updates (@FilmUpdates) March 13, 2023

Felt the history in that hug between Halle Berry and Michelle Yeoh. First Black actress to w

Halle Berry presented Michelle Yeoh with her #Oscar for 'Best Actress'.They're the only two women of color to ever win the award. pic.twitter.com/h6cKxFMUlI

— Pop Crave (@PopCrave) March 13, 2023
Our Best Actress and Best Actor #Oscars pic.twitter.com/uJH7RjjXqq

— Film Updates (@FilmUpdates) March 13, 2023
Apart from the Historic #NaatuNaatu #Oscar Win 🤩My Favourite Moment of #Oscars2023 is got to be #HarrisonFord & #KeHuyQuan reuniting at the #Oscars Stage since "Indian Jones and the Temple of Doom" & #StevenSpielberg being so proud of them 😍🥰😍#AcademyAwards… https://t.co/19vgXGTO7c pic.twitter.com/nS8YCmVufx

— Ayyo (@AyyAyy0) March 13, 2023
Get the tissues ready
Ariana DeBose crying!!! Michelle crying!! Ke crying!!! we're all crying!!!

— Esther Zuckerman (@ezwrites) March 13, 2023
oh my god, Ke Huy Quan immediately running up and hugging Harrison Ford 😭 pic.twitter.com/Y3K5iD2VNg

— Alex Zalben (@azalben) March 13, 2023
Ke Huy Quan ain't sat down this whole award season.

— HOOD VOGUE is tired of poverty (@keyon) March 13, 2023
There is NOBODY more happy to be in this room than Ke Huy Quan. #Oscars pic.twitter.com/Y6YweycfW1

— Phil Yu (@angryasianman) March 13, 2023
My emotions. Can't stop crying. We all bow down to you, Queen. 💛💛💛💛💛💛💛💛💛💛💛💛💛💛💛💛 #Oscars pic.twitter.com/fgFrtU5PLY

— Ken Jeong (@kenjeong) March 13, 2023
Watch the moment Janet Yeoh realized her daughter, Michelle Yeoh, had made history as the first Asian star to win best actress in the 95-year history of the Academy Awards, for her performance in "Everything Everywhere All at Once." https://t.co/0CPbdMjUCy pic.twitter.com/41nl36OlYz

— The New York Times (@nytimes) March 13, 2023
A filial daughter , Michelle checked in on her mother straight after she became the first Asian to win the best actress award in the Academy's 95 year history . Bravo ! 🎉 https://t.co/Ghvs4LYW94 pic.twitter.com/BzqTIJ5cuW

— Melissa Goh (@MelGohCNA) March 13, 2023
Moment of pure grace and immense happiness! What a journey! So proud of Michelle who received the Oscar Academy Award of the best actress #EverythingEverywhereAllAtOnce pic.twitter.com/jANwzI0sQE

— Jean Todt (@JeanTodt) March 13, 2023
And finally, when reality hits…
Asian parents this week be like "why haven't you won an Oscar"

— T$E CHUN (@thetzechun) March 13, 2023
For more reads on TV and film, head here.
| | |
| --- | --- |
| SHARE THE STORY | |
| Explore More | |