Being Mercedes-Benz Malaysia's first plug-in hybrid model, the C 350 e promises a hybrid drive system that delivers impressively low consumption, with high performance. We take the car for a drive in our #GoGreen month to see just how it lives up to the claims.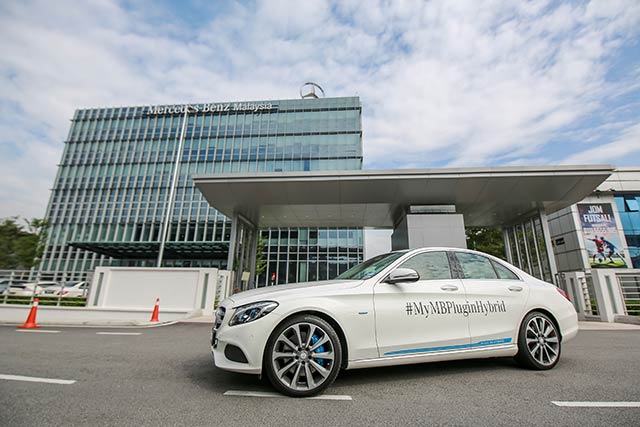 Housing a four-cylinder petrol engine together with a powerful electric motor, the C 350 e boasts a total system output of 205kw and torque of 600Nm. Going from zero to 100km'h takes just 5.9 seconds – not too shabby considering the extra weight of batteries onboard. Despite being significantly heavier than the petrol C-Class models, it definitely didn't feel so. As with my experience with other Mercedes-Benz cars, the C 350 e was a pleasure to drive, proving itself to be a smooth, powerful and highly-responsive ride.
There are four operating modes for the car (when in Eco and Comfort transmission modes): 1) Hybrid, which optimises fuel efficiency, 2) E-Mode for all-electric driving, 3) E-Save to maintain the charge status of the battery, and 4) Charge, which allows the battery to be recharged while driving using the combustion engine.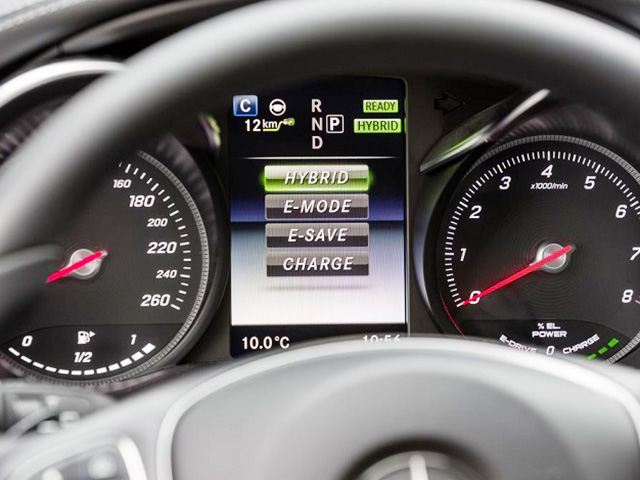 To really put it to the test, we took it for a drive to Port Dickson and noted the readings. For the drive, we switched between driving modes occasionally, but put it on Hybrid mode for the most part. Having covered a distance of 94km, the average fuel consumption for our drive was 6.0l/100km – which indicates pretty good fuel efficiency.
With this being my first experience with a hybrid car, I was pleasantly surprised by how easy it was to charge the vehicle. Outside, charging stations are available at most major shopping malls. At home, I could simply charge it via a standard three-pin plug point (around two hours). One can opt to purchase a dedicated Mercedes-Benz wallbox (RM7,500), which will bring charge time down to 1 hour and 45 minutes.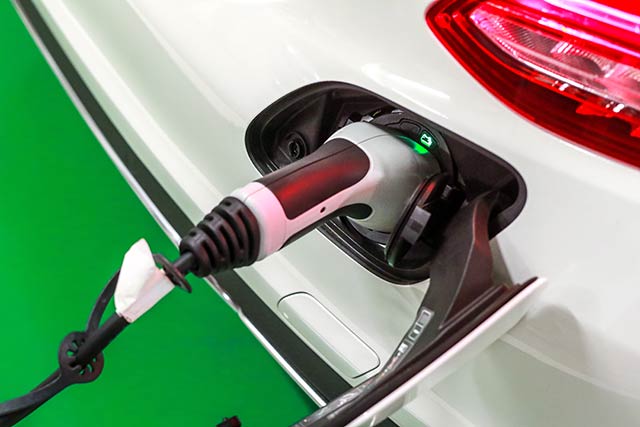 Mark Raine, Mercedes-Benz Malaysia's Vice President of Sales & Marketing Passenger Cars, has cited the Pre-Entry Climate Control as one of his favourite features of the car, and we have to agree. While we love the luxurious comfort of leather upholstery, the insufferably heat that comes with it when the car is left under the sun for a tad too long? Not so much – which is what makes the said feature so brilliant. It can be set to pre-condition the car before a journey, so the interior of the vehicle is nice and cool before you even step in.
Another notable feature of the C 350 e is the haptic accelerator pedal, which aims to reduce fuel consumption. This mainly works in two ways. Firstly, it will act as a point of resistance on the accelerator pedal when you reach the maximum electric performance on E-Mode – this reminds us to take it down a notch if we want to continue green cruising. The other way it might kick in is through the ECO Assist function, where if the radar system identifies a slower-moving vehicle in front of you, it will send a double impulse through the pedal, signaling you to take your foot of the accelerator, avoiding frequent braking in stop-and-go traffic.
In a nutshell, the Mercedes-Benz C 350 e proves itself to be a desirable vehicle of exceptional performance and fuel efficiency, be it for urban driving or a trip out of the city. It's a green powerhouse, this one.
The Mercedes-Benz C 350 Avantgarde Line retails from RM 289,888 (OTR without insurance). For more information, visit www.mercedes-benz.com.my.
Related stories:
Hybrid cars in Malaysia: To buy or not to buy
Mercedes-Benz Malaysia introduces its first plug-in hybrid with the C 350 e
How to practise a more fuel-efficient driving lifestyle
| | |
| --- | --- |
| SHARE THE STORY | |
| Explore More | |